Author Porter Fox spent two years traversing the U.S.–Canada boundary, looking to better understand the wild, nebulous borderland that rarely makes the news. In this excerpt from his new book Northland: A 4,000-Mile Journey Along America's Forgotten Border, his quest begins on Maine's St. Croix River, where the region's rich human history long predates the lines on a map.
Adapted from Northland by Porter Fox. Copyright© 2018 by Porter Fox. With permission of the publisher, W. W. Norton & Company, Inc. All rights reserved.
---
[dropcap letter="A"]n osprey strafed the treetops, and golden maple and oak leaves spun south. The air temperature was 35 degrees. No wind. Sea smoke on the water. Bubbles rising from springs near the canoe erupted into tiny columns of vapor. The mist downstream was so thick I could barely see the next bend. I packed the canoe and let the current swing the bow around. The hull slipped between rocks and accelerated through the channels. The boat seemed to know where to go, naturally following the path of least resistance.
Nature in the northland carves its own path as well. An invisible wall along the northern border has kept it pristine, and species survive where they would have otherwise been wiped out. Entomologists considered the Tomah mayfly extinct in the 1930s, until a University of Maine student found one buzzing on the St. Croix. At least eight other endangered species live on the river, including the black tern, Canada lynx, and the winged mapleleaf mussel.
The St. Croix sustains members of an ancient Indian tribe as well, Donald Soctomah told me. I'd met Donald my first day in Lubec, in a small building marked by a hand-painted sign that read "Indian Township Museum 93." His official title is Tribal Historic Preservation Officer of the Passamaquoddy tribe, but his contributions to the tribe transcend office. Over the last 40 years, Donald helped lead the effort to document and rebuild Passamaquoddy language, sovereignty, culture, landholdings, civil rights, tradition, and history. He is a modern-day wampum keeper, a title his great-great-grandfather once held.
Donald led me through a maze of mismatched tables in the museum's showroom, pointing to centuries-old Passamaquoddy wampum, delicate alder bows, and knives carved from deer antlers. He was middle-aged, with salt-and-pepper hair, and had the guarded demeanor of a man who had seen a lot of things that didn't make sense. The day we spoke, he wore a camouflage baseball hat and steel-rimmed glasses perched on his nose.
Donald has stood two four-year terms in the Maine House of Representatives as a tribal representative, served on the St. Croix International Waterway Commission, managed 120,000 acres of land for the tribe, worked on the tribal estate commission that manages land claims in Maine, and sat on the board of the national Intertribal Timber Council, in addition to a dozen others. In the 1980s, he was a key advocate in a lawsuit that returned 100,000 acres of trust land — that had been illegally seized by the government — to the Passamaquoddy tribe. He has written five books about his ancestors, collaborated on movies and TV shows, and personally preserved hundreds of hours of Passamaquoddy songs and language on tape.
Light faded outside and an overhead fluorescent light hummed as Donald spoke about his ancestors and the many injustices done to his tribe by state and federal officials. Indian Township is a silent place in October. I didn't see a store, a person, or even a pet when I drove through. The reservation is close enough to the ocean that you can smell the sweet scent of tidewater on a southern breeze. Outside the museum, gulls circled above red-tailed hawks, turkey vultures, and barn swallows.
Reservations that hug the U.S.–Canada border have particularly difficult relations with both governments. Until 2001, U.S. Customs and Border Protection and the U.S. Coast Guard allowed Passamaquoddy tribal members to travel by boat between Canada and the U.S. — as they had been doing for thousands of years. The Jay Treaty explicitly states that Indians have the right "freely to pass and repass by land or inland navigation, into the respective territories and countries of the two parties." But since 9/11, border authorities have hindered water travel and mandated that tribal members carry a U.S. passport — a document that is, unsurprisingly, difficult and expensive to get for a member of a sovereign nation.
Border Jumper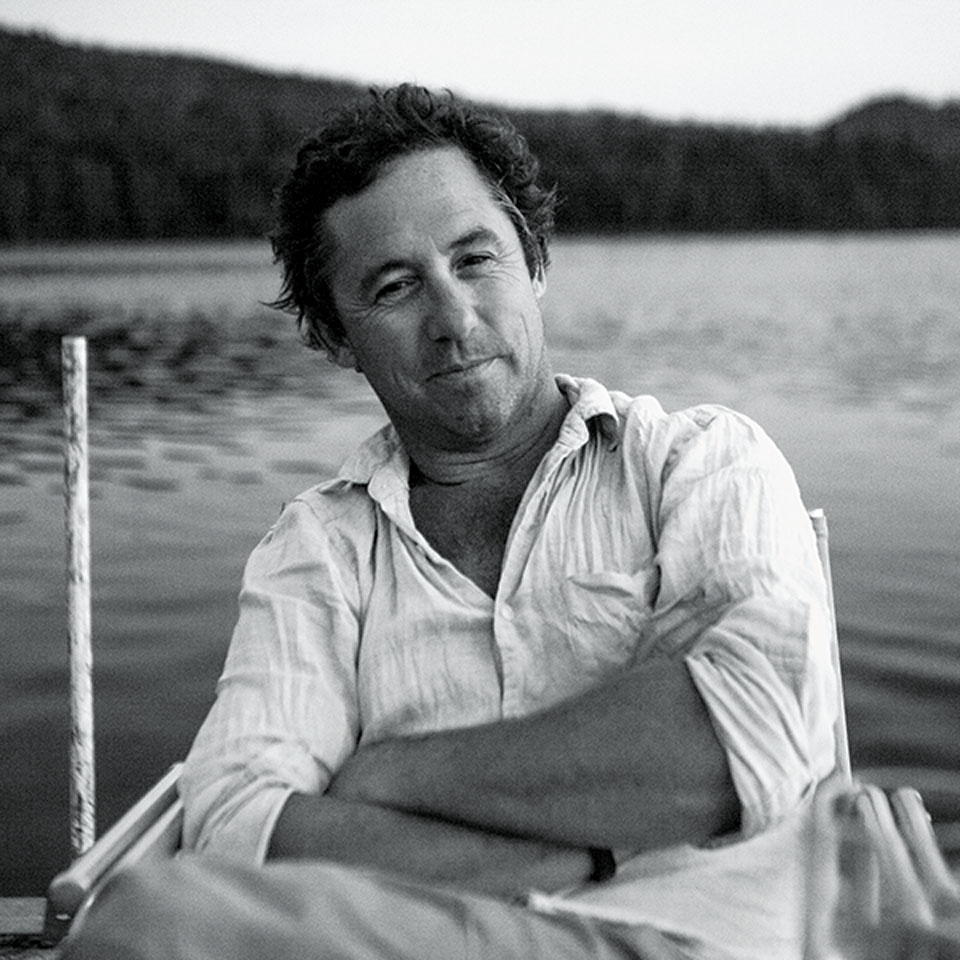 Porter Fox grew up in Southwest Harbor, on Mount Desert Island, but took to the Maine North Woods early. His family had a camp in Jackman, a stone's throw from the Canadian border, and he was 5 when his granddad, an avid whitewater canoeist, started bringing him along on wilderness river trips — one of his earliest memories is of using chewing gum to fill small holes in his grandpa's boat. That kind of backwoods ingenuity served Fox well during the two-year research trip that led to his new book, Northland: A 4,000-Mile Journey Along America's Forgotten Border (W.W. Norton & Company, July 3). Fox, who lives in New York City but still regularly visits Jackman, traveled largely by canoe in Maine's border country, where he discovered (not least, by repeatedly crossing unimpeded into Canada) that 21st-century border-control measures have their work cut out for them in what remains "a kind of truly primitive wilderness."
By 2002, every Indian traveling to Canada or back was searched, in both directions. Some were detained, others harassed or turned away. "So we did a peaceful march starting in Calais," Donald said. "We had about 15 native people and a few nonnative supporters. We marched right across the international border without stopping, holding up all the traffic, to say this is our land. And we don't like this racial harassment. Anybody with tribal plates would be stopped. So we marched back across. We didn't stop at the border again. We stopped in the middle of the international bridge and we stayed there for 30 minutes. Just to make a point. We don't recognize the boundary. And once we do recognize the boundary, we are losing half of ourselves. Because our ancestors say this is all our land. That border, we don't recognize it. It's there for these two powers."
[dropcap letter="I"] used the car to portage 20 miles to Spednic Lake, and the landscape along the way was desolate: empty roads, empty trampolines, frozen kiddie pools, and gray skies. This was the northland that I knew: tobacco-stained beards, junkyard trucks, chainsaws, a weald of dense woodlands broken only by an occasional general store selling pickled eggs and whoopee pies.
As the land climbs the western edge of the state, the population thins from 114 people per square mile to 4. The Esso station near Topsfield had been closed since gas was $1.04 a gallon. I stopped at a general store and asked a middle-aged man surrounded by a sphere of frizzy gray hair where I was. "Wait," he said. Trucker hats in the general store spelled it "Waite." A blaze-orange sign outside read "Welcome Hunters Miller Light." The place first opened in 1911, when William Howard Taft was president and World War I was still three years off. The store was the only business around for miles back then, and it still is today.
An hour later, I followed a one-lane road past a chain-link fence and the Vanceboro border crossing. A patrol agent followed me in a green-and-white SUV and drove a loop around the town boat launch after I pulled in. He parked and watched while I took the canoe off the roof and launched it into the flat water where the St. Croix meets Spednic Lake. He was expressionless. Military buzz cut, aviator glasses. A faded Canadian flag flapped on the opposite shore, beside an exact duplicate of the American boat ramp.
We don't recognize the boundary. And once we do recognize the boundary, we are losing half of ourselves.
The agent drove away, and I loaded the canoe and pushed off. The river was flat calm and, beyond the narrow eastern neck, opened into the lake. A wide, blue sheet of basins, coves, passages, and channels branched off in every direction. Spednic Lake Provincial Park spans the entire Canadian shore. The American side is a mix of private and state-owned land, nearly all of which has been conserved. The lake is 17 miles long and covers 17,000 acres, roughly in the shape of a boomerang. Dozens of tiny islands, many with houses, crowd the borderline. On a summer day, with bass fishermen and canoeists tooling across it, Spednic is a postcard of northern Maine. It is also famously shallow and can see ocean-size waves in a big wind.
Donald had told me about an old Passamaquoddy rendezvous on Diggity Stream. It was in Canada, so I would have to slip across the border to camp there. I thought about skipping it after the agent circled me at the boat landing, but looking north, it seemed like an easy jump across the line.
Ten minutes after I zipped over the border, a small boat carrying two men dressed in black crossed my wake. They were a half-mile behind me. The driver stood up. The passenger looked straight ahead. They were headed for Vanceboro. I shut off the engine, crouched down, and hoped that, from a distance, the canoe looked like one of the many rocks in Spednic. The boat slowed and stopped. My canoe drifted toward a small island. The men took off again, and I headed for Diggity.
You can't see Diggity Stream from the lake. Rocks, beaches, and forest blend into what looks like unbroken shoreline. I was 100 feet away from it, on my third approach, when I finally spotted the outflow. The stream is framed by sand and alder. Golden light reflected off pondweed and pipewort growing at the mouth. The stream runs to First Lake, then Eagle Lake, which connects to Third Lake, Madsley Lake, and 10 more lakes before reaching a portage that connects to the St. John River. The Passamaquoddy portaged the entire chain in the spring and fall when traveling between winter and summer camps. Diggity was the halfway point and had been a tribal haven for thousands of years.
Donald had shown me where the campsite was on a map. When disease tore through the northland in the 1600s, killing most of the tribe, he'd told me, they retreated to Diggity to heal. The epidemic came from Jamestown, Quebec, Plymouth, and Fort Orange. It followed European trade lines on rivers across the northland, spreading measles, chickenpox, smallpox, diphtheria, and influenza. Half of a village typically died within days or weeks of initial contact. Shamans attempted traditional remedies, and warriors shoved arrows down their throats and burned themselves alive to exorcise the plague. They believed it was caused by the gods. Europeans did as well, albeit a different god. Governor Bradford of the Plymouth Colony said the "hand of God" was responsible and that His purpose was to clear room for the newcomers. Cotton Mather performed an exorcism in the Massachusett language to see whether Indian magic, and sickness, affected white people. He reported, happily, that it did not.
The epidemic worsened, and New England tribes waged mourning wars. Warriors attacked neighboring tribes to avenge the dead and repopulate their clan, mostly with women and children. Men were often tortured and killed. Animal trapping grounds and pelts were essential to trade for European weapons, with which tribes could kill more Indian neighbors in what became a vicious cycle. From 1616 to 1619, disease killed 75 to 90 percent of coastal Indians living in the Northeast. About two million Indians lived east of the Mississippi when Champlain arrived on St. Croix Island in 1604. By 1750, that number was 250,000. "Our people went deep into the woods, to this place, for protection," Donald said. "We've been going there for 3,000 years."
That night, I pitched my tent there, in a small clearing in the trees, and watched the sunset from the beach. Foliage on the lakeshore reflected every color in the spectrum. Islands in Spednic looked like a Winslow Homer painting — bristling tall pines, rocky shores. It was a forest of water. It was the Dawnland that Donald's ancestors had called home, and the next day I would try to cross it all.
---
Porter Fox's Northland: A 4,000-Mile Journey Along America's Forgotten Border (W.W. Norton & Company) was published on July 3. Fox's writing has appeared in The New York Times, Outside, National Geographic Adventure, and The Best American Travel Writing. Raised in Maine, he lives in New York.