Rockland's Kate McAleer gives the chocolate bar a wholesome — and exotic — makeover.
By Elizabeth Peavey
Photographed by Meredith Purdue
[B]ehold the
Bixby Bar
, a 1.5-ounce loaf of fruity, nutty, spicy goodness enrobed in a sumptuous craft-chocolate shell. Begin with the bedazzling array of rainbow wrappers that pop out at you from the store shelf. Note how the curlicue Bixby & Co. logo — which looks like lettered tentacles — and the bars' individual names — Knockout, Nutty For You, Whippersnapper — suggest an earlier time. You can almost see the sepia-toned ad in a 1920s
Vanity Fair
: "Busby Berkeley Thinks Bixby Bars Are the Bee's Knees!"
But scan the labels and you'll see a very modern aesthetic: Exotic ingredients such as chipotle, goji berry, cardamom, and Vietnamese cinnamon are teamed up with hazelnuts, almonds, walnuts, peanuts, or pistachios, and then coated in organic dark, milk, or white chocolate. Note the citations and certification logos emblazoned on the back: gluten-free, non-GMO, Rainforest Alliance Certified, vegan verified. Finally, peel open a corner of the foil and sink your teeth into that dense chocolate, down to the nut-studded crunchy center. As your molars snag a chewy glob of fruit, your taste buds get an unexpected jolt of salt or spice, or maybe even a bit of peppery burn. This is not your ordinary chocolate bar.
---
What, then, is this candy company? Two additional logos on the wrapper will give you your best clues: Women Owned and Youth Trade.
Kate McAleer is the entrepreneurial force behind all this magic. Striking with her raven hair and bright-red lipstick, McAleer has been wowing the candy world with her Bixby Bars since the company's inception in 2011 — when she was all of 23 years old. A graduate of New York University, where she majored in East Asian studies, she had been casting around, trying to settle on a career. She started graduate school, but then took a detour to attend pastry school at the Institute of Culinary Education in New York City, where she became interested in making the sorts of beautifully made chocolates she had sampled on her extensive travels, particularly in France. McAleer had a hunch there would be a U.S. market for a confection not stuffed with corn syrup, fillers, and chemicals. Thus she hatched her plan to reinvent the candy bar, and Bixby & Co. was born.
Her parents, Gordon and Donna McAleer, applauded her decision. In fact, the couple, who were both finishing up their careers as healthcare professionals, was so enthusiastic that they decided to join her. The company got off to its start in the Hudson River Valley, with Kate living at home and putting in long hours to make the product by hand — mixing ingredients, dipping the individual bars, and wrapping them. In 2013, the McAleers relocated the business to Maine, where they have family roots and have vacationed as long as Kate can remember. They spent two years in Belfast before settling in their current digs: a former ice factory located on Rockland's working waterfront. With the town's great restaurants and a vibrant arts scene, Kate is thrilled to call One Sea Street Place home.
[infobox maintitle="You have to be cut out for the long hours if you're going to start your own business. I love it." subtitle=" Kate McAleer" bg="black" color="white" opacity="off" space="60″ link="no link"]
The front office is comfortably cluttered with product and packing materials. A conference table and chairs dominate the space, but there's not a lot of time for sitting. The company's entire full-time staff consists of the three McAleers and one other employee. "We all wear a lot of different hats," Kate says. Twelve-hour days and weekends in the production room are not uncommon. "My dad and I listen to a lot of NPR podcasts," she says. "You have to be cut out for the long hours if you're going to start your own business." She smiles. "I love it."
Her first big break was at Whole Foods, who brought Bixby on board in 2012. The learning curve about bar codes, insurance, and distribution was steep and fast, she says, but Whole Foods was supportive and helped her gain a foothold in a competitive marketplace. Bixby is now in seven of Whole Foods' 11 regions.
At the top of a ramp, Kate pulls back a sliding walk-in door to reveal the candy kitchen — a sterile industrial room, where the smell of chocolate permeates the air. Gordon is combining fruits and nuts in a large mixer. Their employee is cutting the finished sheets of filling into bar-size pieces. A radio station plays softly in the background. Floor-to-ceiling industrial shelving lines one wall. Various machinery forms a sort of U in the room's center. Two stainless steel chocolate melters that look like snazzier versions of R2-D2 are the result of a $30,000 grant from Gorham Savings Bank. "We were really excited, because those grants usually go to tech companies," Kate says, casting an admiring — even affectionate — gaze at the two machines.
Next to the melters is the enrobing line, where chocolate circulates in a vat and cascades in a thin ribbon into a pool before being circulated again. When the machine is in full operation, that ribbon becomes a sheet and coats, or enrobes, the bars, which are fed into the machine's mouth by hand. They are then jiggled on a wire conveyor belt to shake off any excess residue chocolate and then fed into the cooling chamber — a long, flat refrigerated tunnel. This is a critical part of the process, according to Kate. Her chocolate has to be tempered — melted and cooled, melted and cooled — to make it stable. (By contrast, mass chocolate, which usually replaces the cocoa butter fat with palm or vegetable oils, does not have to be as carefully tempered.) Bixby chocolate must also be kept below 70 degrees and dry, making storage and shipping tricky.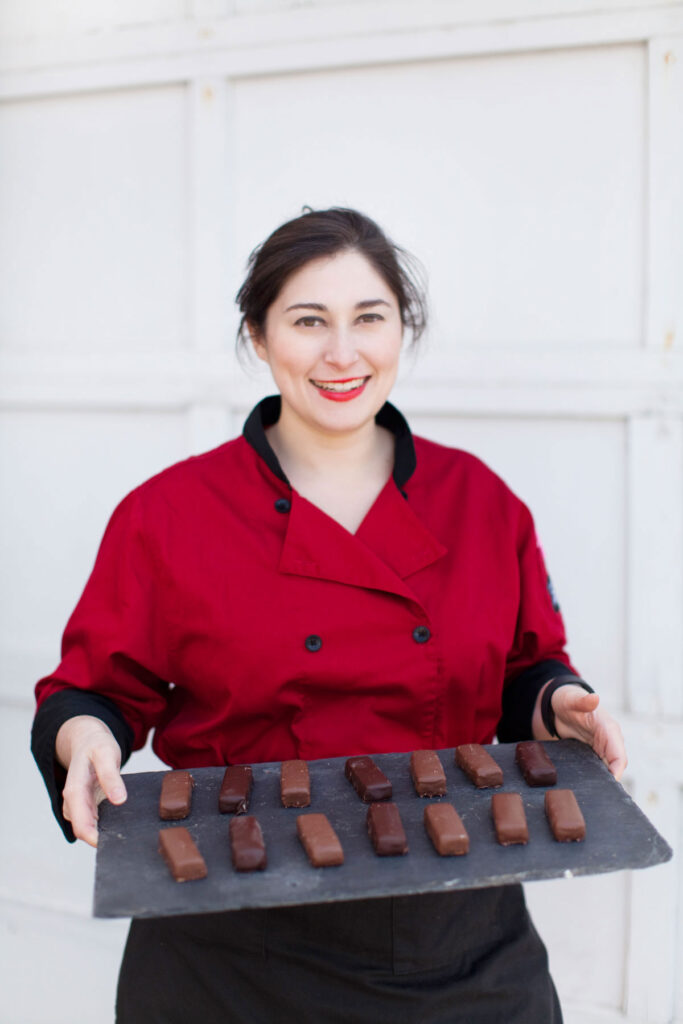 The cooled bars are then sent to "Bix the Dragon," where they are sealed up in their psychedelic foil pajamas. The wrapping machine, purchased a year ago with a Local Producer's Loan from Whole Foods Market, has been a boon. (Kate is assiduous at hunting down grants: Bixby & Co. has also had the support of CEI women's business center, Libra Future Fund, Goldman Sachs 10,000 Small Businesses, Maine Center for Entrepreneurial Development, Maine Technology Institute, and Maine Mentor Program.) Up until that point, the McAleers were wrapping each bar by hand. Once wrapped, the bars are packaged in eye-catching display boxes, cased, palletized, and shipped.
And those Bixby Bars are already well traveled, with nationwide distribution at 700 retail outlets — mostly specialty and natural foods stores — and, of course, Whole Foods. Kate's target is to hit 1,000 by the end of 2015. Despite the long hours, the demanding work, the shipping and freight challenges of doing business in this uppermost corner of the Northeast — the slog to Maine is considered "dead miles" — she gives a bit of a shrug and says, "I'm up for the challenge."
And that is a very old-fashioned approach to a very modern candy bar.
---
Subscribe to the digital version of Down East to get the best of Maine travel, culture, food, and homes & gardens delivered each month to your tablet. Plus you'll get a first look at the online extras! Buy this issue only or try it for six months for just $12.99.