MONHEGAN LIGHT
PHOTOGRAPHS BY BENJAMIN WILLIAMSON
When Down East's staff photographer wants to shoot Maine at its most essential, he hops the ferry for Monhegan, 10 miles out to sea, year-round population about 60. We asked about a few favorite places to set up a tripod.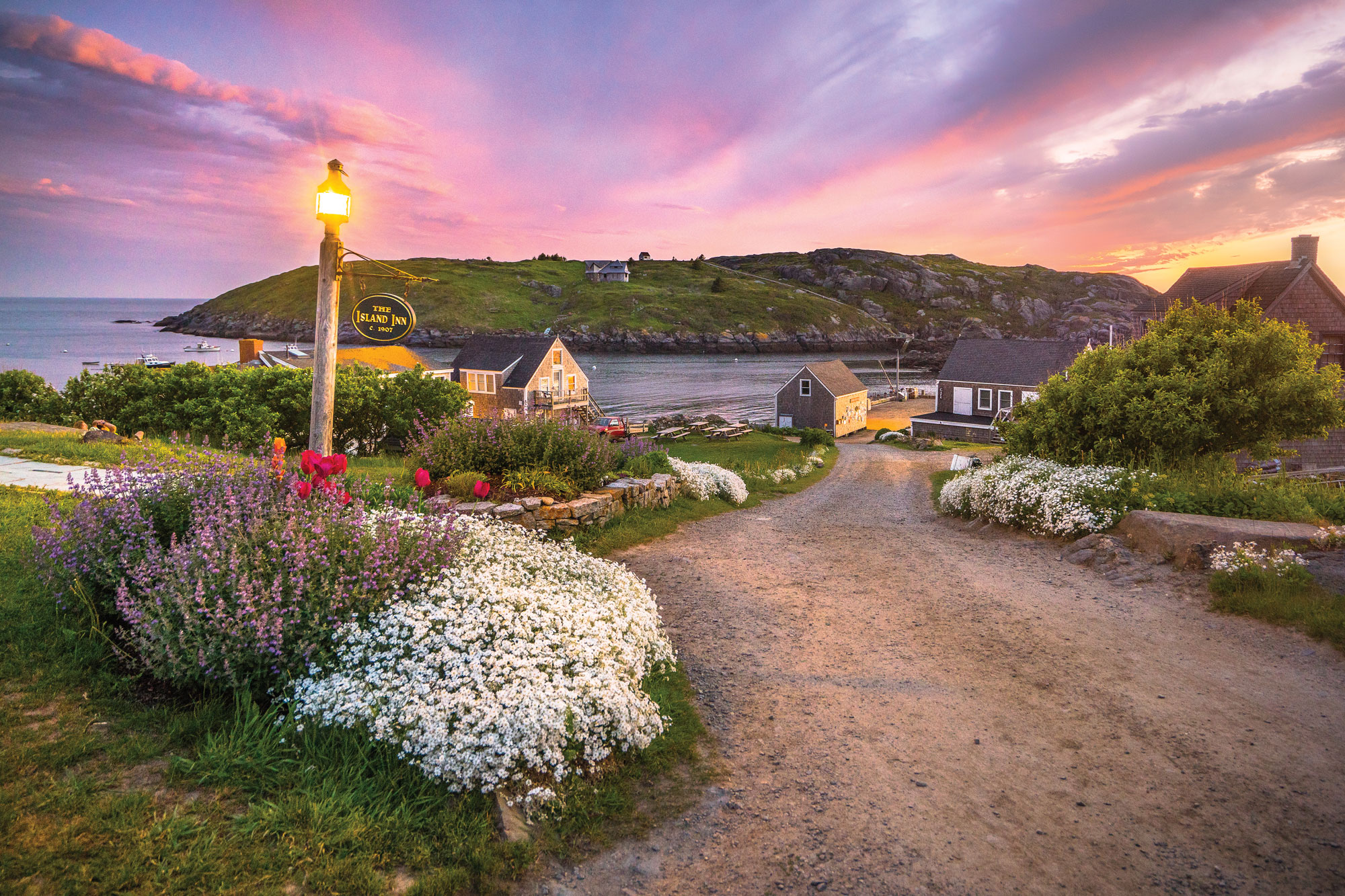 MONHEGAN LIGHT
PHOTOGRAPHS BY BENJAMIN WILLIAMSON
When Down East's staff photographer wants to shoot Maine at its most essential, he hops the ferry for Monhegan, 10 miles out to sea, year-round population about 60. We asked about a few favorite places to set up a tripod.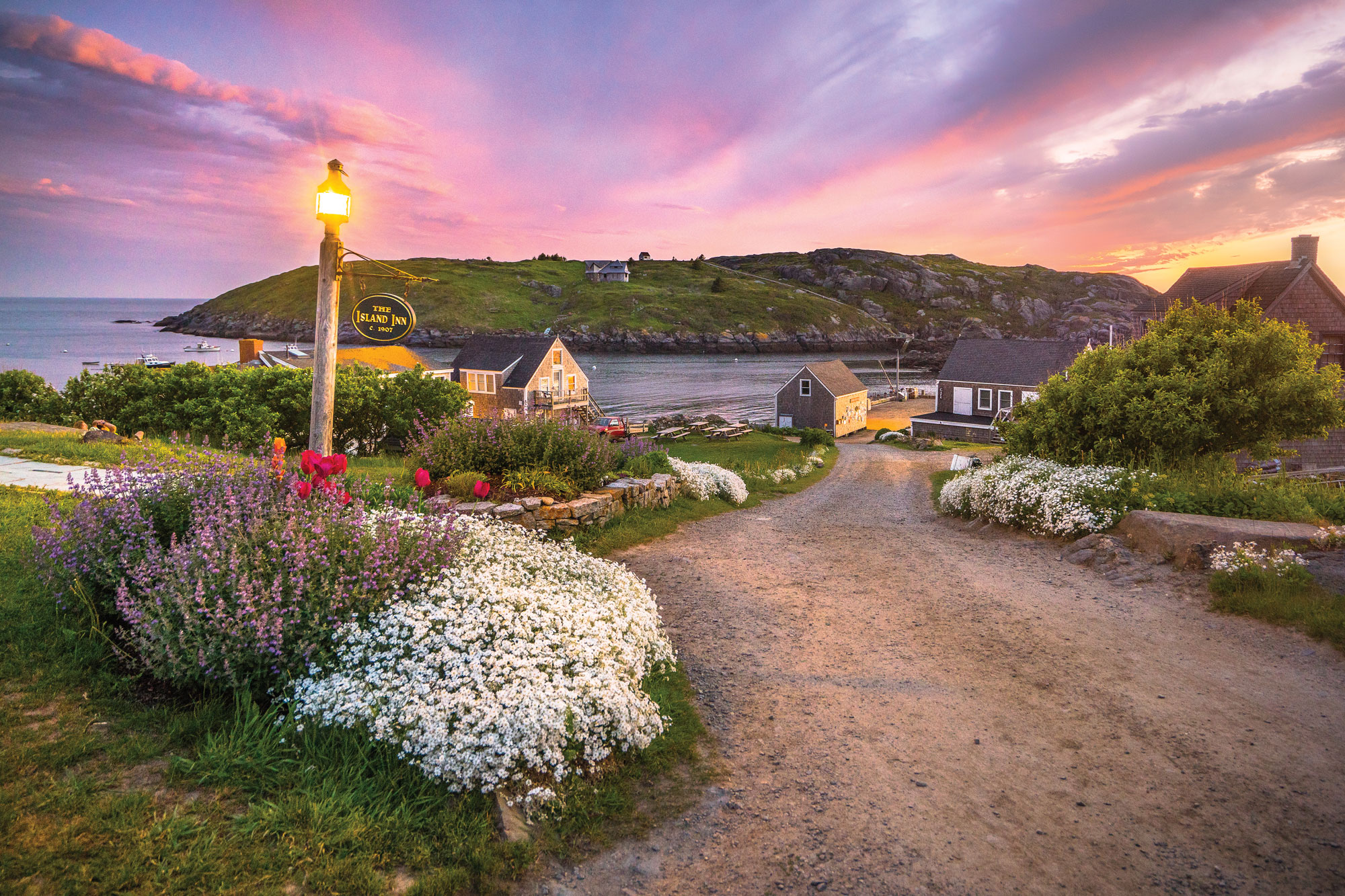 THE LAWN OF THE ISLAND INN
From the Adirondack chairs on the lawn of the inn, you get a great view of the water and the ferry landing. I like to talk about "shooting the edges" — the shoreline being the edge of the water, the ferry being a sort of boundary, a place where people disembark.
The Island Inn
is where I stay, more often than not. It's a really fascinating place. It was built between 1816 and 1910 and has cozy rooms and narrow stairways. I think it's so charming.

LIGHTHOUSE HILL
The first thing I often do when I get off the ferry is to walk straight up Lighthouse Hill, where you get this outstanding view, looking down on the village, the Island Inn, and Manana Island. I think my favorite part, though, is just the camaraderie up by the lighthouse around sunset, when you'll often find a bunch of people hanging out, shooting photos, and soaking it up.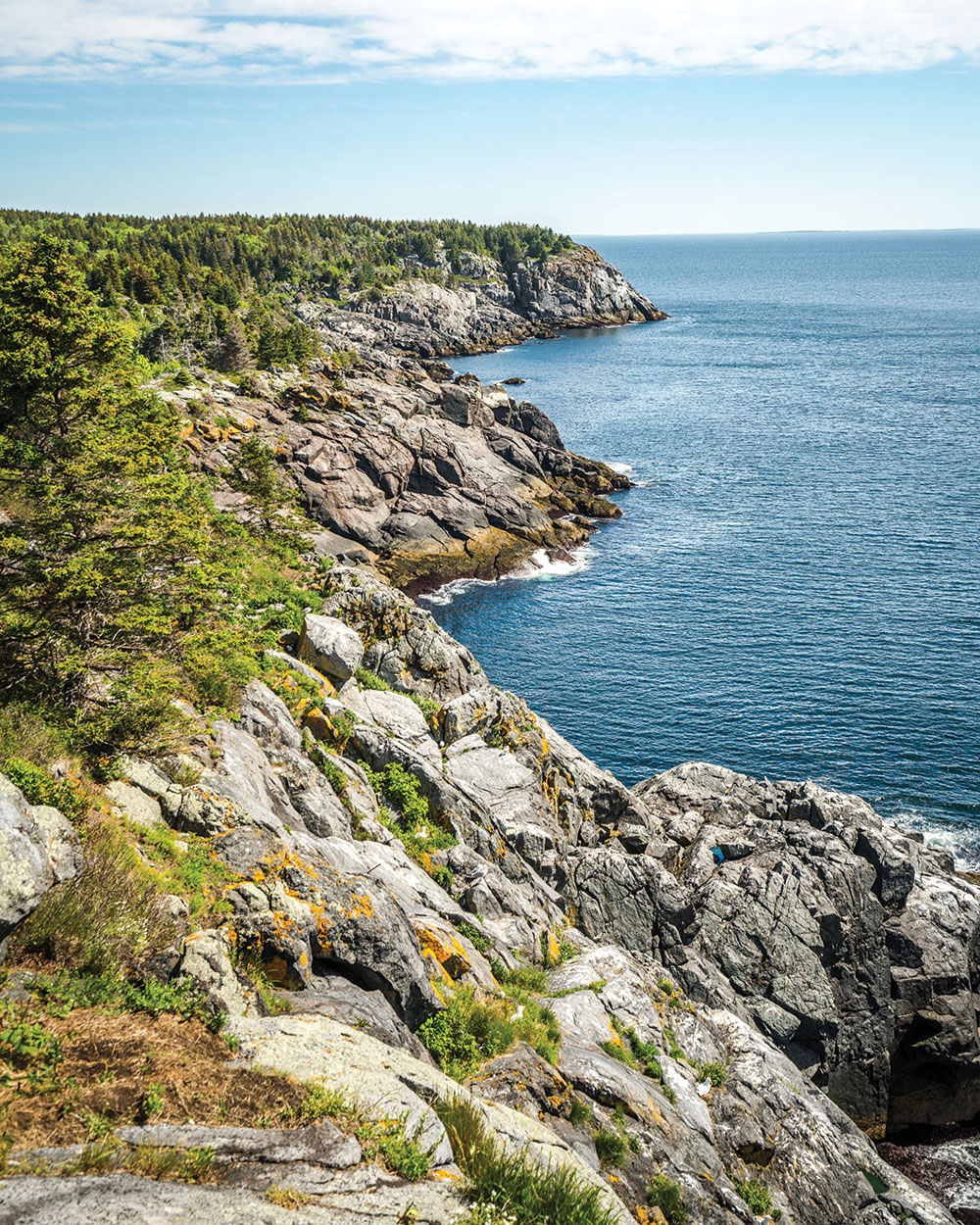 WHITEHEAD
This is the iconic and much-painted view on Monhegan's back end, awesome cliffs just a short hike from the village. In summer, the best time to go is the middle of the day, because you want that sunlight on the rocks (be careful scurrying around, of course). The cliffs face east, but it's tough to capture photographically in the morning, because the angle of sunrise in the summer is so far to the north, so everything ends up in shadow. I'd love to come in the fall or winter to get really nice sidelight on those cliffs.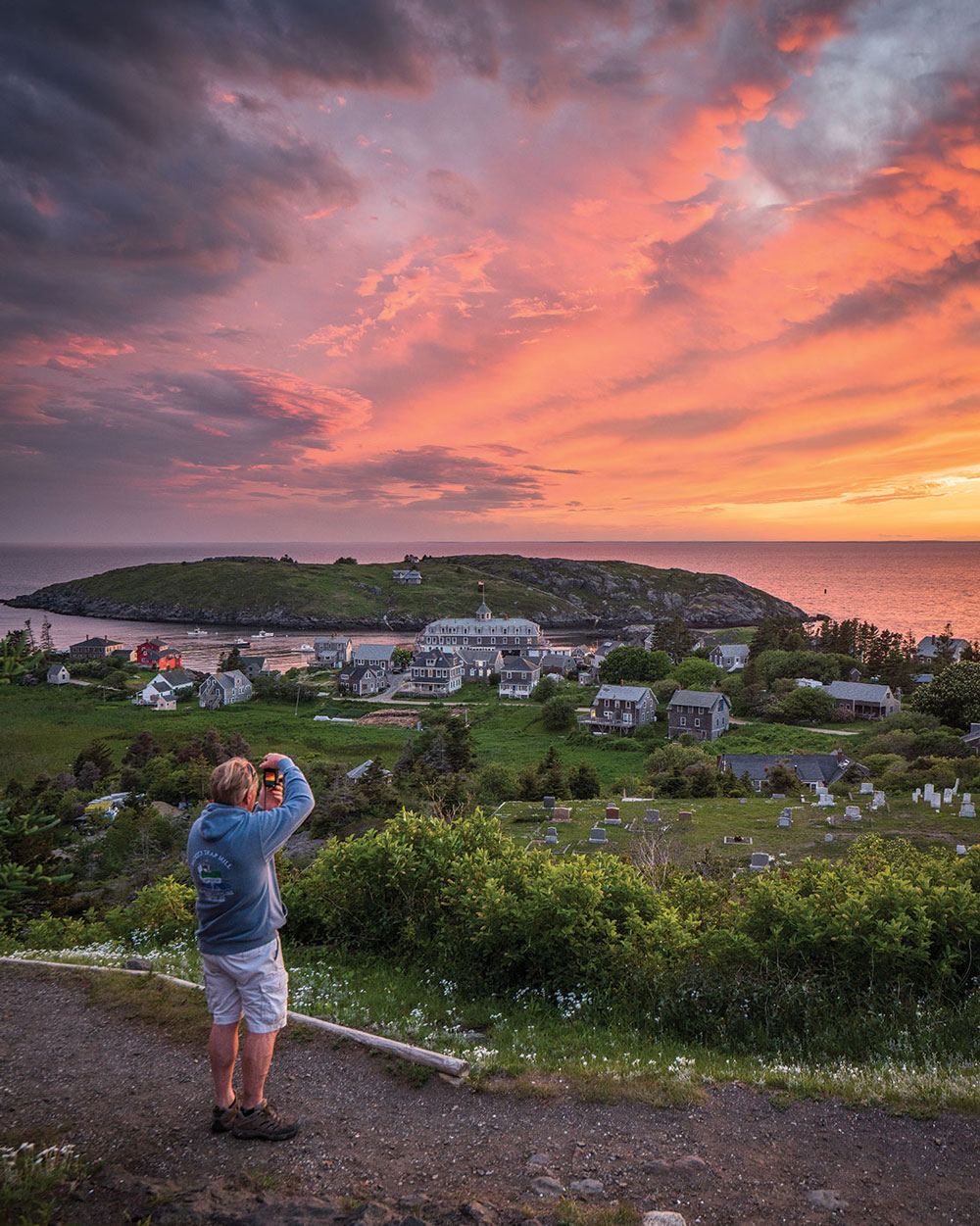 MANANA ISLAND
The view from Lighthouse Hill, looking down on the village, the Island Inn, and Manana Island. Manana Island was once home to a hermit and now only to an abandoned Coast Guard station, a seasonally occupied home, and, often, goats.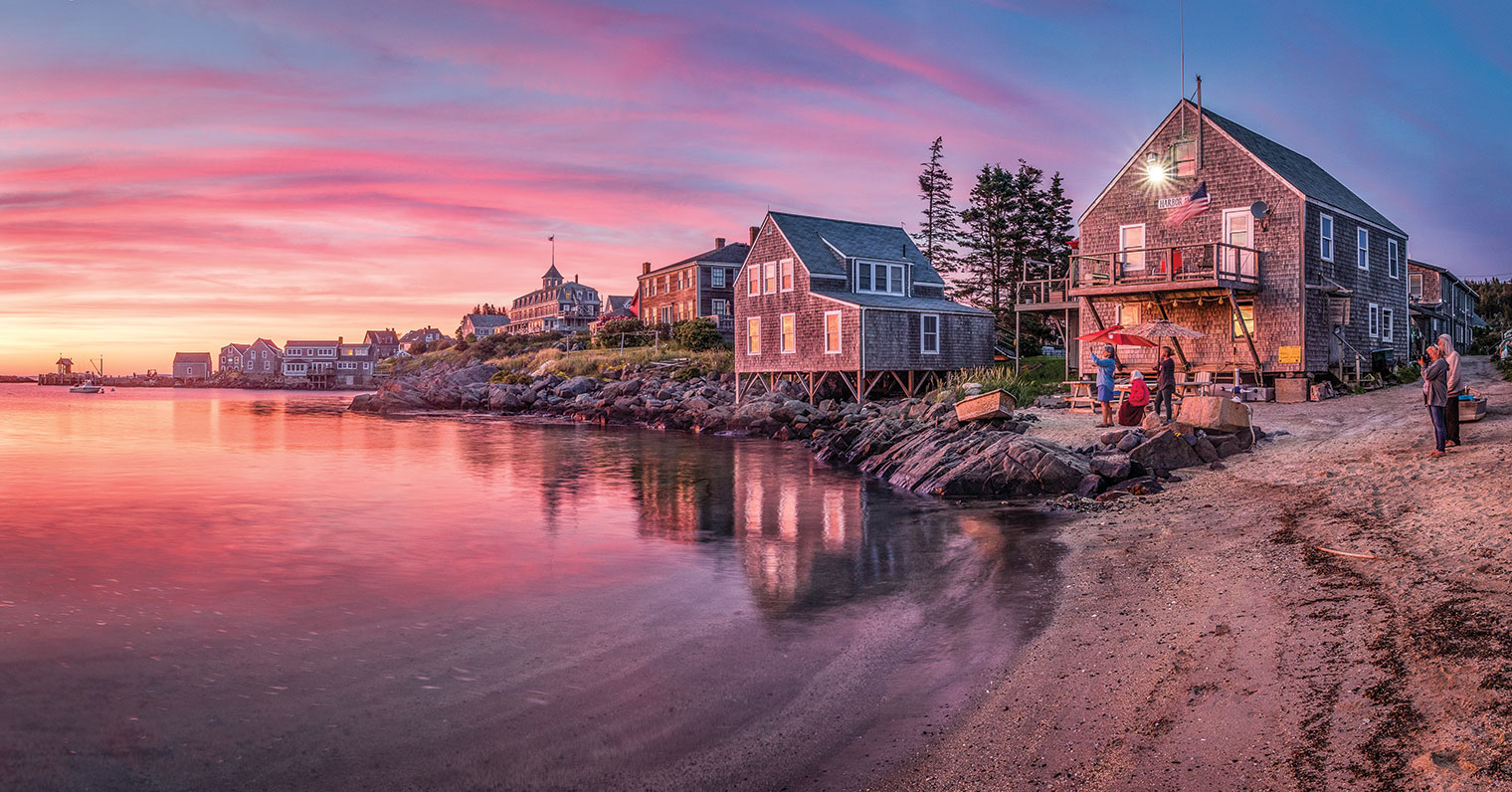 FISH BEACH
Hang a right off the road from the ferry dock and Fish Beach Lane is about a quarter-mile down. At the end is a sandy beach and a seafood shack where you can get good fish sandwiches for lunch, and it's a great place to watch the sunset. If you walk out on the breakwater there, you can look back at all the buildings crowding the shore, and it's really beautiful. During the day, it looks almost tropical — beautiful blue-green water, white sand.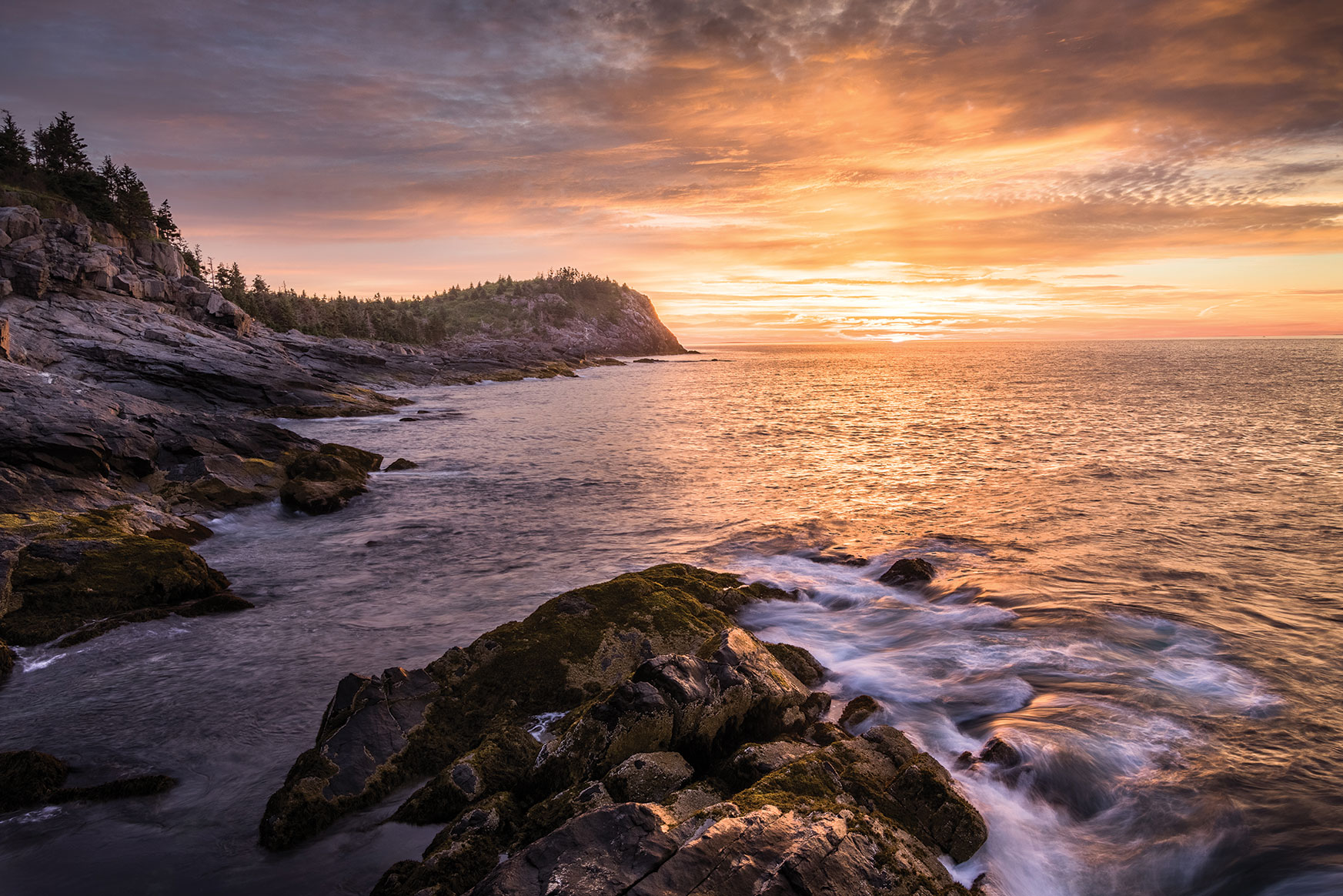 NORTON'S LEDGE
It's not too trafficked in this spot, down in the island's southeast corner. The rocky ledges there are a lot of fun to scramble across, and it's so barren, it's a great place to admire some island geology. You can see all the way to Whitehead, just an unbroken stretch of rock leading north. I bet it'd be a fun place to be in a storm!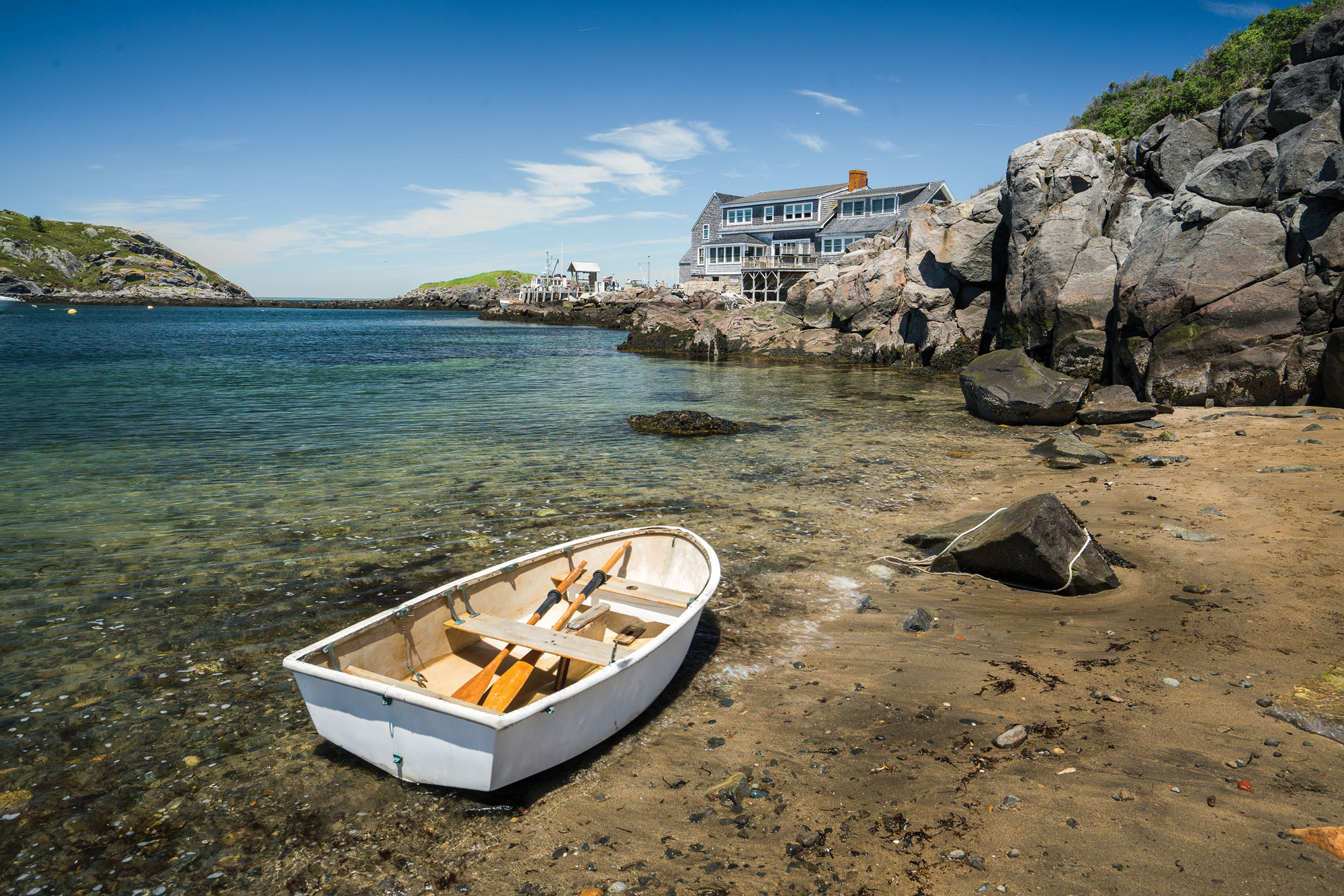 SWIM BEACH
Swim Beach, off Main Street, has a little different character from its neighbor, Fish Beach — a little darker sand, a little rockier. You can often find really beautiful dinghies pulled up there and a different angle on Manana Island. Good swimming too, of course.
BEN'S TIPS:
How to Enjoy Monhegan
One summer weekend four or five years ago, my wife and I were on the porch at the Island Inn. It was a beautiful day: sunny, lobsterboats bobbing, the air so fresh and clean. We're sitting out there with our glasses of wine. Just the best day you could imagine. Near us, a couple of women were sitting in their own chairs on the porch and chatting, and we overheard one of them say, after a little lull, "You know, there's just nothing to do here."
If you're looking for shopping, a lot of dining options, or entertainment, you're just not going to find it on Monhegan. But that's why we go there — to slow down. Me, I have a hard time slowing down, and Monhegan is the antidote to that. It forces you to slow down because, yeah, there's not much to do except relax, stare at the ocean, sit and talk, and appreciate it.
Make your Monhegan trip an overnight. A lot of people ferry in and out on the same day, and it's just too hurried. I think the best times to be around — as a photographer, but also just as a visitor — are the early morning and late evening. It's quiet, and the light is beautiful. You can have a nice dinner.
Bring good walking shoes: people show up in flip-flops, but enjoying the island involves a lot of walking, with a few steep hills. Parents, don't bother bringing a stroller, as you won't find much in the way of pavement. Bring cash: you can't count on paying with plastic everywhere on the island. Bring a couple of warm layers: the ferry ride (and maybe the island) is going to be chilly, no matter the time of year.
Bring a book. Bring a camera. Bring someone you love.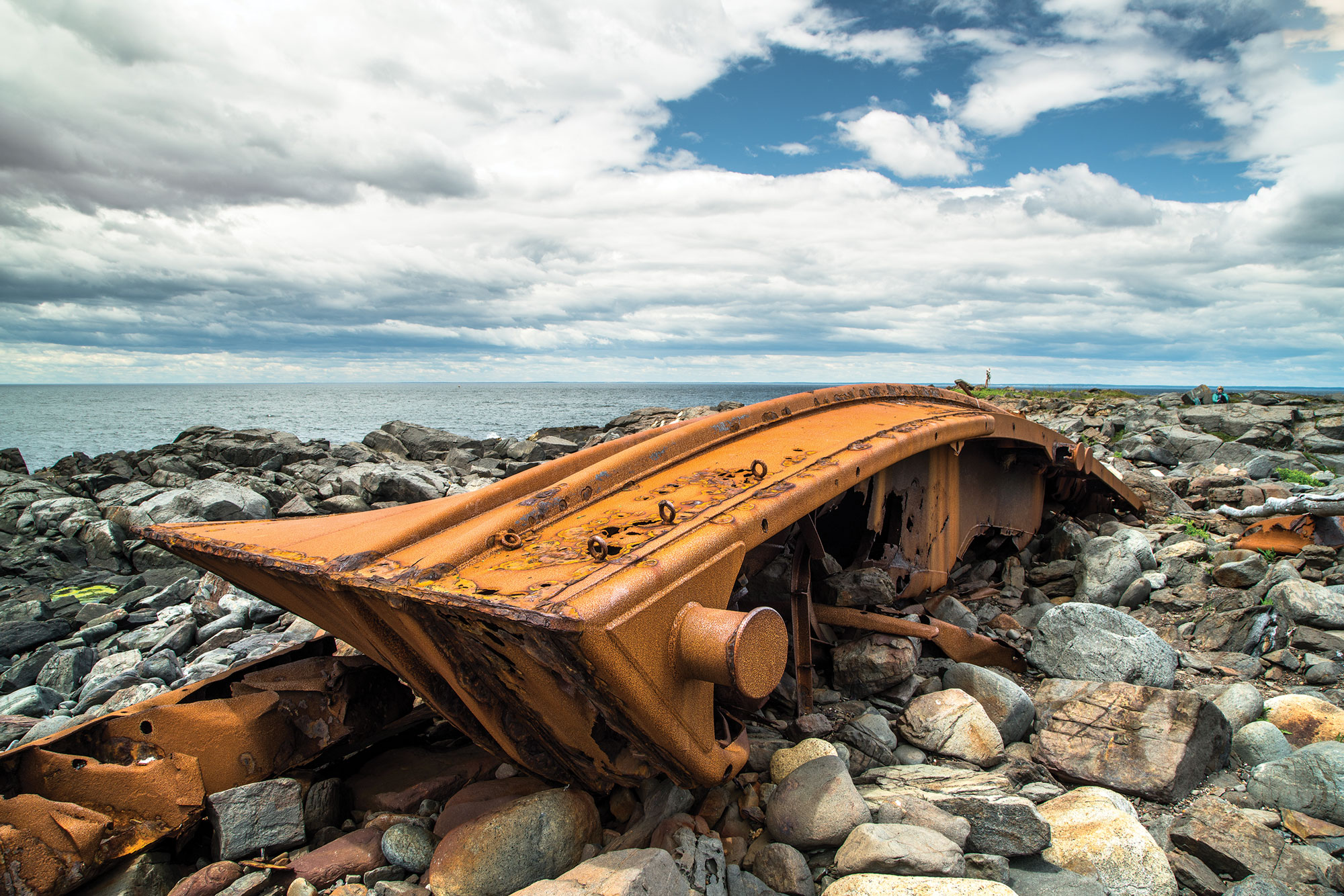 THE D.T. SHERIDAN SHIPWRECK
On the south end of the island, near lobster cove, is an old rusted hull of a ship, half rusted away and kind of sinking into the rocks. I'd like to see someone try a Milky Way night shot from there; you could face south, and the ship remains would look cool under the stars. Maybe we'll do it on one of our
Down East photo workshops
.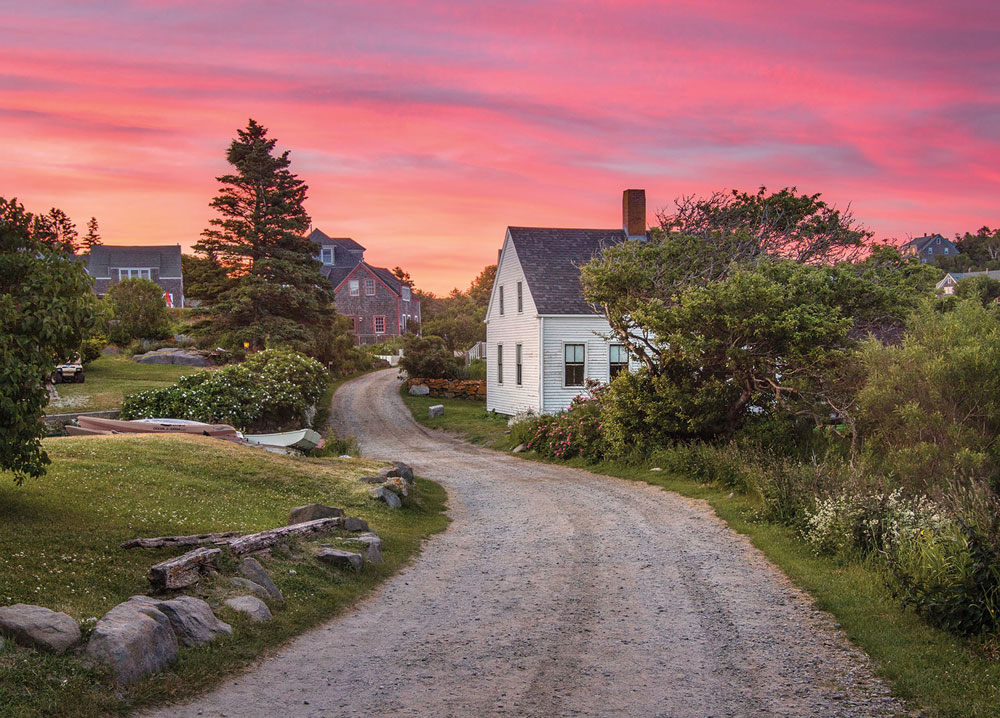 MAIN STREET
From Wharf Hill Road down to the
Monhegan House
(another hotel where I love to stay), I enjoy just walking and shooting along the main road. It's all dirt, open only to work vehicles and golf carts. It really gives you a feel for Monhegan's history, as it's lined with some of the island's oldest houses, from the early 19th century. Monheganites aren't much bothered by people walking around and taking photos, provided you're respectful. There's plenty to see without trespassing or getting up in someone's business.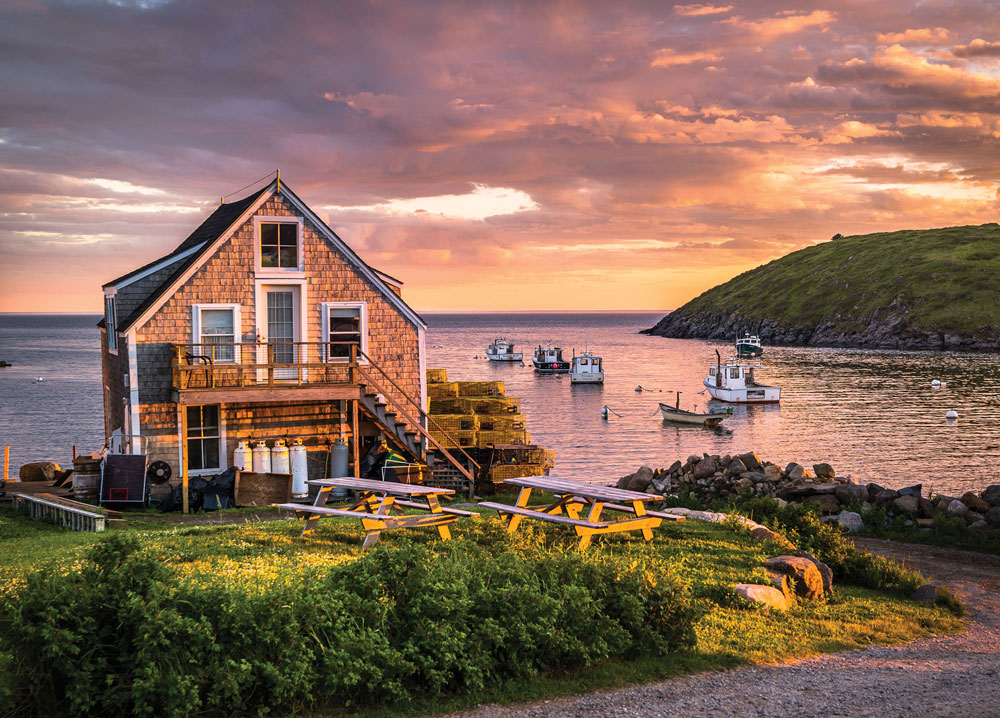 MONHEGAN ISLAND HARBOR
Monhegan has an enduring mystique, thanks in large measure to the art of Edward Hopper, Rockwell Kent, Jamie Wyeth, and many others who have painted its dramatic cliffs — the highest on the New England coast. But the island equally belongs to the lobstermen, who keep the community humming year-round.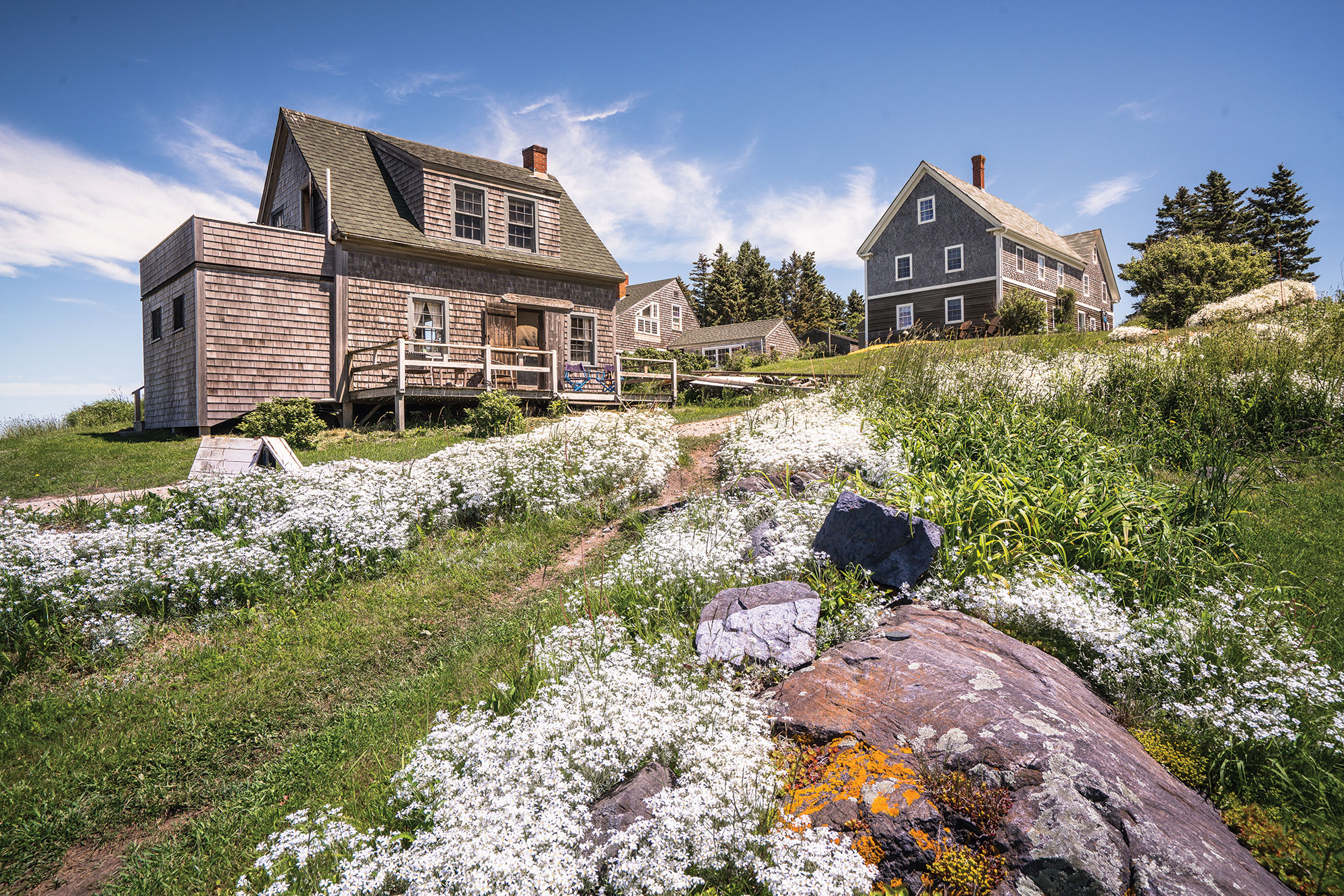 DOORYARD GARDENS
One of my favorite aspects of Monhegan is the evident care its people take in maintaining a beautiful environment. Instead of grassy lawns, it seems like everywhere you walk you find thoughtfully constructed gardens and landscape elements. In some places, you'll find beautiful plantings. Elsewhere, locals have simply weeded out unappealing and invasive species and selected for wildflowers.
SIGN UP FOR A DOWN EAST PHOTO WORKSHOP
with staff photographer Benjamin Williamson at locations like Monhegan, the southern Maine coast, and Acadia National Park.
shop.downeast.com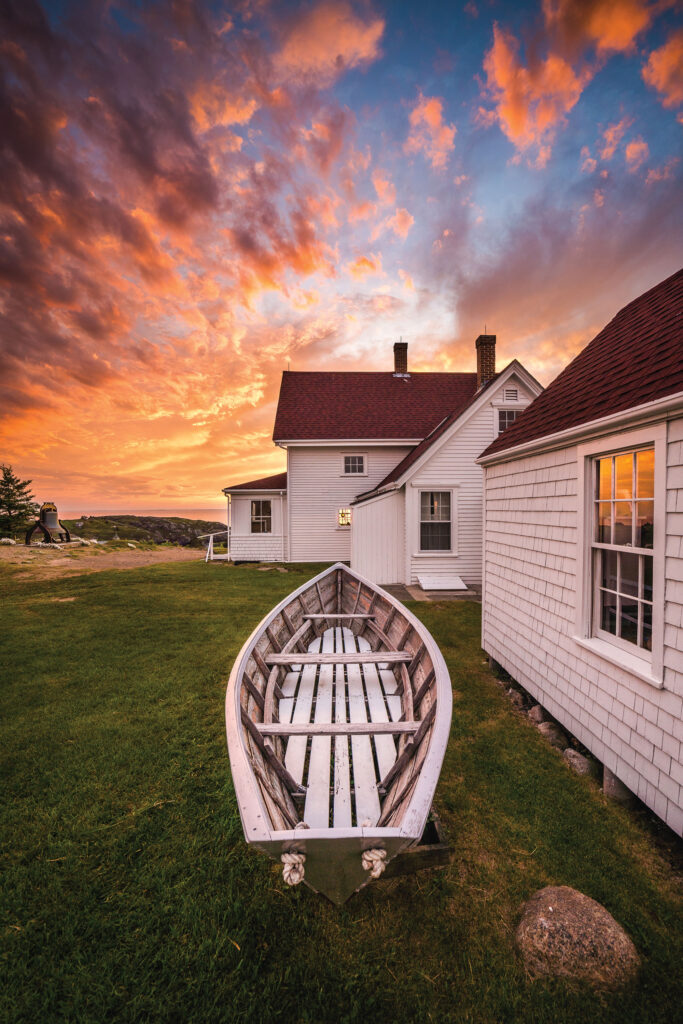 This story was updated on 7/12/19 to reflect that a house on Manana Island is seasonally occupied.