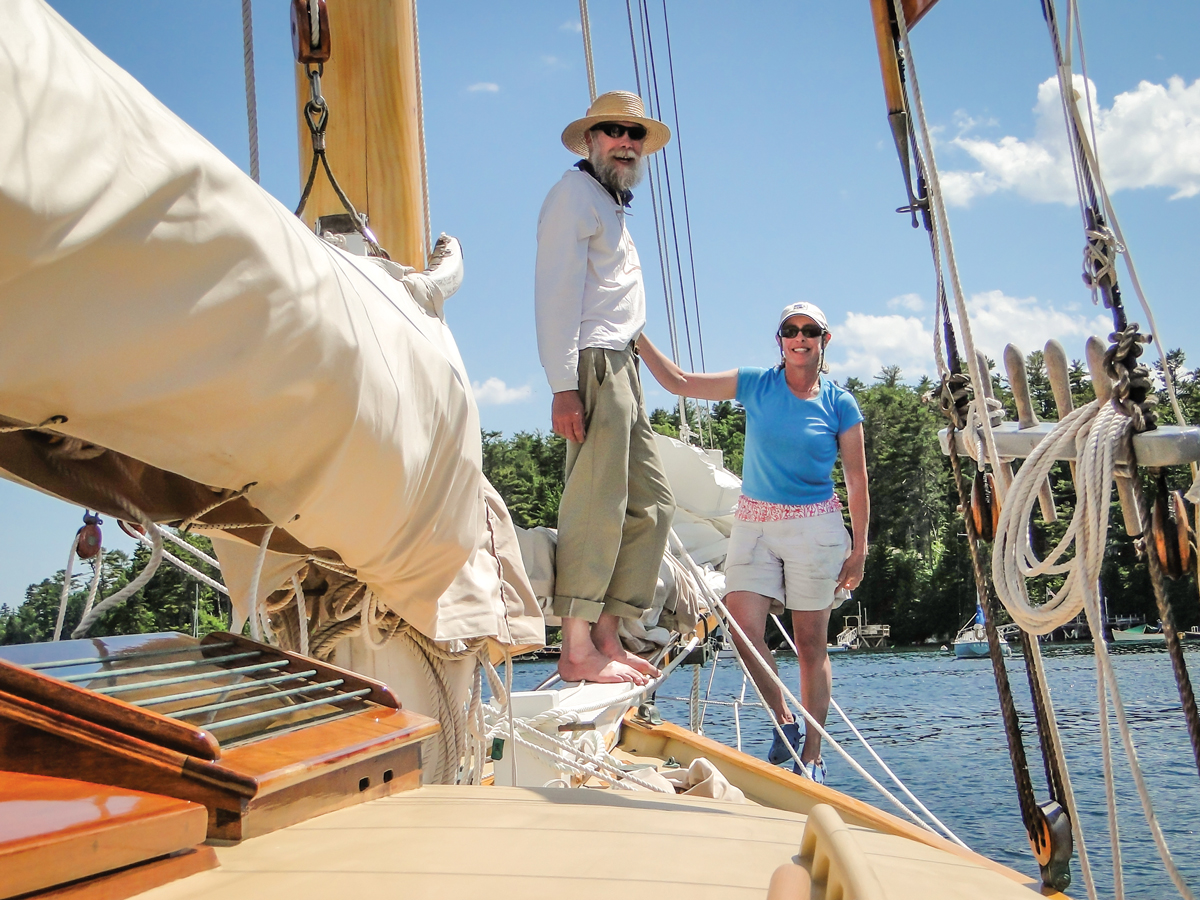 Ted Walsh and Judy Heininger, of Conway, New Hampshire, aboard their sloop Black Star.
When your seagoing hobby becomes a seagoing lifestyle, the only way to enjoy the Maine coast is by boat. Who needs Route 1, anyway?
BY CAITLIN GILMET
[dropcap letter="L"]ast year, Keith Davie and his wife, Nicki Dunbar, lived aboard their ketch, a two-masted, fore-and-aft-rigged sailboat called Sionna, for eight months straight. They've sailed all over the world, but Nicki swears, "There is nowhere on the planet with the colors of Maine, the sky and the water, the pine trees, the rocks, the wildlife. There's nothing like it in the whole world."
Zdenka and Jack Griswold spent seven years circumnavigating the globe in their Valiant 42, a bluewater cruiser named Kite, before zeroing in on Penobscot Bay. "Even after sailing around the world, Maine is still one of the most spectacular cruising areas I've ever seen," Zdenka says. "It has more anchorages than almost anywhere else I can think of. We're always finding somewhere new to drop the hook and explore."
For the loose fraternity of day sailors, short-term cruisers, and liveaboards for whom cruising is not a pastime but a passion, the Maine coast is the Promised Land. In some ways, Maine's cruisers are a people apart, a roving leisure-time subculture with their own lingo, their own shared celebrations, and their own perspective on the state (looking inland). In other ways, they're indistinguishable from the classic archetype of a Mainer: resourceful, independent, big on family, and close to the earth and sea.
"Everything Else Pales in Comparison"
Cruising vessels come in all shapes and sizes, says Josh Moore, special projects coordinator at Lyman-Morse Boatbuilding Company in Thomaston. Mega-yachts with hired crews, tiny fiberglass sailing dinghies, live-aboard powerboats with all the bells and whistles — all cruise the same harbors and inlets. Arnold and Ronna Ziegel's first Maine sailing experience was in 1976 on a 19-foot Lightning, an inexpensive sloop-rigged sailing dinghy, when they took their first lesson at Linekin Bay Resort in Boothbay Harbor. Originally from New York, they kept their first boat north of the Tappan Zee Bridge on the Hudson River and cruised Long Island Sound, Nantucket, and Martha's Vineyard, often dreaming of returning to Maine with the right boat. In 1996, equipped with radar in their J-37 racer/cruiser, they finally made it back to the water they'd been thinking about for 20 years.
"Once you start sailing the coast of Maine, everything else pales in comparison," Ronna says. After four decades of sailing — including on a J-30 sailboat and then 15 years on their "dreamboat," Metaphor, a Tartan 4100 sailboat — the couple now cruises in a Maine-made Back Cove 34 powerboat, also called Metaphor (with an inflatable dinghy named Simile). "We decided it's fun to get places faster," Ronna says. "We spent 75 nights aboard the powerboat the first year we had it. We miss it when we're not cruising. We go up to Freeport to visit it in the winter."
Many cruisers start as day sailors on smaller crafts, then graduate to larger boats with amenities or features that allow them to stay aboard longer and cruise farther. "Once you start going longer," Ronna admits, "you want a bigger icebox."
"The thing about Maine is it's blessed with more than its fair share of boatbuilders," Moore says. "The craftsmen in Maine are legendary, and there's a reason why the Maine craft-built boat has such a reputation." Cruisers often get custom-built or semi–custom-built boats tailored to their needs. A novice cruiser can buy a serviceable, used starter boat for four digits, Moore says (plus, very likely, a bunch of repairs). The most elaborate custom builds run well into seven digits. It's more than a boat these folks are buying, he explains. "This is a lifestyle, and people like that their boat, which is their home, can truly be a reflection of them."
Dick and Moira Bentzel, of Fairfield, have sailed over 35,000 miles in 20 years of cruising. They started with a 26-foot sailboat and weekend sails and slowly graduated to open-ocean "blue water" sails over 1,000 miles in a Westerly Corsair 36. "We feel so fortunate to have Maine as our home cruising area," Moira says. "I get a huge lump in my throat when we turn the corner into Penobscot Bay."
The Bentzels try to spend every moment of summer aboard their boat, often making trips up and down the coast for weeks or months at a stretch. They use their mooring in Rockland as a base of operations and like to keep the itinerary spontaneous —sometimes they'll anchor in one cove or marina for a week; other weeks, they'll sleep, shower, and eat aboard in a different harbor every night, circumnavigating, say, Mount Desert Island. With careful provisioning, they can make meals aboard their boat and sustain themselves for weeks as they sail more remote passages.
In all their years of cruising, Moira says, they haven't come close to visiting all of Maine's anchorages. "There's so much variation," she explains. "You can stay close to city life in Portland, Rockland, or Belfast, or you can go to a truly remote place like Holbrook Island Sanctuary State Park, Pickering Island, or Barred Island near Deer Isle and have the islands to yourself. Seeing Maine from the water is so much different than traveling the roads."
"A Lot of Life Lessons"
Betsy and Tim McCarthy live near Philadelphia and keep their boat, a 53-foot oyster sloop, in Camden. When they started sailing some 20 years ago, their kids were young, and cruising the Maine coast was a big part of their upbringing — and their education.
"When you're living on a boat, you're all on the same schedule," Betsy says. "You learn how to share a small space and how to pitch in. There are a lot of life lessons that translate from sailing to the rest of your life."
For the McCarthy family, arriving in Maine at the start of a new sailing season always a felt like a homecoming. "It was a big deal for our kids," Tim remembers. "Suddenly it's 6 in the morning and you're in Maine, and you can smell the fog. Maine is colder and more rugged. You feel transformed by its magic."
Betsy says that the couple's children, who are now in college, have fond memories of being allowed to walk to the Camden library or take the dinghy to explore on their own. "They learned to be competent sailors and adventurers," she says. The kids also learned to entertain themselves on the boat — without TV or electronics — for a month or more at a stretch. "They did art projects, built forts, and were creative with every inch of our boat's small footprint. Their imaginations took over."

Cruisers flotilla up to schmooze (left); Dick and Moira Wentzel (right)
"People Who Are Constantly Learning"
Imagination is a big part of the cruisers' shared skill set, suggests Ted Walsh, who grew up on Boston's North Shore in the '70s and started volunteering to help his classmates' families move their boats up to Maine in the summer. He volunteered to pick up nails in boatyards so he could "learn anything anyone wanted to teach me." A lot of his friends' parents, he remembers, were "ex-Navy, mostly World War II veterans, who knew the Maine coast intimately. They had absolutely no trust in any modern navigational tool. In those days, you didn't operate the VHF radio unless you were in serious trouble — and you weren't in real trouble if any part of the boat was still above the surface."
These days, Walsh captains a wooden boat he built himself. Cruising, he says, appeals to lifelong learners and problem solvers, and that distinction helps separate the die-hards from the dilettantes.
"Yachties and racers want to be on the water, but they're not always interested in the maintenance or care that a live-aboard boat requires," Walsh says. "They'll write a check and get back out there, which I completely understand, but cruisers tend to be interested in the whole process.
"We miss the boat when we're not cruising. We go up to Freeport to visit it in the winter."
"These are people who are constantly learning and looking to improve," he goes on, "whether that means learning to navigate better, understanding wind currents or sail trimming, or picking up another skill. I've watched numerous people go from wondering if they can repair a torn sail to making their own sails, awnings, and ditty bags. They find that the doing is the fun part of cruising they never anticipated."
To hear Walsh tell it, the sense of curiosity and initiative that defines a dedicated cruiser isn't so different from the qualities that set Mainers apart. "There's a toughness and a resilience and a creativity that comes with living in Maine, because it's not an easy place to thrive," he says. "You have to be willing to learn, and to ask others for help. I used to sail from Rockland to the Bay of Fundy and anchor in some remote spot. It was amazing how often someone would row out and say, 'Nice boat. Are you well found? Do you need anything?'"
"The Camaraderie of the Sea"
That sense of easy comradeship is characteristic of the culture, to hear the cruisers tell it. The tribe loves to gather, says Lyman-Morse's Moore — to share info, compare boats, to race, and party. "If you have two boats going in the same direction, that's a race, and that's an event in itself," Moore says.
Keith Davie and Nicki Dunbar, of Rockland, coordinate the annual Penobscot Bay Gam each July. (The word is an old nautical term from the 1800s, when square-rigged whaling clippers would reroute their courses to intercept and swap news with other boats.) The event attracts cruisers and anyone interested in sailing for a potluck, speakers, boat tours, and a massive dinghy flotilla. It's one of many gams held around the world and sponsored by the Seven Seas Cruising Association, which also runs a "port host" program, soliciting local volunteers to greet and aid newly arrived cruisers in their home ports.
Bill Hoyer has been sailing his 38-foot Island Packet offshore cruiser with his wife, Joan, for 20 years. They live near Syracuse, New York, but they're members of Boothbay Harbor's Down East Yacht Club, which hosts meet-ups and group cruises. "The people who do this are often the people who love the real Maine," Bill says. "The Maine we get to see is pretty much the same way it has always been — cruising allows us to go back in time. I love to visit places like Jewel Island in Casco Bay, which has kept its integrity over the years. I get out, walk in the tidal basin, look for shells. It's still primitive."
What Walsh calls "the camaraderie of the sea" also helps cruisers endure seasons off the water. "I always regret a passage ending," says Zdenka Griswold, who, with her husband, edits Voyages, the membership magazine of the Cruising Club of America. "When the boat's decommissioned, when she's back on the hard with the water drained out of her and antifreeze in her lines, I miss it." Groups like the Cruising Club help her weather the downtime.
"The first place I go in a new harbor community is the marina," Moore says, "because those are the people I'm going to get along with, and that gives me a grounding no matter where I am. We know we'll find people who think like we do and respect what we're doing, who want to hear about my boat and our adventures. Boaters understand each other."
Five Cruiser Faves
North to south, the Maine day cruises not to miss (even if you don't own a boat).
LONG ISLAND
For cruiser Erik Jorgensen, of Portland, nothing beats circumnavigating Long Island in Casco Bay. "Only 6 miles from downtown Portland, you've got Little Chebeague's deserted beach on one side and low-key summer houses behind scraggy Crow Island on the other," he says. "Rounding the last turn in the channel, everything opens up, and suddenly you're riding the swells in the open ocean." NOAA nautical chart 13292. No boat? Portland Schooner Company (207-766-2500) and Casco Bay Adventures (207-370-9044) offer cruises and private charters.
THE BASIN
The Basin in Phippsburg, says Falmouth cruiser Matt Hoidal, is "360 degrees of pure Maine beauty, a perfect oasis, with deep water that's ideal for swimming." Ospreys, blue herons, eider ducks, and harbor seals loiter in the protected tidal cove on the New Meadows River. NOAA nautical charts 13293 and 13290. No boat? Rent from New Meadows Marina (207-443-6277).
WARREN ISLAND
Bill Hoyer recommends a visit to Warren Island, west of Islesboro, in Penobscot Bay. A state park, the island is dotted with campsites and lean-tos. "We dinghy over and pick wild blueberries and raspberries for our oatmeal," Hoyer says. See NOAA nautical chart 13309. No boat? Camden Harbor Cruises (207-236-6672) offers tours and private charters, as do various schooners.
VALLEY COVE
Kate Simmons, of Limerick, loves sailing into Somes Sound and anchoring at Valley Cove in Acadia National Park, north of Southwest Harbor. "You can go ashore and hike up cliffs straight off the beach," she says. NOAA nautical chart 13318. No boat? Ellis Powerboats (207-244-9221) and Mansell Boat Rental Company (207-244-5625) offer rentals; Downeast Friendship Sloop Charters (207-266-5210) has tours from Southwest Harbor and Northeast Harbor.
EASTERN BAY
Betsy McCarthy's fond of cruising Eastern Bay, admiring the exposed granite ledges on the eastern side of Great Wass Island. "Mud Hole Point is my favorite anchorage in the world," she says. "The Great Wass Island Preserve has some of the best hikes we've ever done." NOAA nautical chart 13326. No boat? Jonesport's Coastal Cruises and Dive Downeast (207-598-7473) offers tours.
The Maine Association of Charterboat Captains offers a variety of options for the boatless in every region of the state.