SPONSORED CONTENT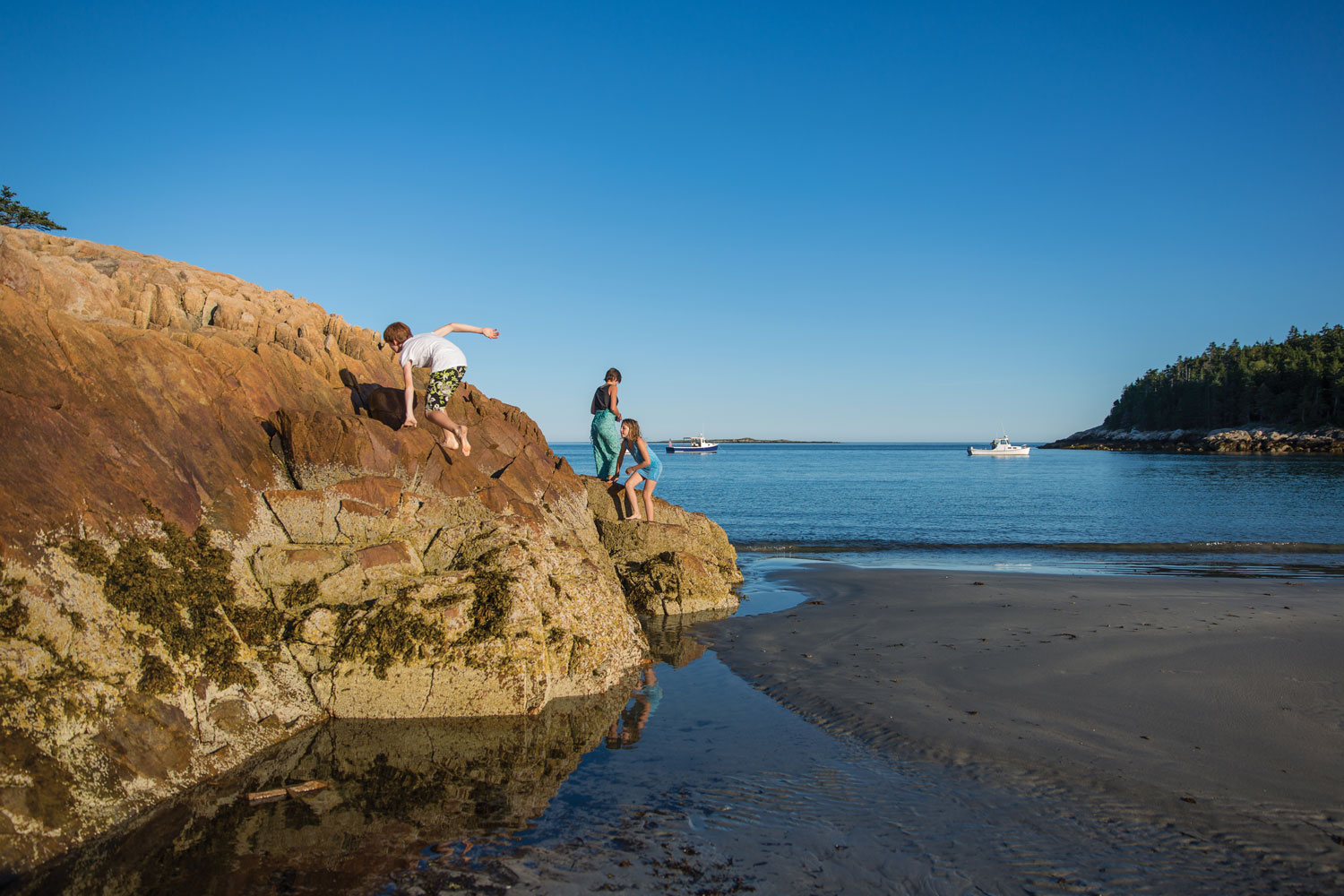 Photograph by Bridget Besaw
Literally (and litorally) brought to you by Maine Coast Heritage Trust — as in, these places wouldn't exist without the state's quietly dogged land-conservation powerhouse. Ready to discover your new favorite coastal sanctuary?
Maine, god bless it, is long on land trusts, with more than 80 land conservation organizations helping to protect and preserve public access to the state's woods, waterways, and other wild places. Along the coast, the venerable Maine Coast Heritage Trust is responsible for some 150,000 of those conserved acres (that's three Acadias!), preserved for recreation, yes, but also for working forests and waterfronts, for sustainable agriculture, for fish and game habitat, and other uses with lasting community and economic benefits. And yet the prolific MCHT is far from a household name.
While other laudable bodies are also devoted to trail maintenance and stewardship on Maine's islands, MCHT is the granddaddy of coastal conservation, having permanently protected more than 300 islands and tens of thousands of shoreline acres since its founding in 1970. Some of these lands host elaborate trail networks and campsites. Many provide critical habitat for seabirds and migrators, seals and shellfish, lady slippers and beachhead irises. All are free and open to the public. Because MCHT thrives on partnerships, many sites it's conserved over the years are now owned and cared for by other organizations. Today, with a cadre of land stewards working in every coastal county, MCHT manages a vast and varied network of 129 preserves from Kittery to Lubec. Every one of them is a testament to Mainers' generosity and conservation ethic, as donations — of money, land, and volunteers' time — are central to the group's mission.
Most of them are also under-the-radar outdoor playgrounds par excellence. (What, you thought "preserve" meant off-limits?) In this special supplement, we share a few of our favorite ends-of-the-earth campsites, birding hotspots, silent spruce-fir forests, tide-pool oases, lonely granite swells, and 1,000-mile ocean vistas — all of them courtesy of Maine Coast Heritage Trust.
Trust Exercise
Maine Coast Heritage Trust has helped launch dozens of land trusts across the state and now supports them with training and education through the Maine Land Trust Network, as well as hosting the annual Maine Land Conservation Conference. To find your local land trust, visit mltn.org.
CASCO BAY
While Maine Coast Heritage Trust has helped others conserve thousands of acres in southern Maine, the group's coastal preserves begin in Casco Bay, where ferries and fishing boats cruise past islands alternately wild and rich in human history.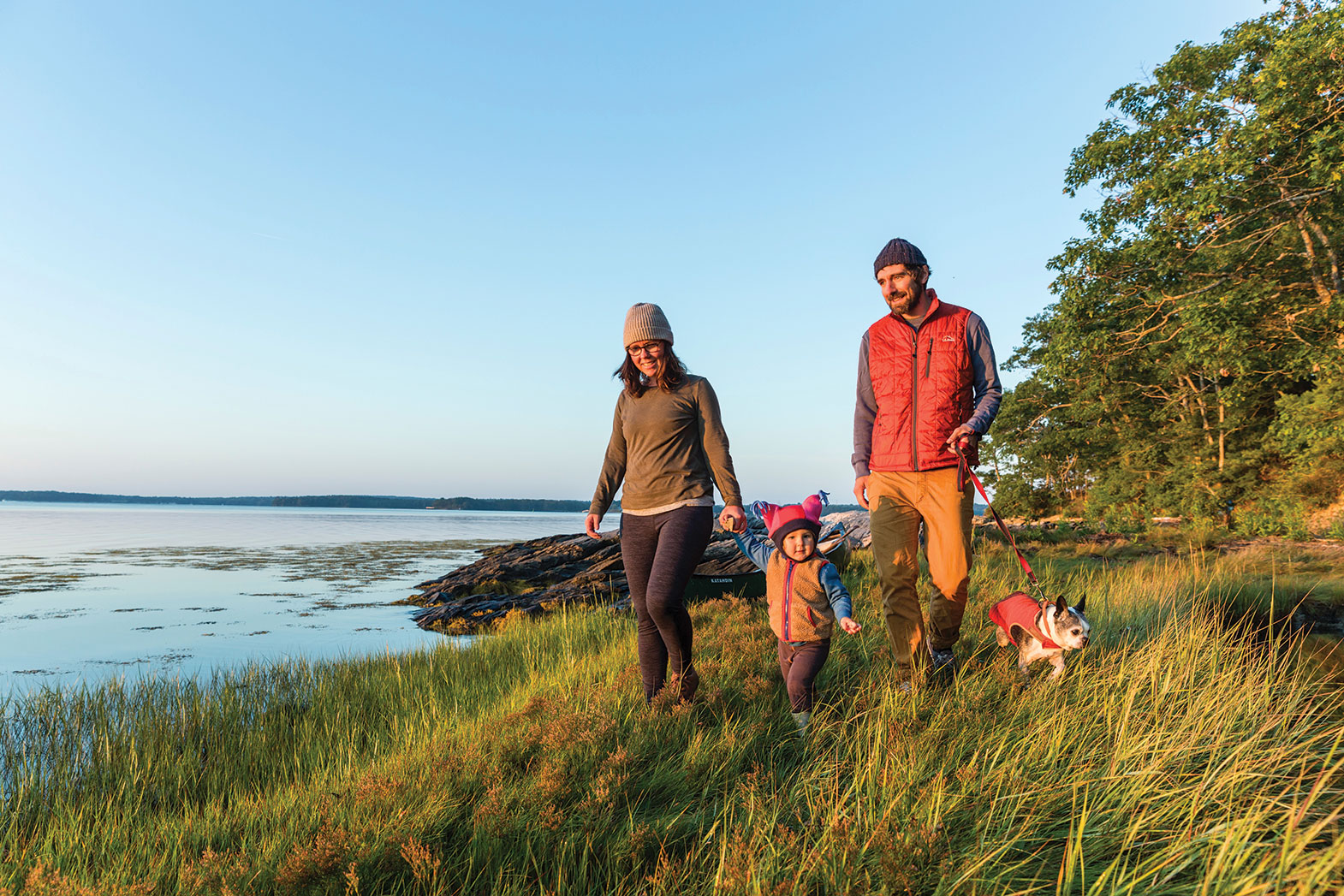 Lanes Island Preserve
Photograph: Jerry Monkman
Protected: 2002
Acres: 122
Closest boat ramp: Brunswick's Mere Point Boat Launch (call harbormaster Dan Devereaux about overnight parking, 207-725-6631)
Campsites: 2, plus a reservation-only group site
» The meadow campsite at the center of narrow Whaleboat Island, some 1,200 yards off Harpswell Neck, doesn't have much for tree cover, but what it lacks in shade it makes up for in bazillion-mile views across the bay. On a clear day, you can even see the peaks of Mount Washington and the Presidentials on the southwest horizon. Closer at hand, watch for ospreys wheeling overhead and harbor seals bobbing off the rocky coast. Both the meadow site and a wooded site on the island's northern tip are available on a first-come-first-served basis.
Sweet tooth: Stock up on penny candy — and all your other essentials — at friendly little Paul's Marina (36 Eastern Shore Rd.; 207-729-3067) near the Mere Point Boat Launch, says MCHT regional steward Caitlin Gerber.
Protected: 2001
Acres: 42
Closest boat ramp: Holbrook Street Landing in Cundy's Harbor, off the east side of Cundy's Harbor Rd.
Loop trail: 1 mile, with dramatic overlooks of the bay
» Malaga Island was once home to a mixed-race fishing community that was forcibly evicted by the state in 1912 — a move motivated by racism, a misguided belief in eugenics, and an ill-conceived desire to remove perceived blemishes in the midst of a burgeoning tourism economy. Today, you can learn about the island's tragic history at mcht.org. When visiting the island, check out the interpretive kiosk at the island's north end (the best spot to come ashore) and imagine the once-thriving community that called this place home. In nearby Sebasco Harbor, Seaspray Kayaking (207-751-3450) offers kayak rentals and tours.
Dining room with a view: For a bite, Gerber recommends Anna's Water's Edge Restaurant in Phippsburg (75 Black's Landing Rd.; 207-389-1803). "It has a great view of Malaga Island," she says, "and it's just a lovely place to watch the tide and the local lobstermen go by."
"The water around Lanes Island is warm, and if you're lucky, you might see horseshoe crabs, an eagle, or one of the other seabird species that hang out there."
Caitlin Gerber, MCHT regional steward
Protected: 2013
Acres: 28
Closest boat ramps: Freeport's Winslow Park or Yarmouth's Royal River boat launch
Campsites: One first-come-first-served site, plus a reservation-only group site
» Formerly the hunting getaway of L.L. Bean himself, the island was donated to MCHT by Bean heir Leon Gorman and his wife, Lisa, in 2013. Now, local shellfish harvesters value the island for its muddy clamflats, but recreational visitors come to enjoy the long stretch of sandy beach on the island's western side, facing the mouth of the Royal River. A few shorter stretches of sand and gravel attract beachcombers to the island's eastern side. Each has an anchorage and a campsite, though the western side is inaccessible at low tide and the eastern campsite is for groups only (there's a two-night limit at each). The tides rule everything around Lanes Island, so check the charts before you go, or you might find yourself stranded in the mud.
Hop, skip, and a paddle: Next time you plan to pass an afternoon at Freeport's family-friendly Winslow Park, bring along a board or kayak — it's a short paddle to and from Lanes Island.
Picnic on Cow Island
PARTNER SITE
Protected: 2000
Partner: Rippleffect, which purchased the island with help from MCHT
Acres: 26
Anchorage: The Cow Island dock is private; visitors should pull vessels up on the public-use western shore or anchor out.
Campsites: 3. Call Rippleffect a week ahead for overnight stays (207-791-7870).
» Rippleffect is a nonprofit youth and community development organization offering leadership programs like camps, treks, and after-school programs focused on kayaking, backpacking, art, environmental education, and more. MCHT bought the island from a previous owner in 2000 to help facilitate Rippleffect's purchase five years later. Part of the deal was a conservation easement guaranteeing public access and limiting development, and today, while Rippleffect runs programs on the island's eastern end, the sandy beach on its western side is perfect for a sunset picnic.
Ferry lunch: Just want to take a look the place? You can glide by on a mailboat cruise on Casco Bay Lines (56 Commercial St.; 207-774-7871). Tours leave twice daily from Portland's Maine Ferry Terminal.
PENOBSCOT AND BLUE HILL BAYS
MCHT manages nearly two-dozen surprisingly diverse preserves in and around Penobscot Bay, from coastal farms to quiet woodlands to the former granite-quarry islands of Merchant Row.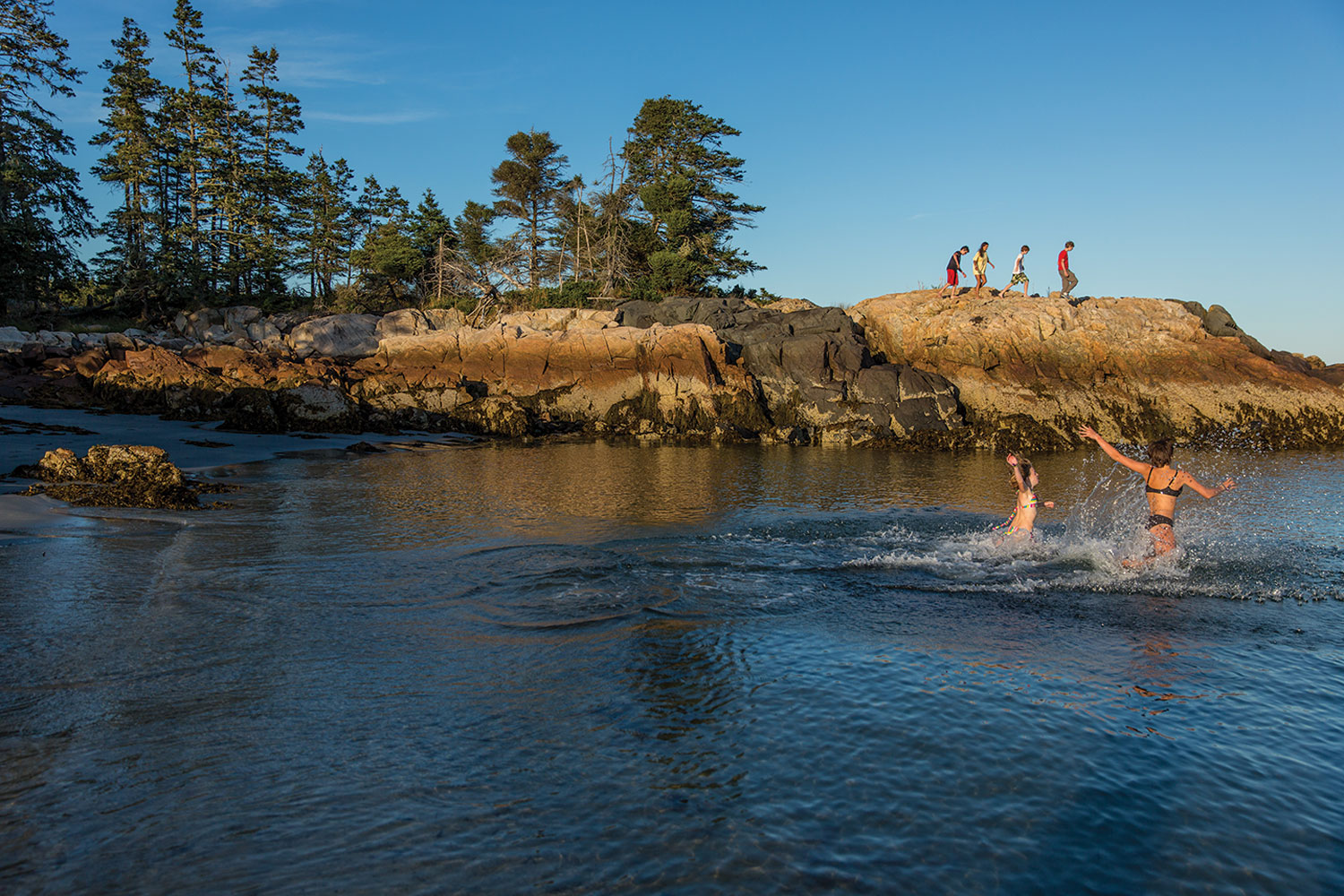 The Ed Woodsum Preserve at Marshall Island
Photograph: Bridget Besaw
Protected: 1993
Acres: 48
Closest public boat ramp: Stonington's Colwell Boat Ramp, at the foot of the Isle au Haut Ferry Terminal on Colwell's Ln.
Shuttle: Old Quarry Ocean Adventures (130 Settlement Rd., Stonington; 207-367-8977) sends several shuttles a day in summer ($30 round-trip) and also leads paddling trips all over the archipelago.
» Green Island is one of more than 50 islands that make up Merchant Row, an archipelago speckling the lobster-rich waters between Stonington and Isle au Haut. Arrive at the old granite wharf on the island's southeastern side, climb the ladder, and hike all of five minutes through cool woods to the even cooler swimming hole, ringed with granite. In the 19th century, the Merchant Row quarries yielded stone used in everything from Rockefeller Center to Boston's Museum of Fine Arts. The quarry pond is at its warmest in August. Whenever you take a dip, be sure to take care.
Local Joe: Before hitting the water, caffeinate at Stonington's 44 North (70 Main St.; 207-348-3043), pouring coffee from organic beans roasted on Deer Isle.
Protected: 2003
Acres: 985
Closest public boat ramp: Stonington's Colwell Boat Ramp, at the foot of the Isle au Haut Ferry Terminal on Colwell's Ln.
Charter: Old Quarry Ocean Adventures (130 Settlement Rd., Stonington; 207-367-8977) can shuttle you and your gear.
» For decades, the fate of Marshall Island hung in the balance as developers drew up subdivision plans. Today, thanks to generous MCHT donors and the state's Land for Maine's Future program, the Ed Woodsum Preserve protects the eastern seaboard's largest undeveloped and uninhabited island, with 7 miles of rocky shoreline and 10 miles of hiking trails through deep forest and wildflower meadows. Hikers (there aren't many) spot deer, mink, and otters, and the profiles of MDI's peaks are visible on clear days. The cove on the northeast side is a good holding ground, and there's an easy beach landing on the south end. The island has four campsites (including one reservation-only group site); the best for beach lovers is at Sand Cove, on the island's southeast side, with three tent platforms just steps away from a pristine stretch of sand.
On the boil: For an unbeatable camp dinner, Old Quarry will also sell you lobsters and rent you a pot.
Protected: 1985
Acres: 185
Directions: From Fort George Park in Castine, follow Battle Ave. ½ mile south, looking for a sign on the right.
Miles of trail: 4.2
» The easy trail network (former carriage roads) at this historic British colonial site loops around former batteries and lookouts used by troops from both the Revolutionary War and War of 1812. The mixed forest — you'll see spruce, balsam fir, and ash, along with plenty of hay-scented ferns — is growing back after blowdowns took out many of the preserve's trees a decade ago. And it's an avian hotbed, with a mess of warblers, whitethroated sparrows, northern parulas, black-throated green warblers, and dozens of other species. Best birding is spring through June (though the skiing's great in winter too).
Go fourth: MCHT regional steward Caleb Jackson says there's no Maine town like Castine for Independence Day. "It's absolutely insane," he promises. "Every single person in town comes out to celebrate with sparklers and parades and people from every generation wearing costumes."
"I love that Marshall Island is so remote and uninhabited. You can venture out in the fog early in the morning and be the only footsteps on the beach."
Terry Towne, MCHT regional steward

Witherle Woods Preserve (left); a stretch of trail at the Frenchboro Long Island Preserve (right).
Photographs: Jerry Monkman (Witherle); Bridget Besaw (Frenchboro)
Protected: 2000
Acres: 1,159
Ferry: A passenger ferry runs in summer from Bass Harbor. Service is limited, so check the schedule closely.
Harbor: Rental moorings are available through Lunt's Dockside Deli (207-334-2902).
» Seven miles out to sea from MDI, Frenchboro Long Island is home to a small year-round fishing community with a proud heritage. MCHT's spectacular Frenchboro Long Island Preserve comprises much of the island, ringed with 8.2 miles of shoreline trail, along which hikers spot bald eagles, the occasional sea duck in the water, and cool wildflowers like pale-purple beachhead irises. "What strikes me about Frenchboro," says MCHT regional steward Douglas McMullin, "is that even Acadia doesn't have that much bold coast for perimeter walks along the water."
Shack attack: Lunt's Dockside Deli, open late June through August, is one of the first things you'll see coming ashore on Frenchboro. Lobster gets no fresher.
PARTNER SITE
Protected: 1990
Partner: Vinalhaven Land Trust, which jointly owns and manages the preserve
Acres: 789
How to get there: The ferry from Rockland to Vinalhaven makes several trips a day in summer.
Miles of shoreline: 4.5
» The Basin Preserve on Vinalhaven Island almost entirely surrounds a 360-acre embayment. Three miles of moderate hiking trails are "stacked with mushrooms,"
according to MCHT regional steward Kirk Gentalen. The woods, he adds, are also loaded with warblers, vireos, thrushes, and red crossbills. Along the water, look out for great blue herons in the shallows and seals hauled up on granite ledges. If you'd like to take a dip, head to the northern part of the preserve, where you'll find a couple of sweet swimming spots off sun-warmed ledges.
Catch of the day: Come suppertime, head over to Salt (64 E. Main St.; 207-863-4444) for beer brewed on adjacent North Haven and ceviche with freshly caught halibut.
BOLD COAST
MCHT owns and stewards more than 3,500 acres along the farthest stretches of the Down East coast, a wonderland of pebble beaches, cool coastal forests, and MCHT preserves and partner sites that see modest foot traffic.

Cobble Beach at Bog Brook Preserve
Photographs: Bridget Besaw
Protected: 2005
Acres: 1,770
Directions: Follow Rte. 191 north of Cutler and look for the south entrance sign at about 5 miles. To reach the north entrance, follow Moose River Rd. 1.1 miles from where it leaves Rte. 191, 7 miles north of Cutler.
Miles of trail: 5.5
» Bog Brook Cove Preserve stretches along the Grand Manan Channel, with views of the rugged Down East coastline, a cobble beach, blueberry fields, and wildlife like spruce grouse, bald eagles, seals, sea ducks, and maybe even bobcats and bears. It's a one-stop shop for photographers looking to capture an array of what Maine has to offer. Canada too — a universally accessible trail offers views of distant Grand Manan Island.
Cocoa buff: MCHT regional steward Melissa Lee recommends a detour to Monica's Chocolates in Lubec (100 County Rd.; 866-952-4500). Try the chocolate, caramel, and peanut butter confections shaped like sea cucumbers.
Protected: 1993
Acres: 1,225
Directions: Follow Boot Cove Rd. 3.7 miles from where it leaves Rte. 191, northeast of Cutler, or 1.9 miles from where it leaves South Lubec Rd., south of Lubec.
Miles of trail: 2.4
» Rocky barrens host nests for Lincoln's sparrows and palm warblers, and you'll see migratory hawks, northern harriers, and merlins in season. The preserve also provides habitat for beavers, black bears, moose, foxes, coyotes, snowshoe hares, and bobcats, and you might see whales and seals offshore. Benny's Mountain is an exposed, 214-foot hill with lovely views of Lubec and out to sea, and the beach where Hamilton Brook meets the ocean is a terrific picnic spot.
Maritime History: In Lubec, Lee suggests a visit to the Lost Fisherman's Memorial at the end of Water Street. "It's a stunning tribute to those lost at sea on both sides of the international border," she says.
"I get a top-of-the-world feeling looking out from the cliffs at the Boot Head
Preserve."
Melissa Lee, MCHT regional steward

Hamilton Cove Preserve (left); bird-watchers at Boot Head Preserve (right).
Photographs: Rick Knox (Hamilton); Bridget Besaw (Boot Head)
Cliff Walk at Boot Head
Protected: 1988
Acres: 700
Directions: Follow Boot Cove Rd. 1.9 miles from where it leaves Rte. 191, northeast of Cutler, or 3.6 miles from where it leaves South Lubec Rd., south of Lubec.
Miles of trail: 2.4
» Boot Head preserve connects to nearby Hamilton Cove, forming nearly 2,000 inland acres of contiguous conserved land. The loop hike through the coastal section of this preserve winds through a bog and reaches a quiet pebble beach before climbing steeply (on a long cedar staircase, in one instance) onto seaside cliffs. The payoff is a series of epic ocean views. Scary to think there were plans to turn this breathtaking parcel into a subdivision before MCHT stepped in.
Narrows escape: "I love to watch seals play and tides race through the Narrows between Lubec and Campobello," says Lee, so don't skip a side trip to the country's easternmost town.
Backpack at the Cutler Coast Public Reserved Land
PARTNER SITE
Protected: 1989
Partner: Maine Bureau of Parks and Lands, which owns and manages the land today. MCHT worked on the original conservation of shorefront land, and, in 1997, worked to transfer the inland 10,000 acres to the state, greatly expanding the public lands.
Acres: 12,234
Directions: Follow Rte. 191 north of Cutler 3 miles to a sign and parking area on the right.
Campsites: 3
» It's a nearly 5-mile hike in to reach the first-come-first-served campsites at Fairy Head, at the southern end of the Cutler Coast Public Reserved Land, where you can enjoy ocean views right out your tent flaps. On the way, you'll pass through spruce-fir forest, ascend oceanside cliffs, spot deer in open meadows, and admire beaver ponds as you skirt peat bogs. It's a genuine Down East wilderness experience, and thanks to MCHT's adjacent preserves, it's part of the largest contiguous area of Maine coastal conservation land outside of Acadia National Park.
How convenient: Only in Down East Maine can you walk into a no-frills gas station convenience store like A2Z Variety (27 Turner Way, Cutler; 207-259-3800) and get a thoroughly decent lobster roll, a pound of steamers or freshly caught scallops, and local products from organic coffee to gelato.
From Private Island to Preserve:
Protecting a Legacy
On idyllic Clark Island, a (walkable!) few hundred feet off St. George, Maine Coast Heritage Trust is partnering with landowners in an attempt to secure permanent public access to a midcoast crown jewel.
Photo: Ken Woisard Photography
Although Albert Nickerson spent much of his professional life in Manhattan boardrooms, he was an outdoorsman at heart. As often as he could, his relatives recall, he would escape the city to camp, hike, and ski in New England, and he particularly loved to sail the Maine coast. In 1957, he paid the Deer Isle Granite Company $25,000 to take ownership of 175-acre Clark Island, a rockbound refuge connected by a causeway to mainland St. George.
Four generations of Nickerson's family have since enjoyed seasonal residence on the island, and during that time, the family has allowed tacit public access, welcoming locals (and in-the-know visitors) to explore its wooded trails, beaches, and tidal flats. But when Nickerson's heirs made it known in 2015 that they hoped to sell much of Clark Island, some neighbors worried that a six-decade legacy of permissive access could be lost.
Steve Walker, MCHT's midcoast regional project manager, has seen it happen. Growing up in Kennebunk in the '80s, he was accustomed to new property owners suddenly forbidding foot traffic on stretches of shore where he'd once waded and fished. These days, as a town councilor in Brunswick, he sees a pattern of diminishing coastal access as traditional public-access sites shift into new hands. Walker, a biologist by training, describes his job as "saving public access to Maine's coastline before it's all gone."
"That's the easiest way to explain it," he says. "There are all kinds of ecological and economic and community benefits too, but primarily, it's about securing what's left of the coast so future generations can enjoy it, like I did growing up."
300
Stonecutters employed in Clark Island's quarry operation at its peak in the early 20th century.
1947
Year that the mainland boarding house for quarry workers was converted to the Craignair Inn, whose guests have long enjoyed exploring Clark Island.
400
Approximate length, in feet, of the Clark Island causeway — which "Clarkie," an often-photographed local moose, must walk before and after his occasional visits to the island.
$3.9 million
The island's appraised value, though the Nickerson heirs offered a reduced sale price of $3.5 million. Additional funding will cover infrastructure, payments in lieu of taxes, and an endowment to finance long-term stewardship. To learn more and help make the preserve a reality, visit mcht.org/clark-island.
So Walker was delighted when a local conservation partner introduced him to the Clark Island landowners, who were keenly interested in preventing further development on the island and enshrining public access.
"We felt very strongly about permanently protecting Clark Island the way it is, thinking ahead to the next 25, 50, 100 years," says Tom Davis, whose wife, Elizabeth, is among Albert Nickerson's three daughters. Davis, like his late father-in-law, is an outdoorsman and a trail buff. He and the family envisioned a parking area on the main-land and a small trail network on the island's northern two-thirds, with a buffer separating public-use areas from the family's remaining property and seasonal home on the southern shore.
Thus kicked off two years of discussions between Walker and the Nickerson heirs — typical, if a bit on the long side, of the diligent planning and trust-building that makes any MCHT conservation project a success. Walker made multiple trips to Boston to meet with the family and their real estate agents, and he and they spent long hours wandering the island, discussing each side's vision for an eventual public preserve. Would visitors be welcome at night? How would hunting be managed? What about vehicles? "It's a lot of back and forth," says Walker, "but you end up with a solid plan for management."
Such negotiations are only phase one of MCHT's acquisition process — next comes fundraising. MCHT hopes to raise $4.8 million by March 2020 to complete the purchase and provide for long-term management. If they're successful, some 85 percent of Clark Island will be permanently protected, with 120 acres secured for public access. It's the most ambitious fundraising effort of the 20 or so projects that Walker is currently juggling. It is also, he says, the most extraordinary.
"An island this big that's accessible by a causeway to the mainland — where else are you going to get that?" he asks. "Once this opportunity is gone, at least on the southern half of our coastline, there's just nothing else like it."
One of the largest islands in the Merchant Row archipelago, just off Stonington, Saddleback Island is a quiet little pocket wilderness ringed by sloping granite ledges. On its south side, a simple, cozy cabin with a hulking fieldstone fireplace has stood since the 1950s. Want to escape there with three of your favorite people?
Enter to win a three-day, two-night stay at Maine Coast Heritage Trust's spectacular Saddleback Island Preserve in the summer of 2019. You pick the dates, and Captain Bill Baker, of Old Quarry Ocean Adventures, will get you and your gear there and back. Wander the island's beaches and trail. Watch for waterfowl, porpoises, and — if you're lucky — whales in Jericho Bay. Disconnect. Take it slow.
Visit mcht.org/contest for more details and an entry form. Simply submit your name and email address, and we'll pick the winner at random at the end of the summer!
Saltwater Socials
Meet up with other Maine coast lovers to learn and explore this summer.
May 24
Summer Kickoff with MCHT
Join us in the tasting room of Maine Beer Company to learn more about MCHT's preserves and programs. While you're at it, tip back a couple of Lunch IPAs — MCHT is Maine Beer Company's featured nonprofit partner, so the brewery donates 1 percent of its monthly sales. 5 p.m. 525 Rte. 1, Freeport.
June 30
Merchant Row Cocktail Cruise
Join MCHT staff and supporters on a watery tour of one of Maine's iconic archipelagos, where MCHT has 10 island preserves. See pricing and details online. Advance registration required. For ages 21 and up.
August 19
Explore Clark Island
This midcoast preserve-in-progress is unique in its quiet beauty and accessibility (see the previous page). Come get a look around at this free, family-friendly event. Advance registration required.