Fort Kent comes into the cold.
By Virginia M. Wright
Much of Maine goes into hibernation in winter. Indeed, in some parts of the state, entire villages become virtual ghost towns. Not Fort Kent. Located way up north on the New Brunswick border, Fort Kent (population 4,200) welcomes winter with a big, hearty embrace. "You kind of have to: it's six to eight months long," says Jim Rioux, president of the Fort Kent SnoRiders, a snowmobile club that maintains the trails that are among the area's biggest attractions. "Okay, I'm exaggerating, but it's not unusual for it to snow at the beginning of October and for winter to break in late March. You make the best of it. You go out and have a good time."
To be sure, Fort Kent is not Maine's only winter haven. But unlike Bethel and Carrabassett Valley, Fort Kent is not in the mountains and it has no big downhill ski resort. Instead, the town has earned a reputation as a destination for some idiosyncratic winter activities by being creative with what it does have — wide-open spaces, deep woods, and abundant snowfall.
Take, for example, biathlon. Fort Kent has twice hosted the Biathlon World Cup, an international event that in Europe is on par with Sunday Night Football. And the town is one of the few places in the country where area youngsters can learn to ski and shoot after school. They do it at the Fort Kent Outdoor Center, whose shooting range is deemed to be among the best in the world by the International Biathlon Union.
Then there's dog sledding. Every winter, mushers from around the country converge on Fort Kent to compete in the Can-Am Crown International Dog Sled Races, whose 250-mile course is so rigorous that it serves as a qualifier for the Iditarod Great Sled Race.
And, of course, there's snowmobiling. Snowmobiles often outnumber cars in motel and restaurant parking lots, thanks to trails that allow riders to zip right into town. These trails, in turn, connect to thousands of miles of trails crisscrossing Aroostook County. "You can go in any direction for a week and never cross the same trail twice," says sledding enthusiast George Dumond.
"Winter is what you make of it," says Fort Kent Town Manager Donald Guimond. "Snow is one of our biggest assets: We don't have to pay for it. It just falls from the sky."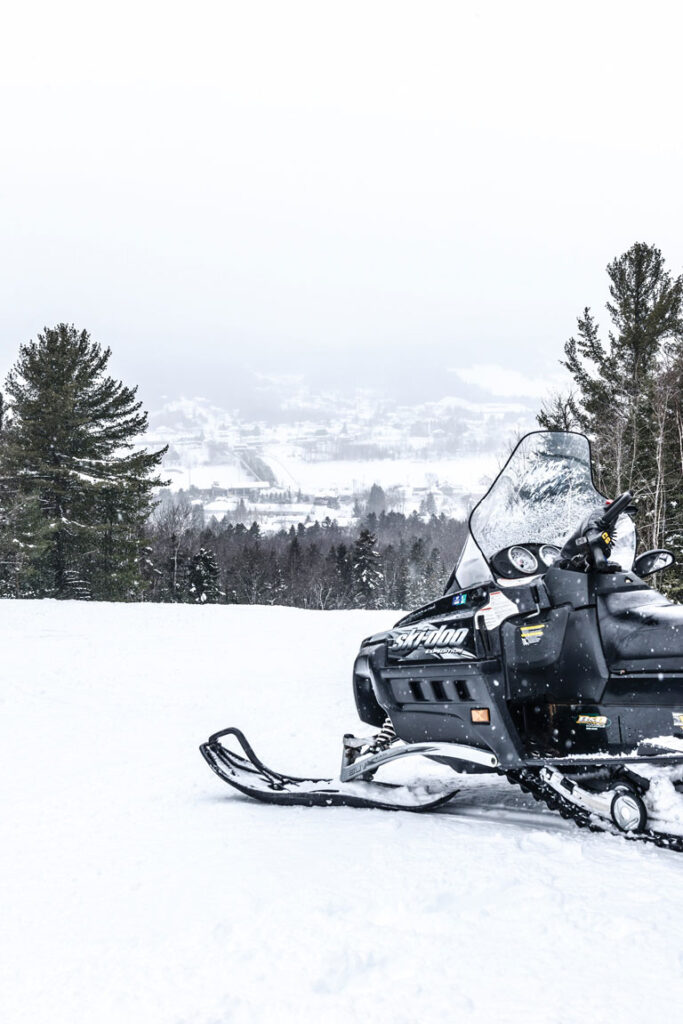 French Accents
Most upper St. John Valley natives trace their roots to the Acadians who settled on both sides of the St. John River long before it was used to divide the St. John Valley into the United States and Canada. Predominantly Franco-Americans, they often find more in common with their French-speaking friends and family across the river in New Brunswick than they do with the rest of Maine. Their common language endures as Valley French, a patois of Old French, Quebecois, and English that's heard nowhere else.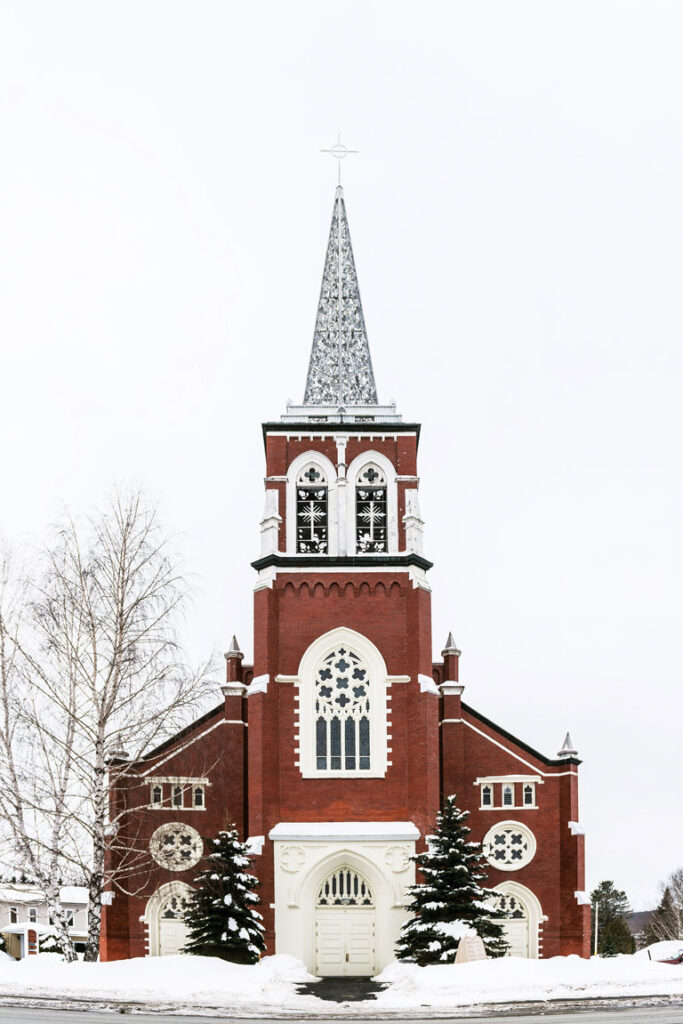 The faith of the Acadians also survives. Crosses and Virgin Mary statues are liberally displayed on lawns, doorsteps, even parking lots. Ornate Catholic churches rise above humble yet proudly maintained homes. Among the largest and most splendid of these is Fort Kent's 104-year-old neo-Gothic-style St. Louis Catholic Church, where, at four Saturday masses, the Reverend James Nadeau gives a homily in English and many of the hymns are sung in French. The church's 4,420 registered parishioners hail from all over the valley and both sides of the border.
Snow Town
Lonesome Pine Trails, a volunteer-run ski hill on the edge of downtown Fort Kent, bought its first snowmaking machine about 10 years ago. The snowmakers don't get much of a workout, according to the organization's president, Kim Martin. Typically, the ski area will make snow for a few days in December to ensure that the trails will be open for the Christmas school break. After that, Mother Nature takes over, and the snow cannons are mothballed for yet another year.
Seasonal Extremes
Average annual snowfall: 97 inches
Snowiest season: 197 inches in 2007­­–2008
Snowiest January: 55.7 inches in 1945
Average January temperature: 6.6°F

Lowest January temperature: -42°F in 1957
Warmest January temperature: 59°F in 1937
March of the Snow Shovelers
The World's Largest Snow Plow Parade (do you know of another one?) was held in Fort Kent on April 19, 2008, to mark the end of a season that saw 197 inches of snow. Besides decorated snowplows and snowblowers, the parade included a team executing military-style drills with shovels instead of rifles and marching to their own version of Sound Off: We are the snow bank shoveling crew/We'd like to wish you howdy-doo/We lived through the winter of the record-breaking snow!/It was nice to see it come, but it's nice to see it go!/Sound off; big snow. Sound off; big snow. Sound off! Big snow!
All Natural! Reclaimed!
At 11 p.m. on the night before the Can-Am Crown International Sled Dog Races, volunteers deliver 30 truckloads of snow — that's roughly 450 cubic yards — to Main Street, where they build the starting line: a 10-foot-wide-by-1-foot-deep sluice that stretches for a quarter of a mile. The snow is not manmade. It comes from a dumpsite used by the town public works crews when removing snow from Fort Kent's streets during storms. Within 1½ hours of the last dog team's departure, the snow is cleared from Main Street and returned to the dumpsite, where it will stay until it melts in the spring.
Roof Gardening
Folks in Fort Kent favor a peculiar-looking snow roof rake: in place of the usual straight, solid blade, this rake has a U-shaped head with what looks like a blue Slip N' Slide for a tail. It's called the Allagash Roof Rake, and its inventor, Roland Charette, was inspired by the way snow skimmed off the tarp that he'd draped on his woodpile. Instead of pulling snow down from the roof the way traditional rakes do, Charette's device is pushed upward into the snow, slicing it into blocks that then, well, slip and slide down the plastic sheet and onto the ground. Click here to watch the Allagash Roof Rake in action!