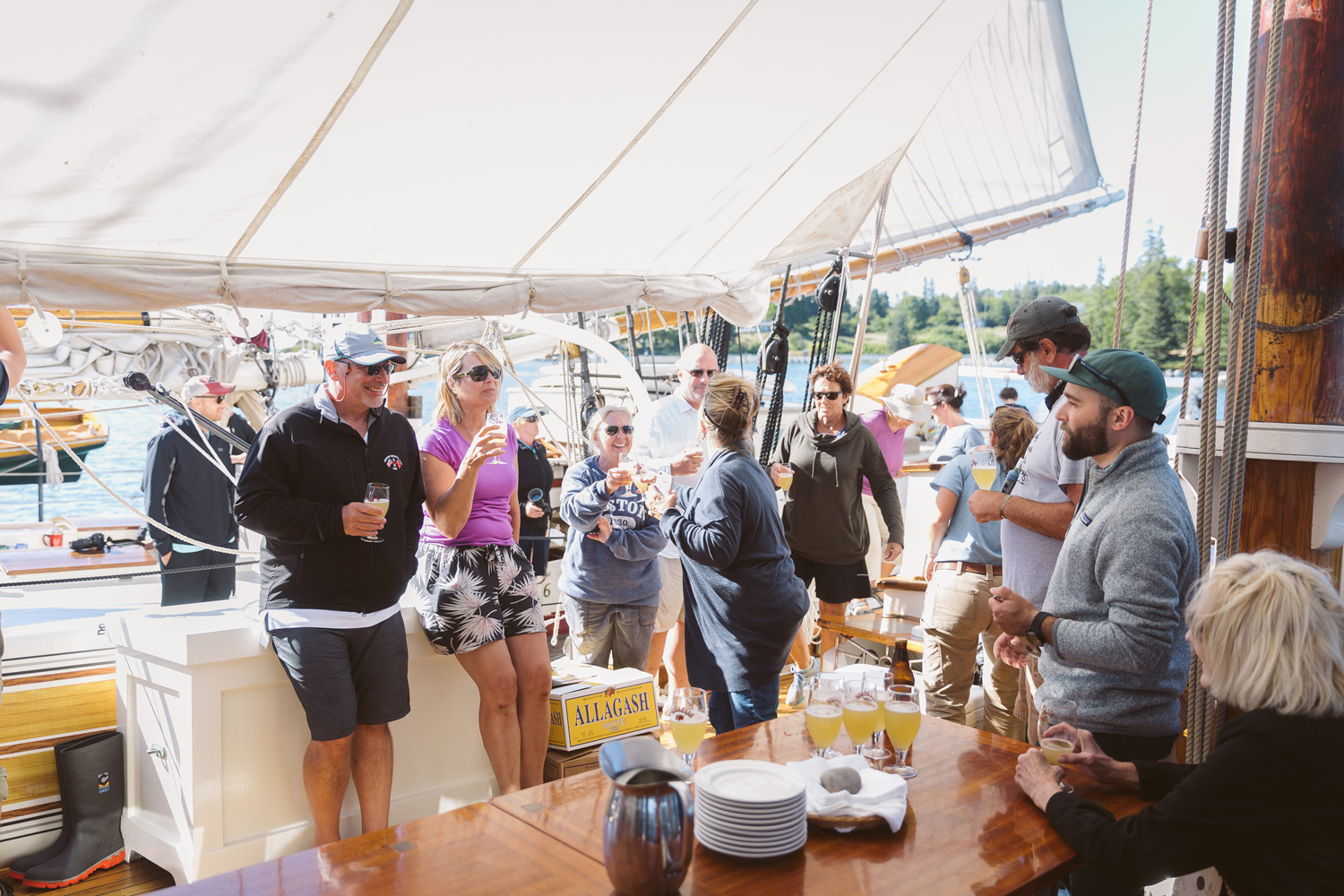 "It was incredible. You just appreciate the coast of Maine in a whole new way." — Peter Chase, Acadia Cruise
[dropcap letter="P"]eter Chase always wanted to spend more time sailing. He grew up an hour from the ocean, in Augusta, and remembers picnicking by the ocean in Cushing, near his grandmother's home, and marveling at the wooden schooners he saw docked in Camden and Castine. He even dreamed of crewing aboard one of them some day.
"I'm just fascinated with the schooners' history and how they were built," he says. "I really wanted to learn more about the Maine coast and its heritage."
Flipping through Down East last year, Chase was excited to read about an opportunity to spend five days cruising the Mount Desert Island coastline aboard the schooner Ladona, an 83-foot wooden racing yacht built in 1922, that's been lovingly restored. With an on-board chef and a standing invitation from the crew to help hoist sails and raise the anchor, the trip offered Chase and his wife, Jennifer, the ideal combination of adventure, relaxation, and pampering.
Chase cherished five days spent so closely connected to the winds and the water, chatting with the crew about everything from knot tying to navigation. It was the sailing trip he'd always dreamed about.
"It was thrilling," he says. "You see the way the water is moving and the way the tides change, and you understand the wind."
This year's Acadia Cruise, which also features the Ladona's sister ship, the Stephen Taber, is just one of dozens of Down East Adventures on offer in 2019. From treks up Katahdin to photography workshops to exclusive tours of the coast's best breweries, wineries, and vineyards, Down East editors have curated a slate of expeditions that deliver an authentic taste of what makes Maine so special.
Take it from Chase, who hopes to take a trip aboard Ladona again one day.
"It was incredible," he says. "You just appreciate the coast of Maine in a whole new way."
Explore Maine with those who know it best. Book your Down East Adventure.