In midsummer, Maine's marquee national park is at its best — and, unignorably, its busiest. From town to trail, here's how to avoid the crowds, find the park's secret gems, and make your Acadia adventure unforgettable.
By James Kaiser
Photographed by Chris Bennett
Has Mount Desert Island seemed a bit crowded lately?
You're not imagining things! Some 3.5 million people visited Acadia National Park for each of the last three years — that's a more than 60 percent traffic increase over a decade ago. Close to half of any year's park-goers descend on MDI between July and September, and if you've paid a visit in that window to any of the park's most beloved attractions — Thunder Hole, say, or Cadillac Mountain — you've perhaps experienced the paucity of parking and shoulder-to-shoulder boardwalk trails that sometimes result. Park officials have seen an overcrowding crisis looming for years — and this year, they've floated a new set of transportation guidelines to relieve the crush of cars.
But don't rethink your vacation just yet! Acadia still has splendor and solitude to spare — you just have to know where to look, when to go, and how to get around (here's a hint: be miminally reliant on your car). We love Acadia in summertime: below, we've shared our strategies for making the most out of a peak-season trip.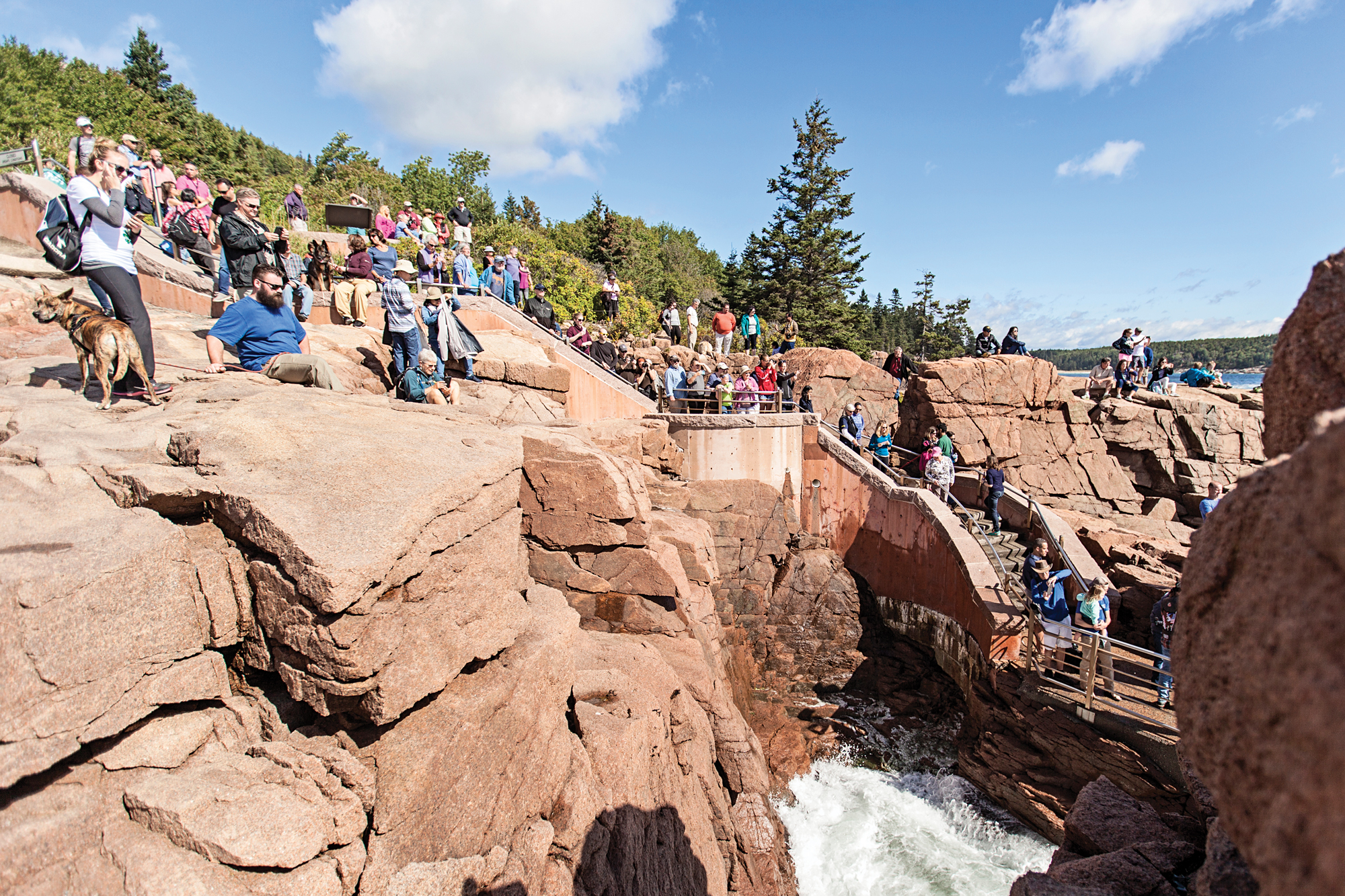 Explore the Quietside
Most of Acadia's drive-through tourists and cruise ship drop-ins line up along the Park Loop Road. But head farther west, past the northern tip of Somes Sound, and you'll find Acadia's "Quietside" unfurling in relative calm. Okay, there are no carriage roads, but terrific hikes, sparkling lakes, and gorgeous harbors await.
Mansell Mountain
Topping out at just shy of 1,000 feet, Mansell is the Quietside's second-tallest peak (behind neighboring Bernard, which has about 100 extra feet but a less exposed ridge). Mansell's rocky overlooks show off Long Pond below and the Cranberry Isles to the south. The most popular route follows the aptly named Perpendicular Trail, which involves climbing some 300 stone steps and a handful of iron rungs — it's a testament to the masterful trail-making that characterizes Acadia. Follow the Razorback Trail down the mountain's western side to make a nearly 3-mile loop. If you get an early start, you can hike this trail on a summer Saturday morning and not run into another hiker.
► Trailhead at the south end of Long Pond. From Rte. 102, follow Seal Cove and Long Pond roads.
Echo Lake Beach
While hundreds can crowd Sand Beach on hot summer days, those in the know dip instead into Echo Lake, just north of Southwest Harbor. Freshwater waves lap a small, sandy beach there, and unlike ocean swimmers, nobody at Echo Lake is stepping out with their teeth chattering. Beech Mountain looms over the water, and a little scrambling up the Beech Cliff Trail yields fine views of the lake. Tip: MDI's fare-free Island
Explorer shuttle bus makes regular drop-offs and pick-ups.
► Echo Lake Beach Rd., off Rte. 102, 2 miles north of downtown Southwest Harbor.
Seal Cove Auto Museum
Tucked away on a quiet road above Seal Cove Pond, this unassuming institution houses a world-class collection of automobiles from 1895 to 1917 — the so-called "Brass Era," before chrome became the stuff of American cars. Once the private collection of wealthy summer resident Richard Paine, Seal Cove Auto Museum's rides include Model Ts, Stanley Steamers, and even rare motorcycles and bikes. Exhibits change each summer, and special events include "Car-B-Ques" with live music and food and monthly demo days, when guests can ride in some of the artifacts.
► $6 adults, with discounts for kids, teens, and seniors. 1414 Tremont Rd., Seal Cove. 207-244-9242.
Ship Harbor
A well-protected cove just east of Tremont's much-photographed Bass Harbor Light, Ship Harbor is accessed by a short, flat hiking trail that weaves through mixed forest to reach a series of pink-granite ledges over the water. The 1.2-mile loop has no sweeping mountain views, but Ship Harbor is maybe the best place in Acadia to slow down and soak up some quiet tidal beauty. Mossy forest, rocky shore, and pine-scented breeze. Even on foggy days, Ship Harbor radiates a certain magic and mystery.
► Trailhead on Rte. 102, less than a mile east of Lighthouse Rd.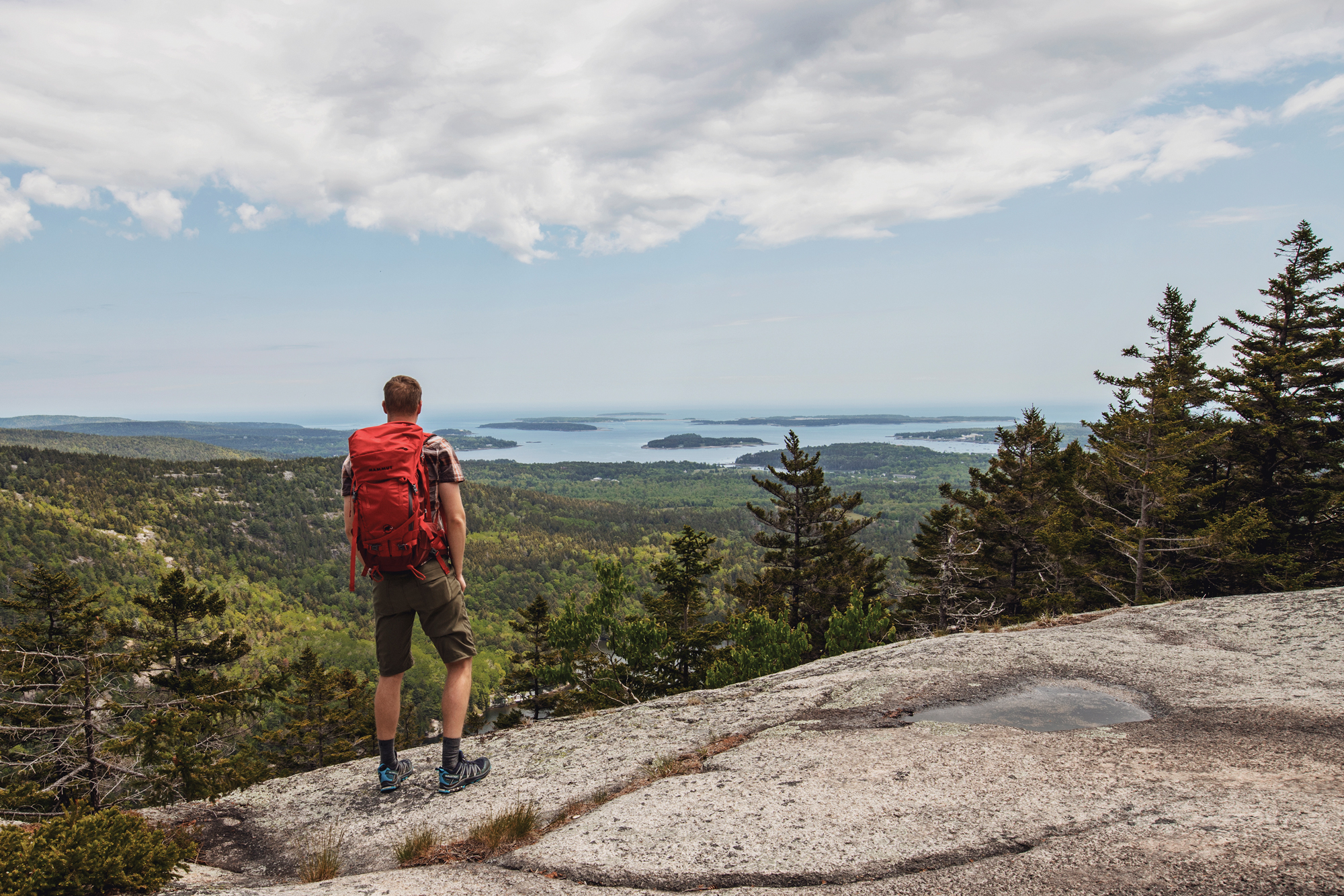 Looking out to sea from atop Mansell Mountain. British naval officer Robert Mansell went and named it for himself in the early 17th century.
Scoot Over to Schoodic
The rockbound peninsula just across Frenchman Bay is Acadia's only mainland portion, long overshadowed by MDI. But the Schoodic Peninsula's granite-heavy coastal scenery is equally stunning, and its paved loop road boasts more waterfront than the main unit's Park Loop Road — with a fraction of the traffic. A National Park Service facelift in 2015 added a campground, some 4 miles of hiking trails, and 8½ miles of bike paths. Schoodic's low-key, rugged charm is worth bypassing MDI for.
Schoodic Bike Trails
---
Every Maine cyclist admires MDI's carriage roads — and that means they're often crowded during peak season. Far fewer people are hip to Schoodic's new bike paths, which branch out from the Schoodic Woods Campground and offer a similarly pleasant ride through rolling, wooded terrain, with occasional views of the water.
► Rent bikes from nearby Seascape Kayak and Bike, 8 Duck Pond Rd., Winter Harbor. 207-546-1064.
Lower Harbor Trail
---
Many Schoodic visitors, eager to visit the peninsula's rocky tip, drive right past this short, charming trail. The Lower Harbor Trail drops through bogs and mossy forest to a rocky shore that's classic Down East Maine, with sparkling water flowing through narrow inlets and a view of pine-covered peninsulas stretching to the horizon. If you follow the Frazer Creek Bike Path back to the campground trailhead, the whole loop is only about 2 miles.
► Trailhead at Schoodic Woods Campground ranger station, off Schoodic Loop Rd., a mile south of Rte. 186.
Buck Cove Mountain/Schoodic Head
---
Prior to 2015, the longest hiking trail on the Schoodic Peninsula was barely 2 miles. The expansion added another 4 miles of trail, including the little-traveled footpath over Buck Cove Mountain Trail, which starts at Schoodic Woods Campground and continues on to reach 422-foot Schoodic Head — the peninsula's highpoint. Overlooks take in three lighthouses on nearby islands and peninsulas: Egg Rock, Winter Harbor, and Petit Manan. On the way, hikers pass through bogs full of pitcher plants and gorgeous stands of white cedar. It's just over 3 miles from the campground to Schoodic Head. From there, follow the 2-mile Anvil Trail down to the road to make a day of it; you can catch the fare-free Island Explorer shuttle bus back to the campground.
► Trailhead at Schoodic Woods Campground ranger station, off Schoodic Loop Rd., a mile south of Rte. 186.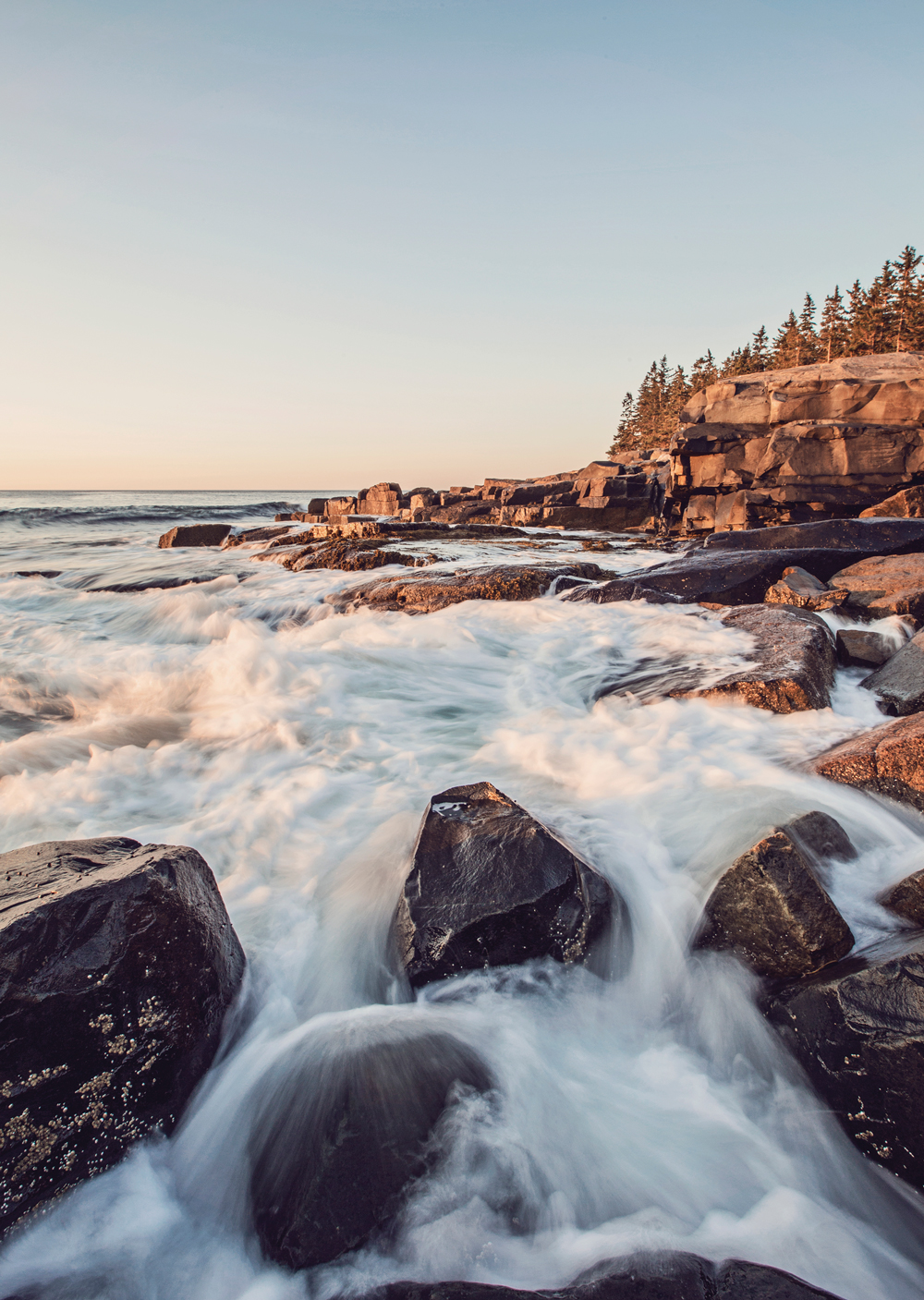 Schoodic's bold granite coast is on display along the Lower Harbor Trail, as well as at Schoodic Point, at the peninsula's southern tip.
Embrace the Twilight
Most Acadia visitors arrive after breakfast and pack it in before dinner. Sunrise and sunset are for us diehards. Pack a jacket, bring some snacks, and enjoy the park in its most beautiful light.
Non-Cadillac Sunrise
---
Cadillac Mountain is (famously) the first spot to see the sunrise, but the park has plenty of knockout dawn perches. Pemetic Mountain catches the sun's rays moments after Cadillac, with equally impressive views and none of the crowds — because there's no road to the summit. Bring a headlamp and head out an hour before dawn via the Jordan and Bubbles Pond Path and the Pemetic South Ridge Trail, a 2-mile hike. Or skip the hike and pull over at the Quietside's famously pebbly Seawall Point.
► Pemetic trailhead at Jordan Pond North Lot, off the Park Loop Rd., about 1½ north of Seal Harbor. Seawall parking begins 3½ miles southeast of Southwest Harbor.
Cranberry Isles Sunset
---
Just south of MDI lie the Cranberry Isles, where residents — and very few visitors — are fond of watching the sun set behind Acadia's mountain tableau. To join them, catch the Beal & Bunker ferry from Northeast Harbor to the Little Cranberry Island's Islesford Dock Restaurant, perched on a wooden pier near the lobster co-op and facing west. Watch the sun dip as you enjoy your shore dinner, then toast to another day in paradise.
► In July and August, Tues.–Sun., six daytime ferries depart daily between 7:30 a.m. and 6 p.m. ($16 adults, $8 kids 3–11), and a night ferry ($20) returns from the island at 9:45 p.m. Call 207-244-3575 for details.

Stargazing
---
The park empties out once the sun goes down — a shame, because that's the beginning of a dazzling show 14 billion years in the making. Acadia boasts some of the darkest skies east of the Mississippi, making it one of America's premier stargazing destinations. Sand Beach is a great place to spread a blanket after dark, and the park offers a free night-sky interpretive program there all summer, plus ranger-led astronomy talks at its three campgrounds. The best time to look up is during the annual Acadia Night Sky Festival (Sept. 5–9) when celestial enthusiasts converge on the park for speakers, workshops, and group telescope sprees atop Cadillac Mountain.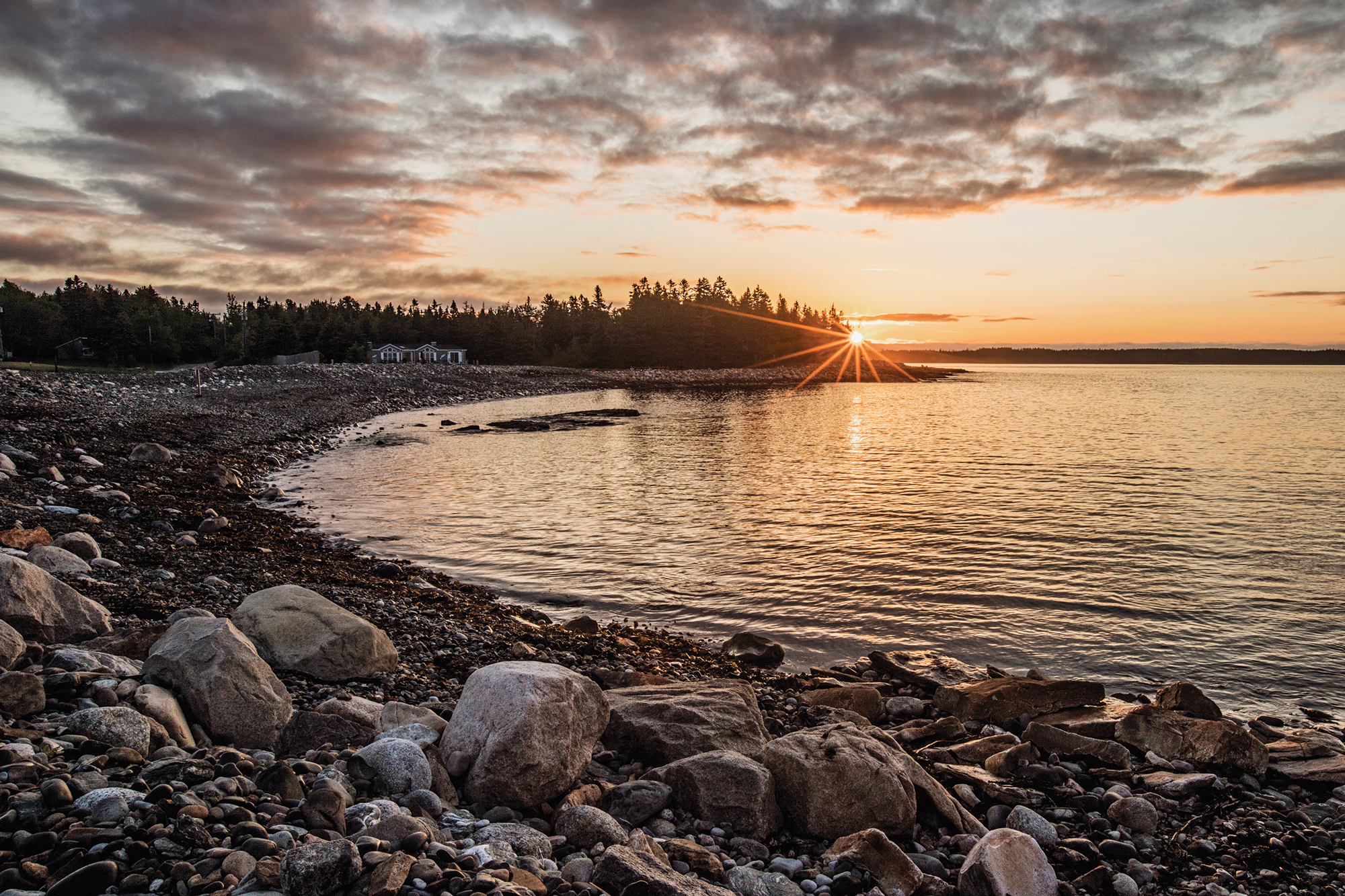 A Seawall sunrise may not offer Cadillac's sweeping panorama, but it has all the romance.
Take a Non-Acadia Day Trip
Acadia isn't the area's only protected paradise. Drop in on one of these (comparatively) little-visited nearby conservation lands.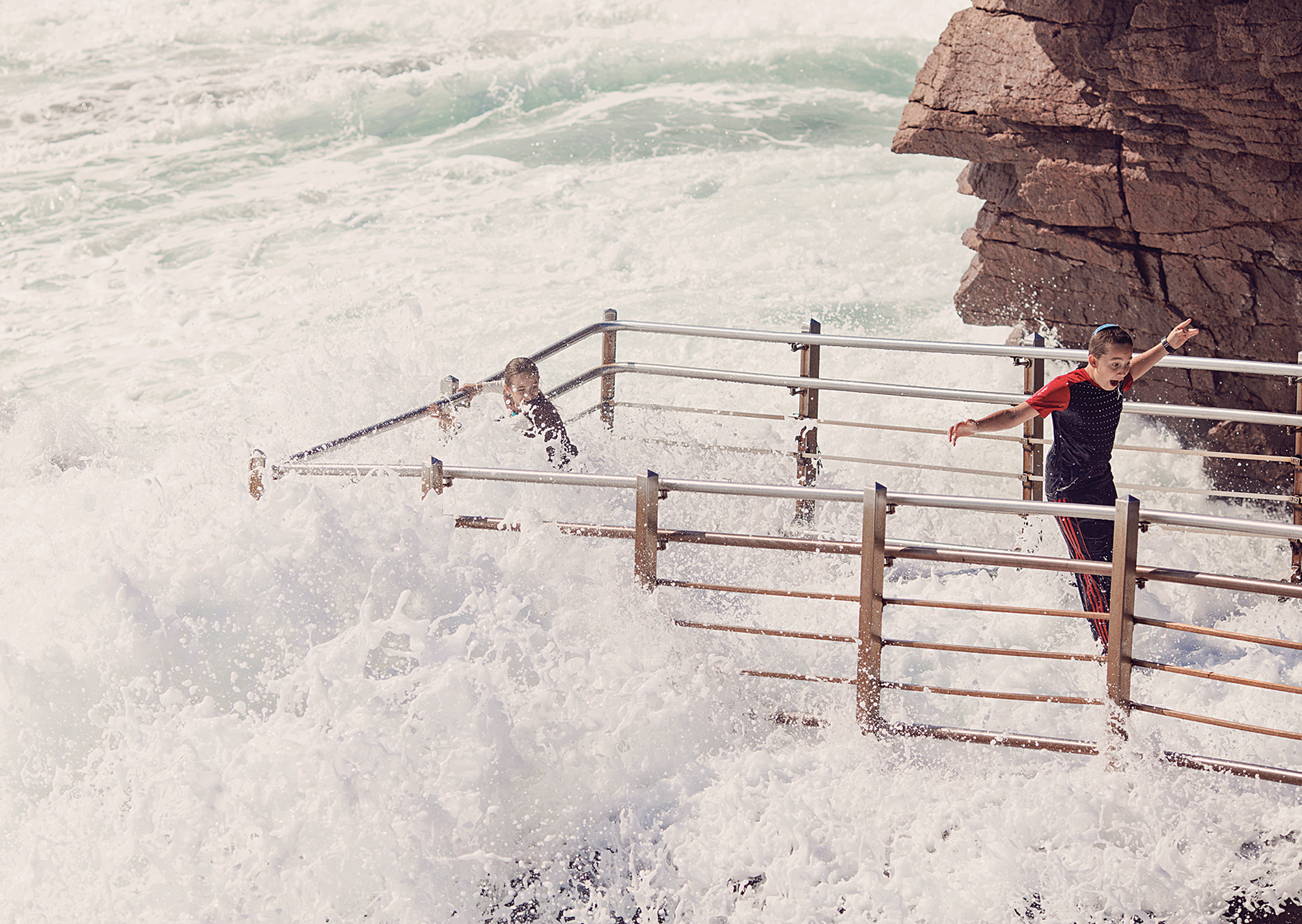 Tamer
Mainland
Indian Point Blagden Preserve: Nature Conservancy property on MDI with more than 3 miles of wooded and shore trail, seaside overlooks, fine birdwatching.
Island
Frenchboro Preserve: Nearly 14 miles of rugged coastal hiking trails on an island some 7 miles off MDI, with 8 miles of stunning shoreline conserved by Maine Coast Heritage Trust.
Wilder
Mainland
Lamoine State Park: 55 acres of nice pebble beach, a fully serviced campground, a mellow 1.3-mile loop trail, and more.
Island
Donnell Pond Public Reserved Land: 15,000 acres, three mountains over 1,000 feet, some challenging hiking, a mess of trout ponds, blueberry picking.
There are no carriage roads on the quietside, but terrific hikes, sparkling lakes, and gorgeous harbors await.
Below, left to right: Hiking the Bernard Mountain Trail on MDI's Quietside; Thurston's Lobster Pound (top) and Echo Lake Beach (bottom), also on the island's mellower western half; climber at Otter Cliff. Below: Big splash at Thunder Hole.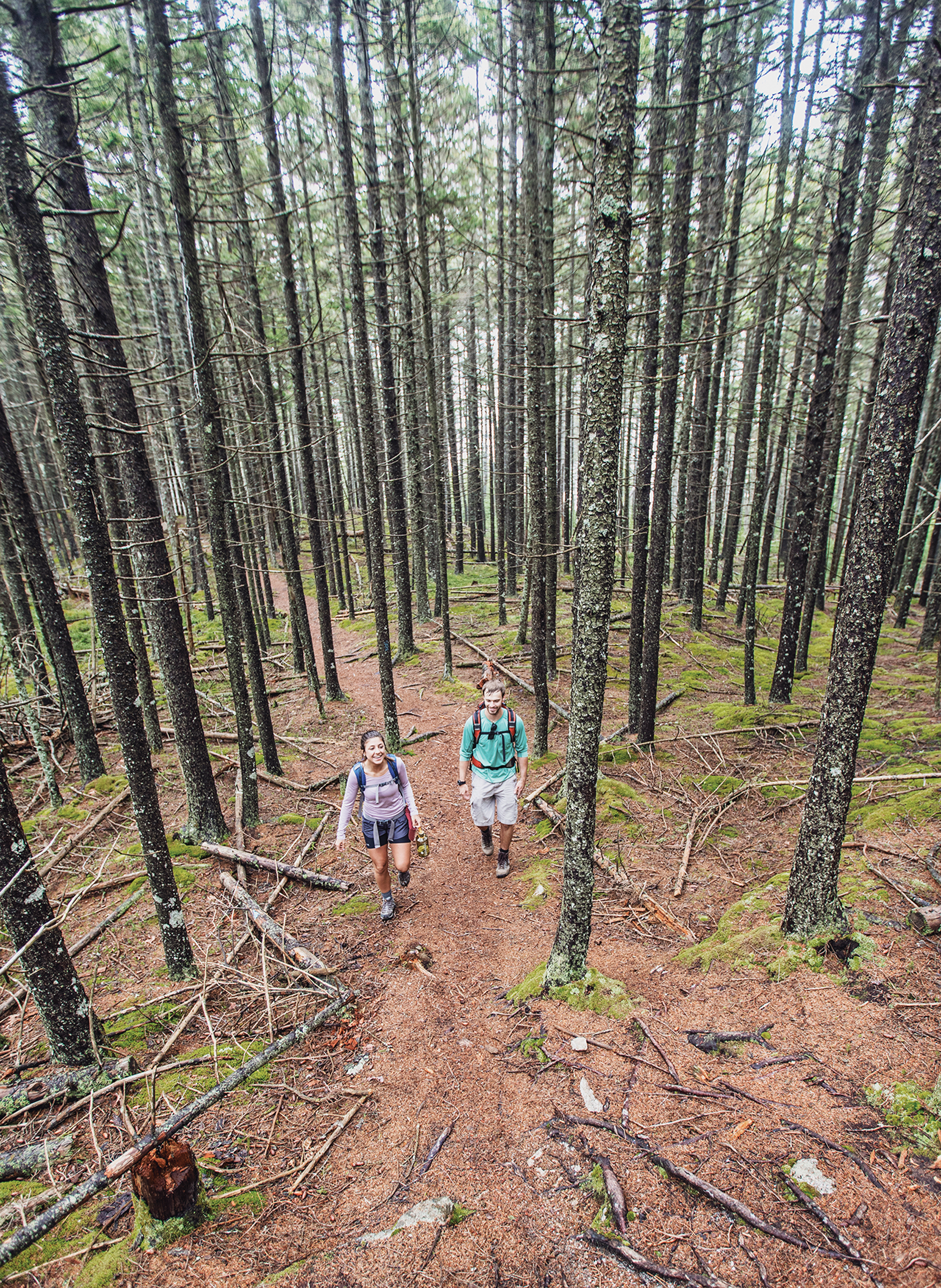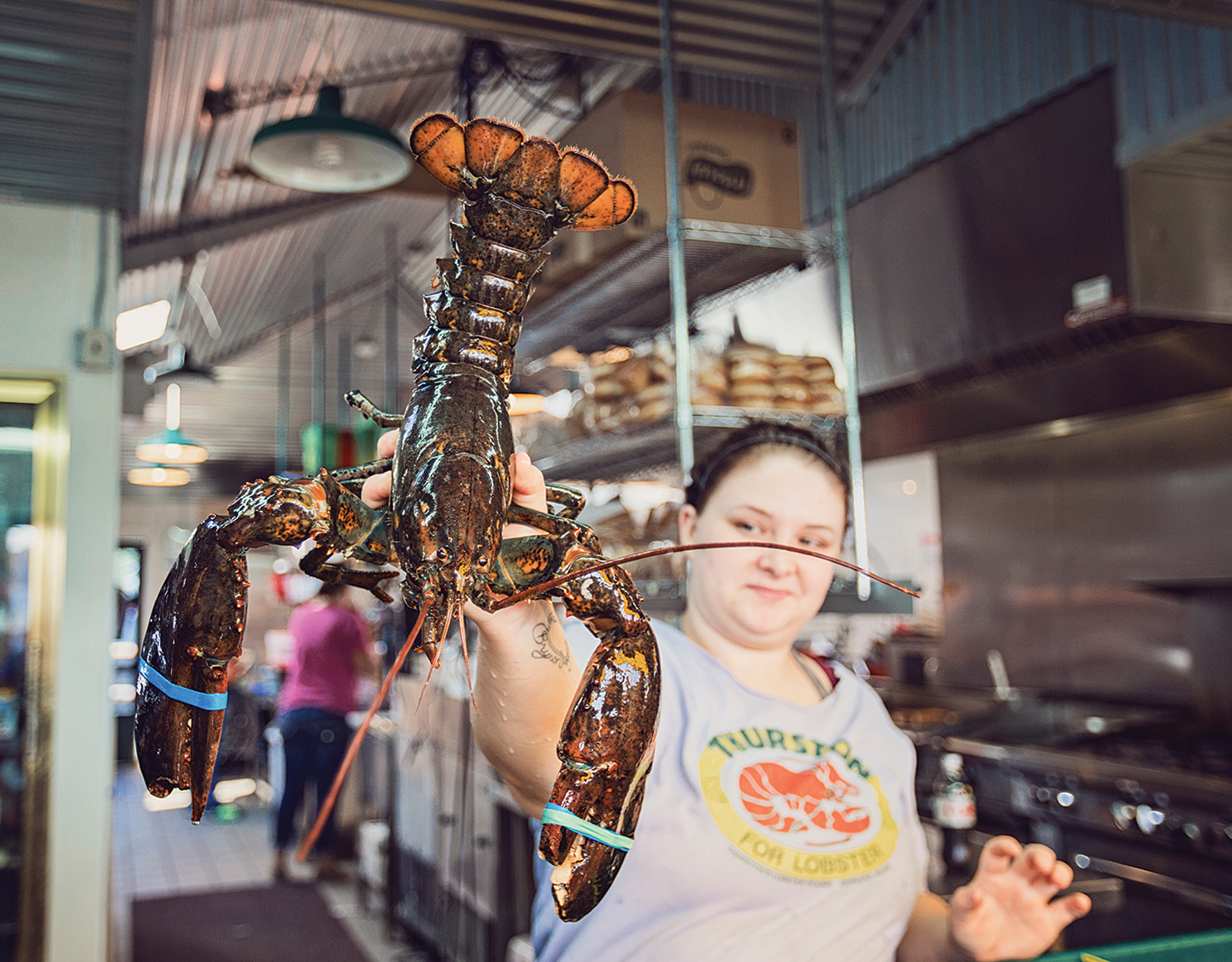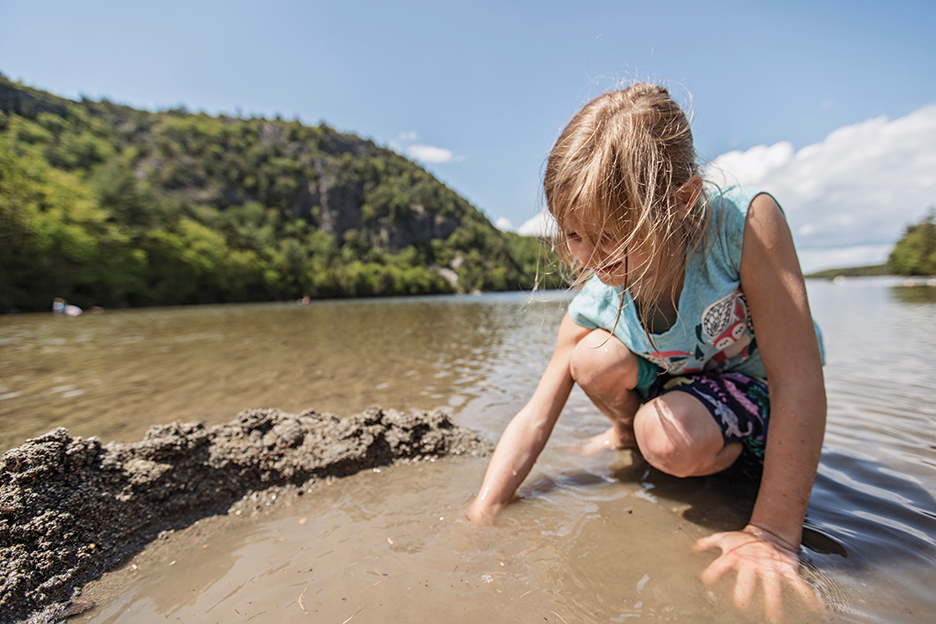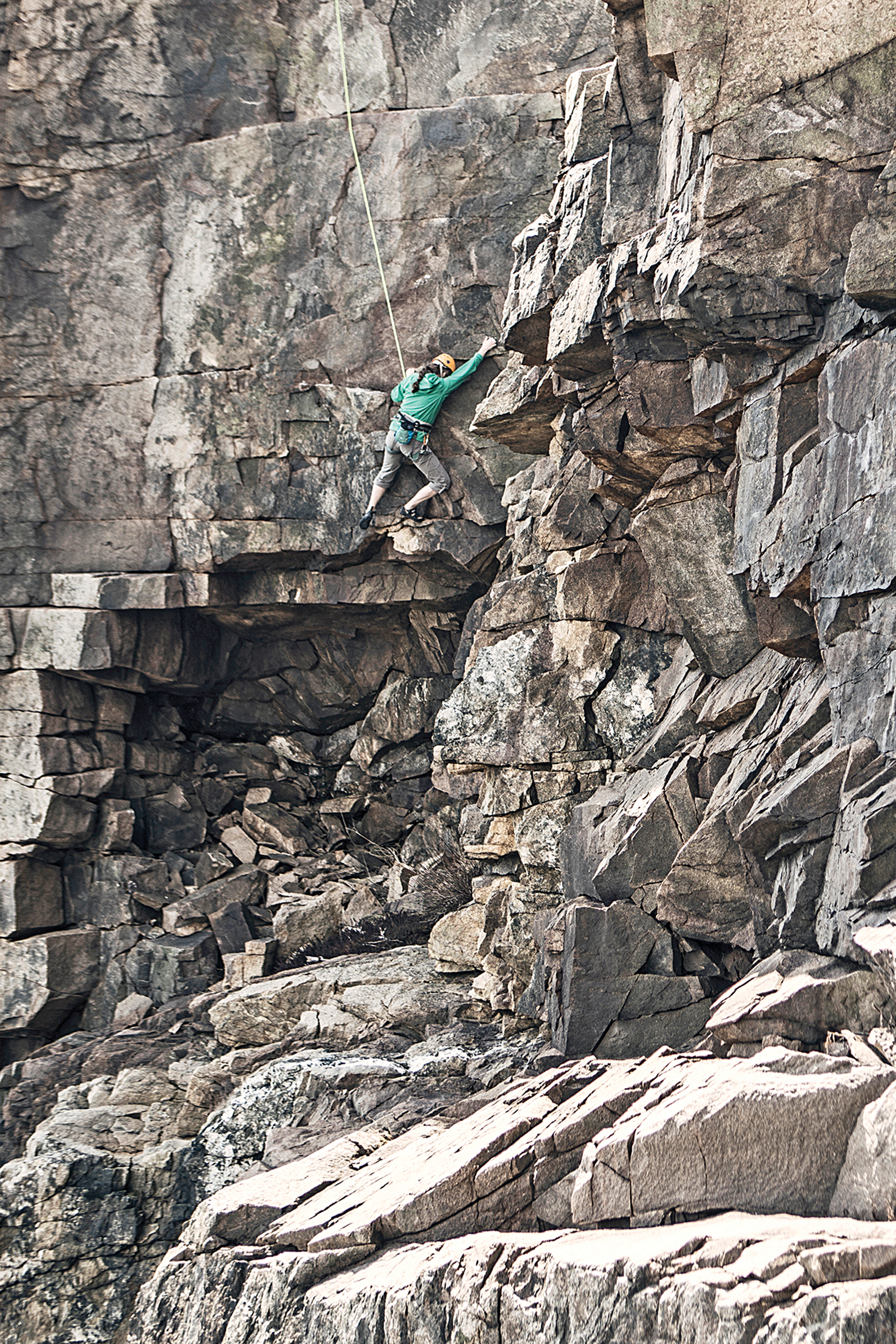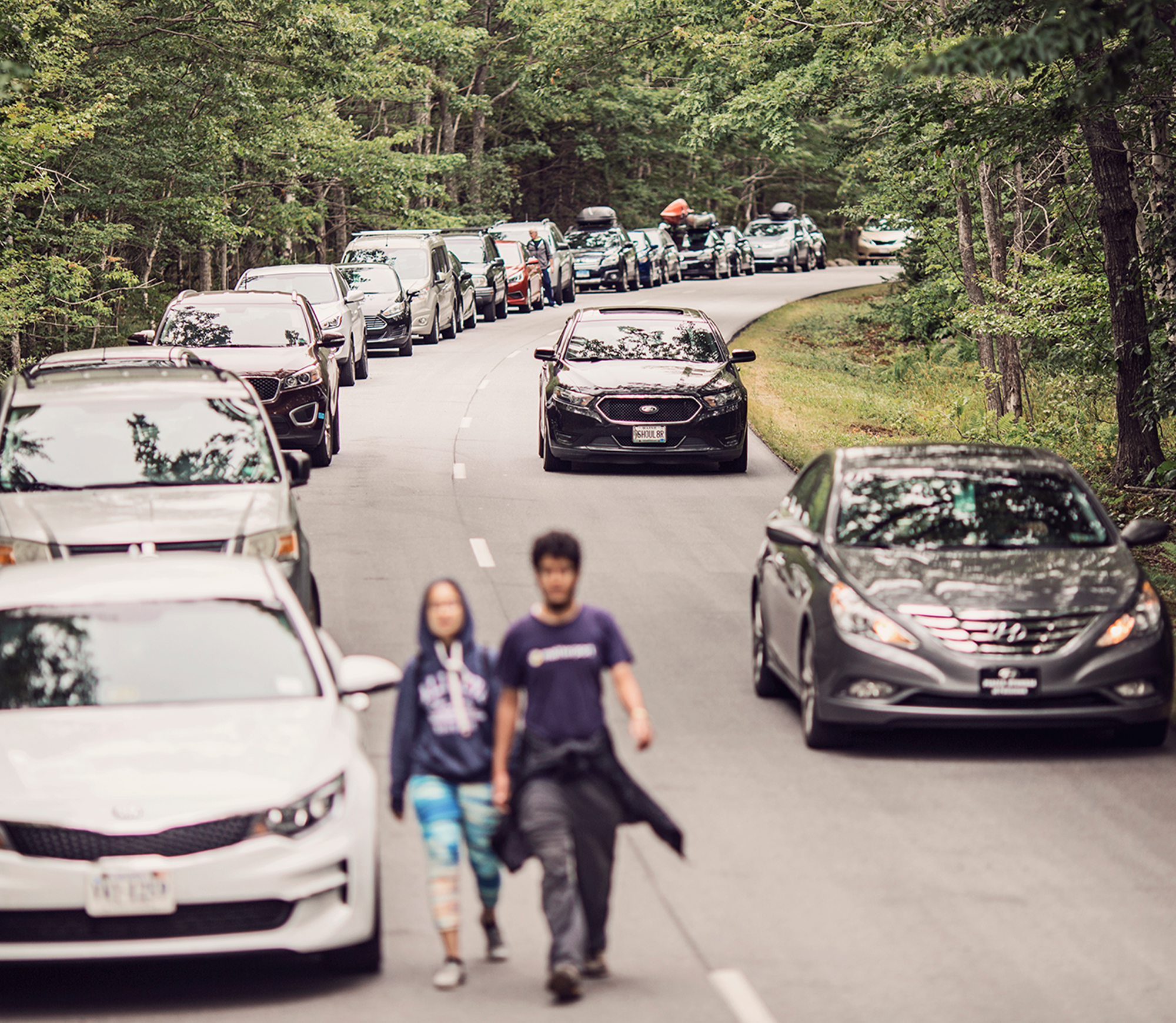 4 Takeaways From Acadia's (Potential) New Transportation Plan
This spring, after years of study and public input, the National Park Service floated a strategy for a new set of transportation restrictions and infrastructure projects to alleviate the hefty auto traffic that gums up park roads in peak season. A final policy announcement is expected later this year, and it'll eventually change how you navigate the park. Until then, here's what you need to know.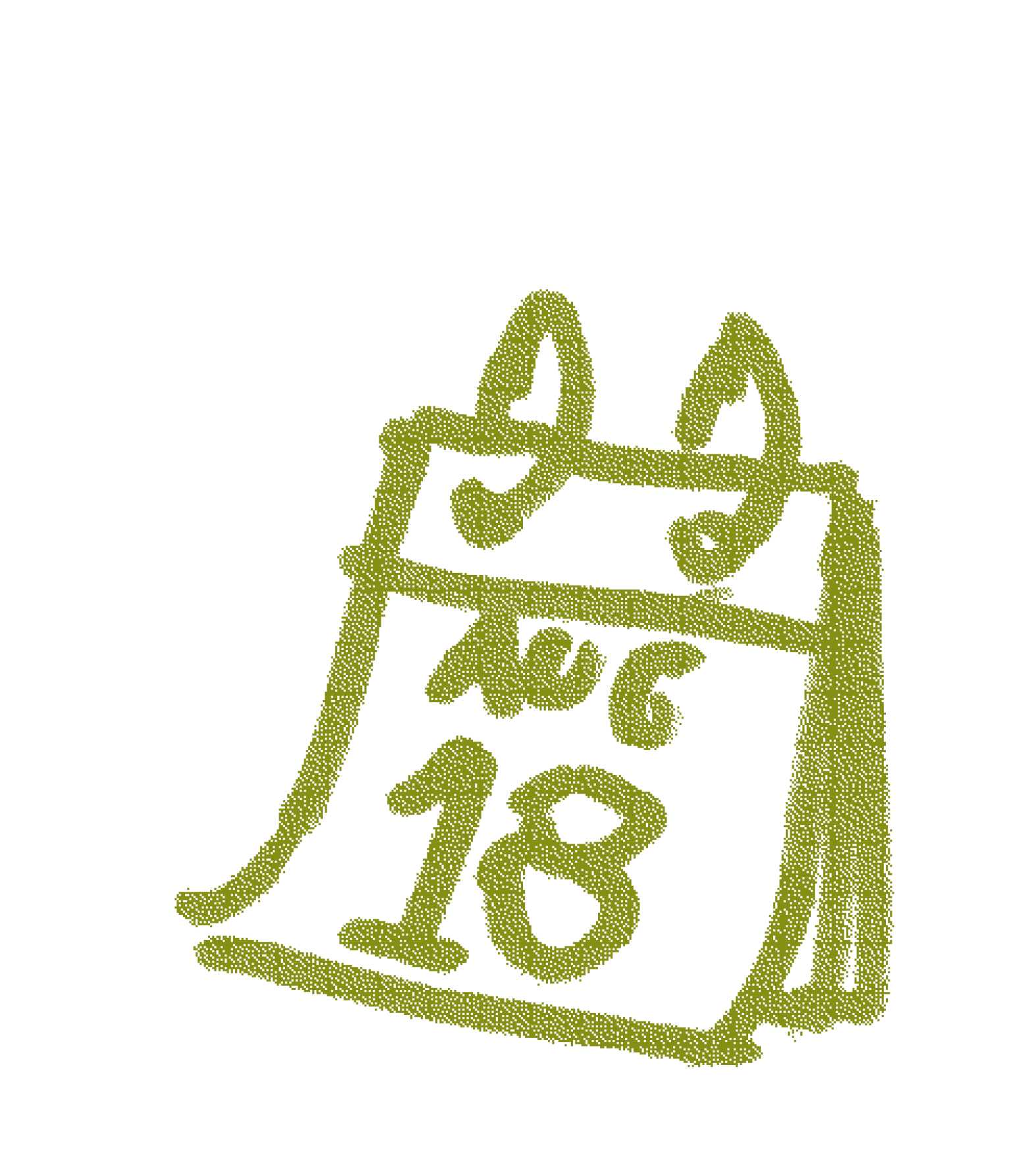 You're probably going to need some reservations.
Under the plan that officials have designated as the preferred alternative, private vehicle access to Cadillac Mountain, Jordan Pond, and the Ocean Drive stretch of the Park Loop Road (home to Thunder Hole and Sand Beach) will be managed through a timed-entry reservation system. During yet-to-be-defined peak-visitation times, visitors will need to book a time to visit (for a fee, online or at automated reservation kiosks). The reservation all but guarantees parking; after arrival, visitors can stay as long as they like.
Cyclists are in luck.
The phasing out of right-lane road parking all throughout the park would be a boon to bikers and a big safety win. Folks on two wheels wouldn't be subject to the new reservation system.
Prepare for some construction.
Under the preferred plan, the Hulls Cove Visitor Center — and crucially, its parking lot — would get a serious facelift. A two- to three-year-long construction project would turn the place into a functional park-and-ride for the island's already popular Island Explorer shuttle bus system, which would see expanded routes and service. New lots at Eagle Lake and Acadia Mountain would replace some existing parking areas and street parking.
Some locals aren't delighted.
Most responses to the plan seem to be cautiously positive, but at public listening sessions (and of course, ugh, on the internet) some MDI locals have objected to having to reserve parking in their own backyard, floating a "residents only" pass that would grant special privileges. Public comment closed in June, and officials are weighing all feedback. The soonest any plan might be implemented is 2020.
Get Out on the Water
Dip a paddle or hoist a sail and voila! You're all alone out there. Acadia looks great from the water.
Paddle the Ponds
---
Acadia is famous for its coastline, but the park's glacially sculpted mountains cradle dozens of lovely lakes and ponds. Among the loveliest are Jordan Pond, with its famous views of the rounded Bubbles, and Long Pond, the largest freshwater body on MDI, in the shadow Mansell and Beech mountains. Mt. Desert's National Park Canoe & Kayak Rentals (145 Pretty Marsh Rd.; 207-244-5854) rents boats and paddleboards right off Lond Pond's North Shore. Wherever you paddle, watch for turtles, loons, and great blue herons.
Kayak the Porcupine Islands
---
Although the Porcupine Islands speckle the water just offshore of Bar Harbor, this protected archipelago feels a world apart, with no summer hordes, just tall pines and small, sheer cliffs hosting seabirds and other wildlife. Sea kayakers watch for bald eagles and harbor porpoises while circling the islands' granite-ringed islands — great views looking back at Acadia's mountains too. Coastal Kayaking Tours (48 Cottage St., Bar Harbor; 207-288-9605) is among the outfitters offering rentals and guided trips ($54/half day), including sunset tours and special kid-friendly excursions.
Day Sails
---
Well-heeled islanders have long appreciated sailing as the best ways to find summer solace around MDI. Sail Acadia (207-266-5210), one of a handful of charters around the island, offers daily, two-to-three-hour cruises ($55–$85 per person) from Southwest Harbor and Northeast Harbor aboard handsome boats, including the Alice E., a meticulously restored Friendship sloop built in 1899. In Bar Harbor, Downeast Sailing Adventures (207-288-2216) offers two-hour cruises aboard the Friendship sloop Surprise ($50 per person).
Acadia Lobster Cruise
---
"The only thing better than lobster fresh off the boat is lobster fresh on the boat!" So goes the motto of captain Jason Clark, of Acadia Lobster Cruise (207-370-7663). Born and raised on MDI, Jason learned to lobster from his dad and takes visitors on his vintage 1965 wooden lobsterboat, Sunrise, out of Northeast Harbor. After hauling traps and explaining the ins and outs of lobstering, Jason serves a traditional Maine lobster feast onboard. Lunch and dinner cruises are available.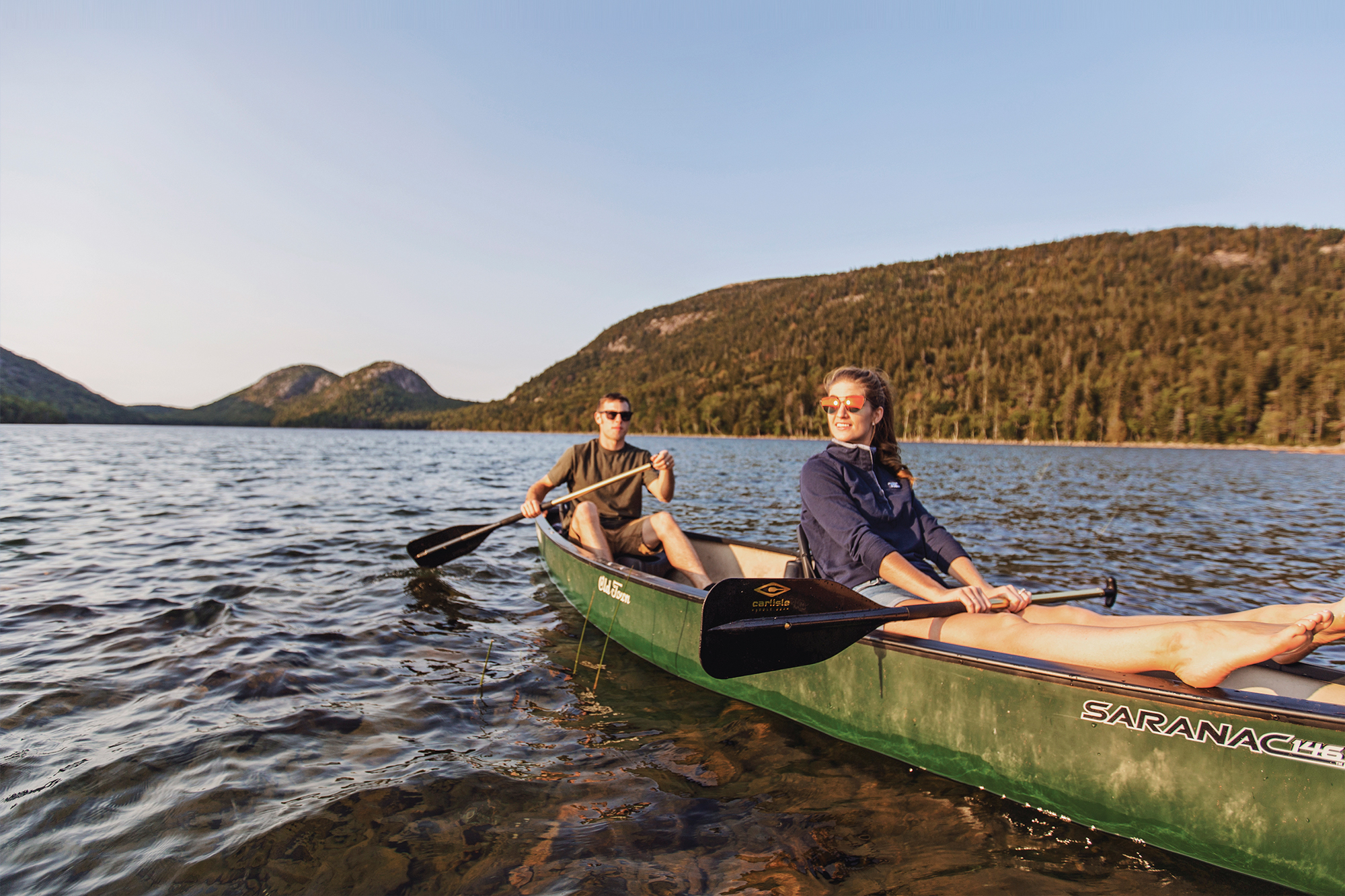 Acadia is famous for its coastline, but the park's glacially sculpted mountains cradle dozens of lovely lakes and ponds.
Try New Harbors
We admit it: for all its bustle and all its souvenir shops, we still love downtown Bar Harbor (even at its busiest, it hides pockets of quietude). But while Bar Harbor may be the classic Acadia home base, it isn't the park's only charming gateway town.
Southwest Harbor
---
The unofficial capital of the Quietside, Southwest Harbor is a winning mix of hardworking locals and unpretentious summer folk. Marine supply stores still outnumber trinket shops, and it's a great basecamp for outdoor adventures. If you can't get a reservation at the elegant Claremont Hotel (22 Claremont Rd.; 800-244-5036), at least stop by for afternoon cocktails in their boathouse overlooking Somes Sound. Dinner options range from fresh lobster at The Captain's Galley at Beal's Lobster Pier (182 Clark Point Rd.; 207-244-3202), maybe the best paper-plate lobster shack on the island, to unexpectedly great (and authentic) Mexican at cozy little XYZ Restaurant (80 Seawall Rd.; 207-244-5221).
Northeast Harbor
---
It's one of Maine's wealthiest communities, but you don't need deep pockets to enjoy Northeast Harbor. Its grand public gardens, the Thuya Garden and Asticou Azelea Garden (207-276-3727), are eye-popping, and the town's Main Street is filled with cool art galleries. It costs nothing to admire the yachts in the harbor, and Movies in the Marina shows free classic films every Thursday night. The historic Asticou Inn (15 Peabody Dr.; 207-276-3344) is a genteel spot to enjoy MDI's famous fresh popovers while overlooking the harbor. Or grab takeout from the homey café Milk & Honey (3 Old Firehouse Ln.; 207-276-4003) and head to Suminsby Park, a beauty of a pocket park off Sargent Drive, with picnic tables overlooking Somes Sound.
Winter Harbor
---
Framed by Schoodic Peninsula to the east and the ritzy summer enclave of Grindstone Neck to the west, Winter Harbor is an overlooked gem of a town, a bit trapped in time. From the delightfully cluttered Winter Harbor 5&10 (349 Main St.; 207-963-7927) to the fried seafood at the Fisherman's Galley (7 Newman St.; 207-963-5585) to the retro soda-shop parlor at J.M. Gerrish Cafe (352 Main St.; 207-963-7000), a visit to Winter Harbor feels like stepping into a lost Robert McCloskey book. A daily ferry runs between the town and Bar Harbor ($25 round trip; 207-801-9444)