Yes, Maine's population is the oldest in the country. But age, as we also know, is little more than a state of mind. While Olympians celebrate their medals from Sochi, we celebrate Mainers who participated in the 2013 National Senior Games (where — take note, all 40-somethings! — turning 50 makes you eligible). Photographed in the environments that fuel them, these athletes may never appear on a box of Wheaties, but they inspire us every day. Photographed by Brian Fitzgerald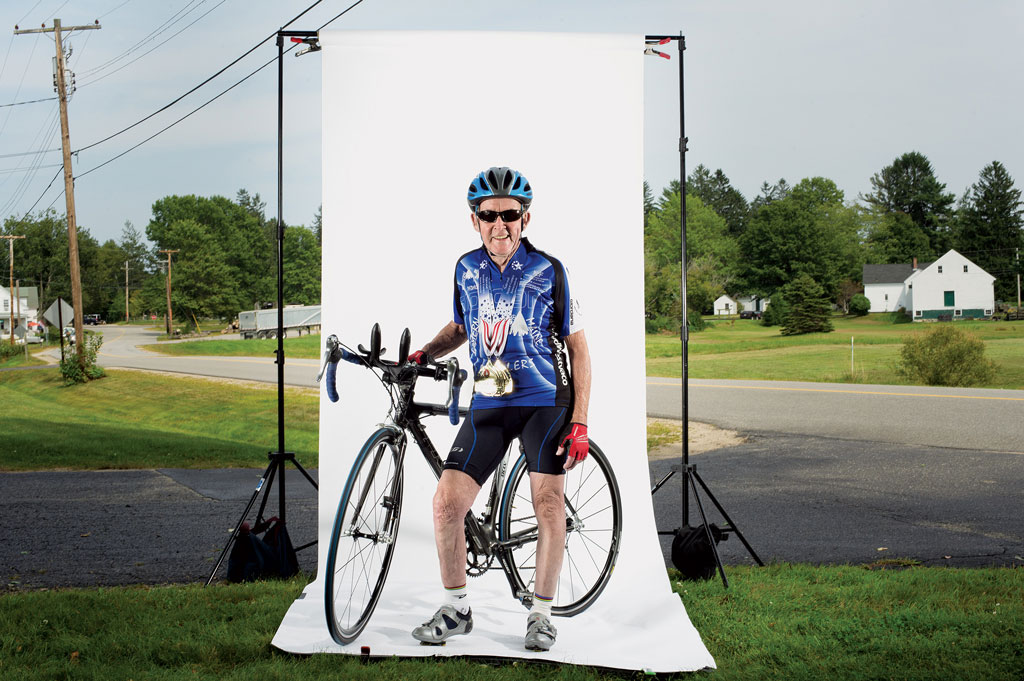 George Walsh
Age: 91.
Hometown: Jay.
Sport: Bicycling.
Years Biking: 24. Prior to biking, Walsh won 13 national titles in white-water canoeing.
Best National Senior Games Moment: Winning four gold medals at age 75, as well as winning a gold at age 90 in the 10k.
Where He Bikes: His favorite ride is Searsport to Bucksport on Route 1.
Personal Goal: To overcome recent open-heart surgery and participate in the games at age 92.
Why He Bikes: "No matter how hard you work, you don't keep getting better as you get older. You're not going to get the same times when you're 80 as when you were 67. But it makes it a challenge, and I will keep improving. I'll ride as long as I can get on the bike."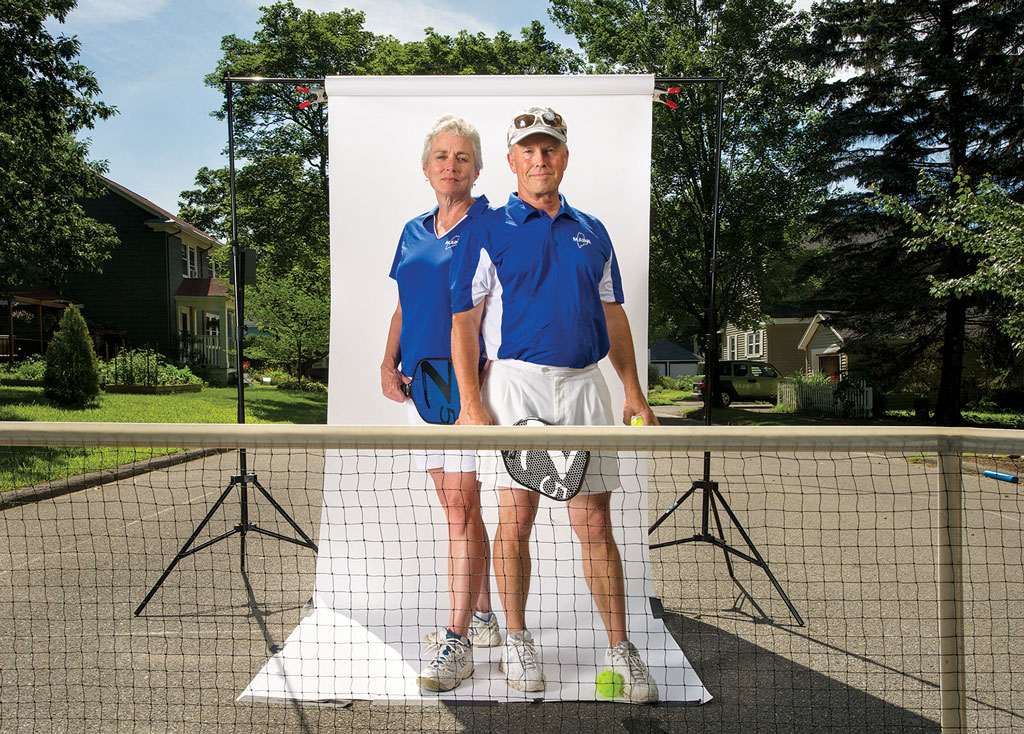 Anne & Charles "Rocky" Clark
Age: Anne, 58; Rocky, 59.
Hometown: Portland.
Sport: Pickleball.
Years Playing: Two.
Best National Senior Games Moment: In 2013, winning two games and being part of the first time ever the sport was offered as an event.
Where They Play: South Portland Recreational Center.
Personal Goal: To continue to help grow the sport.
Why They Play: "I brought the game to Portland after seeing it played in Florida and set it up in the neighborhood. In early 2013, there were only five Mainers signed up as USAPA members (the official pickleball association). Now there are 87. It's similar to platform tennis, but the ball moves slower." —Rocky.
"It's very social, and the people who play are relaxed and congenial and don't take it too seriously." —Anne.
Watch a video of Rocky and Anne in action and learn more about the growing sport of pickleball.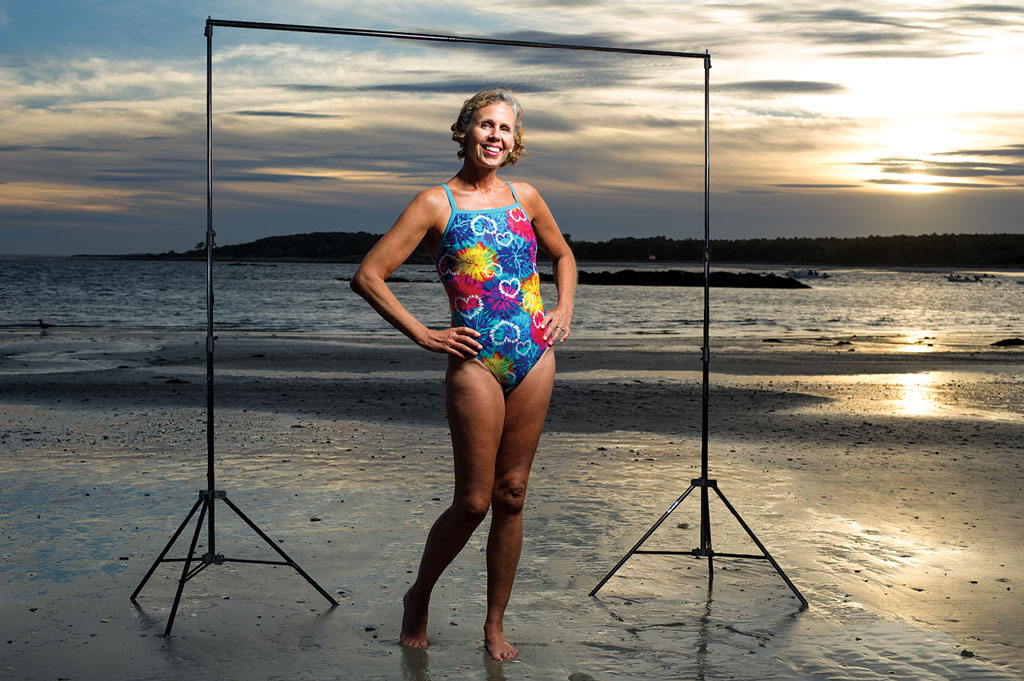 Tracy Newman Carroll
Age: 56.
Hometown: Scarborough.
Sport: Swimming.
Years Swimming: 14.
Best National Senior Games Moment: Achieving a personal best time in the 200-meter freestyle.
Where She Swims: From Kettle Cove to Crescent Beach in Cape Elizabeth.
Personal Goal: To be participating in the Senior Games when she's 93.
Why She Swims: "I remember being afraid of getting older and thinking, 'What is there left to do with my life?' after my doctor said I couldn't run anymore. I always swam, only recreationally, but then when I started getting into it competitively, I realized life doesn't have to end as you get older. You just have to find something else and realize you can do so much more than just sit around."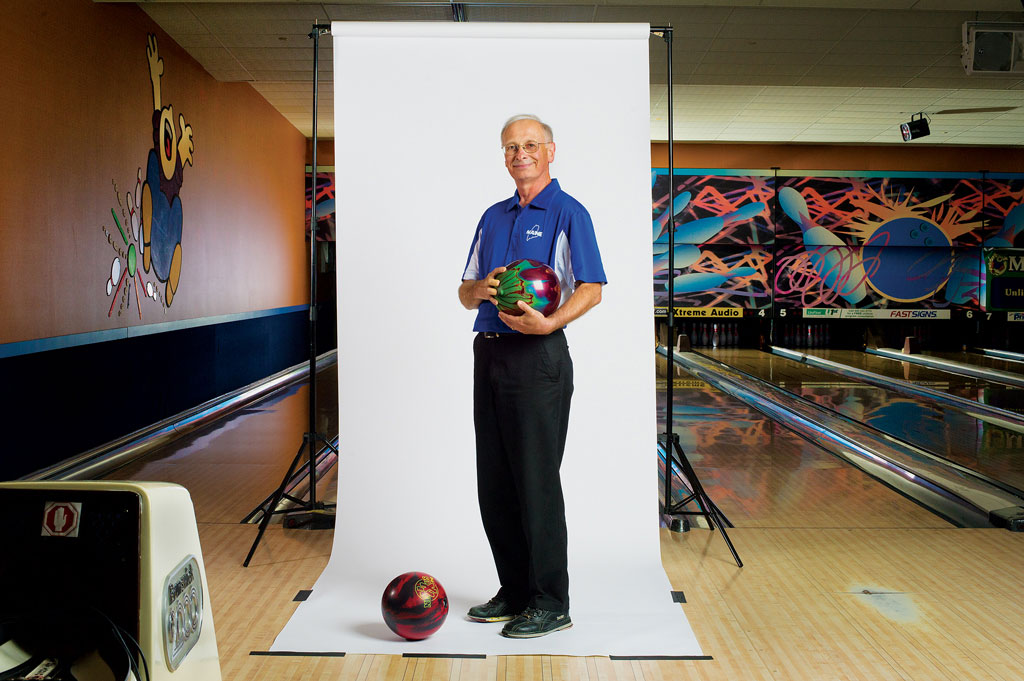 Loring Deagazio
Age: 65.
Hometown: Ogunquit.
Sport: Ten-pin Bowling.
Years Bowling: Eight.
Best National Senior Games Moment: Placing fourth at the 2013 games.
Where He Bowls: Spare Time Portland.
Personal Goal: A gold medal at the 2015 national games in Minneapolis.
Why He Bowls: "It's a sport a lot of people can do. I've always been small, and while power and strength are part of bowling, you can succeed through technique and experience. Some people ask whether it's a sport or a game, but it's both. You can enjoy it at any level, and it's a great way to stay active socially."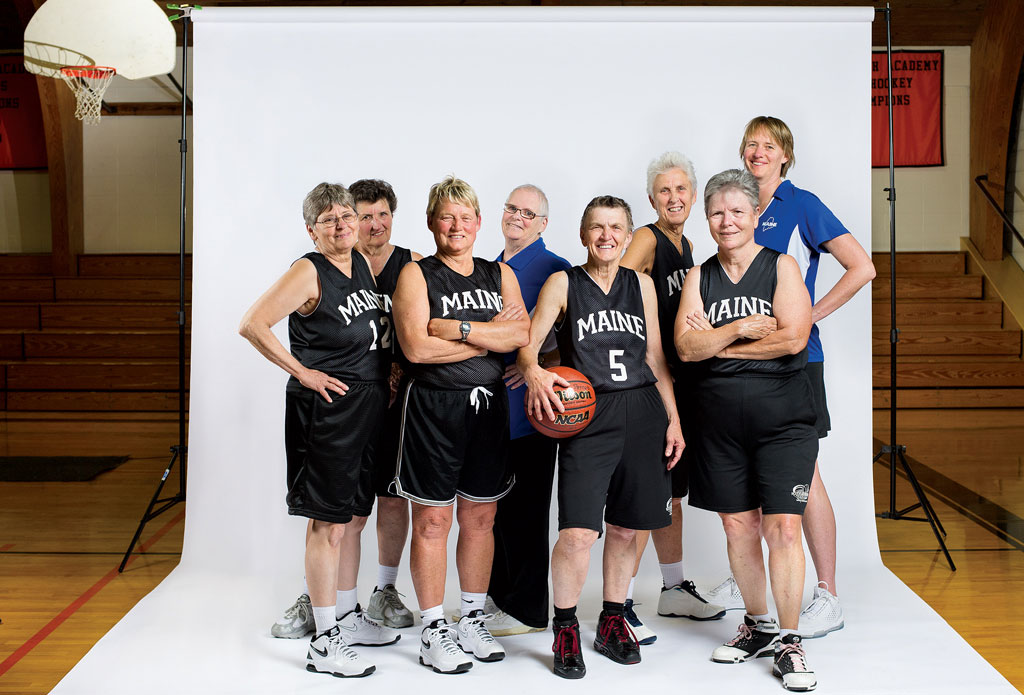 The Pioneers
Ages: 65–72.0
Hometown: Throughout Southern Maine.
Sport: 3-on-3 Basketball.
Years Playing: The Pioneers have been around for 15 years.
Best National Senior Games Moment: Winning two games in a row in 2013.
Where They Play: Cape Elizabeth High School.
Team Goal: Earn a medal at the 2015 games.
Why They Play: "We're admittedly not the best. We won two games and people thought we had just won the gold medal because we were so happy. It's a great team sport and about more than just yourself. And statistics show that anytime you get out and participate socially it enhances your health in all ways. When we're together we just have a great time and are happy to still be playing." — Jo Dill (back row, second from right), center for the Pioneers.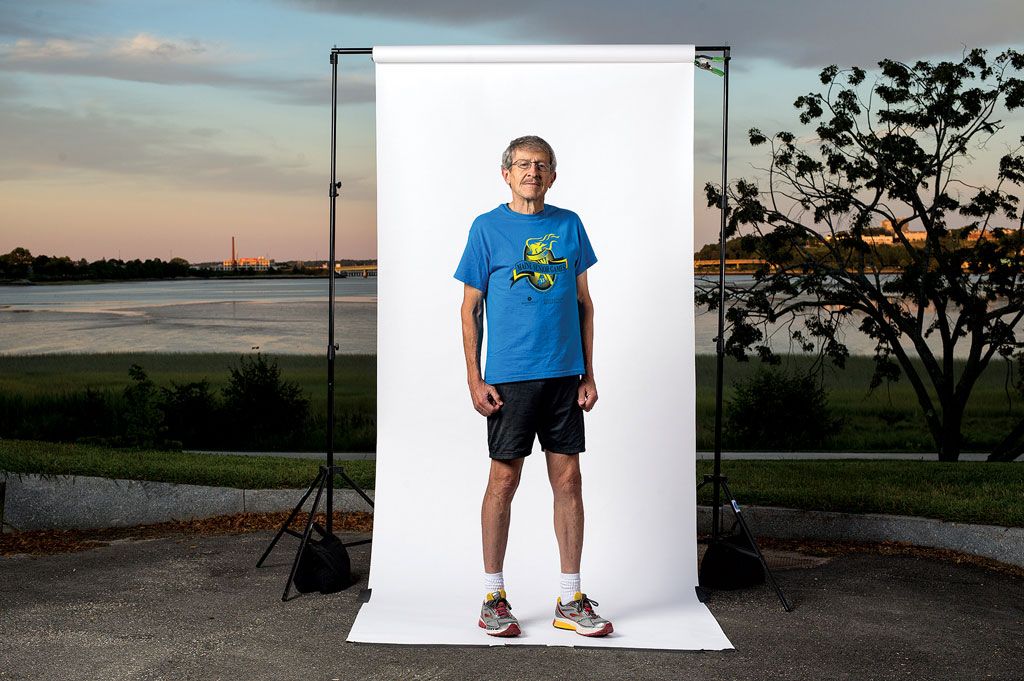 Charles Kahill
Age: 70.
Hometown: South Portland.
Sport: Long-distance Running.
Years Running: Ran competitively while attending Deering High School and Bowdoin College and picked it up again competitively 20 years ago.
Best National Senior Games Moment: Placing eighth in the 5k in 2013.
Where He Runs: Back Cove in Portland.
Personal Goal: Place in the top five for his age group at the Beach to Beacon 10k run from Crescent Beach to Portland Head Light.
Why He Runs: "I have five children, and they are all athletic. I realized I was getting too wrapped up in their activities and decided I should have my own athletic life. Being competitive makes me feel like I'm in the middle of things and living. There's also just something intrinsic about running."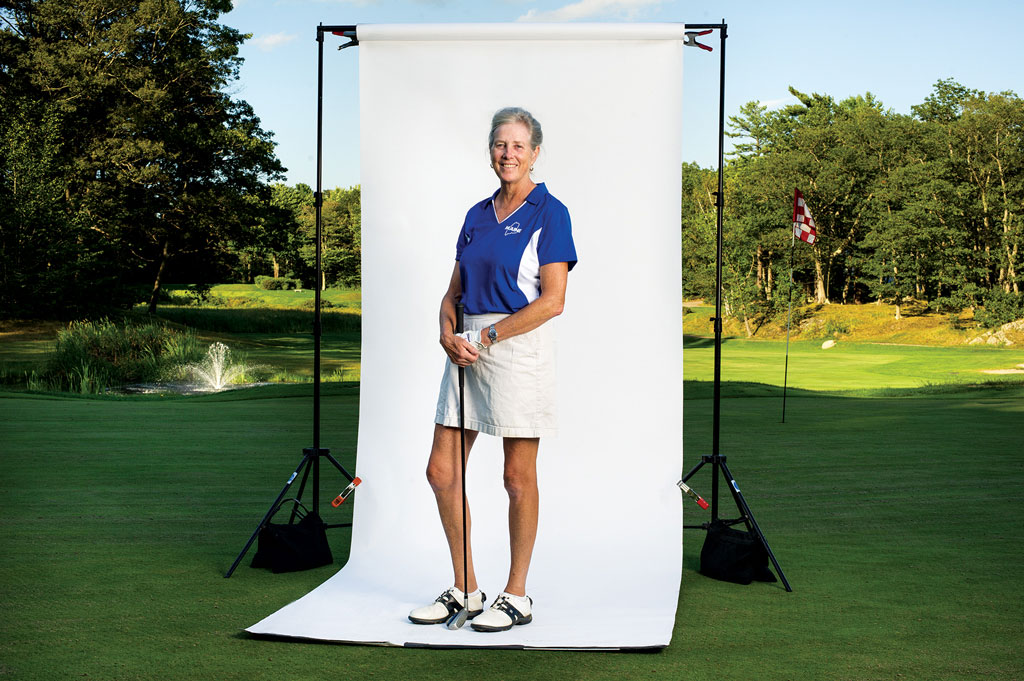 Elaine Politis
Age: 63.
Sport: Golf.
Location: Scarborough.
Years Golfing: Picked it up again competitively 24 years ago.
Best National Senior Games Moment: Winning a silver medal in her first Senior Games.
Where She Golfs: The Purpoodock Club in Cape Elizabeth.
Personal Goal: To shoot consistently below 80.
Why She Golfs: "We all need to keep moving to stay young. I'm not a giver-upper. With golf, I love that it's a sport I can do my whole life. My father kept playing until he was 95. We played together at The Balsams Resort in New Hampshire when he was 94, and it was one of the greatest experiences of my life. I hope I can keep my body together and play as long as he did."