Jostling along crowded Old Port sidewalks, staking out a towel-size piece of sand at Kennebunk Beach, or moving in lockstep up the Precipice Trail in Acadia National Park, one senses that Maine is a popular place to vacation. So it's no great surprise when the state appears on annual "go" lists, those clickbait-y, newsstand-friendly fixtures of travel magazines and guidebook brands, informing travelers of the far-flung locales they must urgently make for. This year, though, Maine hit new heights of celebrity when it landed on the lists of no fewer than five major publications: Lonely Planet, Fodor's, Travel + Leisure, Architectural Digest, and Condé Nast Traveller (the British companion to Condé Nast's one-L Traveler).
Several lay out their methodology, which, in general, is something like: chat with the staff, consult freelancers, cruise Instagram, do some googling. Geographic diversity seems a chief goal, with a mix of urban and outdoorsy, exotic and familiar, attainable and aspirational. Maine, it happens, checks a lot of those boxes (and it photographs well!). But still, why spill so much ink over our state this year in particular?
The state's bicentennial is a plausible explanation, but only Lonely Planet and Architectural Digest mention it. Both Lonely Planet and Fodor's observe (with identical phrasing) that "the culinary scene has exploded," but that's been true for years now. Maine's many art museums get some love from Fodor's and Architectural Digest, but again, not much new there. No one common thread seems to bind the various blurbs and make sense of why 2020 is Maine's moment.
Maybe chalk it up to coincidence. Or to the Maine Office of Tourism's big-time marketing push the past few years, which has splashed images of the state all over national print publications and social media and treated Instagram influencers far and wide to junkets in the Pine Tree State.
Perhaps the lack of obvious timeliness for this year's write-ups only emphasizes that any year is a good year to visit Maine — just don't expect our state and its fellow 2020 notables to pop up on such lists next year. We'll be filed away until we regain an air of novelty. On to the next thing in 2021.
---
What the Travel Mags Got Right
Rarely does national travel media look beyond the Portland-to-Acadia corridor, but that doesn't mean they don't come up with some solid suggestions.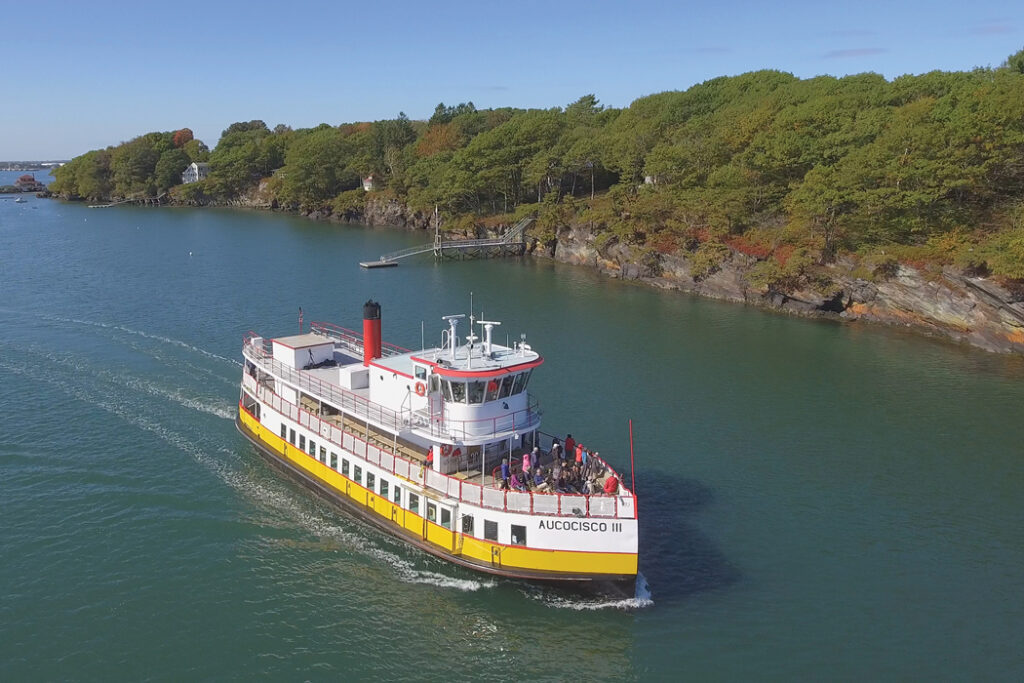 ---
Restaurant
Travel + Leisure praises Deer Isle chef Devin Finigan for the hyperlocal sourcing at her refined, waterside Aragosta at Goose Cove, "from the blueberries in her pancakes right down to the salt, harvested from the briny waters outside." 300 Goose Cove Rd. 207-348-6900.
Arts
Architectural Digest suggests following the Maine Art Museum Trail, from the Ogunquit Museum of American Art north to Bangor's University of Maine Museum of Art, with seven stops in between.
Tour
Fodor's recommends hopping on the Casco Bay Lines mail boat for a scenic three-hour cruise — an actual parcel-delivery run — among the islands that dot the waters off Portland proper.
Lodging
For glamping (that's the portmanteau of "glamorous" and "camping"), Travel + Leisure likes the sheepskin rugs and the house-made marshmallows for roasting at Tops'l Farm, in Waldoboro. 365 Bremen Rd. 207-832-1602.
Event
Architectural Digest nods to the state's bicentennial sprees, including Statehood Day, March 15 in Augusta, with music, speeches, and birthday cake for the Pine Tree State.