Do you cruise through downtown Kennebunk on your way to the 'Port? Well, stop. No, really — stop.
By Tina Fischer
[dropcap letter="D"]owntown Kennebunk tends to be overshadowed by the Kennebunks' retail-centric Lower Village-Dock Square neighborhood, but it's an attractive destination in its own right, with brick sidewalks and brick storefronts, a history museum, and stately mansions. This time of year, Upper Square is festooned with lush flower boxes shaped like fishing dories, and its many shops are locally owned and one of a kind.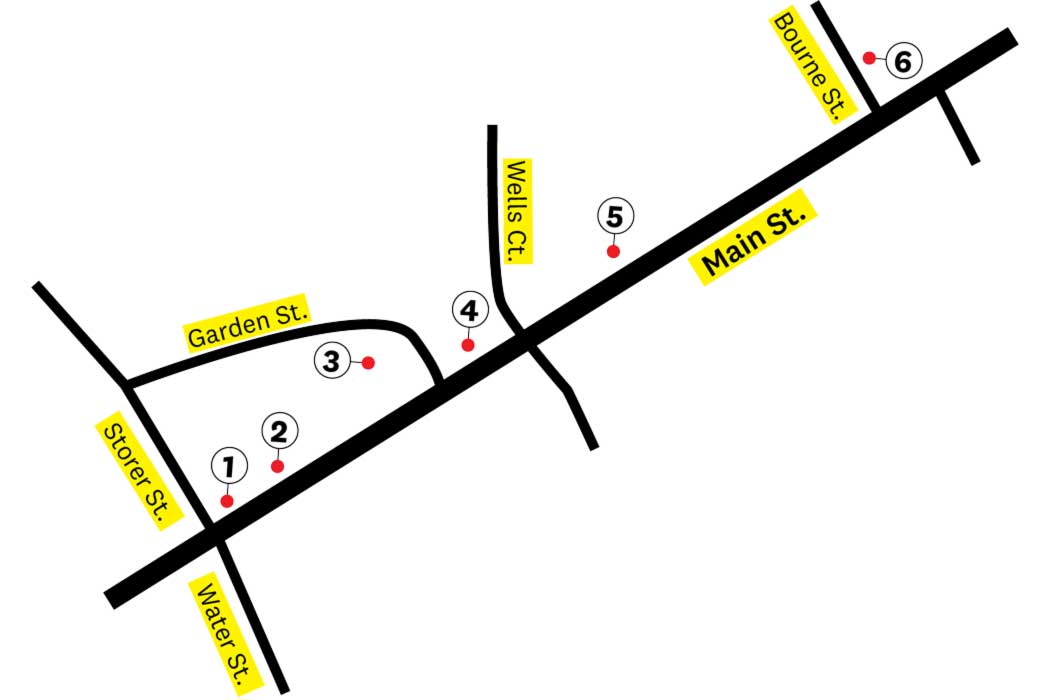 ---
Like a well-stocked craft shack at a summer camp for rug hookers and needleworkers. Owners LeeAnn and Mark Hodgson also sell antiques, vintage comic books, buttons, even sea glass. There are classes too, but, sorry, no s'mores. 10 Main St. 207-985-0030.
Tons of fun here, for babies through adults. This 22-year-old store keeps up with the newest trends in toys and stocks classics, like Lego, Ravensburger puzzles, and stuffed animals. Find toys for indoor and outdoor play: games, craft kits, scooters, kites, and beach and pool gear, as well as books for quiet time. 14 Main St. 207-985-1465.
Locals flock to this independent pet shop because they value their connection with owners Jason Perkins and Paula Brown, who know just what their beloved needs, be he puppy, pig, or ferret. Individual customer feedback, not volume, informs the owners' inventory, and if you can't find what you're looking for, they'll happily order it for you. 3 Garden St. 207-985-1414.
Found represents 135 Maine artisans, makers of slate cheeseboards (A&E Stoneworks, Swanville), bath and body products (Miss Moonmaker, Falmouth), pillows (Stacey Kane Design, Biddeford), and more. Owner Pamela Bennett especially delights in introducing emerging artists. 42 Main St. 207-604-5009.
No gift category has been overlooked in this cheerful shop. Find home décor and comforts, kitchen tools, purses, scarves, books, and gifts for babies, grandpa, and even your pooch. 58 Main St. 207-934-4811.
Paula Keeney and Ann Whetstone may not have read every one of the 8,000 books they sell, but they've read every author and delight in finding the perfect suspense, crime, or detective story to keep you up at night. They stock new and used reads at killer prices. 1 Bourne St. 207-985-8706.