by Arielle Greenberg
[dropcap letter="S"]tuart Loten is as interested in how things work as in how they look, so when he decided to make custom lighting with handpainted silk shades, it was a decision born of both pragmatism and his training in design theory: He was working as a ceramicist at the time, and he needed more aesthetically pleasing companions for his clay lamps than bland, mass-produced shades. Today, the steel lamps Loten crafts in his garage studio start with a specific sense of line and proportion, and while his autumnal palettes and loosely flowing, abstract botanical patterns are well defined, the process he uses to paint his shades ensures that no two are exactly the same.
---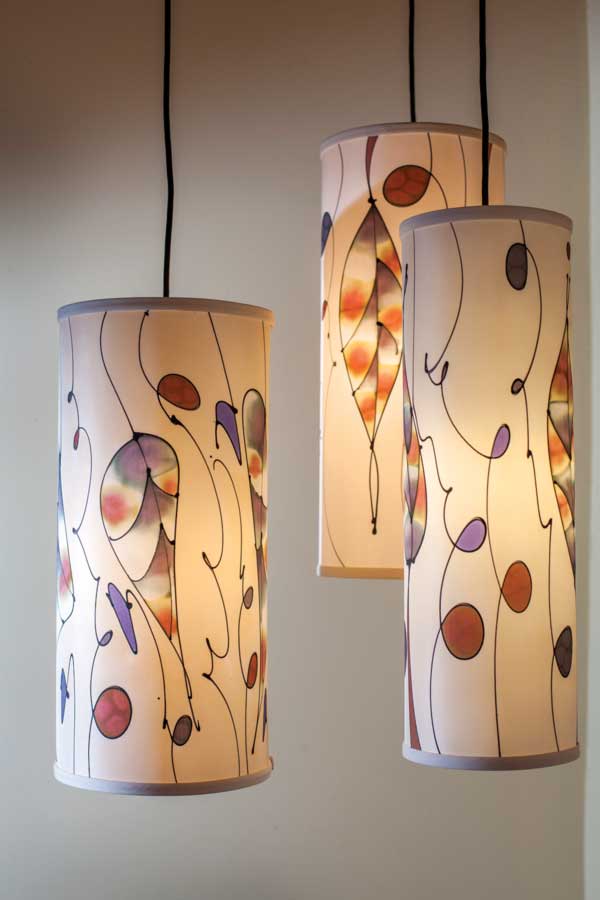 To achieve this mix of vitality and harmony, Loten uses the Serti method, a silk-painting technique in which designs are outlined with a thick latex-derived substance called gutta. After the gutta dries, it acts as a barrier for lightfast dye, which bleeds somewhat unpredictably into the defined areas of silk as Loten blends and blots it.
Each shade is fastened with a nature-inspired finial to a custom-made base, which Loten fabricates from steel, finishes with copper paints or chemical baths, and combines with flourishes turned by a woodworker friend. "Most lamps are constructed with locknuts and washers, which start loosening and wobbling over time," Loten says. "I've found a way to eliminate most of the fasteners, so my lamps are built to last."
An entrepreneurial spirit keeps Loten on the road, selling at about 15 fine crafts shows a year, and he recently converted the enclosed porch on his house into a retail shop. "Craftspeople are the best people in the world," Loten says, "and people who buy fine crafts are the best customers in the world. There's a lot of trust and camaraderie in this line of work.
---
CLICK IMAGES TO EXPAND
Photos Courtesy of Loten Art Lighting
Tell us more Stuart Loten
You've used this set of naturalistic motifs and palette for a while. What inspired it?
I was brought up in Massachusetts in an age when kids played unsupervised outdoors. I spent a good amount of time in the woods, digging clay out of riverbeds, shaping it into vessels. I had the freedom to explore, to create my own entertainment out of materials I found all around. Of course, now these things surround me again. True story: I spent some years in southern Florida, which is pretty much the antithesis of rural Maine. The only thing that kept me from losing my mind down there was my subscription to Down East. I read it faithfully and knew I wanted to live here someday, in the woods.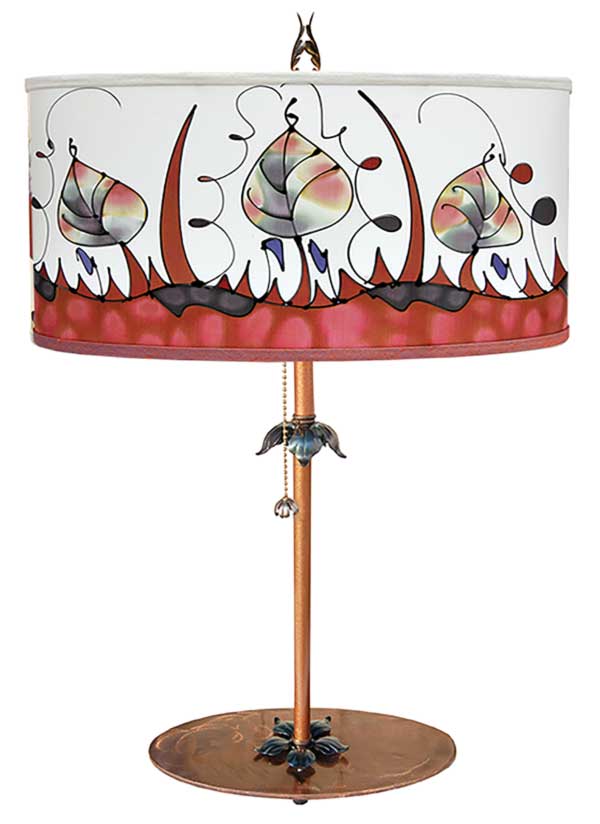 You have a grad degree in design and focused first on ceramics. How did you come to silk lampshades?
When I opened my first pottery studio, I made lamp bases, but I also threw about a thousand mugs. I was getting tired of it; I felt like a factory. So I experimented with a new medium — wood — and made lamp bases from that. But I never found a lampshade I liked, so I made one. I taught myself to paint on silk — the same way I've taught myself most of the skills I have — and applied it to shades. I come from a practical family. I love the challenge of making something attractive that also works correctly and fills a need. And if you can make art that's functional, you can make a living at it.
What is it about painting on silk that's held your interest?
Every time I begin a shade, I start with something blank and white — with nothing. I add a black line, a sense of fluidity, and things start happening. Adding the dye too is very dynamic. It's like no other medium: I touch the silk with the brush, I lift the brush up, and the process continues beyond me. I can just stand back and watch it happen.