A Friendship garage is bursting at the seams with old and rare bottles.
By Virginia Wright
Photographs by Benjamin Williamson
[dropcap letter="D"]ave Copp's shop is in a two-car garage with peeling paint and slightly bowed doors. When it's closed, it fades into the roadside, just another building on the way to Friendship village. When it's open, a mosaic of blue, green, brown, and white shimmers just inside the big doors, tempting you like a cracked-open box of jewels. DAVE'S BOTTLES announces a small, hand-lettered sign on the gable. COLLECTOR SINCE 1968 reads another.
Inside, Copp, 63, with twinkling black eyes and a bushy gray beard, presides over "18,000-something" antique bottles (he last counted three years ago). They're displayed by color on the timbers between the wall studs, on tables, on window shelves where they glow beguilingly, and even hanging from the ceiling. There are brown whiskey bottles and green Coke bottles, black ink bottles and cobalt milk-of-magnesia bottles. There are clear bottles shaped like top-hatted men and turquoise bottles shaped like violins. Abundant string lights, hurricane lamps, and electric candles make everything sparkle, like Christmas. "I don't have much space," Copp allows. "Collecting is on the borderline of hoarding."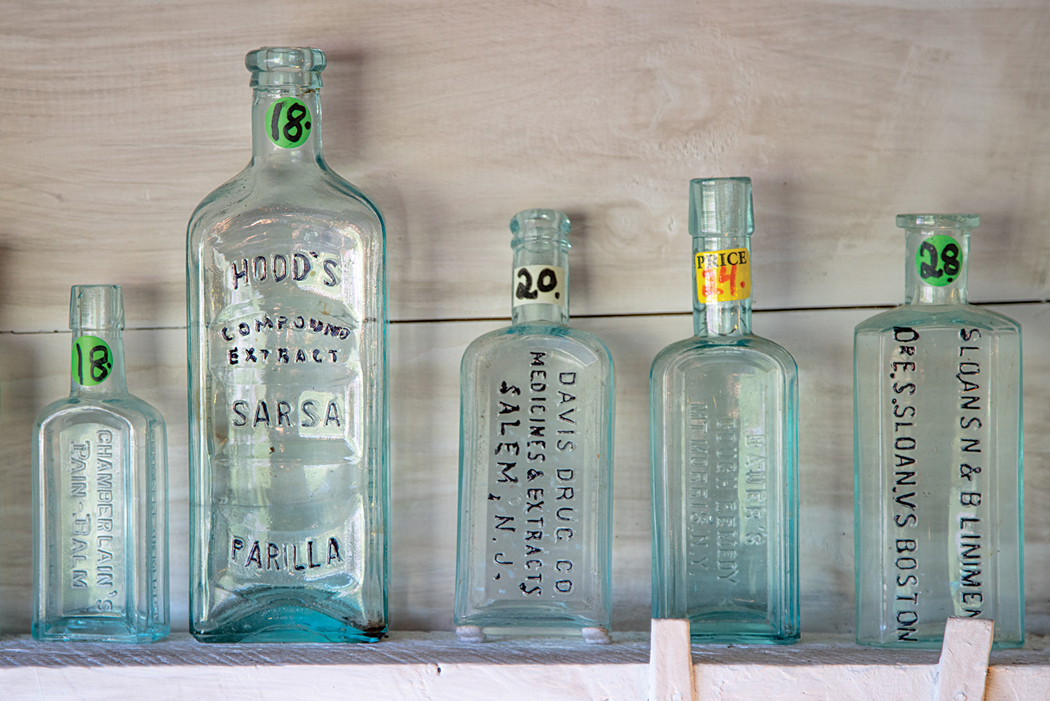 ---
He acquired his first bottle 10 days before his 13th birthday. An avid collector had hired him to dig cellar holes in Union, and by the time the boy loosened his fourth bottle from the soil, he was hooked. "'I like what I'm digging up,'" Copp recalls telling the collector. "He was a big guy — it's a good thing he was good-natured. He said, 'I knew it wouldn't take long for the bottle bug to bite you because you're that breed of cat.'"
Copp is part of a small subculture of bottle collectors who spend their free time scouring cellar holes, retired privies, and ravines — places where people used to throw their trash. Occasionally, they unearth real treasure, like the mid-19th-century Clarke's Vegetable Sherry Wine Bitters bottle that Copp found in a Rockland cellar hole several years ago. Then, it was worth about $100; today it would fetch $350–$500. Copp's most valuable vessel is an olive-green Caldwell's Rum bottle embossed with a schooner that he acquired from a digger in Appleton. "It's not that old — 1950s," he says, "but it's extremely rare. Only 17 were made in that color." His asking price: $800.
A retired sardine-factory worker, Copp spends more time trading than digging these days. He tugs his collar to reveal the top of a scar, a pink souvenir from double-bypass surgery last year. He quit drinking alcohol a few years ago, not long after suffering a massive coronary. The shop, he says, "gives me a purpose."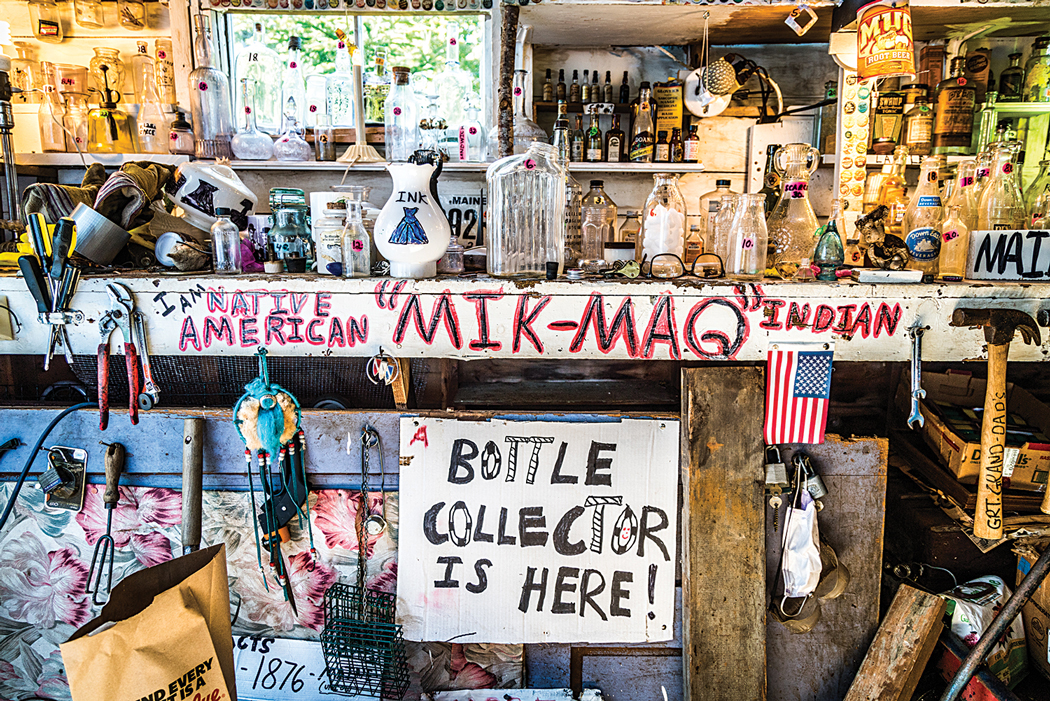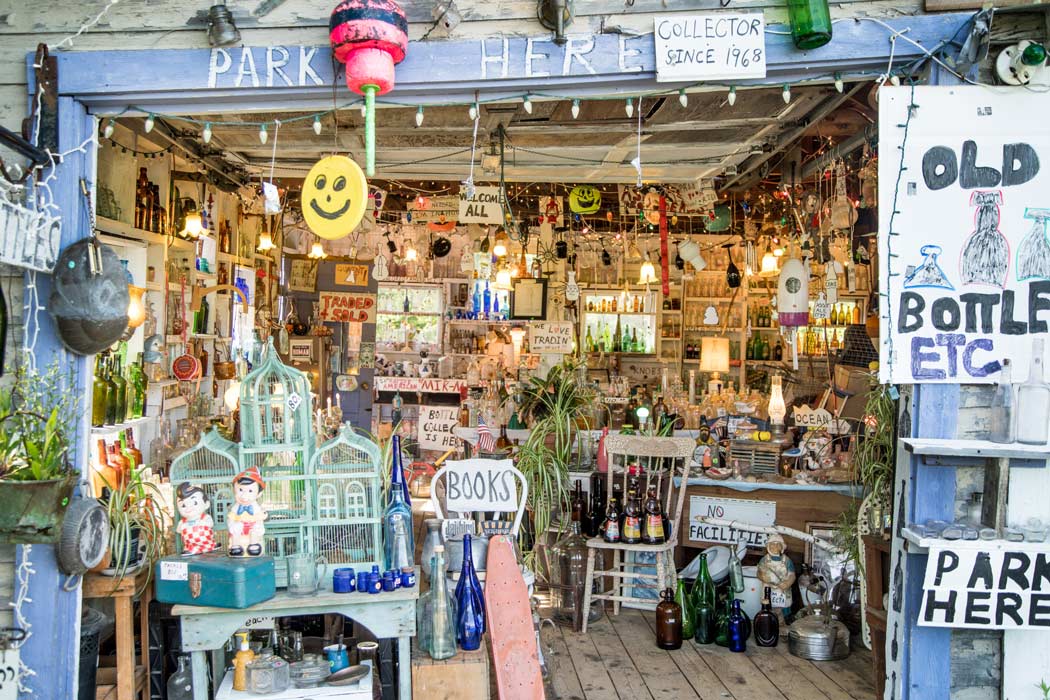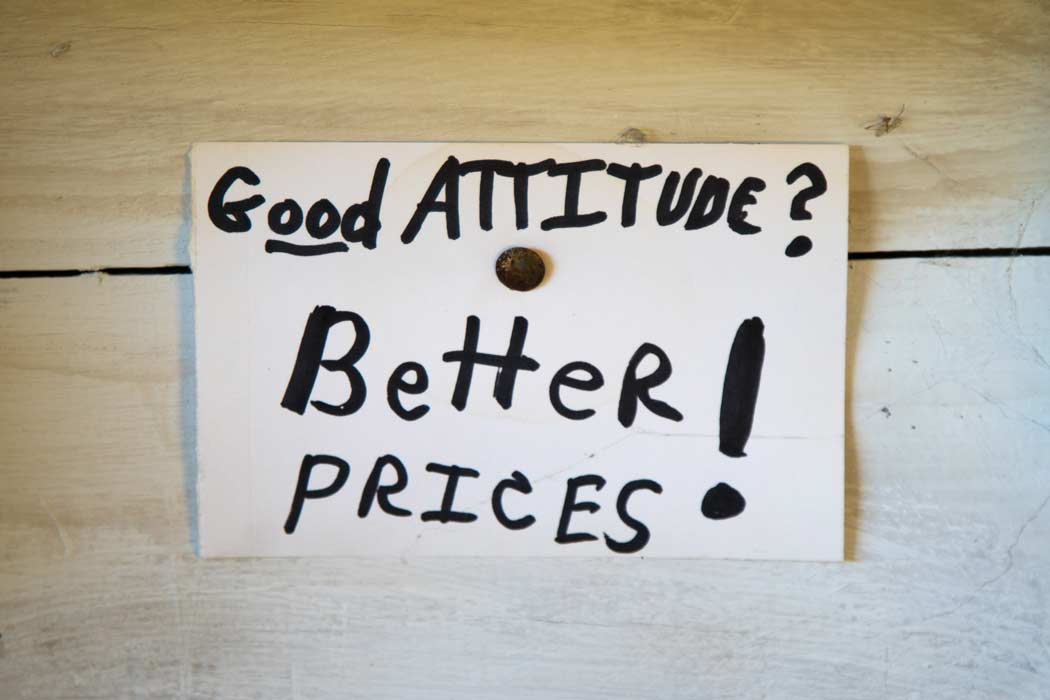 His fondness for talk extends to his many handmade signs, conversation starters all. Along the lip of a shelf, he declares his heritage in red marker: I AM A NATIVE AMERICAN "MIK-MAQ" INDIAN. His great-grandfather, Candou (Micmac for "eyes black as slate"), took the name Copp from a fellow log driver who died on the river. "He did it to honor him and to white-ify himself," Copp says.
Overhead dangles a yellow rectangle with the words PRICES SUBJECT TO YOUR ATTITUDE!! Copp made that one after a contentious haggling session with an unpleasant customer. The happy face in the dot on the second exclamation mark suggests it needn't be that way for you.
Dave's Bottles, 358 Cushing Rd., Friendship, has no phone number, no website, and no set hours, but Copp says, "I'm usually here from spring until it gets so mind-numbingly cold I can't take it anymore."