Artist Nathan Nicholls' family wrestles with the future of his metal jungle.
By Virginia M. Wright
[dropcap letter="O"]n a gray spring afternoon, Alissa Geis descended into a wooded hollow in Waldoboro teeming with bespectacled apes, hookah-smoking caterpillars, and horn-playing frogs. A life-size George W. Bush, rendered as a human gasoline pump, anchored a bend in the path. Up ahead, Alissa's brother, Josh Nicholls, and sister, Heather Nicholls, stepped off the trail to right toppled seabirds, the casualties of winter storms.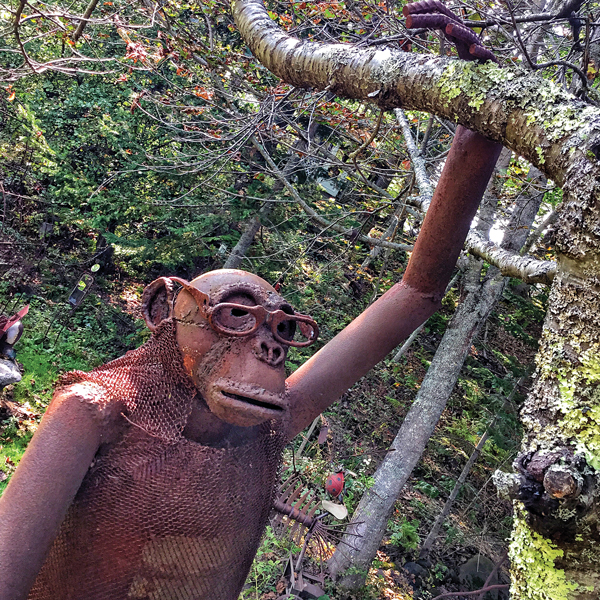 "This time of year, it's a scavenger hunt," Geis said, describing the annual mud-season cleanup at what the family calls Nicholls' Nook, the siblings' fourth since Nathan Nicholls, their father and the creator of this scrap-metal menagerie, died of a heart attack at age 52. "My dad's favorite patina was rust, and unfortunately, that's not conducive to preservation. It's an almost insurmountable task to keep up with it all."
Propped next to George Bush was Nicholls' self-portrait: Blue-marble eyes gazed from a head as round and ruddy as a blood moon. A hint of a smile curled behind a massive wire beard. He seemed serene, this fellow, comfortably at home among the hundreds of droll people, animals, monsters, and flowers that he installed next to his home on Route 32 over nearly three decades.
The son of teachers, Nathan Nicholls exhibited an anti-establishment streak early on. He dropped out of school, married at 18, and moved from Massachusetts to Maine to cobble together a living as a blueberry harvester, wreath maker, and repairer of lawn mowers and motorcycles, for which he accumulated a mountain of scrap metal. His first sculptures, made in the '90s, were acts of defiance. Accused by the town of Waldoboro of operating an illegal junkyard, he welded metal bits into objects: A propane tank, a shovel handle, and odds and ends became a miniature elephant. A mower handle, a bike wheel, and other detritus turned into an airplane. Suddenly, he had not junk, but art materials.
Making art remained a sideline until 2003, when Nicholls' mother died. "He threw his grief into creating," Geis said. "Before that, it was just tinkering. After, there was intent." His sculptures grew bigger and more intricate. He made a helicopter, a time machine, a spaceship, a submarine, all with moving parts. He made a wizard, a dragon, and the anatomically correct "Oogie Boogie Man," drawing another reprimand from the town when a neighbor complained. At the time of his death in July 2014, Nicholls was churning out a sculpture a week and making a modest living selling lawn art, mostly to passersby he welcomed into his outdoor gallery.
A free spirit, Nicholls preferred self-employment to grinding away for others. His small-engine repair business led him to making art from scrap metal. "He was really good at looking at an object and seeing what he could make out of it," daughter Alissa Geis says. "He hated to sell it — it was a part of him. His solution was to make things like lobsters especially for the tourists."
---
Today, Josh, his wife, Jalynn, and their kids live in Nicholls' house and serve as principal caretakers of the sculptures that sprawl over three acres. But the family is coming to terms with the fact that their father's creations can't survive without expert intervention.
"There are some lovely pieces there — they're definitely worth trying to save," said Terri Yoho, a project consultant with the Wisconsin-based Kohler Foundation, who viewed images of Nicholls' works at our request. Yoho was involved in Kohler's conservation of nearly 3,000 artworks by Cushing artist Bernard Langlais, a multi-year project that led to the creation of a sculpture preserve and the gifting of pieces to institutions across the state.
Respect for self-taught "art environment builders" like Nicholls has increased dramatically in the last decade, Yoho said; nevertheless, Kohler remains one of the few institutions focused on preserving their work. "We don't have any trouble finding wonderful art," Yoho added. "The difficulty is in finding someone to steward it."
Ideally, art environments are preserved in their original context, Yoho explained, but in the case of Nicholls' Nook, "The pieces need to be indoors, away from the corrosive salt air, wind, snow, and rain."
That would likely mean breaking up the collection and distributing the best pieces to museums and collectors, an alternative the Nicholls family is not ready to entertain. "We want all of it to stay here, but here may not be the best place for it," Geis concedes. "We're still hoping to find a safe home."