When lakes turn lonely and frigid, Bob Lombardo goes searching for the perfect sheet of ice. Lace up and tag along for a skate on the wild side.
By Frances Killea
Photographed by Jason P. Smith
[dropcap letter="O"]n Megunticook Lake, in Camden, the boaters, swimmers, and paddlers had left for the season, the cabins were shuttered, and the docks were out of the water. Along the frozen shoreline, children wobbled about on skates as parents called instructions over a constant clacking of metal on ice. But farther out, Bob Lombardo had the rest of the lake's 1,300 acres to himself, the only sound the whoosh of his long-bladed touring skates tracing thin arcs across the ice.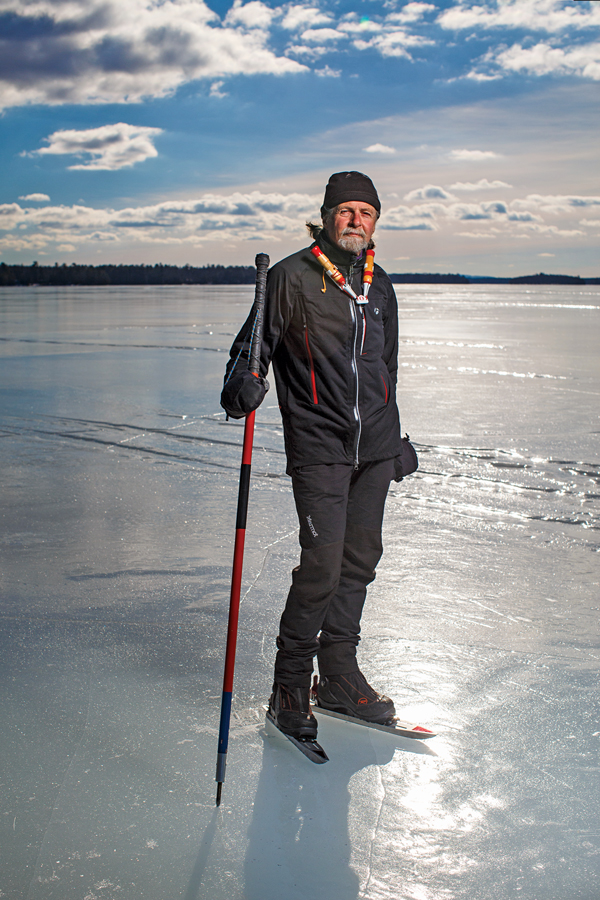 On his back, Lombardo wore a pack with a built-in flotation device. Draped around his neck, he had a pair of ice claws, for pulling himself up through broken ice. Beneath a windbreaker, his thick wool sweater was an insulating layer — and a key precaution should he wind up getting wet. "I've gone up to my chest twice, and I've had wool on," he noted. "I get out and I'm not really cold."
Occasionally, he stopped and tapped a long pole tipped with a metal pick, testing the thickness of the ice. "Two inches is good — two inches is really exciting ice," Lombardo said. "Once you get on it, you just fall in love with it."
Lombardo grew up skating on frozen ponds and swimming pools in New Jersey. The first time he saw someone whipping around on touring skates, he felt a sense of awe. "It just struck me," he said. "This is what I want to do." In his early 20s, he moved to Maine and bought touring skates of his own. A carpenter by trade, he'd work mostly in the summer and then spend winters chasing good ice.
Now 67, he knows that good ice is an elusive, fleeting thing, constantly imperiled by thaw or snowfall. To suss out where he might find it, he relies on experience, intuition, weather reports, and depth maps. And although "wild ice skating" — Lombardo's preferred designation for it — is a solitary pastime, he and a small cadre of fellow ice chasers share conditions with each other (and anyone else curious about exploring frozen waterways) via a "Maine skating and ice report" public Facebook group.
In an average winter, Lombardo, who lives in Orono, gets maybe 60 days on the ice, sometimes skating as many as 40 miles an outing. During warmer months, when lakes are busy with activity, he's elsewhere, often on his mountain bike, off in the woods. "I like solitude and isolation," he says. "You can get that on the ice."
That morning on Megunticook Lake, conditions weren't perfect — pressure ridges rippled across the lake from repeated thaws and freezes — but the air was crisp and the sky was blue. Lombardo spent hours gliding past small islands, around wooded necks, in and out of coves. Angling back to shore, a cold breeze at his back and a thermos of hot tea waiting in the car, he glanced skyward. Overhead, a bald eagle glided effortlessly past brittle, frozen treetops, and just for a moment, Lombardo rested on his skate blades to watch.