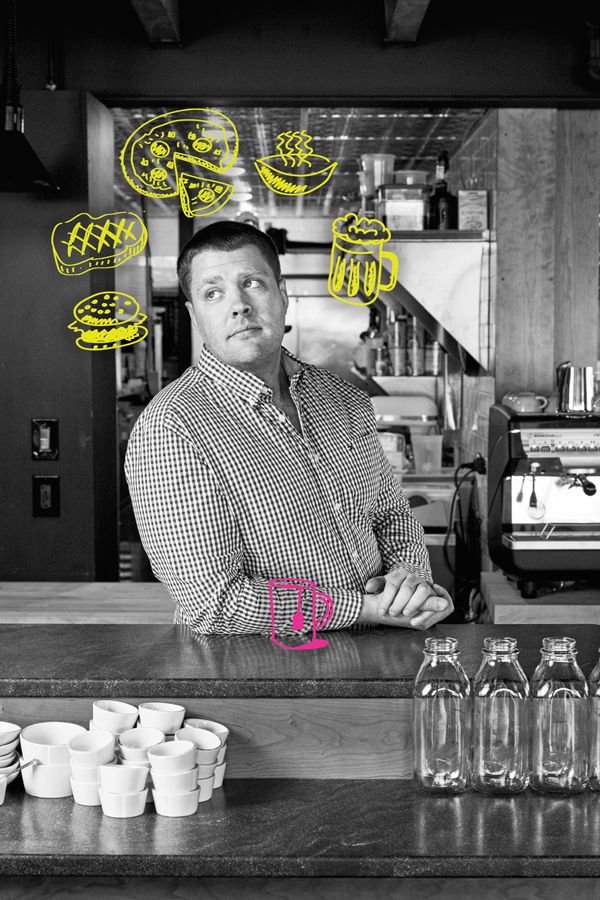 Five restaurants, a brewery . . . and an eco-resort in Belize? How Matt Haskell, son of Bangor, started out scrubbing pots and wound up a restaurant mogul.
By Joe Ricchio
While Portland's food scene was getting all the attention this past decade, Matt Haskell quietly set about opening restaurants away from the hype, in Bar Harbor, Bangor, and Camden. Now, with a spurt of new ventures this year, he owns a craft brewery and five eateries serving everything from pub grub to wood-fired pizza to locally sourced steaks to ramen bowls — and he has another restaurant, a second brewery outpost, and a Belizean eco-tourism project in the works. As Haskell hustled to get the most recent additions to his portfolio up and running, we snagged a few minutes to chat about how he worked his way up in the biz to become one of the state's most prolific restaurateurs.
---
What got you hooked on restaurants?
Growing up in Bangor, my first restaurant gig was washing dishes at the Ground Round. I also used to work prep and wash dishes in the kitchen at Hebron Academy, where I went to school. But back then, my biggest interest was having a good time — and I'll just leave it at that because my mom will probably be reading this. After I finished high school, I took a job working the outdoor, wood-fired lobster pit at the Harborside, in Brewer. Nothing too glamorous. But all these experiences gave me a feel for the pace and work ethic required in kitchen life. They set the stage for my first serious endeavor, at Michael Boland's Rupununi, in Bar Harbor, in the late '90s.
Boland is kind of a culinary icon on MDI.
I immediately viewed Mike as a mentor. I saw what he was doing at a young age — managing not only operations but also the concept, brand, and aesthetic of his restaurants. I worked my way up to chef by my third summer. After that, I got to be the sous chef at Havana, Mike's upscale Latin American place. By 2002, I was ready to run a place of my own, so I bought the Bear Brew Pub, in Orono.
Which was quite a departure from Havana, right?
It was all about slinging pub grub and $2.50 Coors Lights to college kids, and it turned out to be the perfect place to learn the ropes while making classic rookie mistakes, be it with management, staffing, budgets. It was a pretty forgiving environment — I wasn't going to experience any shortage of clientele. It was another building block toward the first restaurant that I would create from start to finish, which was Finback Alehouse, in Bar Harbor. I wanted to gravitate towards the traditional English pub and get away from the college vibe. Familiar food, but with better ingredients, plus a craft beer program.
Since then, it seems like it's one restaurant after another for you.
I opened my first Blaze restaurant, the one in Bar Harbor, in 2011. That introduced a more upscale, urban-feeling concept, with custom-made grills burning red oak. Next, I opened Blaze in Bangor.
So you were already juggling three restaurants when you bought Giacomo's coffee shop, in Bangor.
Well, the place was going to close, but it had been an important part of the Bangor food scene, so I bought it to keep it going, remodeled, and then found out pretty quickly that to properly manage that business I'd need to be there constantly. I was too busy trying to run my other restaurants too, so after a year I sold to one of the people who managed it.
But you weren't too busy to turn right around and open Hoxbill?
When a friend of mine told me that space on the Camden waterfront was available, I knew I could do great things with it. Hoxbill, which is essentially a classic steakhouse, opened last year for what I would call a "trial period." Opening up as late in the season as we did made it really hard to find staff and get the business going. Looking back, it was really the worst time we could have opened. Now we have a new chef, and I am super happy with the direction we're headed.
In the adjacent space, Kurafuto is a pretty big change of pace, doing Japanese food.
It is, but we try to avoid overcomplicating the food. We're focusing on classic Japanese cuisine, like yakitori, ramen, and sushi. Keep everything streamlined. Same with the brewery — we're keeping the emphasis on clean and clear styles — beers that pair well with our food.
Would you ever give Portland a shot?
I love Portland, but that market is crowded. To compete, I would have to be glued to the restaurant all the time. Somewhere like Bangor, we're watching the food scene evolve as we speak. The demographic is a lot different than in Portland, but I grew up in Bangor, and it was nothing like it is today — there's still a ways to go, but it has changed for the better.
Okay, Portland is a bridge too far, but Belize isn't?
I love Belize. I go two or three times a year. And I've been passionate about ecotourism for a while. So I found what used to be a Christian mission. It sits near a hawksbill and loggerhead turtle nesting shore, which also boasts the world's largest population of manatees, and it's at the foot of the Maya Mountains, close to a jaguar preserve. We're planning an enviro-sensitive resort with a restaurant, as well as a sanctuary and a spa.
Any other Maine ventures in the foreseeable future?
After we get Urban Pizza and Blaze Brewing going in Bangor this year, the focus really shifts to Belize. Other than that, for now, I think I have enough on my plate.
---