A colorful Cumberland cottage invites all who visit to relax and play.
By Meadow Rue Merrill
Photographed by Erin Little
[dropcap letter="O"]n a languid summer afternoon, Jane Swan lounges in an Adirondack chair on a wooden dock that extends into the quiet waters of West Cumberland's Forest Lake. With her are a neighborhood couple and their daughter, whom she invited to join her topside for iced tea when she spotted them rowing by in a wooden boat. "I have an open-door policy," she says.
Swan's clubhouse-size cottage was condemned when she and her husband, David, a contractor, snatched it up along with 175 feet of shoreline for $40,000 nearly two decades ago. They have whimsically decorated the 70-year-old, four-room gambrel with 1950s-style furnishings, including an orange vinyl couch they found on a summer jaunt and strapped to the top of their station wagon. "Ninety percent of the stuff in here was going to Goodwill or is from a garage sale or someone gave to me," Jane says.
"I wanted a place where people could come and not feel, 'Oh, I have to take off my shoes,' or, 'I can't sit with my wet bathing suit," says Swan, a graphic designer and former L.L.Bean art director who drew inspiration for the teal-and-orange color scheme from old floor tiles found in one of the closets. "It's not something you would normally do to a house, but we love it."
To make the cottage livable, the Swans shored up the building, tore down drop ceilings, and opened up interior spaces. The former front porch, now furnished with sleep couches, is separated from the living room by half walls and turned-wood posts salvaged from an old farmhouse. Binoculars rest on the windowsill next to sliding glass doors that offer a lake view of boaters and wildlife.
The Swans also took down a kitchen wall to build a bar-style counter. Most of the kitchen furnishings and appliances are retro, from the hand-operated coffee grinder to the chrome bar stools to the aqua-blue Zenith radio atop the Westinghouse refrigerator.
The outdoor cooking area is charming as well. A roof overhang shelters the grill, which sits on a small brick patio. Within easy reach is a rustic buffet for plates, napkins, and cutting boards. A shelf affixed to the side of the house serves as a simple cupboard for storing colorful buckets full of utensils.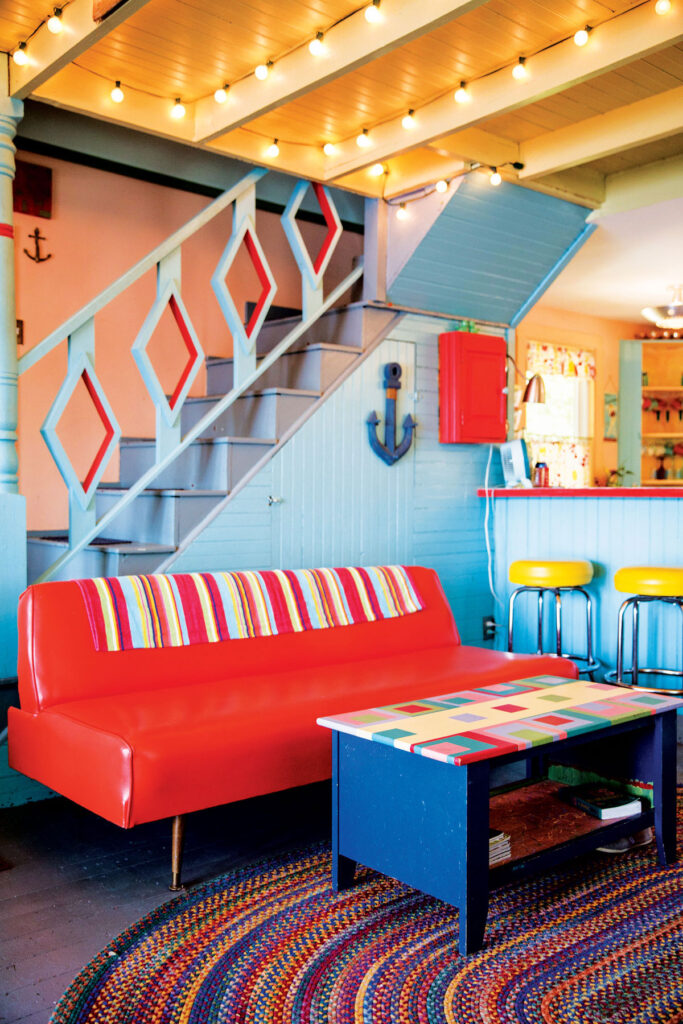 Parked in the driveway is a 1960s Shasta camper used to house visiting family and friends. Near the dock, canoes and a paddleboat await explorers. A hammock, rope swing, and fire pit encourage play and relaxation. "I've had more adults on that swing than kids," Jane says. "When people come here, they feel happy. We have big parties and big get-togethers, so I'm used to always having something going on."
The Swans, whose year-round house is just five miles away, open the cottage in mid-May and stay through December, when boating gives way to ice-skating parties. No matter the time of year, Jane says, "You turn down this road and get this sense of peace."