The funnest, tastiest, quirkiest ballpark traditions from 25 seasons of Sea Dogs baseball.
[dropcap letter="D"]an Burke, a Kennebunk summer resident and former CEO of ABC, had dreamed for years of bringing minor-league ball to Maine. His dream came to fruition on April 18, 1994, when the Sea Dogs played their first game at Portland's brand-new Hadlock Field. Beforehand, Burke, who passed away in 2011, told the Press Herald, "I just want to fade into the crowd and enjoy the game." Now, kids who packed the park during that inaugural season are taking tykes of their own to games, introducing a whole new generation of fans to their favorite Sea Dogs traditions.
---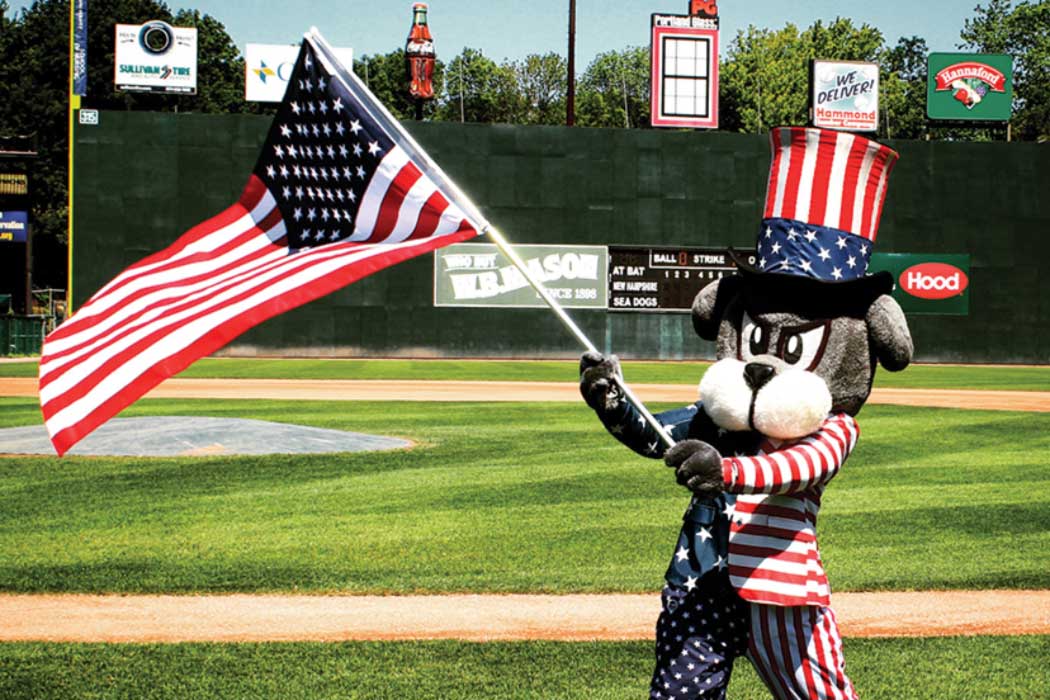 Mascot Mania
A 5-foot-10, bipedal harbor seal (or "sea dog"), Slugger has quite a fanbase of his own, as one of minor-league ball's five-most-followed mascots on social media. The playful pup doesn't get an off-season — on top of 70 home games and hundreds of other appearances annually, he likes to visit kids at Barbara Bush Children's Hospital every other week.
The First Pitch
For the Sea Dogs' first home opener, Burke worked his media connections to have talk show host Kathie Lee Gifford sing the national anthem and her hubby, sports commentator Frank Gifford, toss out the first pitch. Since then, actor Chris Pratt, Patriots tight end Rob Gronkowski, and President George H.W. Bush, among many others, have hurled ceremonial pitches.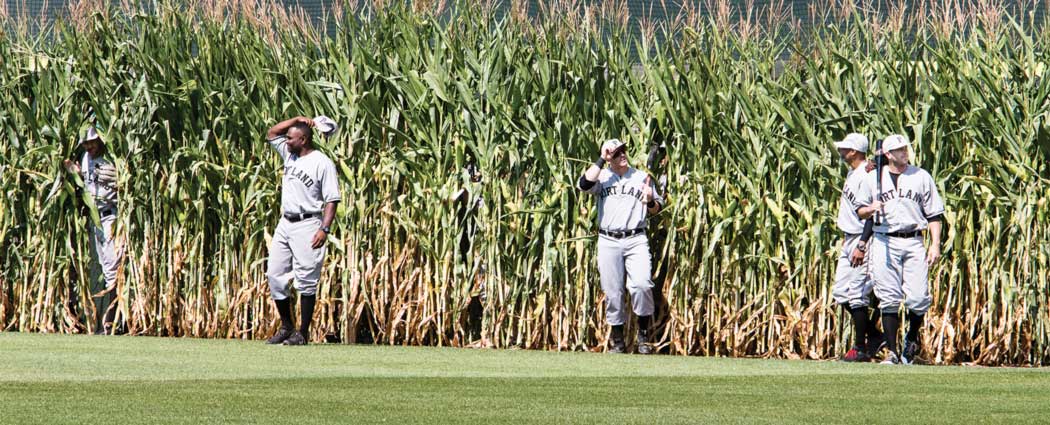 A Field of Dreams
For the Eastern League's 75th anniversary, in 1997, member teams sported throwback jerseys. Team president Charlie Eshbach hadn't seen Field of Dreams, the nostalgic movie about a magical ballfield on an Iowa farm, but he joked to Burke, "Too bad we don't have a cornfield." So one game that August, the players donned their retro unis and started the game by entering through cornstalks set up in center field. Now it's an annual tradition. Says Eshbach: "I still get goosebumps every time I see it."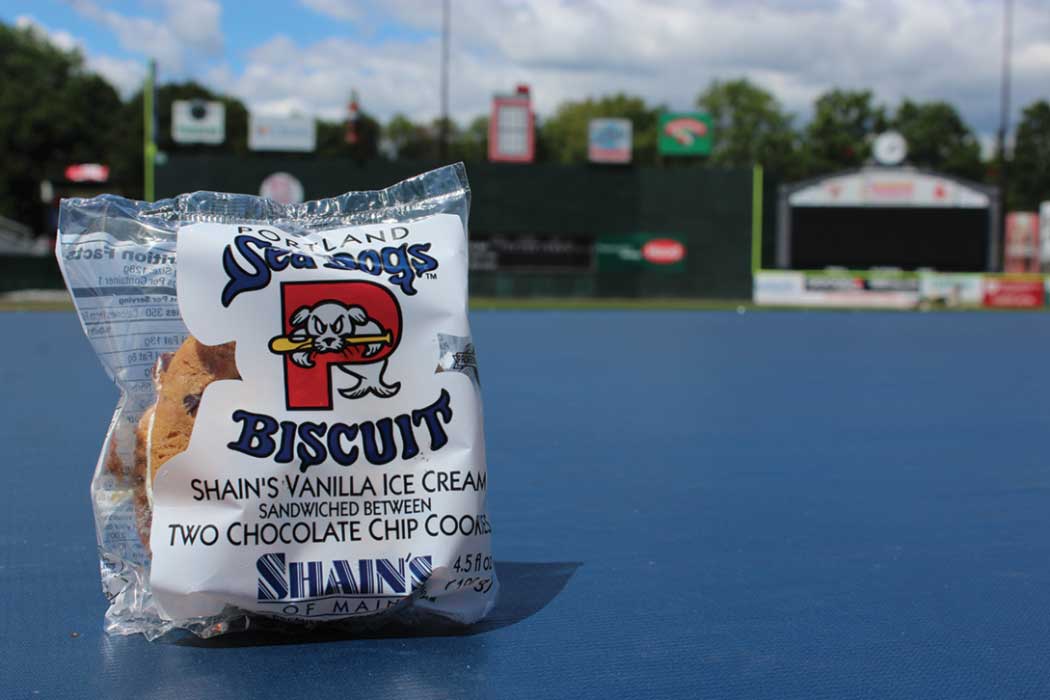 Chowing Down
Hot dogs and beer form the basis of any healthy ballpark diet, but how many teams can boast a signature dessert? Sea Dogs Biscuits, ice cream sandwiches made with good-sized chocolate-chip cookies by Sanford-based Shain's of Maine, have been served at Hadlock since '94. On a hot day, owner Jeff Shain says, he sells some 1,500 of his cold confections.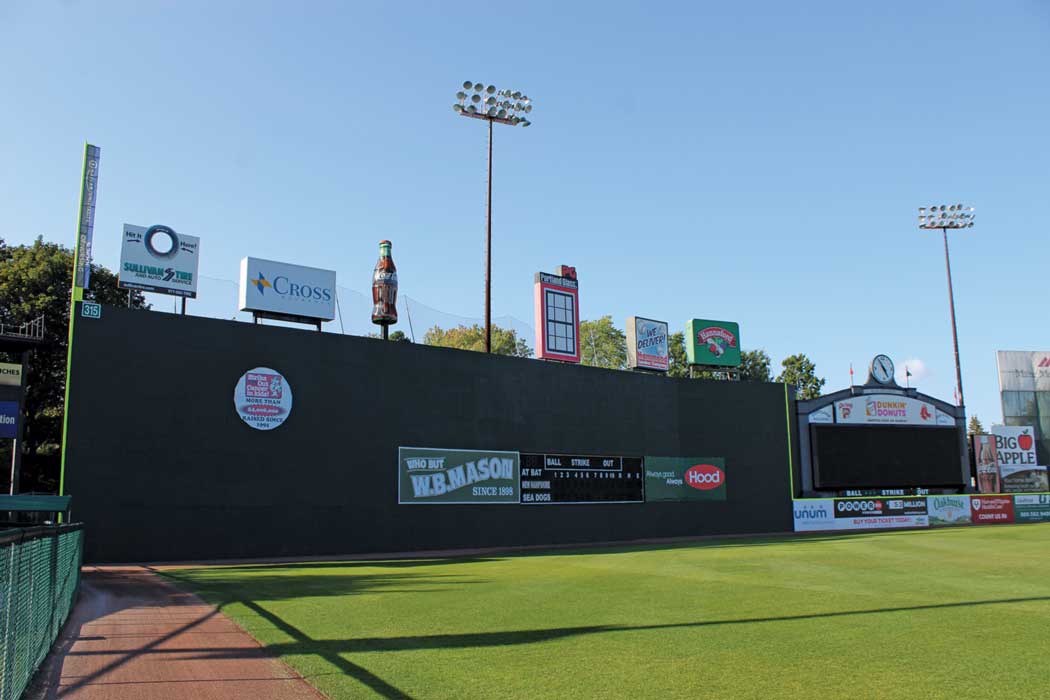 Fenway's Mini-Me
The Sea Dogs started as an affiliate of the Florida Marlins. When they switched to the Red Sox in 2003, Burke and Eshbach wanted a Green Monster of their own. So team carpenter Jimmy Piacentini built Hadlock a left-field wall topping out at 37 feet, just like Fenway's famous original. Utility player Andy Dominique saw action in seven games for the big club, and although he never hit one over the Green Monster, he was the first Sea Dog to best the Maine Monster.