In the midst of her toughest challenge yet, Northwoods Gourmet Girl's Abby Freethy has some big ideas simmering.
By Virginia M. Wright
Photographed by Mark Fleming
[L]ate one sunny summer morning in the Northwoods Gourmet Girl retail shop, about a quarter-mile south of Greenville's Moosehead Lake, Abby Freethy is showing me her pretty teal display cabinets filled with jars of charred-onion ketchup, jalapeño relish, bourbon caramel sauce, and sweet-and-spicy walnuts. Out back, one of Freethy's employees is washing pots in the large commercial kitchen. Around the corner and out of view, another worker is filling jars with thick purple blueberry preserves. A couple wearing shorts and sandals steps into the shop and strides up to the counter, where, last summer, Freethy served baseball-size crab-cake sandwiches and freshly squeezed lemonade, but which today is bare, as if still in winter hibernation.
"We've come for our annual blueberry jam!" the woman announces, smiling broadly.
"We just made it," Freethy tells her. "It will still be warm."
"Perfect!"
Freethy disappears into the kitchen, then returns a few minutes later with a small box filled with jams.
"We can't go home without these," the man says gratefully. "If we did, no one would ever pick up our mail and newspapers again."
They make small talk. They have a camp on the lake, they tell us, and now they are on their way home to New Jersey. Then, with a hint of hesitation, the woman asks,"How are you feeling?"
"Ummmm . . . good," Freethy responds, not certain if she is being asked what she thinks she is being asked. "I'm hot right now."
"That doesn't sound too bad," the woman gently coaxes.
"I feel fine today," Freethy says, opening up.
"Good," the woman says encouragingly.
"Tomorrow, I have chemotherapy."
"So you'll have three not-so-good days afterwards, right?"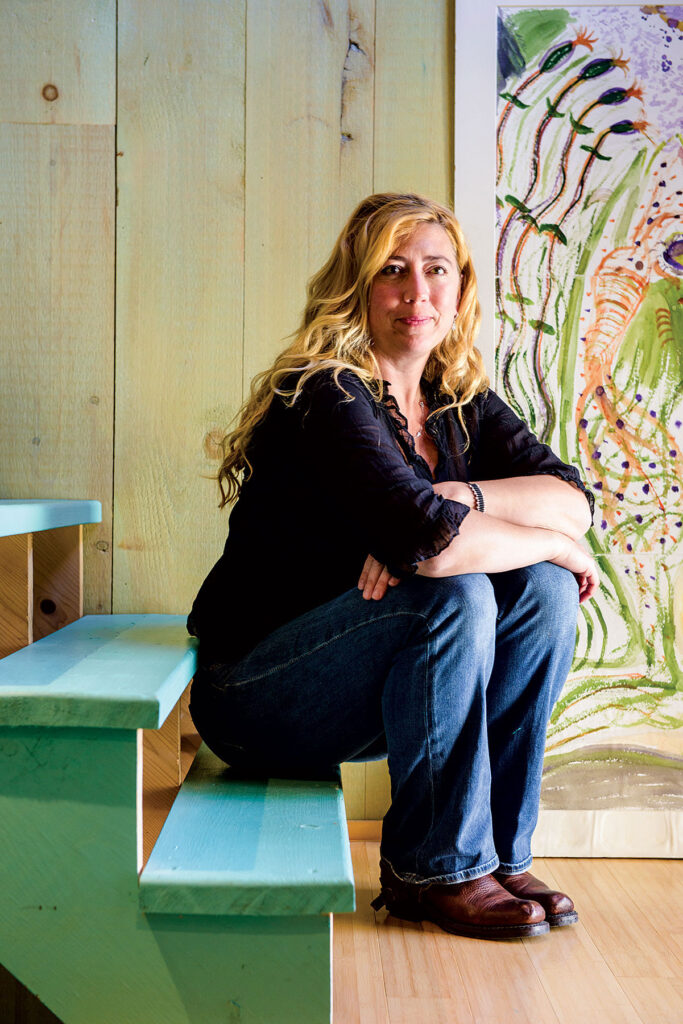 So begins a 30-minute conversation about breast cancer, the stranger from New Jersey, diagnosed six years ago and now cancer free, reassuring Freethy, diagnosed in March. They talk about lymph nodes and chemo, radiation and fat grafts. There's even a flash of a reconstructed breast. "That looks good!" Freethy says, seeming buoyed.
"I wasn't sure whether to ask you about it," says the woman, who learned about Freethy's illness from a mutual friend, "but I went into it blind, and what I found was that you have to take your time and figure out what your options are. Today, I went waterskiing. Next year, that's going to be you!"
After the couple departs, Freethy confides that she has encounters like that nearly every day — with friends, acquaintances, even the occasional stranger, who offer support, rides to medical appointments, or help in the Northwoods Gourmet Girl kitchen. "You learn how to rely on other people," she says. "If you've been a tough person who has to be the leader or do everything on her own, you learn to let other people take over. If anyone thinks they have control, that's hysterical. That's just not true."
Freethy's diagnosis came at a pivotal time in the evolution of her nine-year-old business, which sells a line of 20-odd natural pantry staples in gourmet markets throughout New England and was a Martha Stewart American Made Award finalist in 2013. She was just about to celebrate the one-year anniversary of her first retail storefront, in Belfast, where she introduced the first pieces in a line of painted furniture, some glassware, and cotton shirts and dresses printed with her playful blue lobster design. "We were moving into becoming a brand, rather than just a food company, and we were capturing a whole different market," says Freethy. "It allowed me to use my creative side — if I'm not making something, I don't feel good — so it was really fun to be there."
[infobox maintitle="Right now, I can't focus on anything other than being well. . . . I just know I can't ever let go of Northwoods Gourmet Girl and what it's come to mean to me." subtitle="Abby Freethy" bg="black" color="white" opacity="off" space="60″ link="no link"]
All of that was put on hold this year on February 25, the day Freethy learned she had breast cancer. "When you are faced with life and death," she says, "your focus gets shifted in a second." She needed to reserve her energy for her steadily growing wholesale condiments business and, more important, for Dustin, her 9-year-old son, so she closed the Belfast store, put the Greenville café on hiatus (hence the semi-dormant dining counter), and cancelled plans to attend events like the Summer Fancy Food Show in New York. Two weeks later, she had surgery, then began the first of two rounds of chemotherapy that would extend into August. This fall, she is undergoing radiation treatments, which will end just before Thanksgiving.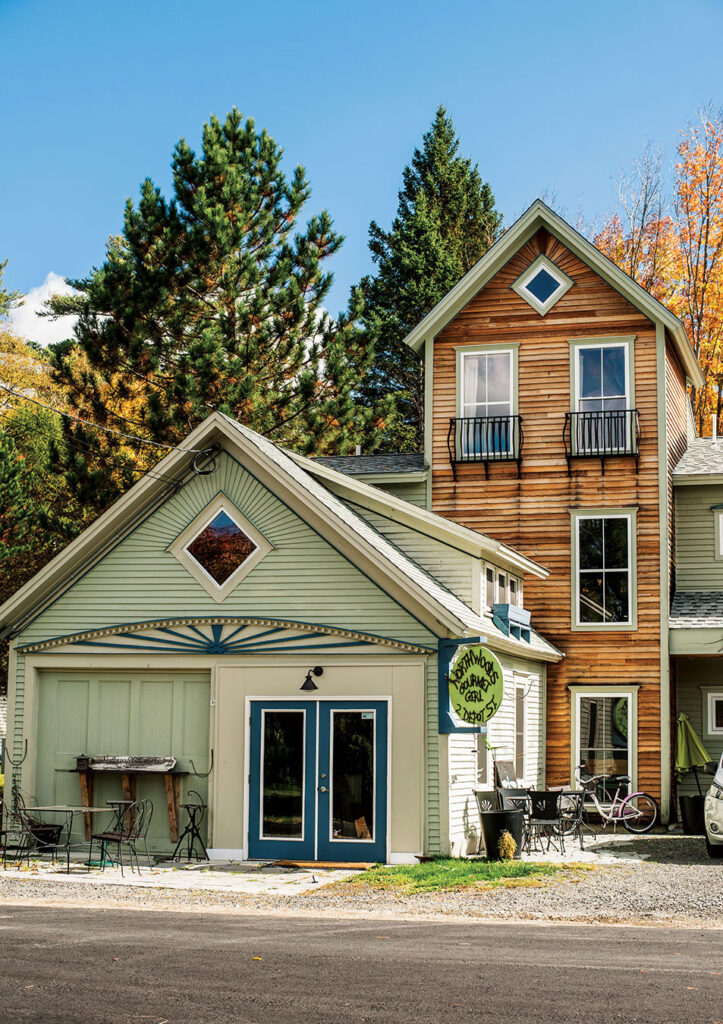 Settling into her airy office and studio on the second floor of the barnlike Northwoods Gourmet Girl headquarters, Freethy, wearing denim capris and a sleeveless shirt, looks well, if a little tired. Nutrition, she says, is playing a big role in managing her illness, perhaps the only part of this process that comes naturally to her.
Her interest in food was ignited when, as a 22-year-old textile designer student in Philadelphia, she took a job as a line cook at Jack's Firehouse, owned by farm-to-table pioneer Jack McDavid (Food Network fans may know him as Bobby Flay's overalls-wearing co-host on the 1996 show Grillin' and Chillin'­ and more recently as a judge on Beat Bobby Flay.) "I remember it vividly," recalls Freethy, now in her 40s. "It was like an epiphany: I wanted to be a chef."
She enrolled in the Culinary Institute of America, then landed a job as a private chef for a wealthy family in Greenwich, Connecticut, entering a rarefied world that would prove at once cosmopolitan and isolating. She went on to cook (and clean and babysit) for the families of publishing, insurance, and automotive company executives, who threw expensive dinner parties for the likes of Martha Stewart. (At one such party, Freethy tried to accommodate the domestic diva's request for seconds on cotton candy, but an equipment failure webbed the kitchen floor-to-ceiling with spun sugar. "It was one of my only epic disasters," she says.)
"It sounds glamorous," she says of that time, "but it was hard. I was traveling 60 percent of the year. I was throwing these amazing parties, but it was a little empty. I had no roots. I didn't have a tight group of friends anymore." But when her job took her to Maine, where one of her employers had a Mount Desert Island estate, she felt a connection. It was as if she had come home.
So she moved to Greenville, did a short stint in the kitchen of a sporting lodge, then, inspired by The Man Who Ate Everything, in which food critic Jeffrey Steingarten tries to find the perfect ketchup, she began experimenting with healthful alternatives to the sugary ketchup varieties that populate the nation's grocery shelves. The following year, her thick, tomato-y, and not-too-sweet Country Ketchup made its debut at a Greenville store.
"I had no plan. My plan was to drink margaritas and laugh about world condiment domination," she says, smiling. "But I knew I could be an accidental business woman. I had the creative skill, if not the background in finance and managing employees."
More varieties of ketchup followed — as did jams and preserves, relishes and mustards, and caramel sauces, all made without preservatives or additives by a staff that ranges between two and seven employees. For the first few years, Freethy worked out of a commercial space in downtown Greenville, where she opened a café and served food dressed with Northwoods Gourmet Girl condiments, like her killer crab cakes topped with a jalapeño pepper relish-spiced remoulade, and a buffalo meat sandwich slathered in a ketchup-based sauce. With her business growing rapidly, Freethy built a larger kitchen with a store and café next to her home, about half a mile west of the village. Last year, Crate & Barrel offered Northwoods Gourmet Girl's charred-onion ketchup on a limited-time basis, a milestone — and a challenge. "It showed what our capacity was," Freethy says "We banged it right out, but the paperwork and the way you have to package it — that's a full-time job in itself!"
Northwoods Gourmet Girl's wholesale business continues to grow — in the works is a line of frozen meals designed to offer nutritional support to people convalescing from illness — even while Freethy postpones expanding the brand beyond food. She hasn't stopped thinking about it, though.
"Right now, I can't focus on anything other than being well, but I'm going to reinvent myself, though I don't know how yet," she says. "I just know I can't ever let go of Northwoods Gourmet Girl and what it's come to mean to me."
[button content="See More from This Issue" color="black" text="white" url="https://downeast.com/october-2015/" openin="_self"]
---