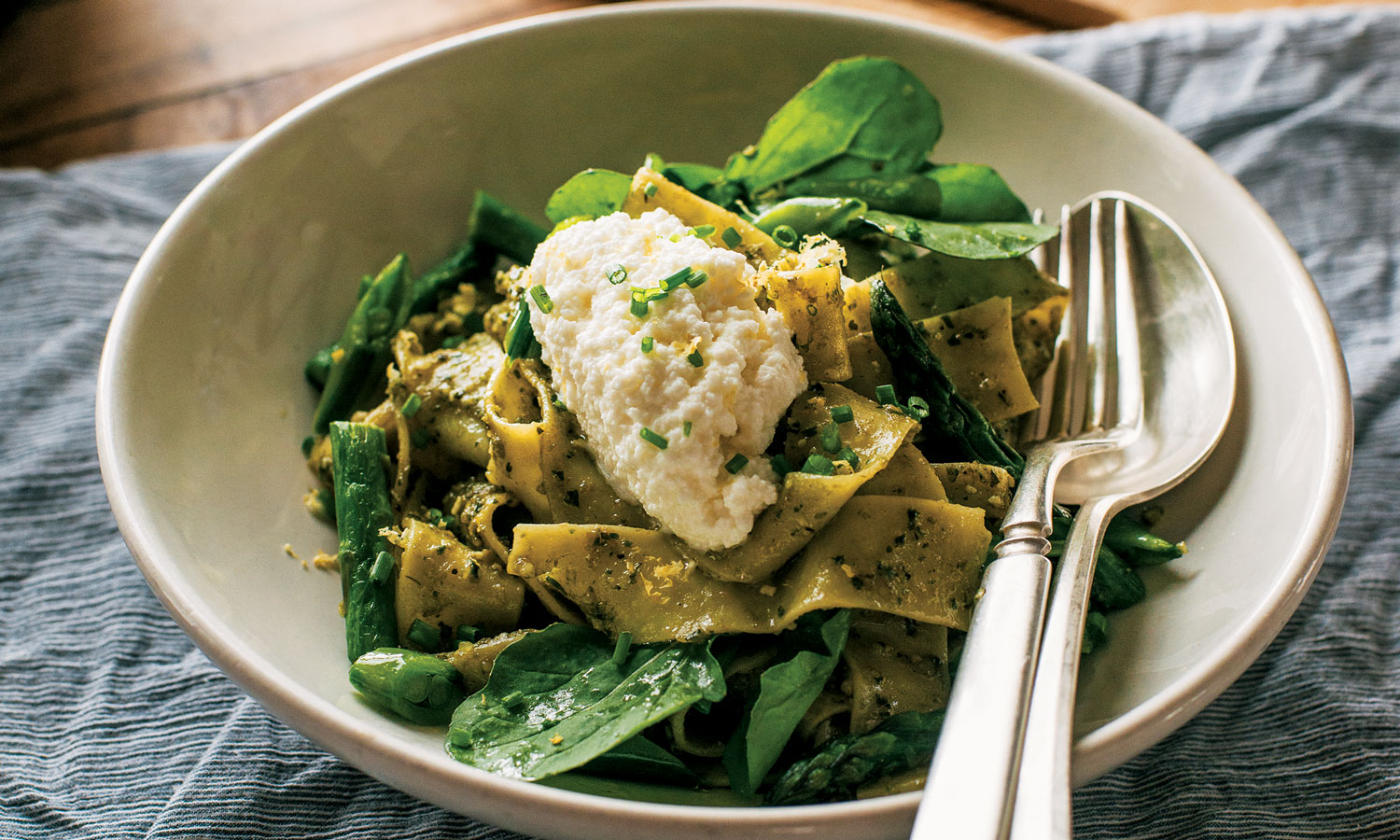 Welcome spring with pesto, pasta, and greens.
BY ANNEMARIE AHEARN
📸 MARK FLEMING
A bowlful of greens cleanses the mind and belly of the winter blues and all the heavy eating and drinking that went along with them. Pulling together a lovely spring mix from the garden — so young and tender, they need little to no heat — is no challenge at all. Ribbons of warm, eggy pasta are tossed in a pungent pesto of arugula and walnuts, folded with asparagus spears and snap peas, and then gently twisted into a nest that rests at the base of the bowl. A spoonful of fresh ricotta and a hit of lemon zest add a small indulgence to this sprightly dish.
PAPPARDELLE WITH ARUGULA WALNUT PESTO
SERVES 4
For the arugula pesto:
1 cup walnuts (or the nut of your choice)
2 cloves garlic
2 pinches of salt
juice and zest of 1 lemon
1 cup olive oil
5 cups arugula (or other greens)
1 cup grated parmesan or pecorino
For the pasta:
1 tablespoon olive oil
1 bunch asparagus, tough ends
removed, then cut into 1½-inch
segments
½ cup snap peas, chopped into thirds
on a diagonal
8 ounces pappardelle
1 cup tender spring greens (dandelions,
arugula, pea tendrils)
½ cup fresh ricotta[/column][/columns_row]
1 small bunch chives, finely chopped
zest of 1 small lemon
sea salt and freshly ground pepper
to taste
Heat oven to 375 degrees and toast walnuts on a sheet pan for 8–10 minutes or until they start smelling toasty. Place garlic, walnuts, and a pinch of salt in the food processor and blend until thoroughly combined. Add lemon juice, lemon zest, olive oil, and a pinch of salt and process until blended. With the processor still running, add greens and process until they are completely incorporated. Transfer to a medium bowl and fold in grated cheese. Set aside.
In a large cast-iron or sauté pan, heat olive oil. Add asparagus, and salt generously. Add peas when asparagus begins to turn bright green. When asparagus is just tender, turn off heat, move vegetables to a bowl, and set aside.
Bring a large pot of salted water to a boil. Add pasta and boil until al dente. Strain, reserving 2 cups pasta water. Toss pasta with pesto and add reserved pasta water as needed to loosen it up. Add asparagus, peas, and spring greens to the pasta, giving it all a good toss to distribute the ingredients. Place a nest of pasta in each bowl and top with a little scoop of ricotta. Garnish with chives and lemon zest.