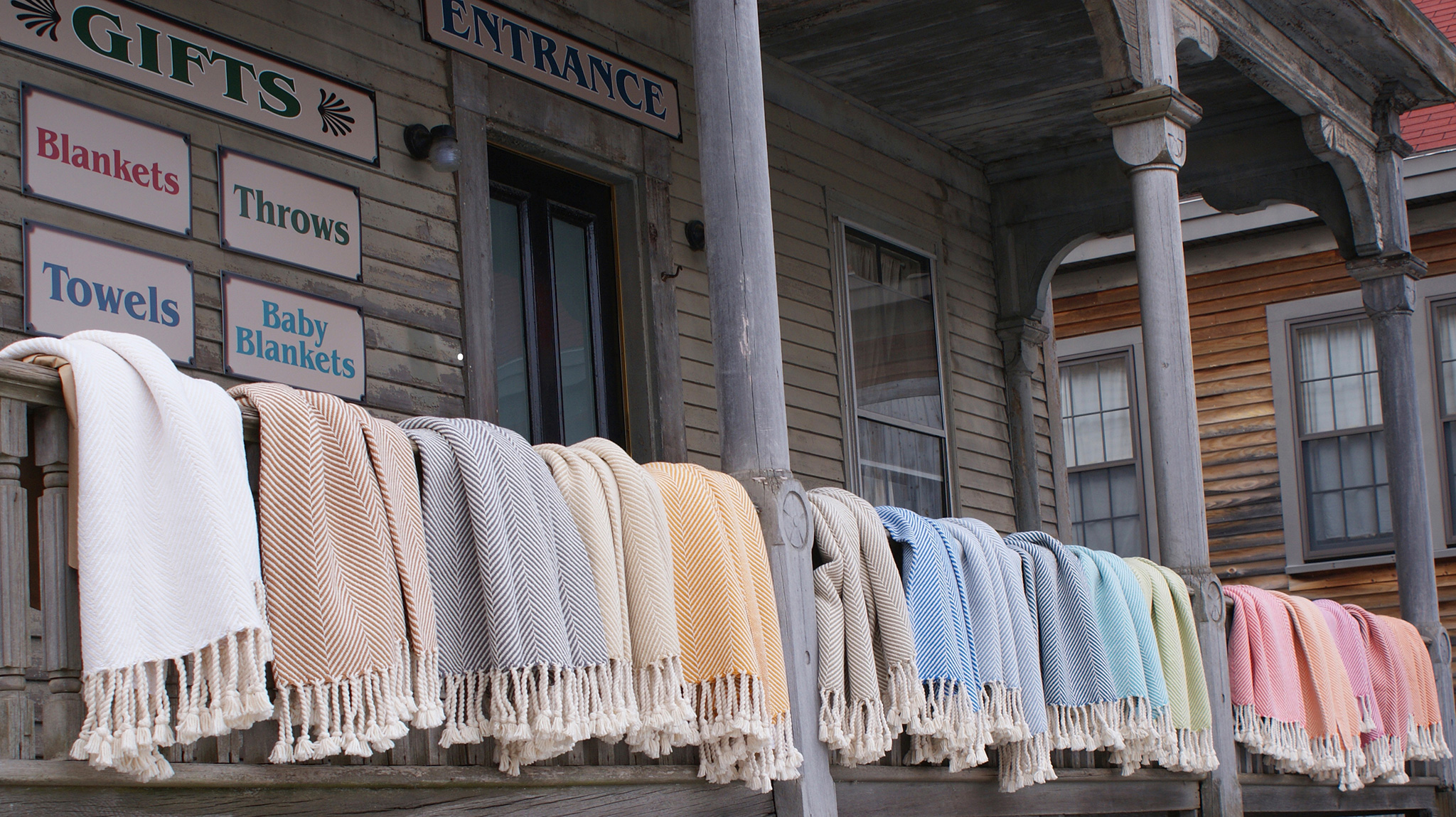 Our iconic all-cotton throw features a large-scale herringbone pattern with a flourish of hand-twisted and knotted fringe. Dense, luxurious, plush and practical, our Monhegan cotton throw is the perfect one-size-delights-all luxury. Its long-sides are finished with a true selvedge, the beautiful self-finished hem which can only be produced on an antique loom.
Throws are woven on Oyster, Natural, White, or Soft-White ground warp yarns, with colored yarns woven through, to create its classic herringbone weave.
Brahms Mount weaves all-natural cotton, wool, and linen textiles with a signature American look and a super-soft, luxurious hand. Its design and manufacturing mill was first established in 1983 by two Maine weavers dedicated to preserving the state's rich textile heritage. Using antique shuttle looms—the grand workhorses of the industrial era—they created an appealing line of heirloom-quality throws, blankets, and linen bath towels.
A passion for finely crafted American-made products and the simple comfort of all-natural fibers form the essential hallmarks of the brand. Each blanket, throw, day blanket, and towel is woven on antique looms by local artisans in the Monmouth, Maine mill. To achieve our beautiful color palette, hi-tech engineered yarns are used—spun from the finest cotton, wool, and linen fibers—and feature special colorfast, eco-friendly dyes. Such is the purity and texture of our natural fiber yarns, that each piece comes straight off the loom feeling clean, untreated, and richly soft. In the years since our founding, the company has undergone a creative transformation, now utilizing a broader array of yarns, new weave fabrications, and an evolving fashion palette. Today, the designs reflect a relaxed, contemporary style with an enduring utility—perfectly suited for the modern home.
Brahms Mount is proud to distinguish itself as one of the last remaining American textile mills in operation, and to share in the centuries-old textile manufacturing tradition woven into the very fabric of Maine. Our flagship retail shop is located at 115 Main Street, Freeport, Maine.