Strike the crusty nacho cheese, shriveled hot dogs, and skunky beers. A few Maine alleys have a new recipe for success, wowing bowlers with chefy chow and crafty drinks.
By Joe Ricchio
Since Harvard policy wonk Robert Putnam published his 2000 bestseller Bowling Alone: The Collapse and Revival of American Community, bowling alleys have been poster children for our unraveling social fabric. Putnam argued that Americans had ditched bowling leagues (and church groups and fraternal organizations and so on), and the less we bowled together, the less we knew each other and the less civil our society became. Well, good news: lanes around Maine have been on a (ahem) roll lately, reclaiming their status as community hubs. What's got folks lacing up those slippery clown shoes once more? The allure of pork dumplings, lobster ravioli, and boozy milkshakes doesn't hurt.
---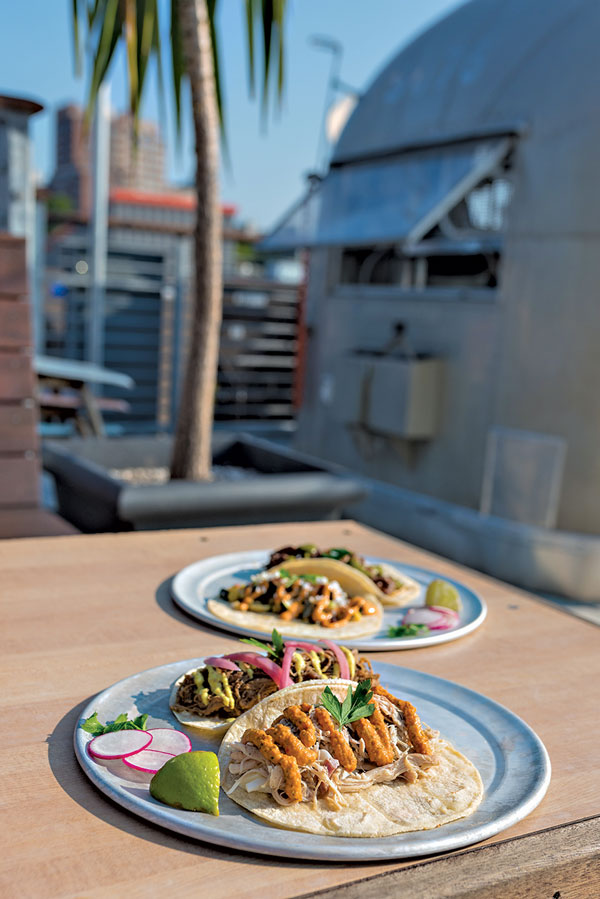 58 Alder St., Portland. 207-791-2695.
Bayside's U.S. Bowling Congress–certified lanes host an annual pro tournament as well as the Bowl Portland amateur league. Food is taken no less seriously — think smoked wings in sweet chili sauce and meltingly slow-cooked pulled pork. Last year, Bayside wrapped a major expansion, adding lanes, another full bar (there are four, with drafts from fine breweries like Oxbow and Maine Beer), and a rooftop taco trailer.
Pro Move: Pick a taco — they're all great. We love the mojo-braised chicken with pistachio romesco and the chipotle- and coffee-braised pork shoulder with mustard aioli.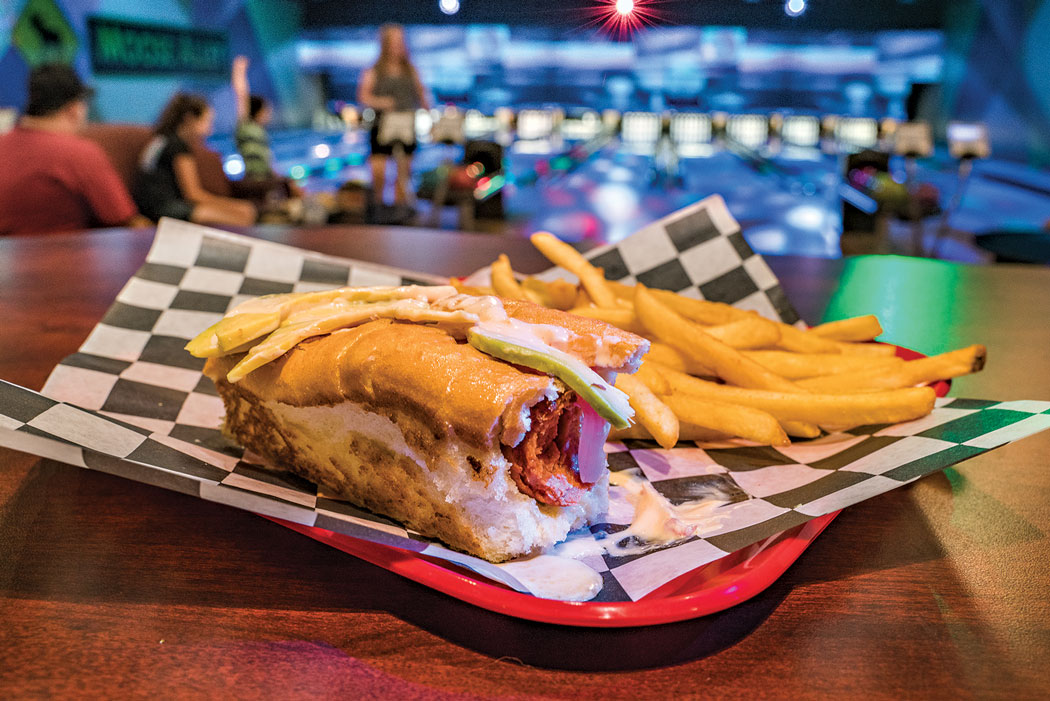 2809 Main St., Rangeley. 207-864-9955.
The lodge-themed décor — exposed stonework, antler chandeliers, indoor firepit — fits the western Maine locale. The menu at the in-house Spirits Bar and Grill, opened this year, doesn't betray the homespun vibe (there are chicken tenders and bacon cheese fries) but it detours into gourmet plates like lobster ravioli in limoncello cream and bourbon-braised steak tips. The tap list runs the gamut too, from cold Moosehead to various New England crafts.
Pro Move: The Spiritual Dog lands right at the rustic-meets-refined sweet spot: a hot dog stuffed with pepper jack, wrapped in bacon, deep-fried, and topped with pickled onion and a proprietary hot sauce.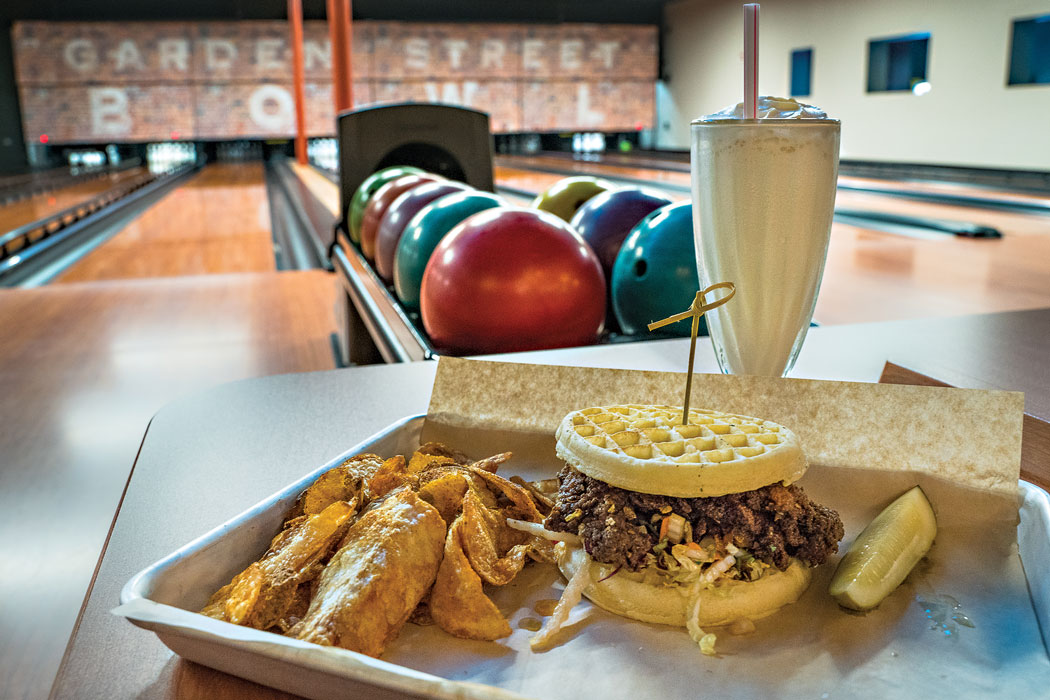 1 Garden St., Kennebunk. 207-636-7799.
When it opened last year, one co-owner described the 15,000-square-foot GSB as a "cruise ship on land." On top of bowling, there's Skee-Ball, darts, shuffleboard, bocce, and a lounge with plush sofas. Chow at the Crotux Kitchen and Taphouse splits between fancy and familiar: Indian-spiced salmon and duck breast PB&J (sweet-chili PB and hot-pepper J) on the one hand, burgers and poutine on the other.
Pro Move: Chase the Nashville-style hot chicken, served between waffles, with a milkshake, classic or spiked (like the one with vanilla ice cream, blackberry coulis, and sour lambic beer).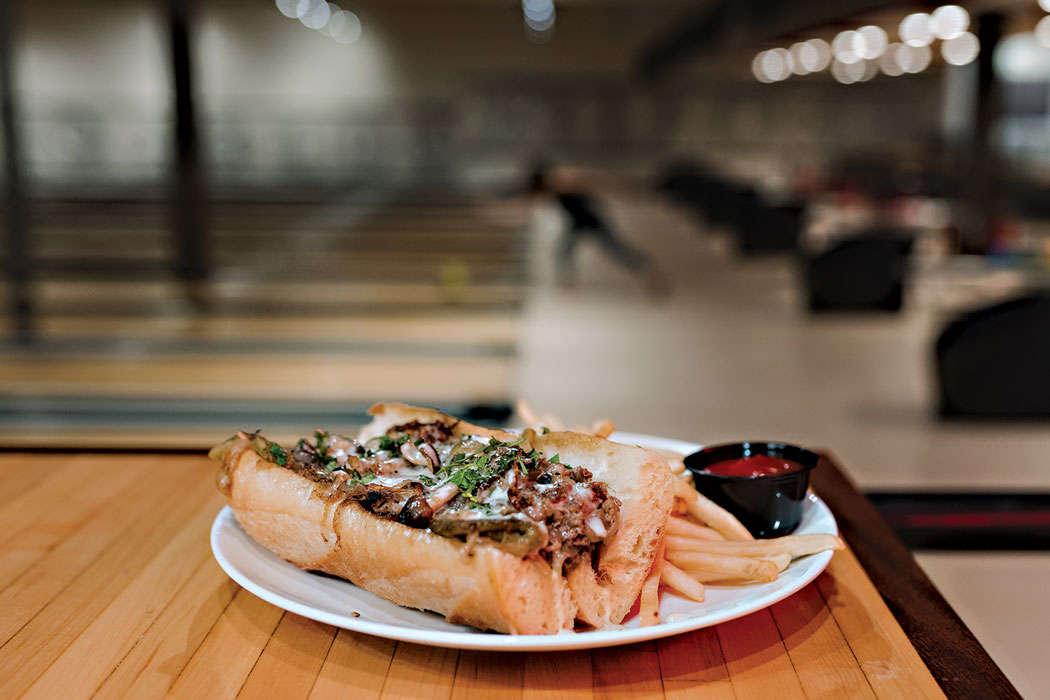 33 Elmwood Ave., Westbrook. 207-536-7061.
Bowling, bocce, and cornhole: it's a night-out triathlon at 33 Elmwood, and every triathlete needs to load up on calories. Luckily, the kitchen turns out top-notch pork dumplings, crispy Brussels, and pesto gnocchi. Hydration is a must as well, whether via strawberry-jalapeñno margaritas or refreshing draft prosecco.
Pro Move: Cheesesteak may sound like humdrum old-time alley grub, but the one at 33 Elmwood is deliciously dressed up with caramelized onions, pickled peppers, and mushrooms. Some Veuve Clicquot champagne helps cut the richness.
---