In a Lisbon Falls basement, retired cobbler Walter Parker keeps the old ways alive.
By Edgar Allen Beem
[A]s a teenager in the 1930s, Walter Parker shined shoes in his father's cobbler shop in Lisbon Falls. It was a time when many people owned only one pair of shoes, and C.W. Parker Shoe Repairing was a busy little place. "Saturday night, the boys all went dancing," recalls Parker, now 93. "They'd flock in before the dance to get their shoes shined."
There once were an estimated 100,000 cobblers in the United States. Today, they number about 4,000, and only a dozen or so Mainers practice the craft of mending shoes. Walter's father, Clarence Parker, learned the shoemaker's art at a factory in Auburn, the center of Maine's shoe industry, which flourished from the mid-19th century until a slow decline after World War II. Walter worked for him, then operated the shop himself as W.F. Parker Shoe Repairing from 1946 to 1952, when he went to work at the Worumbo Woolen Mill. Even after he closed the shop, he took repair jobs dropped off for him at a local dry goods store.
Now retired, Walter keeps much of his old equipment in the basement of the cozy ranch home he shares with Blanche, his wife of 71 years. The tools include a large finisher, with its array of polishers and buffers and skate sharpening attachment; the vintage Singer patching machine; and a collection of lasts, stretchers, hammers, awls, tacks, and shoe polish.
[infobox maintitle="Nancy Greindl's Photo Album" subtitle="Parker's granddaughter, Nancy Greindl, recently took several portraits of Parker at work as a gift for her family." bg="black" color="white" opacity="off" space="60″ link="https://www.facebook.com/media/set/?set=a.1585859418301750.1073741937.1432075580346802&type=3″]
Parker's granddaughter, Nancy Greindl, recently took several portraits of Parker at work as a gift for her family. Shots like the one above are a testament to Maine's manufacturing heritage and to hardworking people taking pride in their craft. A happy, gentle man with few needs and modest wants, Parker says he still pays attention to footwear. "Shoes today are nothing like I worked on — back then, everything was leather," he admits. "I can't help seeing the changes in shoes. I'm always looking at people's feet."
Photograph by Nancy Greindl
---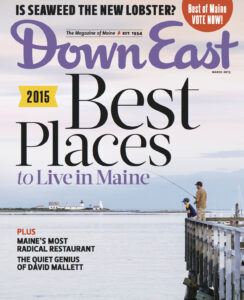 Get the best of Maine Travel, Food, Culture, and Homes & Gardens every month, with a subscription to Down East, the Best of Maine. Gift subscriptions available.