With a playlist of swing and boogie-woogie tunes, the all-volunteer WYAR is gaining enthusiastic listeners — and many of them are under 35.
By Sara Anne Donnelly
[W]hile cleaning her radio recently, Abby King of Portland accidentally rolled the knob below MPBN, where she likes to keep it, to the bowels of the FM dial. That afternoon, instead of the news on public radio, King tuned in to hear the lilting brass of early American jazz on 88.3 FM WYAR. "It was the kind of music that my dad used to listen to," she says.
A singer in a jazz trio, King googled the anachronistic station and discovered that it's a shoestring operation, broadcast (says the website) "from deep underground on the far end of the Snodgrass Memorial Bridge." The home page looked like a DIY job: Lots of random colors. Fonts of every size. Pretty busy. WYAR doesn't seem to stress much about selling itself, King thought. How refreshing.
The music is new to King, but old in spirit. She's been tuning in ever since. "There's an energy around it that feels really comforting," she says.
"We have developed what I call 'The Baffling Bubble,' meaning demographic bubble," says WYAR assistant station manager Jim Brown. "The kind of music that we play seems somehow to have sailed right over the heads of people in my generation, the baby boomers. Somehow, we don't get it, but our kids are liking this stuff."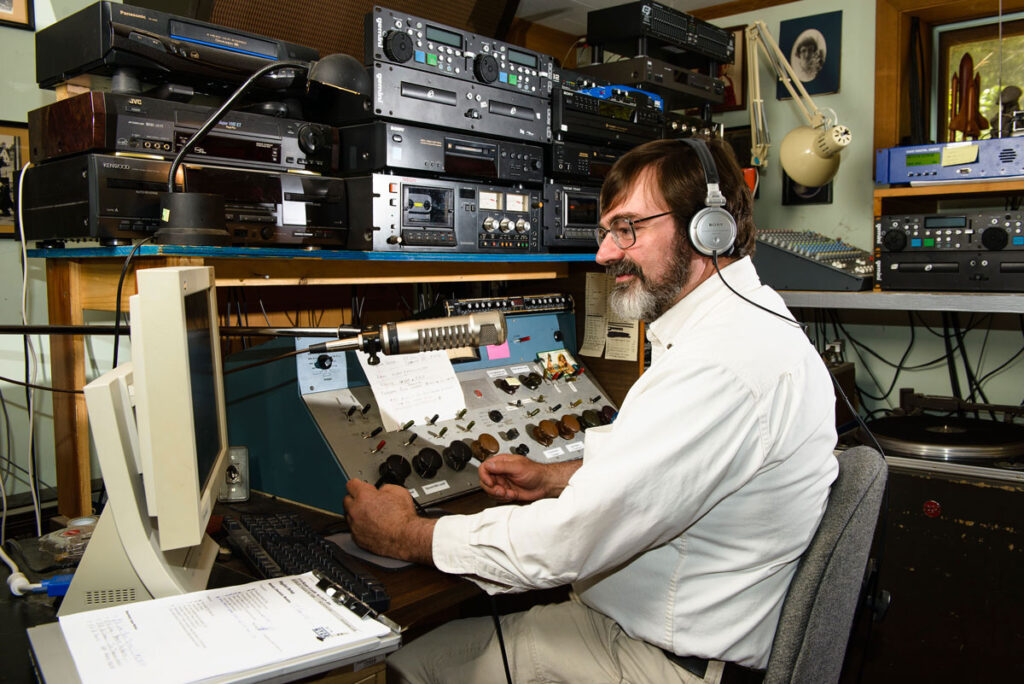 Everything about WYAR is an anachronism. Its studios smell like a library archive. Brown's booming vaudevillian voice delivers antique figures of speech worthy of a Coen brothers film. (One does not "get into a fight" with someone, for example, one "runs afoul" of them.) Dusty cassettes, CDs, records, and knick-knacks crowd every available inch. It's like walking into your grandfather's cerebral cortex.
Seventeen years ago, former radio and television engineer Gary King (no relation to Abby) and his wife, Lois, cashed in their retirement savings to convert their kids' former basement bedrooms into the WYAR studio. King cobbled together equipment from ham radio flea markets and former employers (the station still uses a 1960s vintage sound board acquired from WMTW Channel 8), and he and a buddy built an 85-foot radio tower in the backyard, which, as luck would have it, happens to be the highest point on Cousins Island. (This is still ridiculously low for a radio tower, though, which is why WYAR is sometimes so faint, it actually does seem like it's riding a radio wave from 50 years ago.) In 1998, at age 63, King sat down at the board, flipped on the mic, and introduced himself to the world: "This is Gary King at WYAR in Yarmouth, Maine, home of the American Musical Heritage."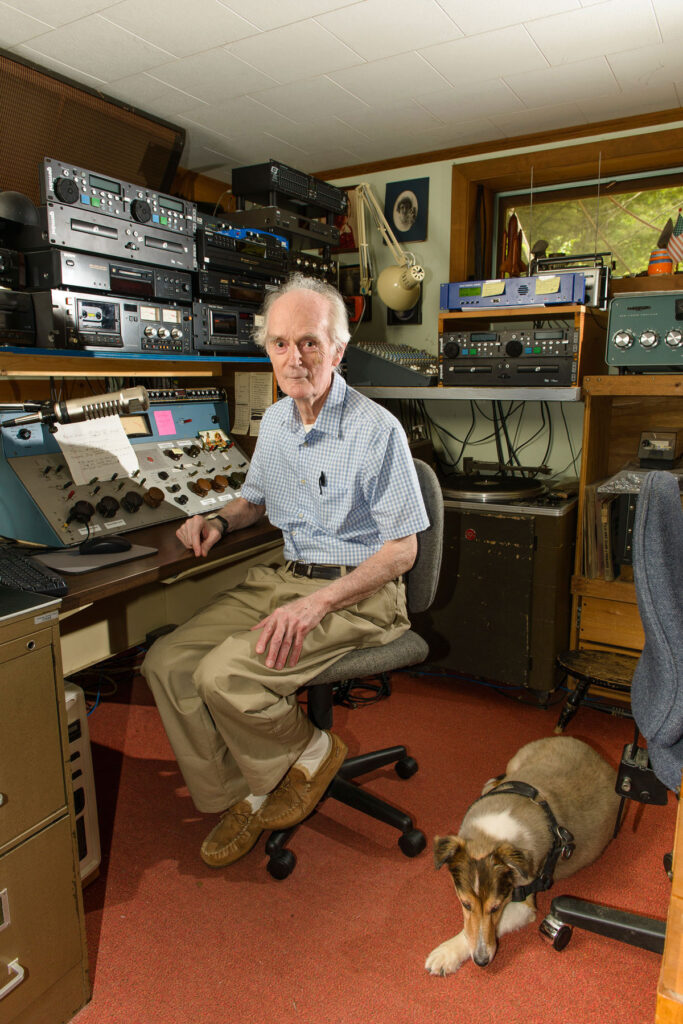 For the first few months, King broadcast live six hours a day. He played his personal collection of 78s. It was music that his father, a vaudeville musician, had loved. Oh you beautiful doll, you great big beautiful doll . . . Songs from a seemingly simpler and more wholesome time. Drinking rum and Coca-Cola . . .
Everything was going fine, but King worried about who would run the thing if he got sick. His late wife, Lois, had no interest in on-air work. So he began recording his shows on VHS and playing the audio in the afternoon, doubling his time on air to 12 hours. "I inched myself up that way," he says. Eventually, his son built a 24-hour automated system that WYAR still uses to broadcast between shows. In 2005, Jim Brown became the first station staffer other than King, his wife, or one of their two sons. There are now about a dozen on-air and behind-the-scenes staff at WYAR, all of them volunteers.
If you're on high-enough ground, you can hear WYAR from as far north as Bath, as far south as Saco, and inland as far as Lewiston/Auburn. Soon, the station hopes to live-stream online. WYAR doesn't subscribe to Nielsen, so there's no official data on how many people listen, but Brown says a friend in the biz has shown him a Nielsen report that the station captures 3–5 percent of the Greater Portland radio market. These listeners fall into two categories, according to Brown: They are millennials, like Abby King, and people old enough to be their grandparents or great-grandparents.
Over the years, word got around that Heritage Radio would take your mom's old record collection. Every now and then, King finds a box of 78s sitting on his porch in the morning. People leave music in the dead of night, he says, "like ninjas."
The station's single biggest record donation was what Brown refers to as "the complete gizzards" of a defunct station in Brockton, Massachusetts. Nearly 17,000 of the Brockton haul's uncataloged 78s are now packed into Gary King's garage.
"I've always thought that if you could get a station on the air playing this music, there would be a worthwhile audience for it," says King, now 80 and fighting Parkinson's. "I firmly believe that this music of the first half of the 20th century is one of our national treasures. It's the optimism and, frankly, such things as love. How often do you hear a love song nowadays?"
Photographed by Mark Fleming
---
Get the best of Maine Travel, Food, Culture, and Homes & Gardens every month, with a subscription to Down East, the Best of Maine. Gift subscriptions available.