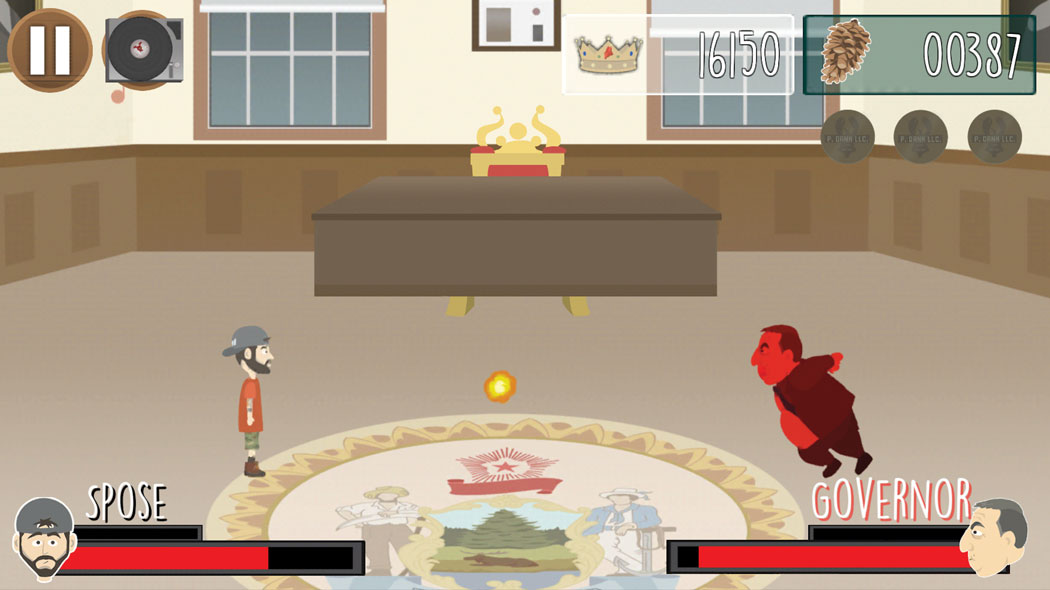 Maine's hardest-working rapper levels up on your smartphone or tablet.
[dropcap letter="R"]ecently, the Maine rapper Spose gathered a photographer, animator, and trio of mildly gawky young programmers in a conference room in Portland. The team was prepping for the release of Spose's sixth studio record, Good Luck With Your Life, which, upon dropping in April, became (says Spose) the world's first-ever album to be released inside of a video game. All but the photographer — on hand to document the meeting — had spent the last year designing Spose: The King of Maine, now available for $1.99 via the Apple App Store and Google Play; they'd convened to review applications for a consultant to help execute the launch.
"I've had wanna-vomit–type moments all this last year," said Spose, aka Ryan Peters, 31, of Wells, "because several times, some big-name artist has dropped an app. Nicki Minaj dropped one, but all you do is rap into it with her lyrics. Lil Wayne dropped one, but it's just this borderline unplayable skateboard game where you skate with Lil Wayne."
Spose sipped a 32-ounce cup of iced coffee, a trademark accessory. A few pizzas went untouched while the photographer shot the programmers gazing at laptop screens, their faces lit by lines of code.
"The thing they keep missing," Spose went on, "is why do people like Nicki Minaj? They either like her music or they like her butt, and neither of those are in the app."
Spose: The King of Maine is what gamers call an "infinite runner," meaning the hero — a cartoon Spose, with cap and cargo shorts — charges forward automatically. Players click the screen to make Spose jump or hurl Bean boots at baddies that include Portland hipsters throwing deadly man-buns and grouchy old Mainers on tractors and ATVs. Hidden in each level are coins that players collect to unlock and stream new songs — get all 13, and you've earned the whole record.
"We're releasing the game with four counties," Spose explained. "Level 1 is Wells in York County, Cumberland is Portland, the Fryeburg Fair is Oxford, and in Kennebec, you fight LePage to become the King of Maine."
Designed by animator Hanji Chang (an occasional Down East contributor), the game's backgrounds are heavy on landmarks like Wells's Maine Diner and the State Theatre on Portland's Congress Street — all as instantly recognizable as the final boss, a fireball-spewing Governor Paul LePage.
"We debated putting him in a KKK outfit," Spose mentioned.
"Oh, we're not doing that anymore?" asked Chang — who, not for nothing, has a number of other, relatively straight-laced clients. "Good," she said quietly.
Neither the project's irreverence nor its scale is unprecedented for Spose, known to lavish time and funds on stunts and stunt-like music videos. His latest, for the album's characteristically affirmational single "All You Need Is You," was filmed with a roving camera in one meticulously choreographed, six-minute take, complete with two-dozen extras, a high school marching band, and well-timed confetti explosions. In sealed copies of his last album, he hid wads of cash and handwritten thank-you notes. For the CD release of GLWYL — on May 5, a month after the app — he hired a crafter to cross-stitch 100 album sleeves; the limited "Grandma Edition" will include other perks and cost $129.
Of course, Maine has 12 other counties, so Spose and his techies plan to keep updating the app with new levels and hidden tracks — at least, until the novelty wears off.
"I mean, once I've done this, then somebody's done it before," Spose said. He took another pull from his iced coffee. "So I guess then I'm going to have to keep thinking of new things."