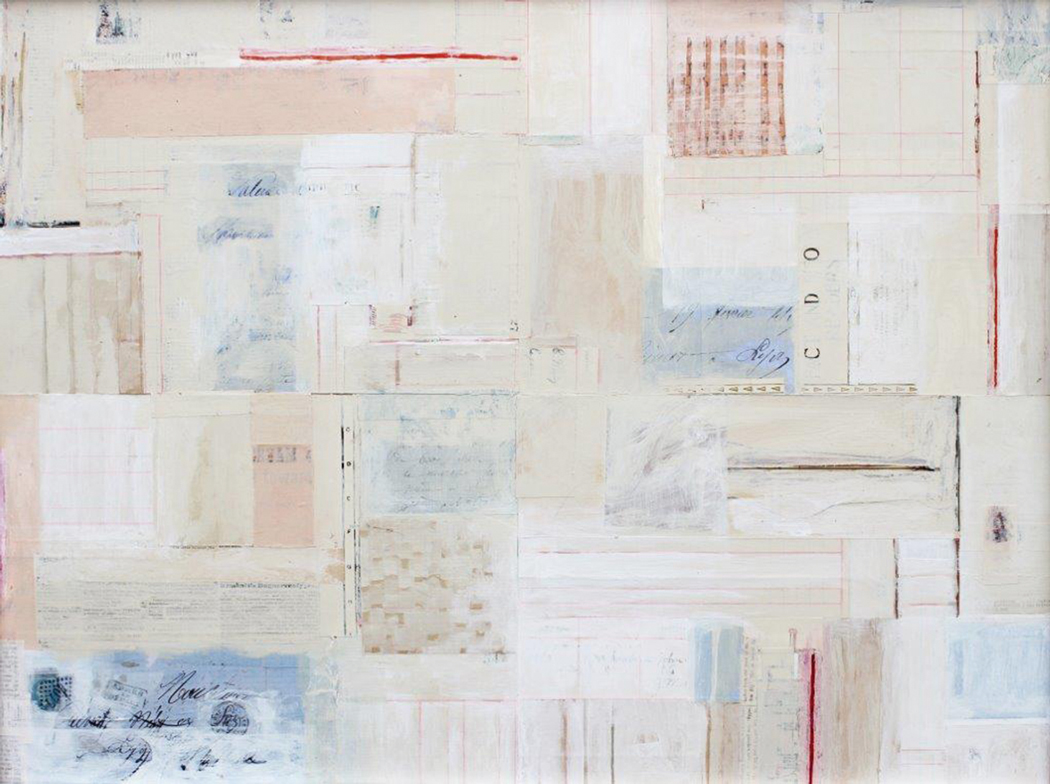 ---
Abbie Read has a passion for found objects — and books and paper and paintings. This month, she's bringing together her eclectic interests in a years-in-the-making installation in Brunswick.
By Joel Crabtree
Photos courtesy of the artist
E
very morning when Appleton artist Abbie Read walks into her studio, eager to finish some work she left in progress the night before, she's surrounded by her collection of found objects she's amassed over the years: a basket of brightly painted bocce balls (made, unusually, of clay); antique tools, the uses of which are hard to discern; an old model airplane suspended by a window; a couple of weathered bird feeders; a turtle shell; an old-time sailor statuette; a wagon wheel; skulls of cattle and other animals. A visitor could spend hours inspecting the items, eyeing the craftsmanship and feeling the weight, like an archaeologist investigating the artifacts of an ancient and strange civilization, wondering, "What the heck is that?"
"The collections feed my art and feed me," Read says, glancing around at the hundreds of items, with thousands of years of history among them. "And that's a big part of who I am as an artist."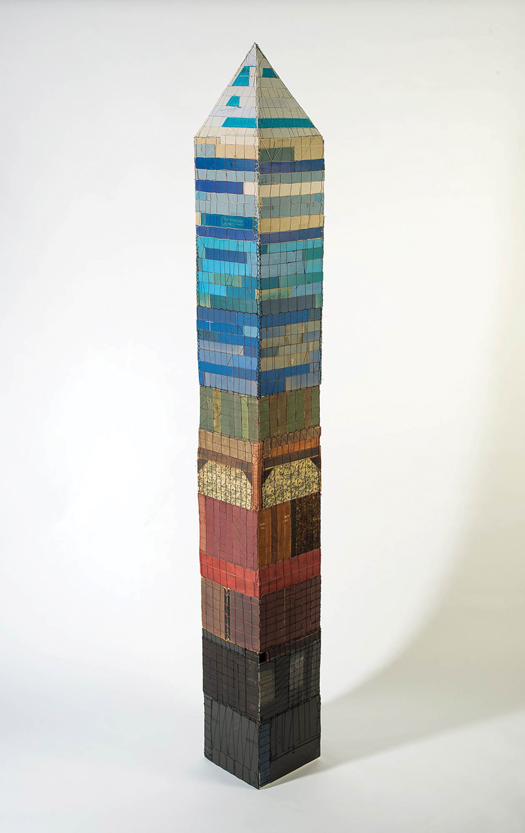 Read's latest exhibition, Library, consists of a single, prodigious work of the same name, a 280-square-foot wall installation up this month at Brunswick's Frank Brockman Gallery. The piece brings together a wide range of her eclectic interests: found objects, yes, but also books, paper, collage, paint. It's an ambitious, impressive synthesis of a career spent working in numerous and diverse modes.
Read spent childhood summers at her parents' house on Matinicus Island, and although she went to Oberlin College, in Ohio, for studio art and art history and later University of Michigan for an MFA in mixed media, she always wanted to come back to Maine. In 1998, in her early 40s, she finally picked a quiet, secluded spot in Appleton.
Early in her career, she focused on printmaking. She was fascinated by the subtle textural differences of paper types, the almost imperctible variations in weight and thickness — it sparked a creative impulse. Consquently, she's drawn to old maps, ledgers, scraps of paper — anything she can use to create collages. "It's a way of working with the same design principles and design elements in two dimensions that I do in three," she says, "but it's a different kind of construction. It's more subtle. I love paper. I've always loved paper."
She's also practiced at welding, furniture making, and oil painting, and she ran a landscape gardening business for many years. Today, those influences often find their way into her work, and into them she incorporates her passion for found things.
Library is such a substantial undertaking that until now, no one — not even Read — has ever seen the titular piece in its entirety.
That hodgepodge of objects in her studio isn't clutter. Read has everything sorted and displayed as if elements of a public exhibit. Mixed among them throughout the studio are books — stacks and stacks of books, many of which belonged to her father, an English teacher and ardent bibliophile who loved poetry and theater.
"I collect books not because I read them, necessarily, but because they inspire me to make my art." She gestures to a pile standing a few feet high against a wall. "So these, what you see here, are waiting to see if they're ever going to get used and made into something."
Library is such a substantial undertaking that until now, no one — not even Read, who's been assembling it for at least five years — has ever seen the titular piece in its entirety. The inspiration for it struck Read while she was working on artist's books — books that contain not a narrative story in conventional written form but instead might hold a variety of words, objects, and drawings arranged to provoke a reaction in a reader. One day, she happened to place the books on a wall to contemplate the evolution of her work and realized that while, individually, they felt rather personal, collectively, they aroused something more like awe.
"Library" consists of 20 panels, each one 2 feet wide and 7 feet tall. On them she's mounted a patchwork of books — some her dad's hand-me-downs, others her artist's books, often flung open to display found objects inside. It looks a bit like a wall-size quilt, but with more texture, depth, and variation. Certain panels have already appeared on display, as nearby as the Belfast Free Library or Bangor's Sohns Gallery and as far away as Qatar, as part of the State Department's Art in Embassies program.
"The ambassador to Qatar at the time, Dana Shell Smith, has connections to Maine, and she wanted Maine art in her residence there," Read says. "I was thrilled that she included me in that — I agreed to send this work over there, but I said it was problematic, because it really has to be finished in place by me."
To accommodate that logistical quirk, Smith invited Read to do a stint as an artist-in-residence in Qatar, so, in 2014, Read packed up five panels and headed overseas to install them.
The panels recently returned home and sat boxed up in Read's studio, waiting for installation in Brunswick with the rest of the set. Fully assembled, "Library" feels both monumental and intimate, as though you just walked into a life-size diorama made of personal mementos from someone else's life.
Painter Mark Little started curating the Frank Brockman Gallery earlier this year. "As soon as I took stewardship of the gallery, the first person I thought of was Abbie," he says. "It's a spectacular piece. You're struck by the size of it, for sure, but then there are the small parts of it. You can simply get lost in it. I think with Abbie's piece in particular, people will really linger and really study this — and come back and forth, just to see if they took it all in on the first go."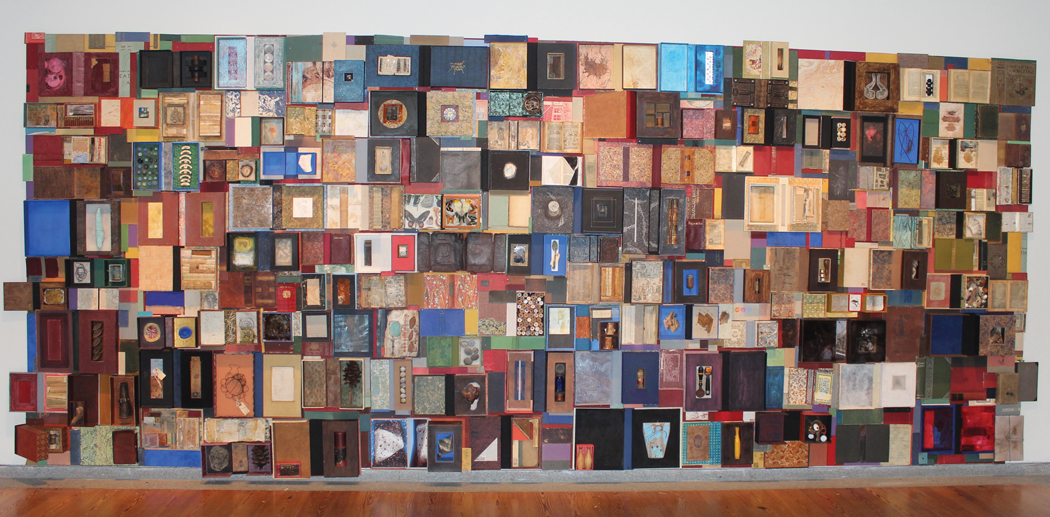 ---
"One way of looking at it, for me, is that there are a lot of really oddball things and cast-off junky objects that I find have their own aesthetic merit," Read says, noting that she's certainly not the first artist to hit on that idea. "Objects have always had an appeal — you see something about them, and they speak to you. And then you want to work with those things, those inanimate objects, and try to animate them in some way. That's part of what art is, animating the inanimate."
She pauses, then laughs at what she just said. "It actually works as a statement," she says, seated in her studio, surprised and pleased at this way of considering her art, future components of which are arrayed all about her. "I just thought of that."
Library exhibits at the Frank Brockman Gallery Sept. 2–30. The gallery is open Tuesday–Saturday, 11 a.m.–5 p.m. 68 Maine St., third floor, Brunswick; 207-808-9044.