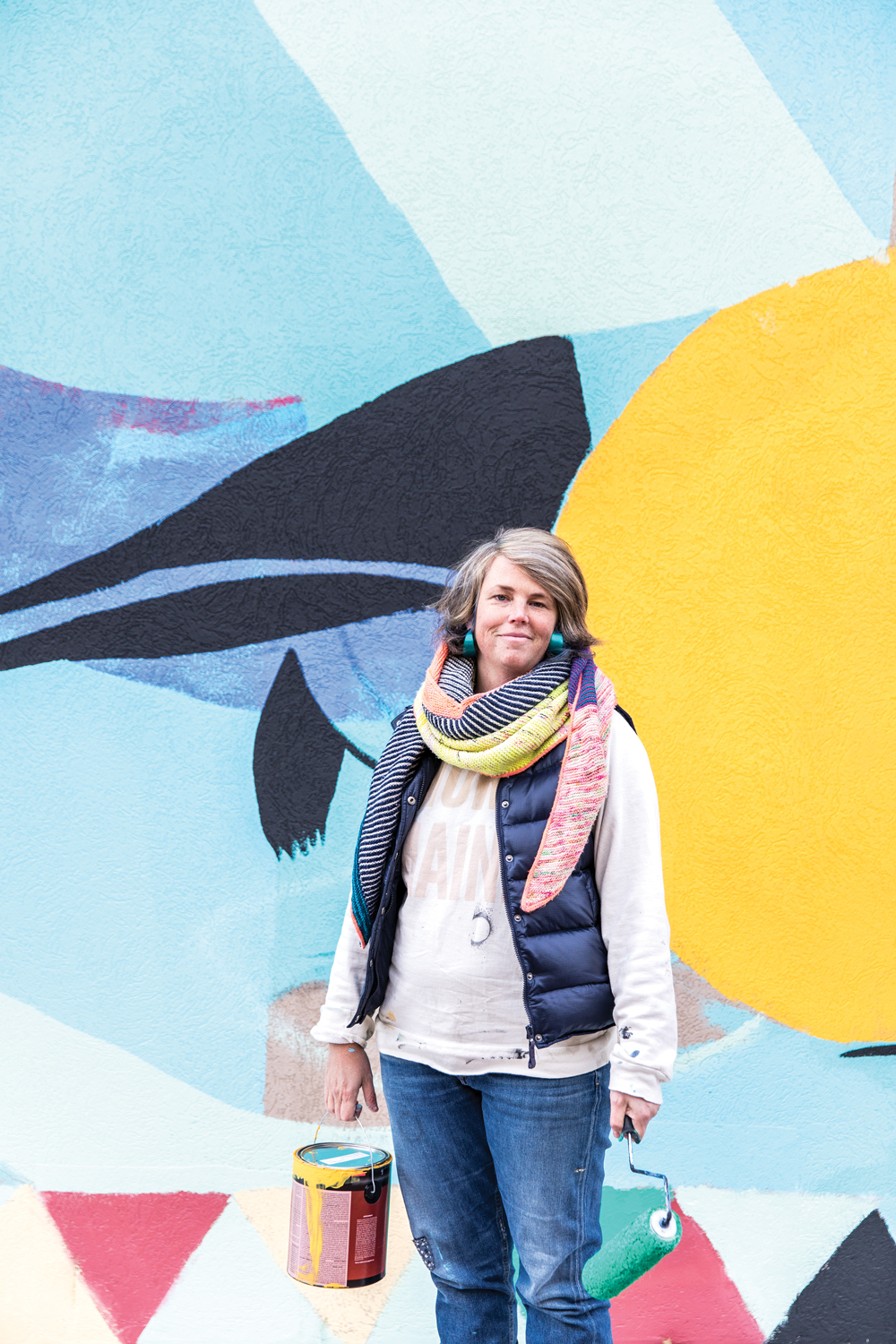 Two years ago, Freeport artist Abigail Gray Swartz adapted an iconic wartime image to create a totem of 21st-century feminism. Now, she's out to remix whole cityscapes with ambitious monuments to history's "hidden figures."
By Erin Stewart Brown • Photograph by Erin Little

When Abigail Gray Swartz was a grad student at the Pennsylvania Academy of Fine Arts, she once fastened 6-foot stilts onto the legs of an old armchair and draped a fabric sheet beneath it, like a giant skirt. Underneath, she created a curious little world, full of fragments of things that seemed to have been squirreled away by a treasure-hunting child: the skin of a clementine, scraps of wood and lace, old postcards, a tangle of ribbon and string. Lit from inside, the skirt gave off a glow, and a viewer could only glimpse the universe of oddments beneath by peering through holes in the fabric.
At the time, a lot of Swartz's work explored themes of childhood imagination and memory. She wanted to evoke for viewers a kind of nostalgia for youthful moments of private conjuring — sitting under the table during dinner, hiding in the crawl space under the stairs — when the adult world seemed to fall away.
"Then, all of a sudden, you get big," Swartz says, "and you can't fit into those places anymore — and what happens to the imagination then?"
These days, Swartz works primarily in watercolors and oils, but the imaginative wonder of childhood is still a recurring subject. So are the joys and follies of young motherhood, the fecundity of the natural world, and the grace and strength of history's trailblazing women. The Freeport artist and activist is unabashed about working in a style, and with a set of concerns, that tend to get labeled as "feminine." She paints with a full, saturated color palette; her pieces are vivid and whimsical and, often, ornamented with blooming flowers and greenery. And, as with the fabric beneath the armchair, a close look rewards the viewer with a glimpse of an even richer inner world.
If you've seen one of Swartz's pieces, it is very likely The March, a watercolor portrait of a denim-clad African-American woman flexing a bicep — a reimagining of World War II's Rosie the Riveter — and wearing the pink, knitted, cat-eared cap that became known as a pussyhat during the nationwide Women's March in January 2017. Swartz was still largely unknown outside of midcoast Maine when The New Yorker selected the painting for its cover, two weeks after the headline-making protest. Almost overnight, Swartz's web traffic skyrocketed. The New Yorker launched a line of merch featuring Swartz's painting, running ads for T-shirts all the way into September. The image has appeared on puzzles, calendars, coffee mugs, and beach towels, and it picked up a "Best Cover" award from the American Society of Magazine Editors. For the Trump-era feminist, The March — and, increasingly, the rest of Swartz's illustration portfolio — has become something of a cultural touchstone.
"She came up with an image that we could all rally behind," says Françoise Mouly, The New Yorker's longtime art editor. "And lo and behold, when we published it, it quickly became not just a symbol of the march itself, but of the resistance at large."
Of late, Swartz has scaled up her ambitions. Last summer, at a block party in Portland, she kicked off a theoretically nationwide public-art campaign she calls City of Hidden Figures, a formidable undertaking to boost street-level representation of significant women in U.S. history — and generate opportunities for women artists. The project's first manifestation is a 140-by-17–foot mural of three Maine women artists — Dahlov Ipcar, Mary Mitchell Gabriel, and Louise Nevelson — on an exterior wall of the Running with Scissors artists' studio in Portland's East Bayside neighborhood. If the project garners the support — and the patrons — that it needs, Swartz wants to export it to other cities, aiming to do nothing less than "transform their streetscapes" with a trail of murals, statues, monuments, and renamed parks, plazas, and roadways. "For the first time in history," Swartz says in the project's mission statement, "these cities will depict female and male heroes equally."
Swartz lives on a wooded road in Freeport, on three quiet acres bordered by a creek. When I visited her at her home and studio this fall, a few days before she put paint to concrete on her Portland mural, she opened the door in jeans, a bold-checkered button-down shirt, and slippers. As she ushered me inside, she apologized for all the paint cans stacked up in the garage I'd entered through. "We're getting a shed," she declared.
The kids were at school, and Swartz's husband, Cameron, was busy in the background, packing merchandise sold through Swartz's website, Gray Day Studio, and baking cookies for parent night at the elementary school. Swartz sat down on an antique couch next to the family's snoozing Boston terrier. At the far end of the living room, a sea of Legos stretched out in front of the woodstove. On one wall was mounted a faux-taxidermy mouse head and a gnarled old branch festooned with feathers. On another, above the couch, hung a still life painted by Swartz's grandmother and a childhood self-portrait sketched by her mother.
Swartz grew up on a New Jersey horse farm, in a house filled with portraits of women painted by her great-grandmother. She remembers how her mom would sketch her and her brother on days when they stayed home sick from school. By the time she was in first grade, when she won the schoolwide "draw your teacher" contest for the second year in a row, she knew she was meant to be an artist.
"FOR THE FIRST TIME IN HISTORY, THESE CITIES WILL DEPICT FEMALE AND MALE HEROES EQUALLY."
She and her family settled in Freeport in 2016 after years spent bouncing between Pennsylvania and Delaware, moving almost annually ("because we're masochists," she says). In the summers, she and Cameron and eventually the kids came to Maine to camp with friends at Wolfe's Neck or Hermit Island. "Every year," she says, "it killed us when we had to get on 295 South and leave again, knowing we weren't going to have that daily magic anymore."
"Daily magic" is a major theme for Swartz, whose illustrations often depict fleeting moments in family life and in nature — at bath time, making jam, catching sight of a foraging fox — that surprise us with their poignancy. Although she finished her MFA in 2008, it was years before she started building her career in earnest. In 2014, she was selling paper garlands on Etsy — Cameron was working as an EMT — when she picked up a copy of artist Lisa Congdon's popular business tome Art, Inc. and tacked the book's key takeaway to her bulletin board: "The more work you make, the more work you will get." Swartz gave herself weekly assignments and built a social media presence with giveaways of portraits of her heroines: Maya Angelou, Lucille Ball, Nina Simone, Eleanor Roosevelt, Patti Smith, Julia Child. Gradually, she assembled a pantheon of female icons while honing her ability to render their expressions with complexity and depth.
Getting her illustrations published was another matter. Swartz sent out scores of queries — many going unanswered — before landing a gig with a New York Times parenting blog that gave her a toehold in the editorial world. In 2016, in the wake of the presidential election, she answered a call for submissions for Resist, a new tabloid of political art and comics cofounded by New Yorker art editor Mouly. A couple of months later, when Swartz emailed Mouly at The New Yorker with an unsolicited submission of her updated Rosie the Riveter painting, the editor remembered putting Swartz's portrait of Rosa Parks in the first issue of Resist.
To Swartz's utter surprise, Mouly replied the same evening, attaching a mock-up of Swartz's updated Rosie beneath the New Yorker masthead.
Swartz had attended the Women's March in Augusta wearing a pussyhat she'd knitted herself, along with a homemade cape emblazoned with the phrase "Equality for Womankind." Still buzzing from a day of political action, she'd returned to her studio Monday morning and immediately mocked up a watercolor sketch. Swartz recalled how Rosie the Riveter embodied the heroic resourcefulness and industry of American women on the home front during WWII; the modern-day fight for women's rights, she says, is a new kind of war effort that must include all women, so she recast Rosie as a woman of color. Then she replaced the red polka-dotted bandana of the '40s with the knitted pink cap.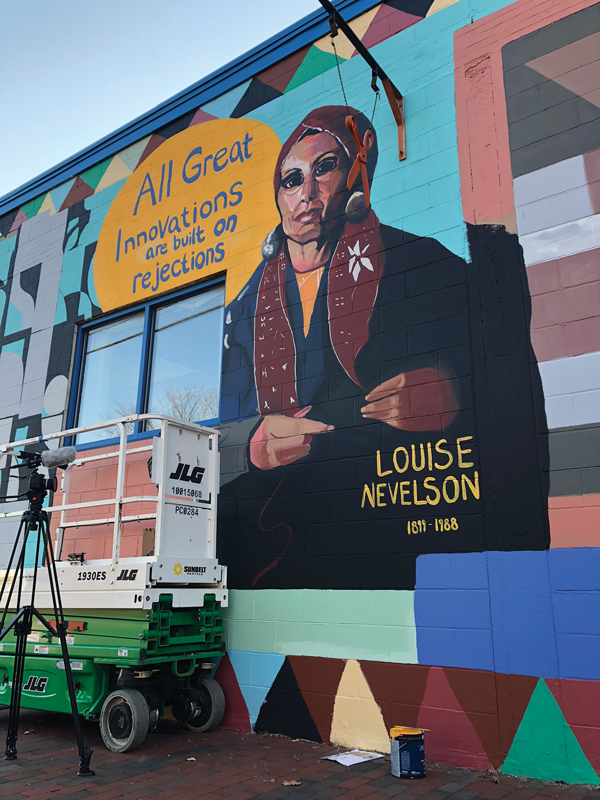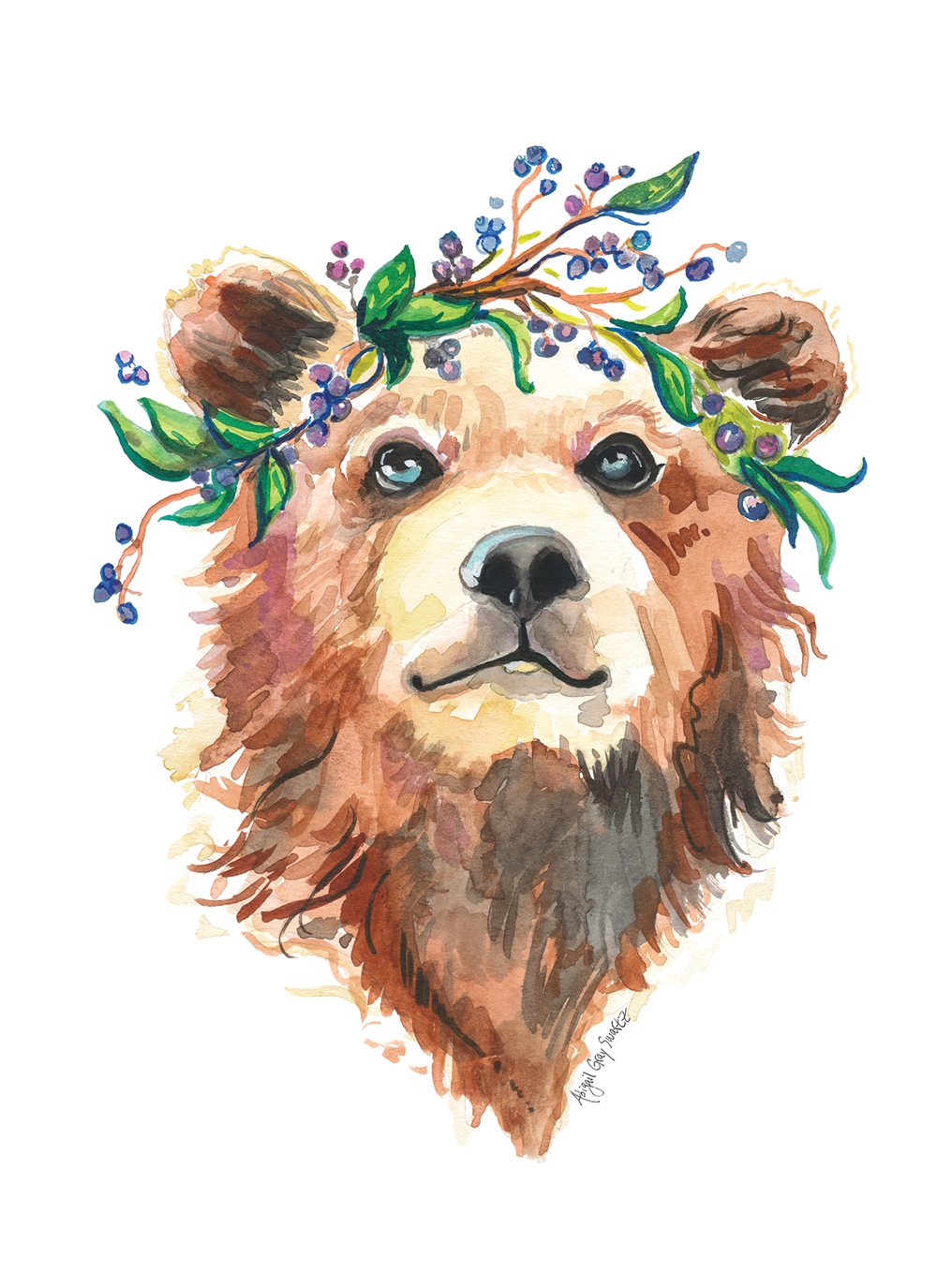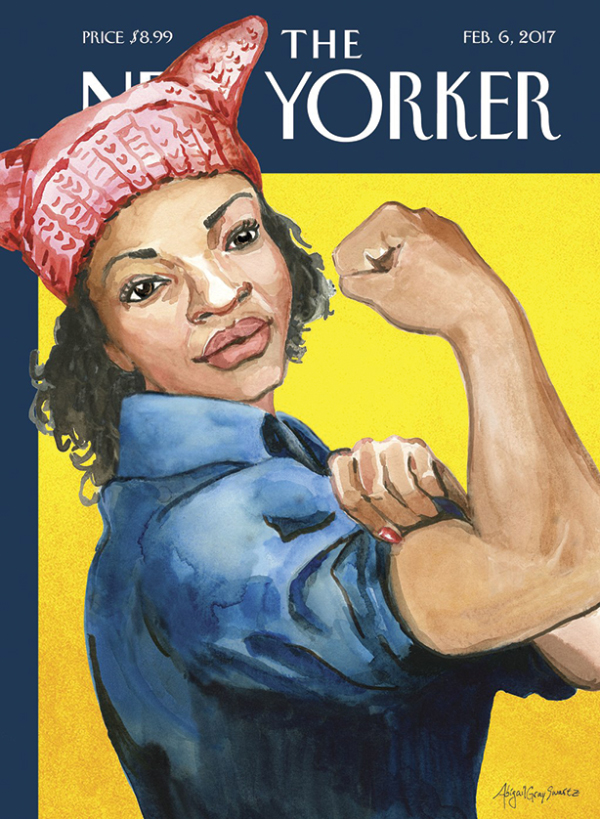 Swartz's first, nearly completed City of Hidden Figures mural, at the corner of Portland's Anderson and Plowman streets; Bear in a Blueberry Crown is from a series of animal portraits; Swartz's reimagined Rosie the Riveter.
In the two weeks after the New Yorker issue dropped, Swartz sold more work through Gray Day Studio than the entire year prior. New commissions came in, along with licensing fees and royalties for reproductions. A few months later, Cameron quit his job to manage the house, kids, and business end of Gray Day Studio.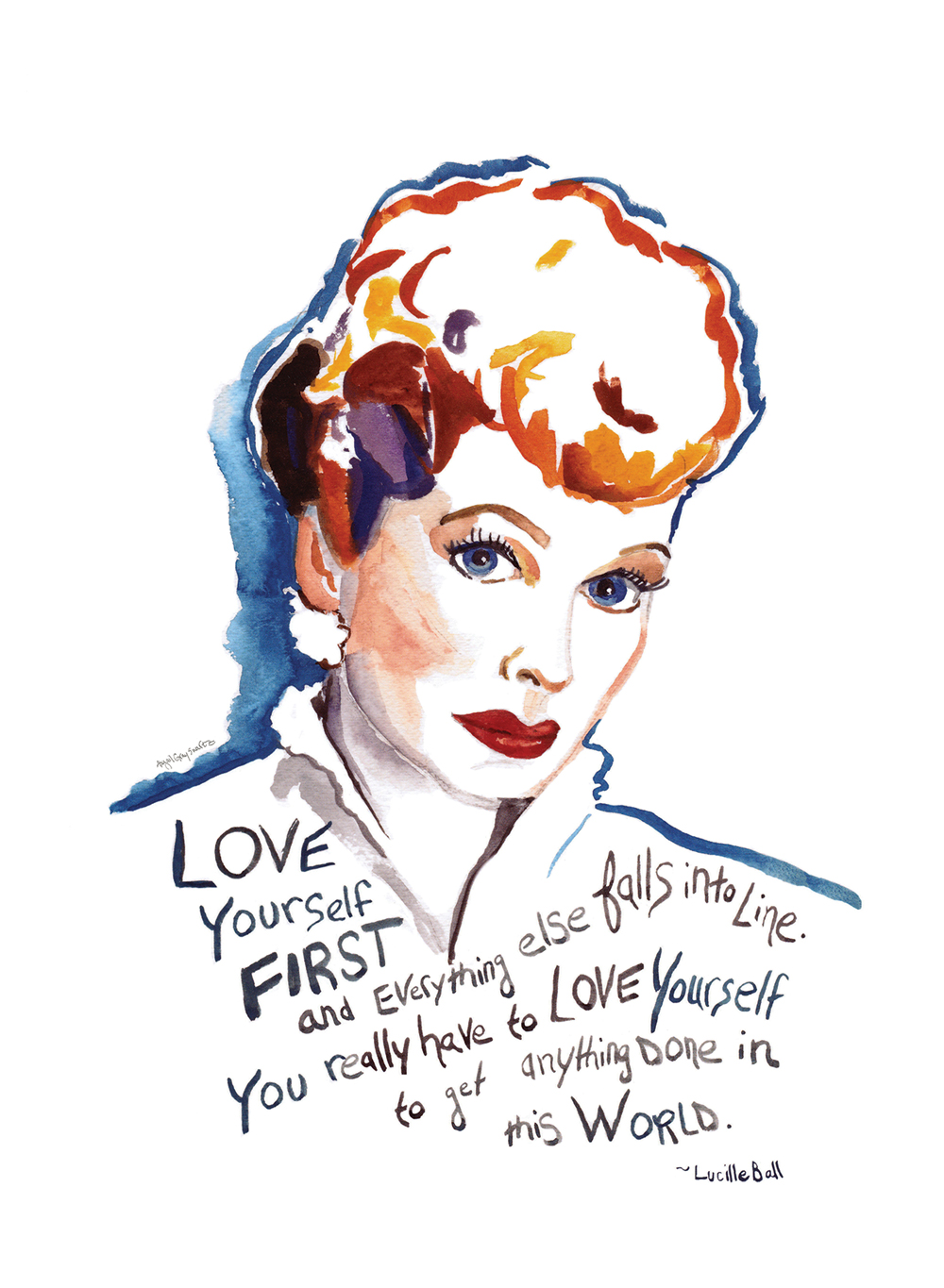 When I asked her to describe the decision to go all in on her art career, Swartz told me about a documentary short she'd seen called Ten Meter Tower, in which dozens of people stand atop a high-dive platform, contemplating the leap. "You're watching this amazing human struggle, this internal freak-out on display," she said. "It was kind of like that, except this is not a one-time jump. You have to wake up every day and recommit yourself to this choice you've made. At least once a month, sometimes more, you sit down and think, 'What am I doing? How is this going to work?'"
Partway through our interview, Cameron poked his head into the room. Speaking in a marital shorthand I barely followed, he told Swartz he was heading out to run errands and there was a box in the kitchen that needed to be taken outside. "Want to see?" Swartz asked me.
I followed her to a kitchen table crowded with huge zucchinis, gardening gloves, ribbon and sticks, mason jars, and a collection of smooth granite stones I had to touch to be sure they weren't some exotic eggs. Swartz gently lifted a cardboard box off the counter and took it out to a sunny spot on the porch. The family had been rescuing monarch chrysalises, she told me, and one was about to hatch. I peered inside at the strange diorama: two rows of curious green pods hung with dental floss from poles made of dried sunflower stems. Sure enough, one was breaking open. An orange-and-black wing was stretching itself out.
I asked to see Swartz's studio-office, and she led me to a spare, utilitarian room with to-do lists on a bulletin board, stacked boxes of Gray Day greeting cards, and piles of papers orbiting a small clearing on the desk where her work gets done. She pulled her original Rosie out of a folder: it was strikingly different from the cover, based on a less-recognized Norman Rockwell version of Rosie, which ran on the cover of the Saturday Evening Post in 1943. Mouly had asked for a riff on the better-known "We Can Do It!" riveter created by J. Howard Miller for Westinghouse Electric in 1942. Swartz says her giddy, agonizing week of revision was not unlike childbirth.
Two years later, The New Yorker is influencing Swartz's career in a new way. The same winter as the march, she read an essay in the mag by Rebecca Solnit called "City of Women," in which Solnit reflects on the problem of New York City being "like most cities, a manscape," where streets, parks, buildings, and monuments overwhelmingly represent historic men, where the only women visible in public art are "allegories and nobodies, mothers and muses and props but not presidents." Consider "Our Lady of Victories," Swartz tells me, the majestic yet anonymous bronze woman in Portland's Monument Square, sculpted by a man to honor male soldiers of the Civil War.
"THIS IS NOT A ONE-TIME JUMP. YOU HAVE TO WAKE UP EVERY DAY AND RECOMMIT YOURSELF TO THIS CHOICE YOU'VE MADE."
City of Hidden Figures is her response to Solnit's question: what would a cityscape feel like, and how might the consciousness of young girls be differently shaped, if history's powerful and pioneering women were celebrated and honored in public spaces?
For her inaugural mural, in Portland, Swartz chose Dahlov Ipcar, Mary Mitchell Gabriel, and Louise Nevelson not just because of their artistic contributions but also because of their biographies. Ipcar, a beloved painter and illustrator who died in 2017, settled on a farm in Georgetown with her new husband when she was 19. Gabriel, a renowned Passamaquoddy basketmaker, was a single mother of seven who learned traditional arts from her grandmother and became the first Native-American Mainer to receive a National Heritage Fellowship from the National Endowment for the Arts. Nevelson was a pioneering sculptor from Rockland who immigrated to Maine as a child after her family fled persecution of Jews in Russia.
To find a site, Swartz put a call out on Facebook: "It was like, 'People! I need a wall! Who has a wall?'" She connected with Kate Anker, owner of the Running with Scissors artists' studio. Anker is a big believer in public art as a way to stimulate conversations among those whose lives don't otherwise intersect. "We talk a lot about our bubbles these days," she says, pointing out that the mural will be seen in East Bayside by a wider range of people than in one of Portland's more upscale residential neighborhoods.
This fall, Swartz spent every clear day working on the mural, stopping only when temperatures plummeted in mid-November. The mural is just shy of completion, and while it pains Swartz to hold off until spring on the finishing touches, she has already seen its effect. "One day, I was up on the scissor lift, freezing in my two down jackets and long underwear," she says, "and I looked down to see this minivan driving slowly by with all the windows open. It was a mom and four little girls, all looking up at me and the wall. And I was like, 'Yes. This is why I'm doing this.'"
"ART IS A PLACE WE TURN TO FOR SOLACE."
Next comes more fundraising. Swartz has so far raised some $12,000 in small donations towards a target of $40,000, to cover mural materials and pay herself a stipend (it amounts to less than what she calls an "industry standard" of $17.50 per square foot, though she's committed to paying the project's other artists more competitively). This winter, she's wading into the red tape required to rename a Portland street after another prominent Maine woman, and she's soliciting suggestions as to whom. Phase III will involve an open call for a local woman sculptor to create a statue — an expensive undertaking. All told, the Portland pilot project will take years and, Swartz estimates, another $350,000, but she hopes to start replicating the work in sister cities by 2020.
Annie Leahy, board president at Portland's Space Gallery, believes City of Hidden Figures will resonate broadly enough to achieve national scope. She points out it would have been easier for Swartz to fundraise if she'd launched the effort in New York or Los Angeles or Chicago. "But Abigail said, 'No, I'm going to do it here. This is where I live, and this is where my home is,'" Leahy says. "It's more of an uphill battle for her as an artist, given the resources here. And I'm extraordinarily grateful to her for that."
Dismantling male dominance in the public-art realm, Leahy goes on, will take "somebody who has tremendous passion and purpose, and I just feel that about Abigail. In taking that leap, you change the landscape, and in this case, the impact is that young women and girls walk around their cities, look up, and see people, faces, and names that reflect who they are and who they could be. And that is just enormously powerful."
Passionate as she is, Swartz hopes to avoid being labeled as a political artist. "Everybody wants to pigeonhole you, because it's just easier," she says, "but I will rebel against that. I mean, I want to do all of it." She wants to publish children's books, for example, something her hypothetical grandkids can hold in their hands. She thinks about returning to installation work and someday curating a whole interactive children's museum. Because art, Swartz suggests, should be about more than resistance — it should also celebrate wonder and innocence and daily magic.
"Art is a place we turn to for solace," she says. "Even when everything feels like pandemonium, there are these moments when you just have to stop and say, 'Okay, there is beauty here.'"
The afternoon light was dappling Swartz's studio by the time we finished our interview. Before I left her to her work, we checked the box on the porch once more and found the butterfly fully hatched, apparently resting before it fluttered off into the autumn air. ◾️