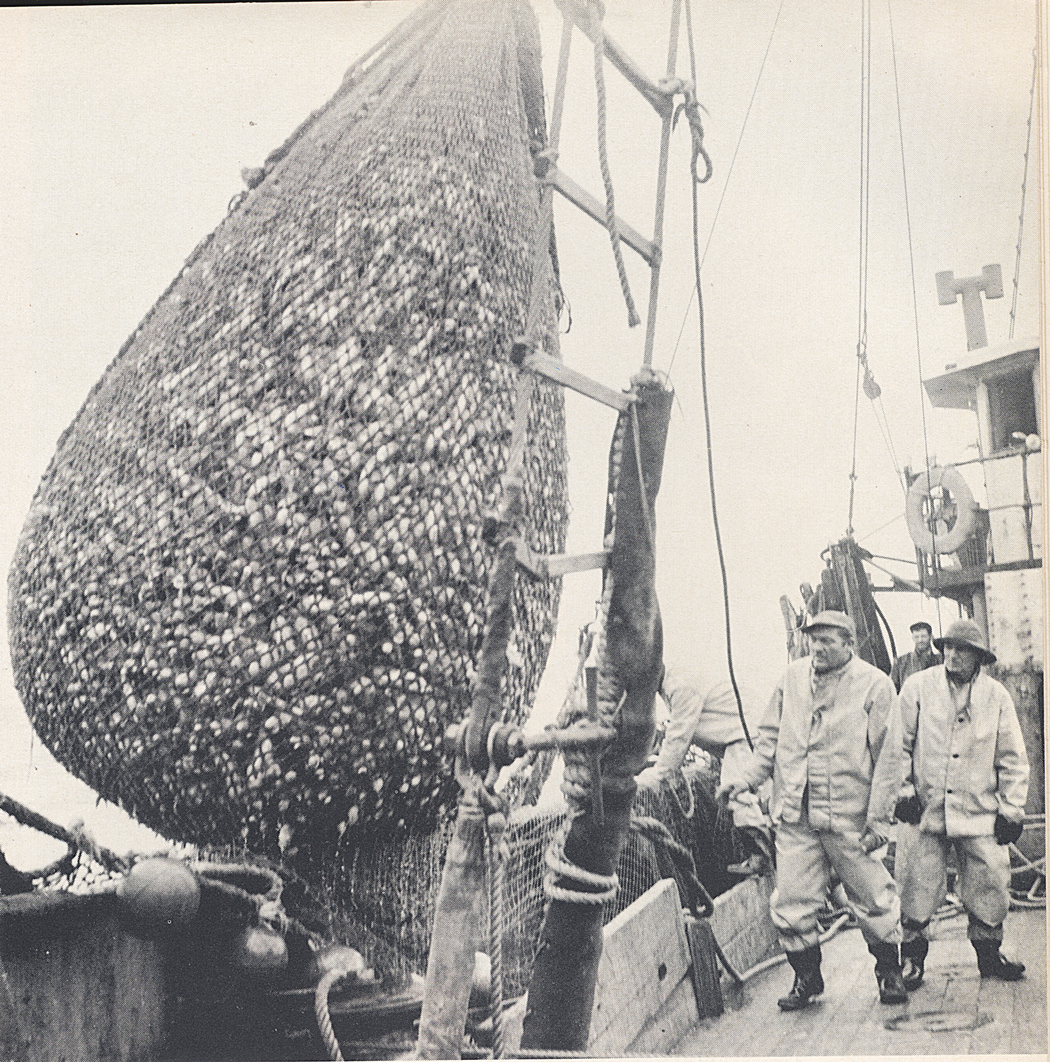 ---
Quite a Haul
From the story "Off to the Banks Again" by Lew Dietz in our January 1958 issue. Photograph by Kosti Ruohomaa.
[dropcap letter="E"]ssentially, Fishermen are gamblers. And it is the gamble that is part of the lure that takes men to The Banks. Like the gambler who lives a life of feast or famine, the trawlerman who sets up drinks for the house after one trip may very well be tapping a luckier fisherman for the price of a beer the next.
Luck plays its part in sucessful fishing, and a skipper who has nothing but bad luck doesn't last long. Speaking of luck, the gambler in the fisherman reveals itself in superstitions. The younger men aboard are apt to smile at some of the superstitions held by the old-timers. They don't laugh out loud, however. They don't bring a black suitcase aboard either, or use the proscribed word "pig." They may not believe that turning a bunker plate upside down will put a whammy on the trip, but just on the outside chance that there is something to this old superstition, they refrain from committing this breach of good conduct.
Talk about luck. Down East was fortunate in its early years to work with two of the finest talents to come out of midcentury Maine: writer Lew Dietz and photographer Kosti Ruohomaa. The pair worked together often — on assignment for Down East and for various national publications — until Ruohomaa's untimely death in 1961, at age 47. Dietz, who passed away at 90 in 1997, wrote the text for the classic anthology of his friend's work, Night Train at Wiscasset Station, first published in 1977.
Ruohomaa's published photos represent less than 10 percent of his life's work — and for decades, his complete portfolio has been out of public view, in the care of his New York photo agency. But in October, the agency donated the photographer's entire archive — thousands of negatives, slides, contact sheets, and vintage prints — to Searsport's Penobscot Marine Museum. The PMM is currently raising funds to catalog and digitize the collection, with plans to make Ruohomaa's complete catalog viewable online. Lucky us.