From a farmhouse in Newcastle, Oxbow Brewing Company blends knockout beer with a homegrown sense of cool.
By Brian Kevin
Photographed by Hannah Welling
From our August 2013 issue
The day of the party was surprisingly warm for late autumn, warm enough that people didn't crowd the bonfire, but instead just circled back to it every so often, like satellites in irregular orbit. It was warm enough that a cold beer still went down easy, which was, after all, what everybody came for. Sure, they also came for the music, for the DJs spinning records on an outdoor turntable, and the MC who came up from Queens. And the in-progress graffiti mural was cool, everyone agreed on that. Also, the food was a universal hit, a moveable feast of carnitas tacos and organic, wood-fired pizzas, served from carts parked on either side of the oyster bar, which was set up near the table of ale-infused chocolate cupcakes prepared by an artisanal New York bakery. But the main thing was the beer, of which the three hundred or so guests consumed an impressive fifteen kegs.
The party was Oxbow Brewing Company's annual Goods From the Woods outdoor bash, which on one sunny Saturday last fall was probably the hippest social event going down anyplace in the state of Maine. And it was going down at a farmhouse on the outskirts of Newcastle, far from Portland's swinging gastropubs, about a half-mile from a rural intersection where a locally famous sign welcomes passers-by to "Cowshit Corner."
"One of the names we were toying with when we started the brewery was Exile," says Geoff Masland, Oxbow's business director, who co-founded the state's first farmhouse brewery in 2011 with friend and head brewer Tim Adams. "We felt a little like we'd entered into exile, like hermits. We lived up here, we didn't have money, we didn't have anything but what we put into the company, which was basically homebrew equipment and a hundred bucks to get a lawyer."
"We had a ton of dank beer," Adams offers.
"That's true," says Masland. "When Tim showed up here, all he had with him was a backpack and twenty cases of beer."
Masland, who's from New Hampshire, met Adams, who grew up in Yarmouth, at Colorado College in the early 2000s. Adams had spent his high-school years in Japan, where an under-the-table gig as a bartender had turned him on to that country's enthusiastic beer-drinking culture. By the time he got to college, though still underage, he was home-brewing in his dorm room.
"And not just brewing," Masland remembers, "experimental brewing. Tim was making ginger-infused beers to pair with sushi, espresso brews to take on ski trips. So it wasn't just about alcoholic beverages — it was a craft."
Fast-forward to 2007, after both college buddies had moved to Maine. Masland married another Yarmouth native (Dash Masland, now Oxbow's finance manager) and was running sales for Portland's Peak Organic Brewing Company. A mid-sized production brewery, Peak was expanding nationwide, and Adams came on as the sales team's road warrior, setting up shop in the beer-culture capital of Washington, D.C., and jetsetting to meetings with wholesalers in new markets (while homebrewing in his spare time). Masland was on the road as well, rubbing shoulders with beer sellers and bar owners.
"So we learned a lot about all these beers," Masland says, "from small farmhouse beers in Europe to beautiful pale ales from the Midwest and California, and we realized that Maine and New England were a little behind the curve. We saw all these beer bars booming in a slumping economy, and we knew the trend was coming to Maine."
They were right. Late 2007 and early 2008 saw the opening of both Belfast's Marshall Wharf Brewing Company and Portland's Novare Res Bier Café, catalysts that Adams and others say kicked off Maine's new wave of craft brewing. More than a dozen small breweries have opened since, and at least fifteen others have plans to hang their shingles in the coming year or so.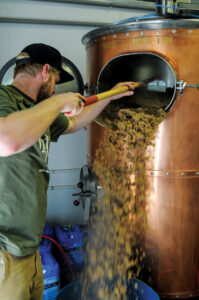 In 2009, the Maslands bought a house on eighteen acres of farmland outside Newcastle, with an old barn that once stored lumber and milling equipment. Adams and Masland spent the next year raising $400,000 to convert the barn into a modern, if modest, brewing facility. They parted with Peak and handled their own construction, pounding hammers, sawing boards, and hauling in their tanks with a tractor. During the set-up, Adams simply moved onto the Maslands' wooded property, toting his backpack and bottle collection and unfurling a sleeping bag among the glass carboys of fermenting test batches.
"It took this place and this sense of space," says Masland, "to give us the confidence and time we needed to write the business plan and hone our recipes."
Those recipes, as it happens, draw on the rustic farmhouse vibe. The beers that started rolling out of Oxbow in the summer of 2011 are a variety known as saisons, a broadly defined genre of country ales once brewed by Belgian farmers as a summertime treat. Saisons are brewed to be thirst quenchers, not too dry and relying on yeasts that give the beer a slight spiciness. It's a style that, until recently, was virtually unknown in the U.S.
"Our mission," says Adams, "is to improve and diversify Maine's already wonderful beer scene." To that end, the brewer is riffing on the old-school Belgian style, experimenting with American and German hop varieties. Oxbow brews a beer with rice and another with locally grown spelt. There's a barrel-aging program underway, and an on-site orchard in the works to allow for experiments with fruit beers.
I don't think anyone in the U.S. brews as many different saisons," says Josh Christie, author of the recent Maine Beer: Brewing in Vacationland. "What they're doing up there is as exciting as anything happening in Portland.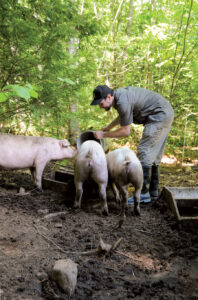 In just two years, Oxbow has earned a devoted following — as evidenced by the largely out-of-town crowd trucking it out to Cowshit Corner for last fall's festivities. The brewery's taproom stays busy four days a week, offering tastings and growler fills, and with upwards of fifty bar accounts, Oxbow has become ubiquitous on draught lists from Kittery to Camden.
"Any given week, Oxbow's Farmhouse Pale Ale is one of our top three or four selling beers," says Justin Mineo, bar manager at Rockland's 3Crow, where Oxbow's flagship beer has been the only consistent tap since the bar/restaurant opened in April. "When we've brought in a seasonal beer of theirs, we've sold the keg in three days."
Despite the brewery's success, Masland and Adams are committed to taking things slowly. Oxbow brewed only around 700 barrels last year. By comparison, Allagash Brewing Company (Maine's first Belgian brewer, which the Oxbow founders regard with fawning reverence) will produce around 60,000 kegs this year. Oxbow's staff of seven — made up of Masland's and Adams' friends — handles everything in-house, from logo design to the labels on a limited bottle series, hand-printed on a two-hundred-year-old letterpress. It's a DIY ethic that augments Oxbow's aura of agrarian cool.
"I feel like we've created a community," says Adams, "that values creativity in general and aesthetics in particular."
And when you create your own community, of course, there's really no such thing as exile.