Our mini-guide to Belfast's mega-ambitious year-round bazaar.
Early every Saturday at the United Farmers Market of Maine, a block off Belfast's Main Street, local growers, bakers, cooks, and makers filter into a former window manufacturer's warehouse, filling stands with fresh veggies, pottery, breads, soaps, and more. A pianist arrives to fill a 3,000-square-foot harbor-view dining area with music. Then, at 9 a.m., Paul Naron, who founded the market last year, rings a ceremonial opening bell (like at the stock market — get it?), and visitors spend leisurely hours browsing the diverse stands — including three of our favorite gastronomic stops. Saturdays, 9 a.m.–1 p.m. 18 Spring St. 207-218-7005.
---

Adrienne Lee and Ken Lamson started New Beat Farm in 2008, but it could just as well have been 1808, considering that they work their fields with draft horses. "Horses are our version of tractors," Lee says. On their MOFGA-certified farm, in Knox, she and Lamson raise lamb, sell freshly cut flowers, and grow an unusual selection of produce, like rainbow carrots and kohlrabi — plus hay to fuel their "tractors."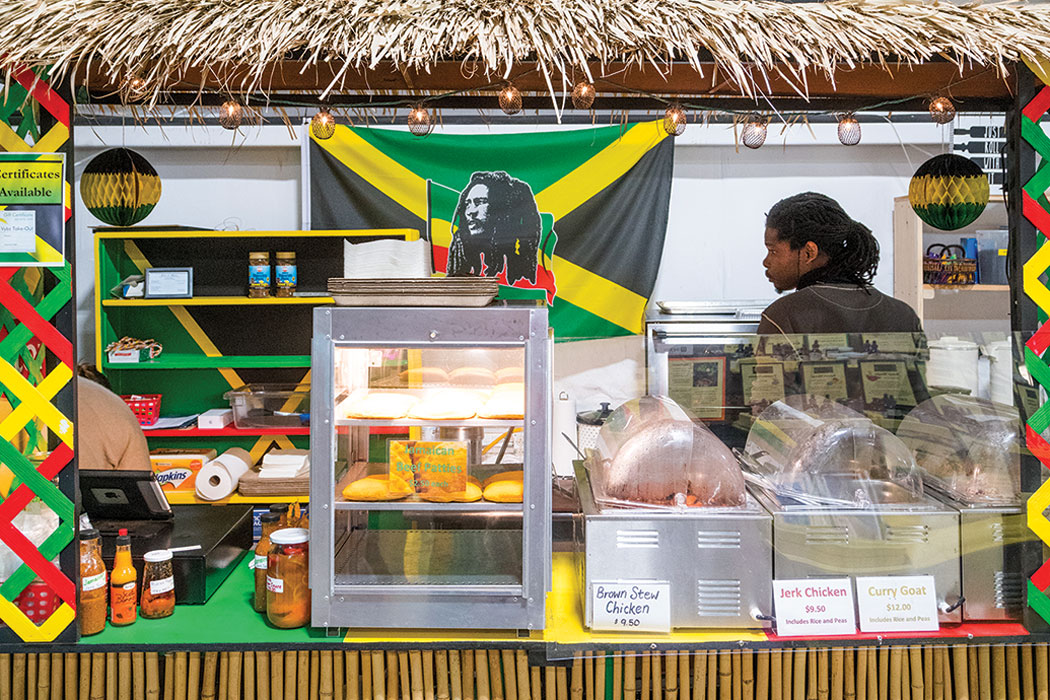 The market hosts a smattering of eateries, none more unusual at this latitude than Pagiel Rose's Caribbean joint. When Rose, the owner of Bangor's Jamaican Vybz, brings his curries to the midcoast once a week, the irresistible aroma of jerk spices — and his magnetic enthusiasm — keep his stand bustling. At the end of the day, he stocks up on fresh herbs at other stands, often exchanging curry rather than dollars.
Cold-brew coffee served from a nitro tap (a la Guinness) is a big draw even in the winter at this little java stand. Roaster Andrew Newell picked up his trade after cultivating a deep appreciation for well-made coffee as a stay-at-home dad. Market-goers can grab one of several daily roasts or bags of organic single-origin or blended javas to brew at home.
---