Want to play zombie for a day? Shuffle this way, to Bangor's sixth annual celebration of the living dead.
[dropcap letter="I"]t's an odd sight, a phalanx of zombies stumbling through city streets. Startling, really, if you don't know they're coming. But the scene has grown familiar in Bangor, where every October, for one afternoon, the Bangor Zombie Walk transforms the city's waterfront and downtown into a scene straight out of Night of the Living Dead.
Of course, zombies have spent the last decade shuffling out of cultish midnight screenings and into our hearts. Thanks to TV shows like The Walking Dead, comedy-horror flicks like Zombieland and Shaun of the Dead, and big-budget action outings like World War Z, zombie culture has amassed quite the herd of devotees. Bangor's parade of reanimated corpses is a testament to our rekindled love of ghoulishness: a sort of pride march for hundreds of zombie fans for whom the autumn has grown a little too pumpkin-spicy, thank you very much, and not quite as spooky and gruesome as they'd prefer.
Consider the 7-foot clown with the gangrenous, blood-speckled face who often leads the Queen City's horde. Under the mask (and atop platform shoes), he's Jessie Jackson, one of the Bangor Zombie Walk's organizers.
"I'm just Halloween," says Jackson, who sports a tattoo on his left arm of a pumpkin creature bursting through graveyard gates with bats flying overhead. On his leg is a tattoo of a star that looks to be made of decaying zombie flesh. "I'm Halloween all the way."
Jackson and co-organizer Will Hesketh encourage participants to get creative with their costumes — and narratives. "They can incorporate their own personal story," Hesketh suggests. For example, he says, a zombie nurse might tell you she was at the hospital when the outbreak hit, and a cadaver reached up from the autopsy table to grab her.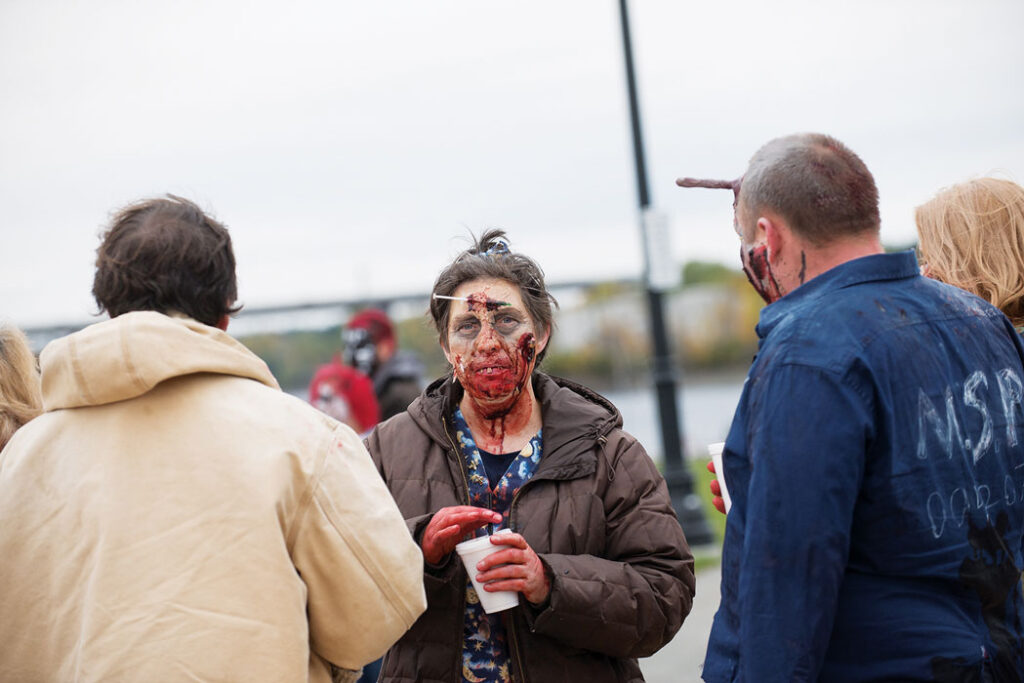 When Jackson took part in the first walk as a participant in 2010, he was amazed by how many people turned out. The next year, when the original organizer moved away, Jackson took the reins. At first, he says, local business owners seemed a little apprehensive about the walk — the undead have that effect on some people — but they've come to appreciate the street activity. These days, it's not unusual for patrons and owners to step outside and watch the zombies trudge past, even shake some clammy hands and snap photos.
This isn't a race. There are no winners. And there's no fee to sign up, although donations are encouraged, benefitting (this year) the Wounded Warrior Project. The event welcomes all levels of zombie fanatics, from casually costumed novices to elaborately made-up obsessives. Shane Grant is in the latter camp. The local filmmaker grew up glued to horror movies. He's been walking since the event's first year, when he slapped together a costume after happening across an event listing a few hours before the walk. He gets philosophical about it.
"We are zombies. Zombies are us," Grant suggests. "They represent a lot of past mistakes, routines, and habits." The best zombie stories, he says, become "allegories and metaphors" for "consumerism, racial indifference, etc." His favorite zombie movie? Alien writer Dan O'Bannon's 1985 underground darling The Return of the Living Dead, which made famous the zombie mantra, "Braaaaains!" A couple of years ago, Grant showed up at the walk as an Amish zombie, and even his friends didn't recognize him — he's especially proud of that year's costume. There are two types of passersby at the Bangor Zombie Walk, Grant says: the ones who get it, and the ones who don't. "And the ones who don't make it more fun sometimes, if you know what I mean."
Costuming prowess, Jackson says, has progressed quite a bit since the first walk. In year one, the standard uniform was a t-shirt and jeans, blood-soaked and torn. Now, participants get extreme. Jackson and Hesketh reminisce about their favorite gory flesh wounds, about hypodermic needles protruding from faces. The weirder the better, the organizers say, although Jackson admits that even he gets creeped out sometimes, like when a woman fashioned herself a pregnant belly with a zombie baby tearing its way out. He's in perpetual awe of the personalities that zombification tends to bring out.
"Some stay in character the whole time they're here," Jackson says. "Their growls and grunts and dragging their limbs and stuff? I'm just amazed by what people do."
The living and dead alike gather at 3 p.m. on Saturday, October 29, at the brick compass on the Bangor Waterfront (near Darling's Waterfront Pavilion). If lost, follow the screams. A zombie pub crawl usually follows.
---