In a world that's changing with lightning speed (or so it can seem), Searsmont retains the sweet, timeless air of a country town.
By Virginia M. Wright / Photographed by Douglas Merriam
[D]avid Marceau spends his days immersed in a world of subdivisions and commercial developments. "When I come home," says Marceau, a soil scientist for a Camden environmental consulting firm, "I don't want to think about that, I don't want to talk about that, and I don't want to look at that." So, in search of a place to put down roots, he drove inland, marking his Maine Atlas with an X whenever he saw a promising parcel of fields and woods. On one such excursion, he found himself in Searsmont, a slip of a village amid steep hills and lush valleys 15 miles northwest of Camden. There he met First Selectman Bruce Brierley, who escorted him north, to Higgins Ridge, where a meadow with views of Quantabacook Lake was for sale. This time, X marked the spot.
To prepare for the move, Marceau read the book of short stories that he'd seen displayed in public places around town (there are but a few). Penned between 1919 and 1940 by Mississippi-born author Ben Ames Williams, the stories tell of everyday life in a rural Maine village modeled after the hometown of Williams's best friend, Searsmont farmer Albert McCorrison. Williams summed up his fictional town's essence in a name: Fraternity Village.
"Reading that book was a big help," says Marceau, who has now lived and raised cattle at his gentleman's farm in north Searsmont for 22 years. "Ben Ames Williams walked my road and fished in the brooks that I fish today and talked to the ancestors of the people I talk to now. There are very close connections to the past."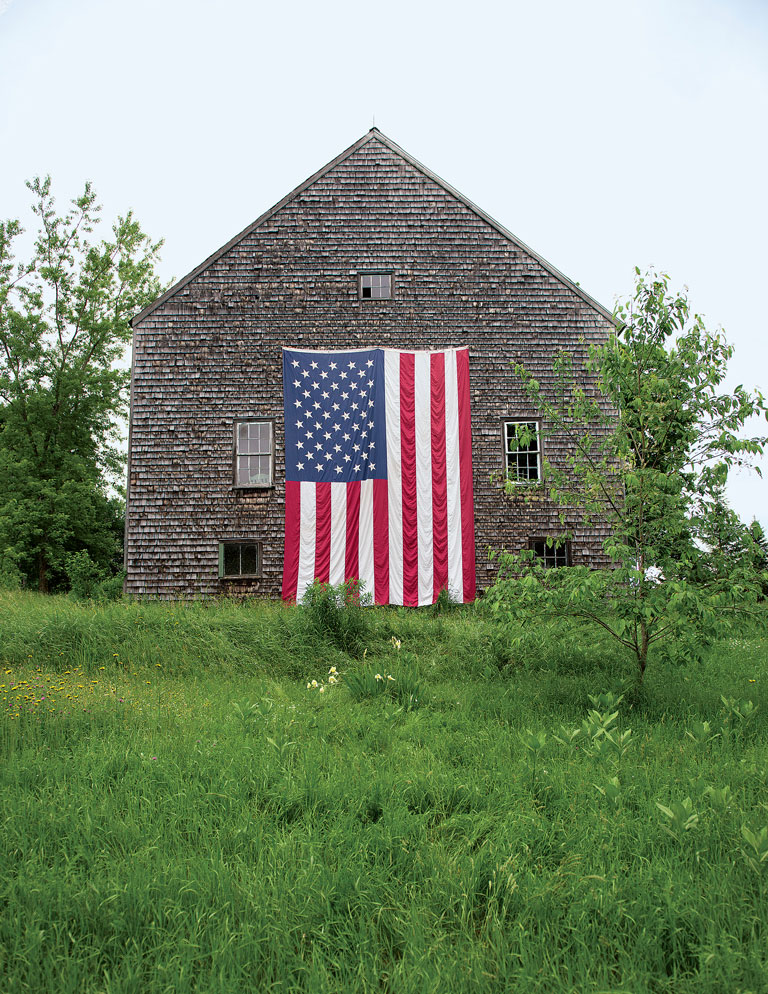 This is a busy world, full of emailing and texting, but we choose to live in a place where it isn't so busy and where you can slow down and take the time to talk to people.
That's not to suggest that Searsmont (population: 1,392) is unchanged since Williams wrote Fraternity Village. All but one of the sawmills that thrived in Williams's day are gone, and much of the farmland he knew has been overtaken by forest. Today's newcomers settle here not to be close to work (the only business with a workforce of any significance is that surviving sawmill, Robbins Lumber, which employs 100 people), but to escape the bustle and high housing prices of the midcoast. Yet Fraternity Village remains true to Searsmont's nature — not a reflection so much as a touchstone for how to live where the pace is slow, the services are just what is necessary, and a spirit of volunteerism and generosity prevails as a matter of both neighborliness and frugal practicality.
"Searsmont has changed since I was a child, but it hasn't lost its commitment to caring," says Carol Robbins, a Searsmont native who worked in education in Virginia for 30 years before returning home to marry a childhood friend, retired lumberman Jenness Robbins. She ticks off several examples: the late dairy farmer Ira Packard's gift of a University of Maine scholarship for needy Searsmont students, town clerk Claudia Mercer's bequest of $100,000 to establish an endowment for the library, the way dozens of people stepped forward, unasked, to offer money, furniture, and even the use of an unoccupied house to True and Jannika Bragg and their infant son, Liam, after they lost their home to a fire in June. The pride of the town, Robbins, Marceau, and many others agree, is the barn-raising style in which the Searsmont Community Building was constructed a few years ago. Home to the town offices, library, and historical society museum, the building carried a price tag of $1.2 million, but townspeople built it, mortgage-free, for $800,000 by donating money, labor, and materials. "This is Searsmont," Robbins says. "This is who we are."
Searsmont is a summer place, too, for the owners of roughly 50 cottages on Quantabacook Lake, which John Strassenreiter dubs "the best-kept secret in the state of Maine." Surrounded by woods, Quantabacook, 3 miles long and 1 mile wide and filled with smallmouth and largemouth bass, cannot be seen from Searsmont's main roads. Time has moved slowly here, too, according to Strassenreiter, who has spent summers on Quantabacook since he was a kid in the 1950s. His mother owned Wah-Nah-Gee-Sha, a former boys camp converted into housekeeping cottages whose guests dined together in a rustic lodge and gathered with other cottagers for square dances and hayrides. A few years ago Strassenreiter sold Wah-Nah-Gee-Sha to an out-of-state family who has kept some of the original rustic buildings for their own use and built two large architect-designed homes that suggest the Quantabacook secret may be out.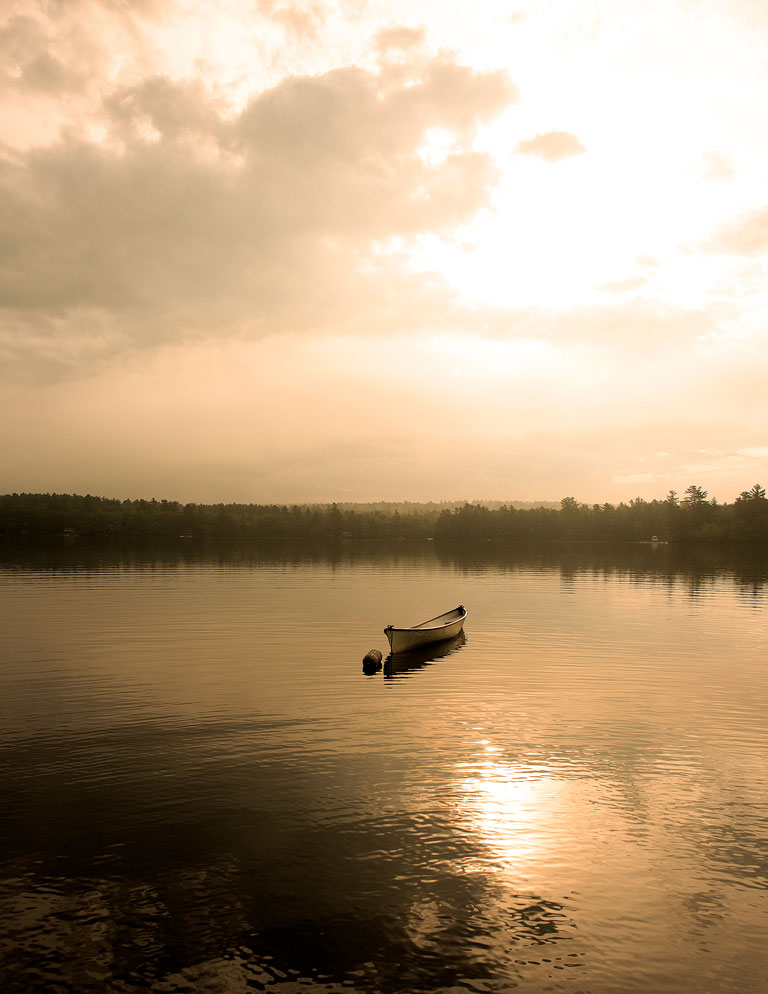 [T]his year, as the posters around town proclaim, Searsmont is "celebrating 200 years of a caring community." On Founders Day in April, residents gathered at the community building, where Jenness Robbins served a three-decker bicentennial birthday cake, and his brother, Jim Robbins, gave a presentation on the town's early history, in which the Robbins family plays no small role (Jenness and Jim's great-grandfather and great-granduncle started Robbins Lumber in 1881). On Memorial Day, George Sprowl's restored antique cars and trucks were, as always, the stars of the parade, but the procession was the biggest ever, stretching nearly a mile and drawing 2,000 spectators. For a daylong bash in August, organizers planned a pig roast, barn dance, and fireworks. And all summer long, the front porch of the Fraternity Village General Store, Searsmont's social center, has been draped with red-white-and-blue bunting. On display inside are schoolchildren's essays extolling their community's virtues: the wildlife, the woods, the St. George River, the people. "I am Ruth-Anne," one reads, "and I am growing up in a small but big-hearted town called Searsmont, Maine."
These are the things that make news in Searsmont, and the store is where everyone talks about them. Owner Ken "Jake" Jacobson encourages lingering. He's furnished half the store with dining tables and armchairs arranged around a large cast-iron cookstove. In one corner is a wooden hobbyhorse that he reckons has been "ridden by every child in Searsmont." Mornings find the Robbins Lumber crew fueling up on coffee and Amanda Boyington's freshly made doughnuts (Boyington's prowess as a baker is well known: her sweets have taken many blue ribbons at the Maine Wild Blueberry Festival in neighboring Union). Once a month, Jacobson holds Amanda's Kitchen Pie and Music Night, featuring local performers like Mike McFarland, "the singing postman of Islesboro," and the bluegrass band Freshly Cut Grass. Store clerk Bonnie Durant favors Friday evenings, when the carpenters, masons, and other tradespeople stop in on their way home for pizza and beer, their reward for a week's hard work. "There's such banter! It's such fun," Durant says.
This is Durant's second stint at the store since she moved to Searsmont 23 year ago in hopes of finding a lifestyle similar to the one she enjoyed as a child in Rangeley. "I grew up in a small town. I love small towns," she says. "There is a deep sense of camaraderie. I was working at the store the other day and a woman came in — she comes in every Thursday for her papers — and she said her car battery had died. Right away, a whole handful of people went out to help."
That's the soul of Searsmont, she says. That's the spirit of Fraternity.