From our May 2015 Maine Vacation Planner: Keep the kids entertained on your family vacation with these kid-friendly destinations.
By Caroline Praderio
Hop aboard an authentic steam locomotive for rides all summer long. See the full listing of upcoming events. In 2018, the Museum will be open daily from 10 a.m. to 5 p.m. from Saturday, May 26 through Sunday, October 14, 2018. $7–14. 586 Wiscasset Rd., Boothbay. 207-633-4727.
Interactive exhibits on art, the science of sound, dinosaurs, children's books, the human body, and more. $7.50. 74 Main St., Bangor, 207-262-7200.
This state-run park offers up-close views of 30 different native Maine species, from wily opossums to a stately mountain lion. Come prepared with quarters: Kids can use them to buy handfuls of feed for deer, bears, and some birds. Open daily through mid-November. 9:30 a.m. to 4:30 p.m. $5.50–$7.50. 56 Game Farm Rd., Gray. 207-657-4977.
Mount Desert Oceanarium
Great for kids who won't mind rolling up their sleeves and getting friendly with live lobster. It's right on the free Island Explorer shuttle bus route too, making it easy to catch a ride to downtown Bar Harbor for ice cream and a stroll along the famous Shore Path. Open Monday–Saturday through mid-October. 9 a.m. to 5 p.m. 1351 Rte. 3, Bar Harbor. 207-288-5005.
Fun facts: 1) You cannot tell the age of a #starfish by their size, as their size is wholly dependent on their diet. A 1-year-old and a 20-year-old could be the same size. 2) They can and will pull the hair off of your arm! #maine #pleasetouch
Visitors of all ages can explore the lighthouse, fort, and Fishermen's Museum at Pemaquid Point. Finish the day on the smooth white sand at nearby Pemaquid Beach. $4. 3115 Bristol Rd., Pemaquid. 207-677-2492.
Visit with farm animals, rent bikes for a family ride, or hit the water for a kayak paddle through Casco Bay. On Friday nights, the Farm Café features wood-fired pizza. A variety of events are scheduled through the summer, including a Family Farm Feast with the Farm Café. Open daily from dawn to dusk. 184 Burnett Rd., Freeport. 207-869-5433.
---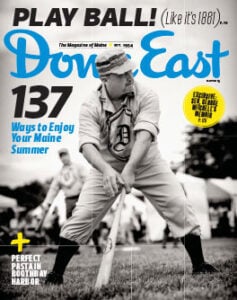 Get the whole list of 137 Ways to Have the Best Summer Ever, including 3 Restaurants Worth Waiting All Winter For, 3 Incredible State Parks You Haven't Visited Yet, 4 Secret Beaches, 6 Kid-Friendly Trips, and much more, in our May 2015 issue.