Under Our Skin
Even when they're not on our bodies, ticks are getting into our heads. Will our burgeoning awareness of tick-borne illness alter our relationship to the Maine landscape?
By Brian Kevin
Illustration by Doug Panton
One day last summer, I opened my email to find a press release from the Maine Center for Disease Control and Prevention, notifying media outlets that two adults in midcoast Maine had been hospitalized with Powassan encephalitis, a swelling of the brain caused by a viral infection transmitted by tick bite. Both patients had been treated and released, but I recognized the phrase "Powassan virus" from the widely reported death of Maine artist Lyn Snow four years earlier. In November 2013, Snow had shown up, seemingly healthy, at the midcoast's Pen Bay Medical Center, asking for help removing a stubborn tick. Days later, she fell into a delirium that never lifted, and she died in December, hooked up to a ventilator at Maine Medical Center in Portland.
When I looked up Powassan on the federal CDC website, I learned that its diagnosis is rare — nationally, there have been only 100 or so documented cases in the last decade, 10 in Maine since 2000. Unlike, say, Lyme disease, which is caused by bacteria and unlikely to transmit to a host until a tick is embedded more than 24 hours, Powassan virus can transmit in as little as 15 minutes. Half of all diagnosed patients suffer permanent neurological damage. One in 10 who experience encephalitis will die from it. It's named for Powassan, Ontario, hometown of its first documented case, a 4-year-old boy who died three days after admission to a Toronto children's hospital in 1958.
A few hours after reading the Maine CDC's press release, I removed an embedded nymph tick from behind my 3-year-old son's right ear, as conspicuous as a freckle, its back legs wiggling ecstatically. My wife and I had checked him head-to-toe the night before, as we have checked both of our sons every night at bedtime for eight months out of the year all throughout their short lives. He may have acquired the tick playing outside at daycare or from our indoor-outdoor cat, who regularly ferries ticks into our home, despite being treated monthly with a topical pesticide. Or he may have been bitten that evening in our yard, which abuts 500 acres of woods in Maine's inland midcoast. We plucked the tick with tweezers and flushed it down the toilet, like we always do.
A funny thing happened in the weeks that followed — specifically, in the four weeks that the CDC webpage told me it might take for Powassan symptoms to manifest: I worried about it, watching my son for signs of fever, tiredness, or loss of coordination. Even though periodic tick bites are a fact of life for our family, and even though I know perfectly well that the odds of contracting Powassan are on par with those of being struck by a meteor, I fretted mildly about encephalitis and brain damage until deep into the summer.
What I've realized in the last year is that I'm not alone in my creeping anxiety. Instances of tick-borne illness in Maine have skyrocketed in the last decade. Lyme disease diagnoses have almost doubled, from 909 cases in 2008 to nearly 1,800 last year. The state currently leads the nation in incidence of Lyme. Between 2008 and 2010, Mainers reported 15 to 17 annual cases of anaplasmosis, a bacterial infection that causes intense flu-like symptoms. In 2016, Maine logged 372 such cases, and last year, there were 662 — a 10-year upsurge of about 4,000 percent.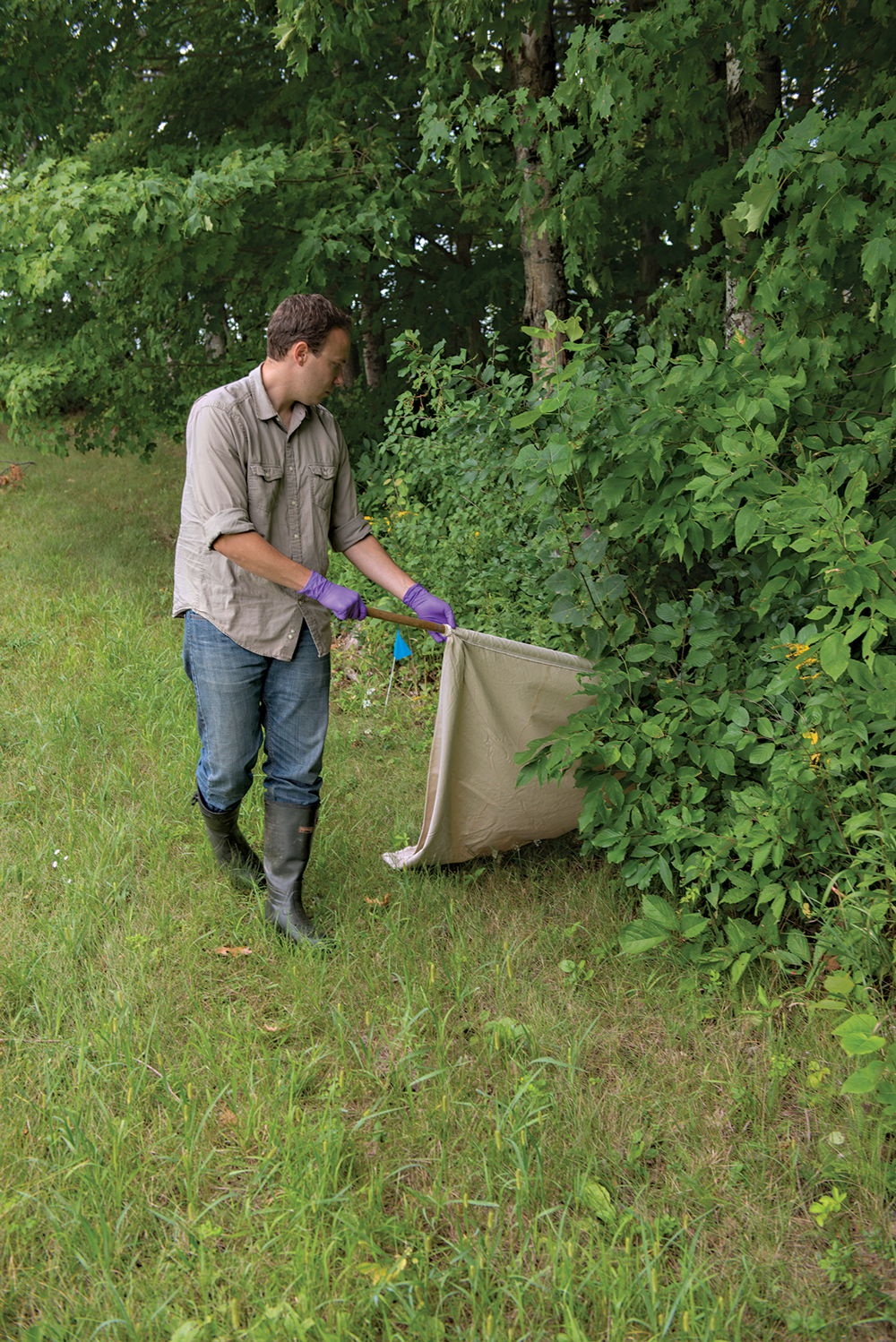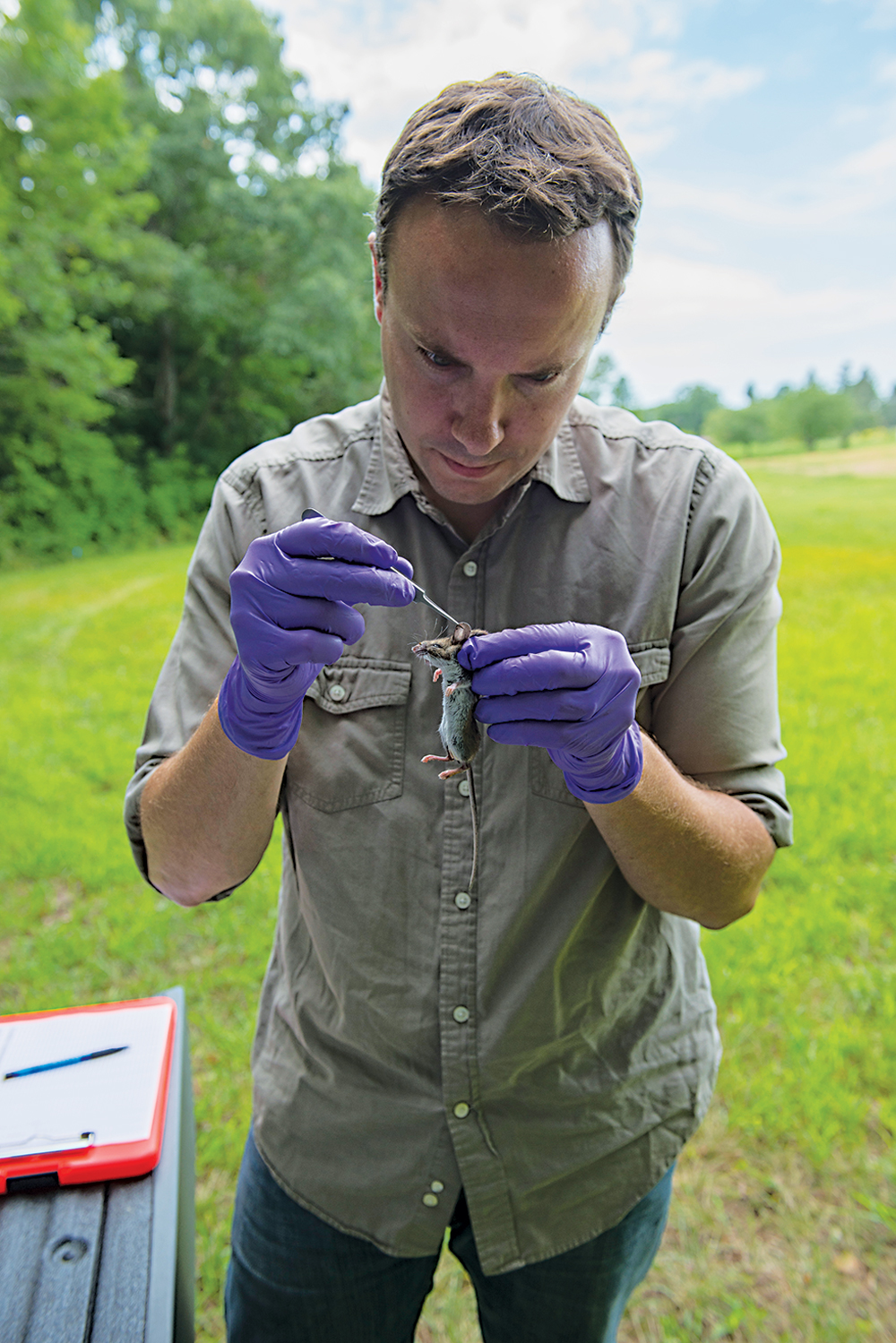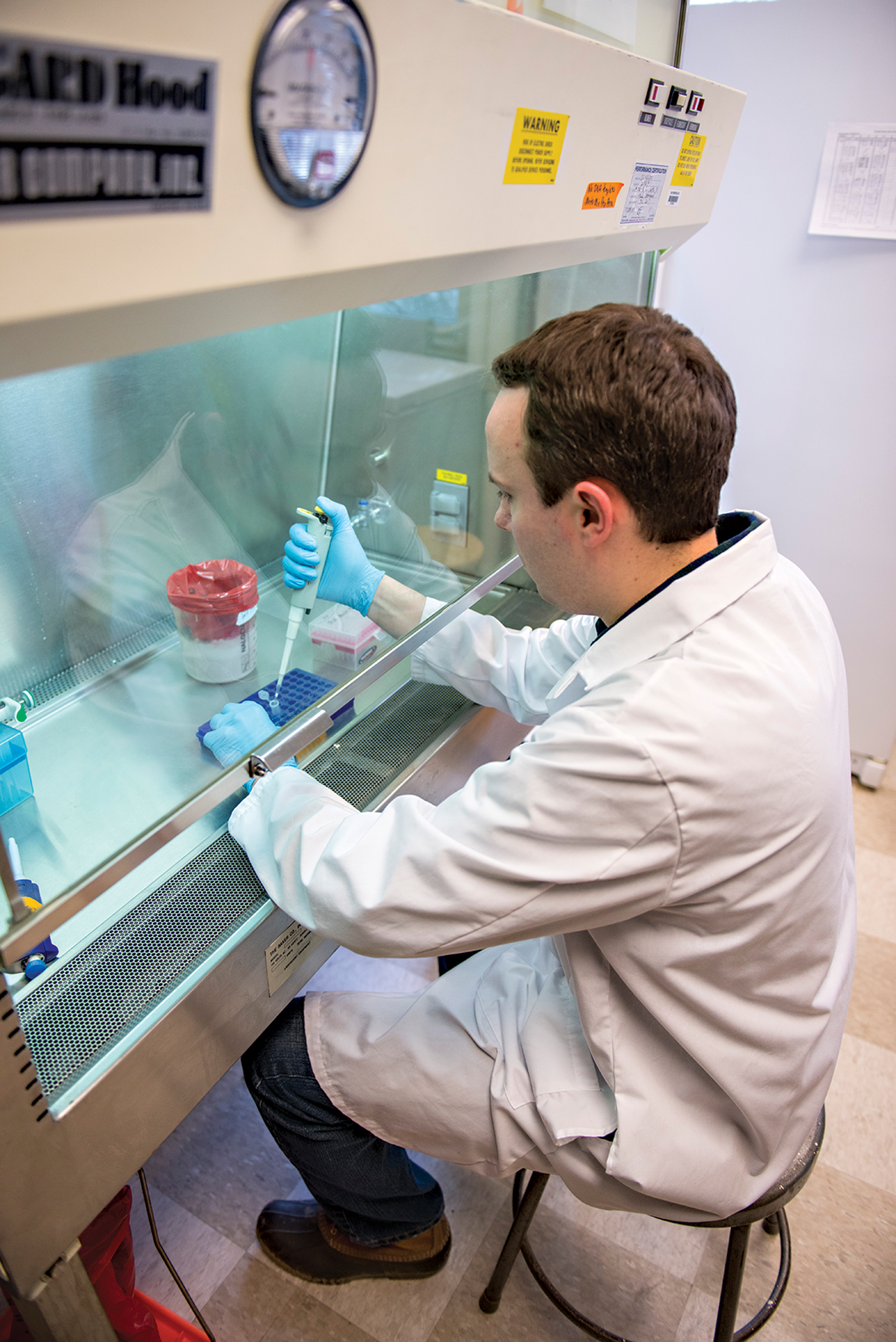 Biologists like UMaine's Griffin Dill gather ticks by "flagging" the underbrush and by trapping small mammals that host them. Dill's lab work includes identifying the species of ticks brought in by those who've been bitten. Courtesy of the University of Maine.
Mentioning my irrational alarm over Powassan to friends and colleagues, I've found that I can't bring up ticks in a room full of Mainers without eliciting harrowing secondhand stories: of siblings suffering from late-diagnosed Lyme, of hearty neighbors brought low by anaplasmosis. In a state where most folks over 40 don't remember seeing ticks as kids, it suddenly seems commonplace to know someone affected by tick-borne illness. A few friends say they've become meticulous about prevention, all but bathing in DEET, throwing clothes in the dryer after even short trips outside. Others say any new ache or pain leaves them questioning their own vigilance. Have they missed a bite? Should they be tested? Still others have simply abandoned cherished outdoor sites and routines. "I just stay out of the woods altogether in the early summer and fall," is a sentiment I have lately heard more than once.
Maine tick season has two peaks: late spring through midsummer, when adolescent (or nymph) ticks feed, then again when adults feed in and around October.
Dr. Sandra De Urioste-Stone, a professor of nature-based tourism in the University of Maine School of Forest Resources, is interested in how perceptions of risk affect behavioral change. She's spent the last few years studying the perceived effects of climate change in western Maine and Acadia National Park, and her data shows residents and recreationists concerned about flourishing tick populations. In 2016, she published a paper reporting that survey respondents in Acadia ranked higher tick concentrations as one of the three gravest potential future threats facing park visitors. In the same survey, fully half of the respondents said increased tick populations would likely affect whether they visited Mount Desert Island in the future.
This summer, in collaboration with several UMaine colleagues and National Park Service staff, De Urioste-Stone launched another survey effort in Acadia, this one geared specifically to park visitors' perceptions about ticks and tick-borne illness. It's too early to point to results — data collection is ongoing through at least next summer — but De Urioste-Stone says people will indeed change their recreation habits if they feel risk is high and preventative measures are inadequate.
"We've heard it from visitors in the past," she says. "'I no longer recreate in the summer, I only recreate in the winter to prevent ticks.'"
What the project has already revealed, she says, is how eager park visitors are to discuss their and their loved ones' brushes with tick-borne disease. The survey has two parts: a live conversation in the park, administered by grad students in highly trafficked areas, followed by an online questionnaire. In the study's testing phase, the live interviews didn't include any questions about respondents' own experiences with tick-borne illness. "But so many people were saying, 'You know, I had Lyme disease," or "A friend or someone I know did," when we weren't even asking," De Urioste-Stone explains. "So we added that question after the first week of pre-testing."
That sort of emerging, radial familiarity is one way we popularly define an epidemic. You've heard the phrase for it, used commonly enough to describe everything from diabetes to opiate addiction that it's almost a cliché: everybody knows somebody.

Griffin Dill has never been bitten by a tick, but he has glued a dead one to his neck using rubber cement. Dill is a pest-management specialist at the UMaine Cooperative Extension, focusing on outreach and education. He gives public presentations about tick biology and disease prevention, and he's his own model for his photographic materials (hence the rubber cement). In his office in Orono are posters showing ticks in various stages of engorge, the largest ones fat and white, like little navy beans bursting with blood. ("These get interesting reactions when I do booths," Dill notes. "Generally horror.")
Open a news story about ticks in Maine and you'll likely find Dill explaining how the state hosts 15 tick species, but only the blacklegged tick, or deer tick, is a prominent disease vector. Or how the Maine tick season has two peaks: late spring through midsummer, when adolescent (or nymph) ticks feed, then again when adults feed in and around October. Or that roughly half of all ticks statewide carry Lyme disease, but that the percentage varies by season and region, from highs of maybe 90 percent in pockets of coastal southern Maine to single-digit lows in the north. Or that ticks' geographic range has expanded substantially in the last 30 years, likely a consequence of several factors, including a long-term reforestation trend, land-use and habitat management that boosts tick-hosting deer and mice populations, and milder and shorter winters that no longer limit the northerly advance of tick habitat as they once did.
Another of Dill's tasks is to identify the ticks brought in or mailed to his lab by Mainers (and visitors) who've been bitten. In a busy year, he'll perform maybe 700 free inspections, telling the bite-ee whether theirs is a harmless variety — usually the species known as the dog tick — or a deer tick, in which case they might consider consulting a doctor. (He also collects data from each bite, including where the tick was likely acquired.) In this role, Dill tends to meet folks feeling agitated about their risk of tick-borne illness. Some, usually parents, are close to tears. Others, exasperated, ask why the state isn't simply spraying pesticides. (Not enough public land to make a dent, Dill points out — and government spraying on private land would likely touch off riots.)
Reality Bites
But it can bite less with some simple tick precautions. The staff at Maine Med's Lyme & Vector-Borne Disease Laboratory offers these and other tips, where you can read up on symptoms of tick-borne illness and what to do if you find a biting tick.
"I've had people call up," Dill says, "and just ask, 'Where can I move to? Where in the country can I go where I won't have to think about this?"
When I visited Dill this spring, his tick-ID lab was a converted office with industrial carpeting and a microscope atop a folding table. When I called on him again this summer, it was at the brand-new UMaine Cooperative Extension Diagnostic and Research Laboratory, which opened in June, thanks to an $8 million bond that Maine voters approved in 2014. Dill's pest management unit shares the state-of-the-art facility with veterinary and aquaculture teams, but ticks took center stage during the public relations campaign to sell voters on the ballot measure. A similar bond referendum in 2012 had asked for "capital to build a diagnostic facility" and failed narrowly. The reworded 2014 ballot pointedly requested funds to "monitor human health threats related to ticks, mosquitoes and bedbugs." One of Dill's gruesome, swollen ticks figured prominently on the website and fliers promoting the campaign.
By next year, Dill hopes, he and his team will be able to go beyond identification and actually test ticks to see whether they're carrying specific diseases or pathogens. Right now, the closest lab performing this service is at the University of Massachusetts Amherst, which does diagnostics by mail for a fee. What he appreciates about walk-ins, Dill says, is a chance to calm people and give them an in-person primer on the importance of tick checks, repellents, light-colored clothing, and other prevention measures.
"Part of our mission is working with the public, and we don't want them scared to go outside and enjoy everything Maine has to offer," he says. "We want people to think about these risks and take precautions, but we don't want them to get overwhelmed and start to become these recluses."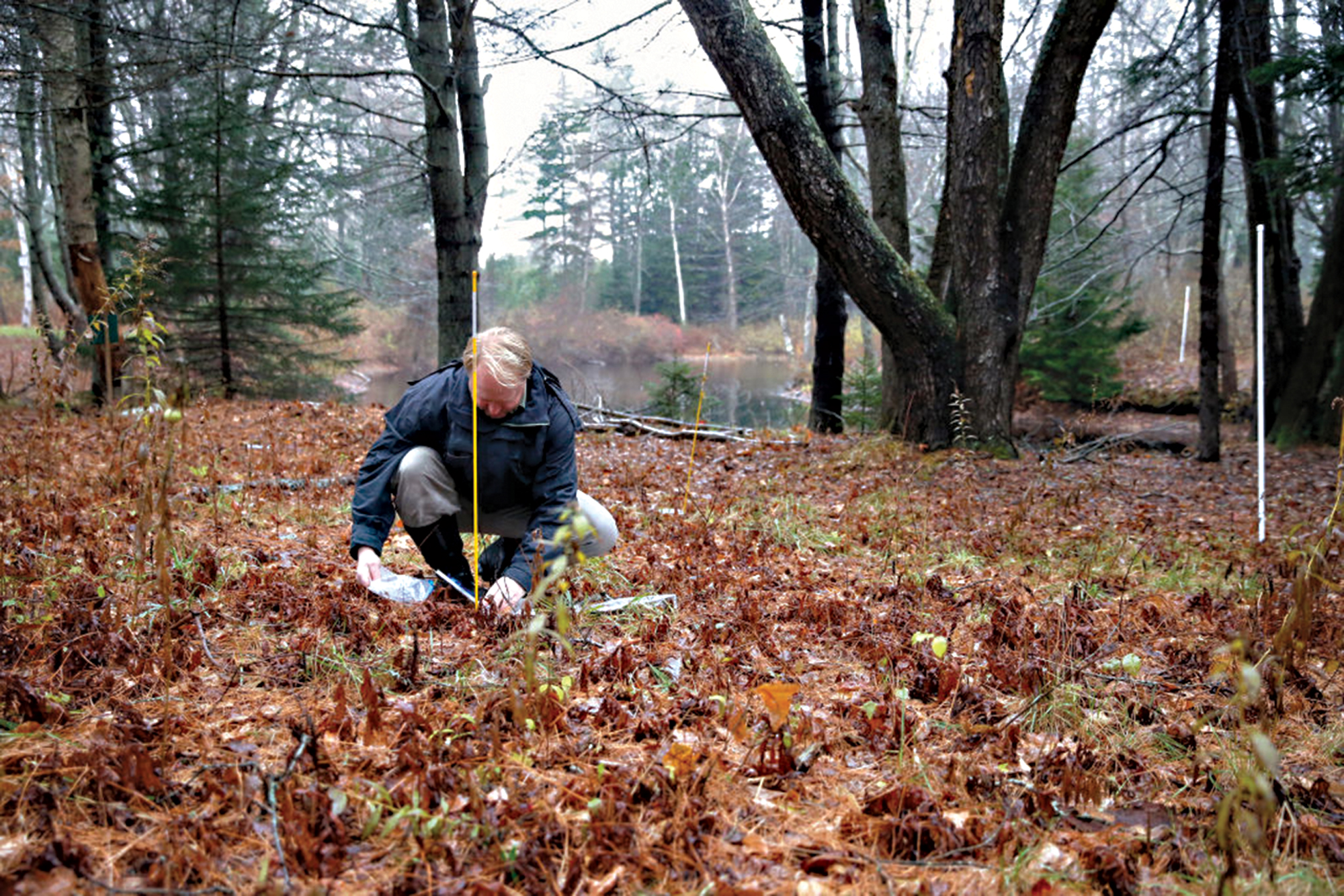 Vector ecologist Chuck Lubelczyk places ticks into vials during a field study. In the fall, leaf litter provides ideal habitat for deer ticks. Courtesy Getty Images/Portland Press Herald.
Everybody knows somebody: Dill knows Chuck Lubelczyk, who sits on his PhD committee and did a brief bout with Lyme around 2000. Lubelczyk is a field biologist for the Lyme & Vector-Borne Disease Laboratory at the Maine Medical Center Research Institute, which once handled the state's tick ID program, before turning it over to Dill and UMaine in 2013.
"We'd get a lot of phone calls," Lubelczyk remembers, "and the most emotionally charged were from people with kids, then from the category that I'm in, people without kids who have dogs. I developed what I thought of as my counselor voice: 'Okay, so you found a tick on you. Now, what you have to do . . . .'"
I joined Lubelczyk and a trio of grad students early this summer for a morning field survey at the Wells National Estuarine Research Reserve, where he and his team have collected data on tick abundance for nearly 25 years. The researchers sometimes trap birds and mammals at the site, removing embedded ticks with tweezers, but on the day I joined them, they were "flagging" the understory — swiping 10-meter transects of vegetation with a square meter of corduroy on a long dowel, then picking ticks off the fabric and dropping them into labeled vials. It was hot, but everyone wore muck boots, light pants, and long sleeves.
The vials would be put in a fridge at the team's Scarborough lab and the ticks tested for Powassan virus, with the results GIS-mapped to the transects where they were found. The survey was part of an ongoing study of the virus's focality — that is, the extent to which ticks testing positive for Powassan are spread evenly across the landscape or grouped into clusters that might share characteristics (say, habitat for certain species).
In 2015 and 2016, prompted by the death of Lyn Snow, Lubelczyk led researchers on a search for Powassan-positive ticks at sites in 15 towns across all but three of Maine's 16 counties. The team found adult ticks testing positive in five of them: Cape Elizabeth, Rockland, Standish, Swan's Island, and Wells. The survey also found nymphs testing positive in Wells and Cape Elizabeth. They were surprised, Lubelczyk says, to find the virus in as many places as they did, but the highest infection rates (at sites in southern Maine) were still below 3 percent — meaning only a tiny fraction of ticks were carriers. More surprising still, he says, was recording deer ticks for the first time around places like Moosehead Lake, Machias, and Jackman, formerly thought to be deer-tick–free.
Like Dill, Lubelczyk finds it a balancing act to help Mainers understand the severity of the tick threat without feeding a growing sense of alarm. His office gets regular inquiries, he says, from chambers of commerce and real estate agents that put the scientists in "a bit of an awkward position" — not wanting to sugarcoat, not wanting to torpedo home sales or tourism. "A Realtor will call and ask, 'I'm going to be selling a house in this or that town — what's the tick situation like?'" he says. "And you know, maybe it's bad. It's terrible. But we try to couch it in terms of regions rather than singling out towns. Still, would you have dissuaded me from buying the farm I bought last year on the midcoast? No way, because it's awesome. Yeah, I don't like seeing my dog come in with 700 dog ticks, but it's something you can learn to manage."
"I wouldn't even go out in flip-flops. It was so hot, but I'd wear muck boots to take the dogs out."
Melissa Maker has never called Lubelczyk, but she knows plenty of tick-conscious real estate agents who might have. Maker grew up in Rockland, where she lives today, and has sold real estate in Maine for more than 30 years, but she says she never spotted a tick on the midcoast until six years ago. This May, she was diagnosed with Lyme — and subsequently anaplasmosis — after weeks of soreness, malaise, fever, and a couple of trips to the ER. She responded poorly to traditional treatment with the antibiotic doxycycline, but after a trip to an infectious-disease doc in Boston and a heavy regimen of amoxicillin, she was feeling a semblance of normal by late summer — physically, anyway.
"It's left me with some type of anxiety about being outside," Maker admits. "Slowly, I feel like I'm coming out the other side, and I'm not so worried, but this summer, I wouldn't even go out in flip-flops. It was so hot, but I'd wear muck boots to take the dogs out. The neighbors must have thought I was crazy, but I was like, 'I'm sorry, I can't risk it again.'"
The last time she led a walk-through of an undeveloped parcel, one of her clients came back covered in ticks. Maker decided then and there she was done showing land. "If people call me about it, I'll meet them there, but I say, I'm sorry, I'm not walking the land with you," she explains. "For myself, I don't want to get sick again. But also, living with it is what scares me as a Realtor. What if I sell them this property and they go, 'Melissa, there are so many ticks here, we can't stand it'?"
"I was ready to napalm my yard, just put in a bunch of gravel and cement."
Everybody knows somebody: Maker knows Heidi and Darryl Townsend, who live on a rural spread in Warren. In July of last year, Darryl was diagnosed with Lyme disease and then, following a trip to the hospital, babesiosis, a tick-borne parasite that infects red blood cells. Though rarer than anaplasmosis, babesiosis cases are on the rise, especially in southern Maine and on the midcoast. The state recorded 117 diagnoses last year — almost the same number as in the whole seven-year period between 2008 and 2014.
In Darryl's case, it was nearly fatal. After his hospital discharge, his spleen ruptured, attacked by the babesia parasite, and he was taken by LifeFlight helicopter to Central Maine Medical Center in Lewiston for emergency surgery. On his way, the hyper-fit, then–50-year-old Gulf War vet was half-delirious from pain, but he heard a doctor say something along the lines of, "We're going to try to save this man's life."
"I thought, a friggin' bug? That's what's going to take me out?" Darryl remembers. During his months-long recovery, the Townsends' daughter was also bitten and diagnosed with babesiosis, though this time early. At first, Darryl wanted to take extreme measures to keep ticks at bay around the family property.
"I was ready to napalm my yard, just put in a bunch of gravel and cement," he says. In the end, the Townsends adopted more conventional approaches: They made renovations to keep their cats out of their lofted bedroom. They started treating their pets with tick collars and oral medication, their lawn with organic pesticide, and their clothes, when they work or play outside, with the pesticide permethrin. "It's a different way of life," Heidi admits.
"I try to have a heightened awareness of my surroundings now," Darryl says. "If you're going to live in a minefield, you have to watch where you step."
Everybody knows somebody: The Townsends know Angelica Barbour Gaudreau, of Rockland, who celebrated her recovery from a bout of long-undiagnosed Lyme by concocting her own repellent from extracts and essential oils. She calls it Angelica's Essential FOFF Tick Repellent (as in, ticks can "F off"). Gaudreau credits a naturopathic doctor for recognizing her symptoms after a year of flu-like symptoms, exhaustion, and spells like panic attacks, then for treating them with natural supplements when her body couldn't handle more antibiotics. But as much as her body suffered, she says, a lot of her struggle was mental.
"I definitely have what I would say is a little PTSD," Gaudreau confesses. "Whenever I'm feeling a little off now, it really worries me that I could get back to that point."
Like Darryl Townsend, Gaudreau says she tries to be more aware these days, without sacrificing her lifestyle. That includes wearing her FOFF — a mix of witch hazel, lavender, peppermint, and other extracts that Gaudreau sells on Etsy but mostly makes for family and friends. "We're outdoors people," she says. "I love to hike and harvest berries, and my husband's a hunter. We're outdoors all the time — but it does change how we're outdoors."
For example, Gaudreau says, she'd hesitate now to walk into a field to pick wildflowers like she did as a kid. Not long ago, her daughter came home from a day at camp with a tick in her hair, and Gaudreau found herself getting upset.
"She said, 'Oh, I was rolling in the grass,'" Gaudreau recalls, "and I sort of scolded her. I felt badly for that, because she should be able to do these things. But it's just high-risk now."
"By sunset, I was a quivering puddle of black death beneath a pile of blankets on the futon."
My brush with tick-borne illness was a bout of what may or may not have been anaplasmosis in July 2015. One moment, I was happy and healthy, enjoying a summer afternoon on a friend's boat. By sunset, I was a quivering puddle of black death beneath a pile of blankets on the futon. I couldn't believe how fast I'd descended into wretchedness and had no memory of a bite, but I had been hiking a lot that summer and furiously plucking ticks off the cats. Our family doc told me she'd grown increasingly quick to recognize tick-y symptoms and increasingly likely to prescribe treatment before getting results from blood tests — which are famously fickle for tick-borne illness. She suspected anaplasmosis and sent me home with doxycycline. By the time my tests came back negative, I was three days into the antibiotics and already felt reborn.
Gaudreau gave me a bottle of FOFF that I'm planning to try out this fall. It smells like juniper and flowers and cut grass, like the Maine woods on a sublime spring day. Which is ironic, I guess, and reminds me of something that Lubelczyk, the field biologist, had told me.
After a spate of five non-lethal Powassan cases in the early 2000s, he'd been dispatched to gather ticks near Grand Lake Stream, where one case was thought to have originated. "It was the perfect August weekend in Down East Maine," Lubelczyk said. "Not a cloud in the sky, my tent literally 10 feet from the lake, herons overhead — gorgeous, pristine, beautiful.
"But then you're sitting and looking at this forest," he went on, "and you think, oh crap, somebody might have gotten Powassan here — and this wasn't a mild case, someone was pretty messed up from it. So there's just this kind of eerie disparity in how idyllic this place is, but with kind of an undercurrent that behind the bushes, you know, is something that's not so pretty."
---