(In no particular order.)
Photographed by Mark Fleming
Excerpted from Ultimate Acadia: 50 Reasons to Visit Maine's National Park by Virginia M. Wright, with photography by Mark Fleming (Down East Books, Rockport, Maine; hardcover; 127 pages; $15.99)
1. You can dine like a rusticator at Jordan Pond House 
People may arrive at Jordan Pond House with their skin glistening from a heart-pounding bicycle ride "Around the Mountain" or their hair windblown and briny from a morning on Otter Cliff, yet within minutes of being seated on the tea lawn, they feel as casually sophisticated as the rusticators of Mount Desert Island's past. Here among pastel flower gardens, they soak up a serene view of Jordan Pond while sipping tea and nibbling custardy popovers smeared with strawberry jam. The tradition of tea and popovers at the only restaurant in Acadia National Park dates to 1895 when Thomas and Nellie McIntire purchased the Jordan Homestead and began catering to the wealthy summer visitors who built their mansions in Bar Harbor and Northeast Harbor. Today, Jordan Pond, with the twin mountains known as the Bubbles at its north end, is no less beautiful, and the tea and popovers no less delicious.
2. Otter Cliff will take your breath away 
Soaring 110 feet above the sea, Otter Cliff is the Ocean Walk's grand finale. The cliff, a popular destination for rock climbers, is made of Cadillac granite, the distinctive pink rock for which Acadia is known. The cliff and nearby Otter Point and Otter Cove are named — or rather, misnamed  — for the sea mink that once swam and hunted in these cold waters, according to park ranger Carmedy West. Prized for their fur, the animals were hunted to extinction in the nineteenth century.

3. You can sleep under the stars
Acadia is all about enjoying the natural world, and camping completes the immersion in the outdoors. The park campgrounds are cheap, pleasant, and clean, if rustic. Blackwoods Campground is located a couple miles northeast of Seal Harbor off Route 3. Blackwoods is convenient to trails and carriage roads, and a woodland trail leads to the Loop Road near Little Hunters Beach.

4. Life's a picnic
Of course, you can picnic just about anywhere at Acadia — on the rocks near Monument Cove (above), atop Cadillac Mountain, on the beach at Echo Lake. A few places, though, have been specifically outfitted with picnic tables, grills, and restrooms:
Bear Brook Picnic Area, Park Loop Road, just south of Sieur de Monts Spring.
Fabbri Memorial Picnic Area, Park Loop Road, near Otter Point.
Pretty Marsh, Route 102, on the northwestern side of Mount Desert Island.
Seawall, Route 102A, between Southwest Harbor and Bass Harbor.
Thompson Island, off Route 3, just before crossing from the mainland onto Mount Desert Island.
Frazer Point, near the entrance of Acadia's Schoodic Peninsula section.
5. Schoodic Peninsula belongs to the curious (and lucky) few
The Schoodic peninsula has the distinction of being both the only portion of Acadia National Park that is on the mainland and, after Isle au Haut, the park's most remote section. Only about 10 percent of Acadia's two million annual visitors make the hour's drive east from Mount Desert Island. With its sweeping views of MDI — just four miles away as the crow flies — and the pounding surf at Schoodic Point, Acadia's Schoodic District is high on natural drama, yet a low-key recreational experience. Except for a few hiking trails leading to 440-foot Schoodic Head, the park encourages meandering, contemplative exploration rather than sweaty physical challenges. A six-mile, one-way loop road, with plenty of turnouts for stopping and soaking up the scenery, hugs the shoreline. A spur leads to Schoodic Point, whose windswept pink granite ledges are laced with black dolerite dikes — magma that filled fractures in the granite thousands of years ago.

6. You can ride the carriage roads, Rockefeller-style  
In the early twentieth century, wealthy summer rusticators dominated the social and political life of Mount Desert Island. What they wanted, they pretty much got, and one thing they wanted was a ban on the noisy, smelly automobiles they left behind in the city.
In 1913, one of the chief "anti-autoists," John D. Rockefeller Jr., began building his automobile-free carriage roads through the island's hills and hollows (below). The twenty-seven-year project resulted in the forty-five miles of carriage roads that lace the forests of Acadia National Park and today are frequented by bicyclists, hikers, and equestrians. Another twelve miles of carriage roads are located on private land adjacent to the park. Rockefeller is said to have told George Dorr, "the father of Acadia," that for all the carriage roads cost him, they might as well have been constructed of diamonds.
7. There are secret beaches
It cannot be seen from the Park Loop Road, and there is no sign alerting drivers to it. Little Hunters Beach is the reward for those curious enough about the wooden stairway in the shadow of a spruce forest to stop and investigate. The staircase, snug alongside a small stone bridge south of Otter Cove, descends steeply to a small, sheltered cobble beach. The rocks are all manner of colors, and they are wondrously smooth, their rough edges having been worn away as they rolled together in waves over thousands of years. The beach sings like a wind chime as the ocean washes over and under the stones, moving them against each other. Any day, rain or shine, the beach promises solitude. A quick stop "to see what's there" turns into hours as one becomes absorbed by the rocks' perfect beauty and wondering just how deep they go.

8. The Precipice is a giant jungle gym
PERSONS HAVE RECEIVED SERIOUS INJURIES AND OTHERS HAVE DIED CLIMBING THIS MOUNTAIN.
So reads the sign at the head of the Precipice Trail, the .8-mile ascent (despite its name, this route is not considered by the National Park Service to be a trail, but rather a nontechnical climb) up the 1,000-foot vertical east face of Champlain Mountain. The views of Frenchman Bay from the exposed cliff are stupendous if one dares raise one's head from the matter at hand: first, steep talus boulders, then a series of rungs leading straight up the rock face, narrow stone stairways traversing the cliff edge, and one-foot-wide ledges with nothing but a rebar railing between hiker and drop-off.

9. Thunder Hole thrills
Truth be told, most of the time this fissure in a pink granite cliff (above) might best be called Gurgle Hole, so wimpy is the sound it emanates when water retreats from the shallow sea cave just under the ocean's surface. That doesn't stop people — a couple hundred at any given time on a summer afternoon — from gathering on an overlook to watch and listen as the sea rolls mesmerizingly in and out of the steep, narrow cleft that is Thunder Hole.  When the surf is high, they are rewarded with a spectacle of sight and sound:  A foaming wave rushes into the fissure with a thunderous clap, spraying water thirty feet into the air. The sound is the result of the wave forcing out air trapped beneath the cave's ceiling.

10. The Park Loop Road is Maine's most scenic drive
Nineteen years in the building, Park Loop Road is, in part, philanthropist John D. Rockefeller Jr.'s creative response to the arrival of automobiles on Mount Desert Island, a development he had long opposed (cars were banned on the island from 1908 to 1915). By helping to finance the road, he took control of the inevitable: The cars were coming, but his motor road would keep them out of the park's interior and off his beautiful carriage roads. He did not stint on the design. He hired landscape architect Frederick Law Olmsted, Jr. of Olmsted Brothers, renowned for his city park systems, to recommend a route that would take in some of Acadia's most remarkable natural landmarks and create breathtaking overlooks. Rockefeller poured so much money into the project, that locals dubbed it "Rockefeller's Four Million Dollar Road."
11. The waves have sculpted natural wonders
Monument Cove is a small boulder beach named for its twenty-foot-tall pink granite sea stack. The blocky tower was separated from the adjacent cliffs by wave erosion. The rock walls are riddled with small cavities and overhangs that have made the cove a destination for bouldering.
12. Cadillac Mountain is the Perfect place to pop the question
No matter the time of year, sunrise on Cadillac Mountain (above)  is awe-inspiring, which is why some people choose it as a place to celebrate milestones. Take Henry Hager and former first daughter Jenna Bush. While on vacation in Maine in August 2007, the couple rose at 4 one morning to hike up Cadillac. As the sun peeked over the horizon, Henry dropped to his knee and asked for Jenna's hand in marriage. (She said yes.)
13. Anyone can walk the Ocean Path
As far as Acadia hiking goes, the Ocean Path (right), a wide, graded, mostly level, two-mile walkway, is for sissies. But for filling one's senses with Acadia's raw, wild beauty, this amble is unsurpassed. Glinting ocean, thundering waves, the intermingling salt and spice of sea and fir — the Ocean Path has it all. Paralleling Park Loop Road, the path takes in several of Acadia's most famous natural landmarks, among them Sand Beach, Thunder Hole, Monument Cove, and Otter Cliff.
14. Sand Beach is 290 yards of paradise
People often laugh at the seemingly unimaginative name of this little strand (left), but it does just what a good label should: It distinguishes this beach from any other at Acadia. Sand Beach is one of just two natural sand beaches on Mount Desert Island. The 290-yard, soft, pinkish-white crescent is a carbonate beach, meaning its sand is comprised largely of the finely ground shells of mussels, periwinkles, urchins, and other shellfish, a biogenic composition more typical of the tropics. Washed in by the currents, the sand accumulates in the shelter of Great Head, the rugged promontory at the beach's eastern end, and Old Soaker, an island just offshore.  In winter, Sand Beach sometimes defies its name, as storm-whipped waves siphon the sand away, exposing the big rocks underneath. "The sand disappears," Acadia National Park ranger Carmedy West tells people during guided walks on the Ocean Path, "but it always comes back in the spring."
15. Bar Harbor is a festival all summer long
Maine's best-known tourist town, Bar Harbor (below) bustles with activity spring to fall. Most of Mount Desert Island's stores, restaurants, and hotels are here, and downtown takes on a carnival atmosphere in summer. People crowd the sidewalks, making their way among the boutiques and art galleries, eating lobster and sipping beer at outdoor cafes, and listening to band concerts on the town green.
Incorporated in 1796 as Eden (after English statesman Sir Richard Eden, not the mythical garden), the town renamed itself in 1918 for the sand bar that runs from the shore to Bar Island. By then, the town's golden era as a summer playground for America's wealthiest and most powerful people (J.P. Morgan, George Vanderbilt, and Joseph Pulitzer among them) was beginning to fade. The fire of 1947, which destroyed hundreds of mansions and cottages and several luxury hotels, dealt the final blow. But Bar Harbor's appeal as a vacation place has not only endured but grown. In addition to the millions of tourists who arrive by car, thirty to fifty big cruise ships lay anchor in the harbor each summer.
---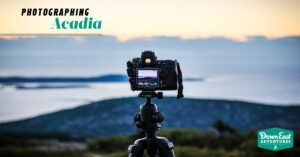 Down East is hosting an unforgettable week of Maine photography and exploration in Acadia National Park, August 2–8, with our editors and some of our favorite contributing photographers. Limit of 20. Join us!