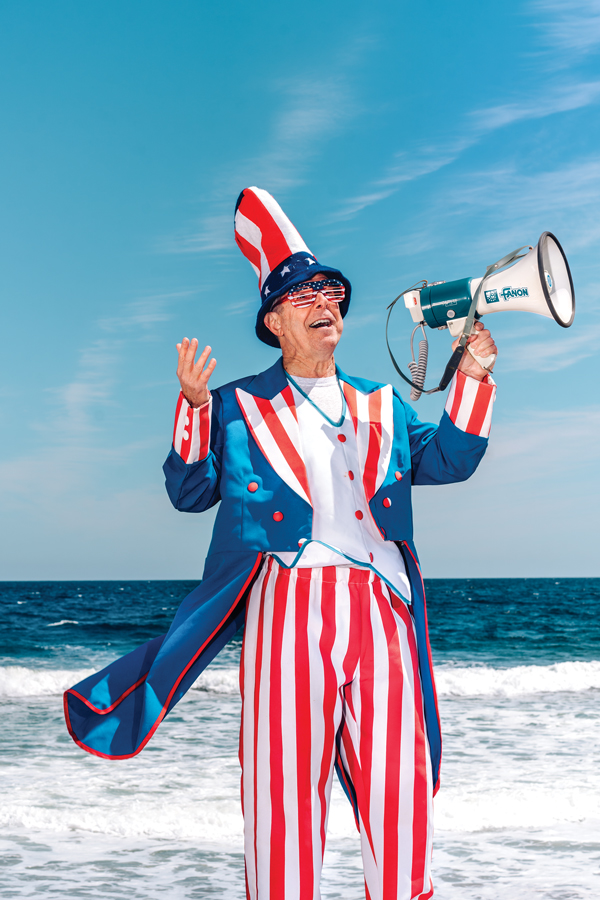 After 50 years, the exuberant ringleader of a Wells summer tradition is hanging up his hat.
By Bridget M. Burns
Portraits by Ryan David Brown
[dropcap letter="K"]enny Ravioli's parents built their cottage on Spaghetti Lane in Wells, near Moody Beach, in 1958. (Ravioli is the family's actual surname; Spaghetti Lane was so nicknamed for the many Italian families from Boston's North End who had vacation homes there.) In 1970, after returning from service in Vietnam, then 25-year-old Ravioli took over as master of ceremonies for the Moody Beach Association's annual Fourth of July games, a day of oddball beach feats — potato-sack races, three-legged races, hula-hooping contests, etc. — with prizes for victorious kids and adults (and participation ribbons for all). Now 74, Ravioli splits his year between Massachusetts, where he works as a contract engineer, and Florida, but he still visits the Moody Beach cottage that he and his ex-wife bought in 1975, just down the street from the one his folks built.
After this summer's games, Ravioli is retiring his signature Uncle Sam garb. We talked to him about Moody Beach athletic glory.
Cue up the Chariots of Fire theme. Young competitors take to Moody Beach. Photographs courtesy of Debbie Howe.
So what did you do to earn this gig?
I honestly don't know! I'm a pretty outgoing, outspoken person who likes to talk and yell and scream through a megaphone, so I guess maybe that was the reason. Or maybe nobody else wanted to do it?
What makes a good beach games emcee?
You have to be willing to have a good time. Take the hula-hoop contest: I'll stop them while they're hooping and say they have to add another hoop — that will knock a couple people out. Then I'll say, okay, now with one hand on your head! Then we'll maybe have a half-dozen left. Then I'll go to three hoops, or maybe right to five hoops! And the crowd goes nuts!
How big of a crowd are we talking?
If it's stinky weather, and July 4 is in the middle of the week, maybe we'll only have 400. If it's a weekend or a Friday or a Monday, we'll have up to 700. And it is crazy.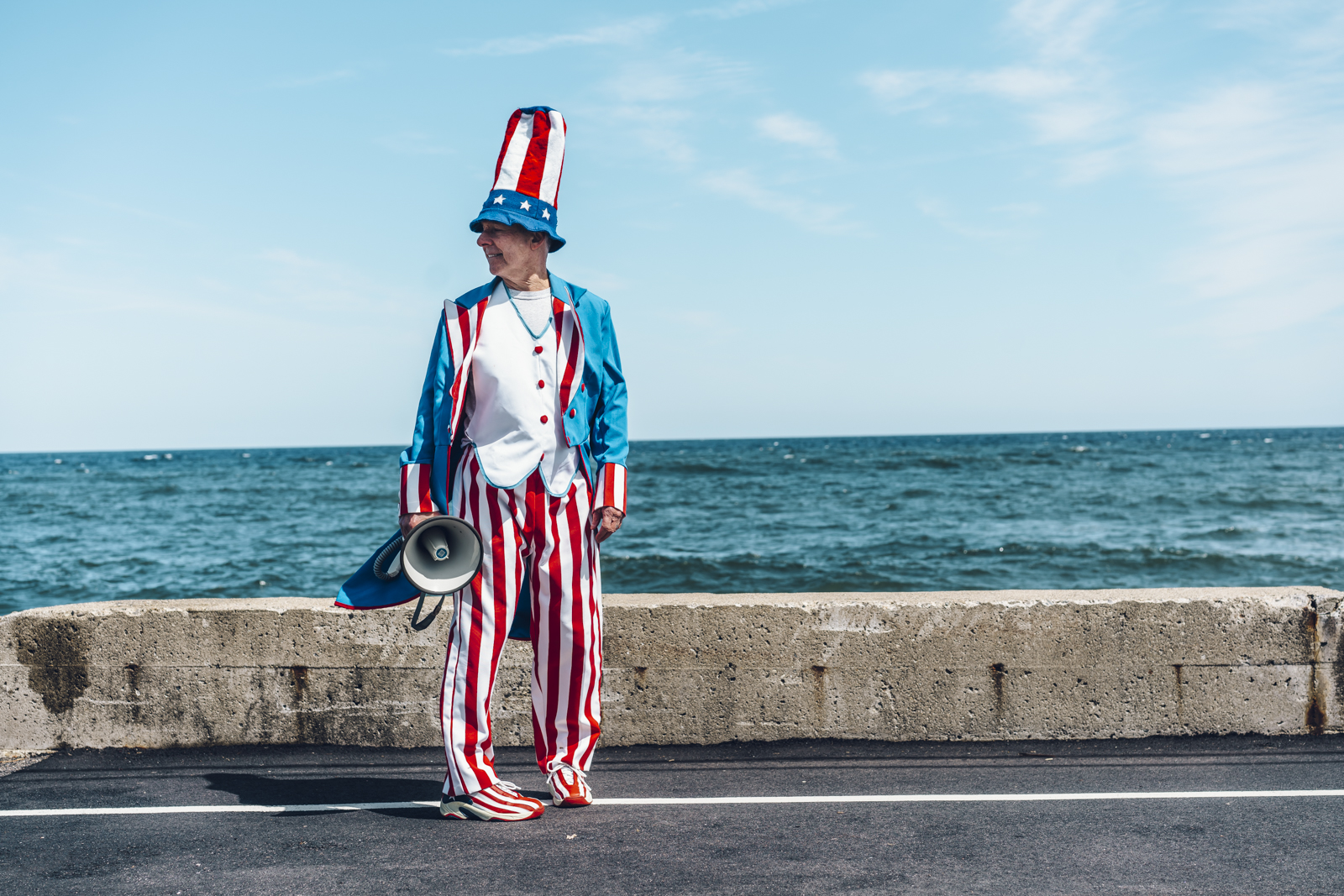 When did you start wearing the Uncle Sam outfit?
The first few years, I just had stars-and-stripes pants. And I know you don't need to know this, but I have matching underwear now! People buy me stuff all the time.
How does the community react to you after so many years at this?
The night before the games, we go door-to-door passing out high tide charts [in exchange for donations to the Moody Beach Association], and people know I'm coming. If I had all the drinks they offered me, I wouldn't make it halfway through my route. If I ate all the food, I wouldn't make it out the door. Some people say, "Ken, you're still doing this? I ran in these games when I was a child and you were here then — now, it's not even my children running, it's my grandchildren!"
What do you think you'll remember most about a half-century of this?
I'm a pretty patriotic guy — the Vietnam thing maybe reinforced that. At the start of the games, I'm up on top of the seawall, and I have those 500 or 600 people, and I'm like a god to them. They know me! In fact, I've probably met most of them at one time or another, and to lead them in song or the Pledge of Allegiance? It makes me misty. It's really nice.