Neighborliness:
it's a core Maine value, as we see it, as central to the state's identity as lupines or lobsterboats. As we come into the season of giving and giving thanks, we salute Mainers who are quietly doing their part to make the Pine Tree State a better place.
Photographed by Molly Haley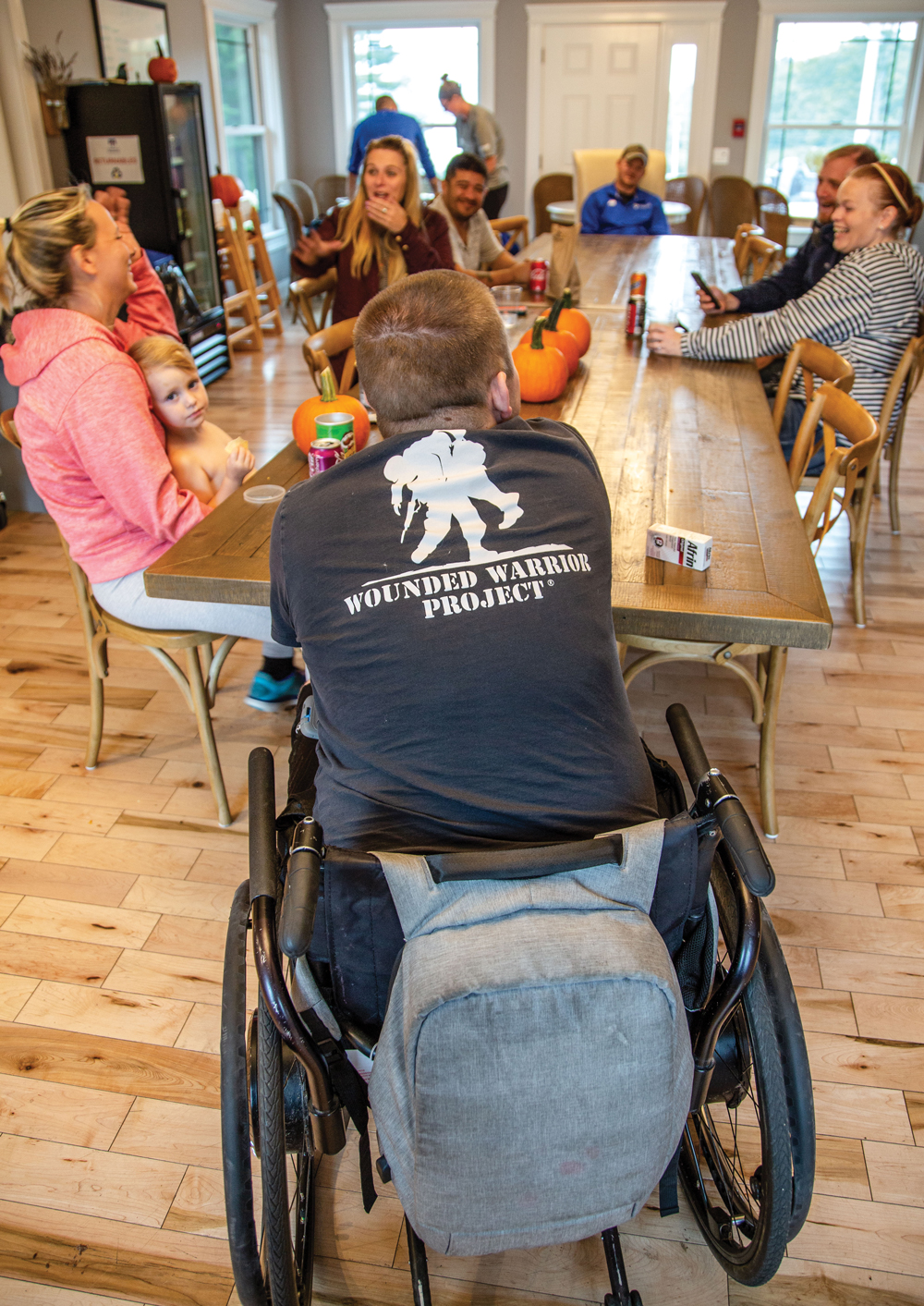 ADELE NGOY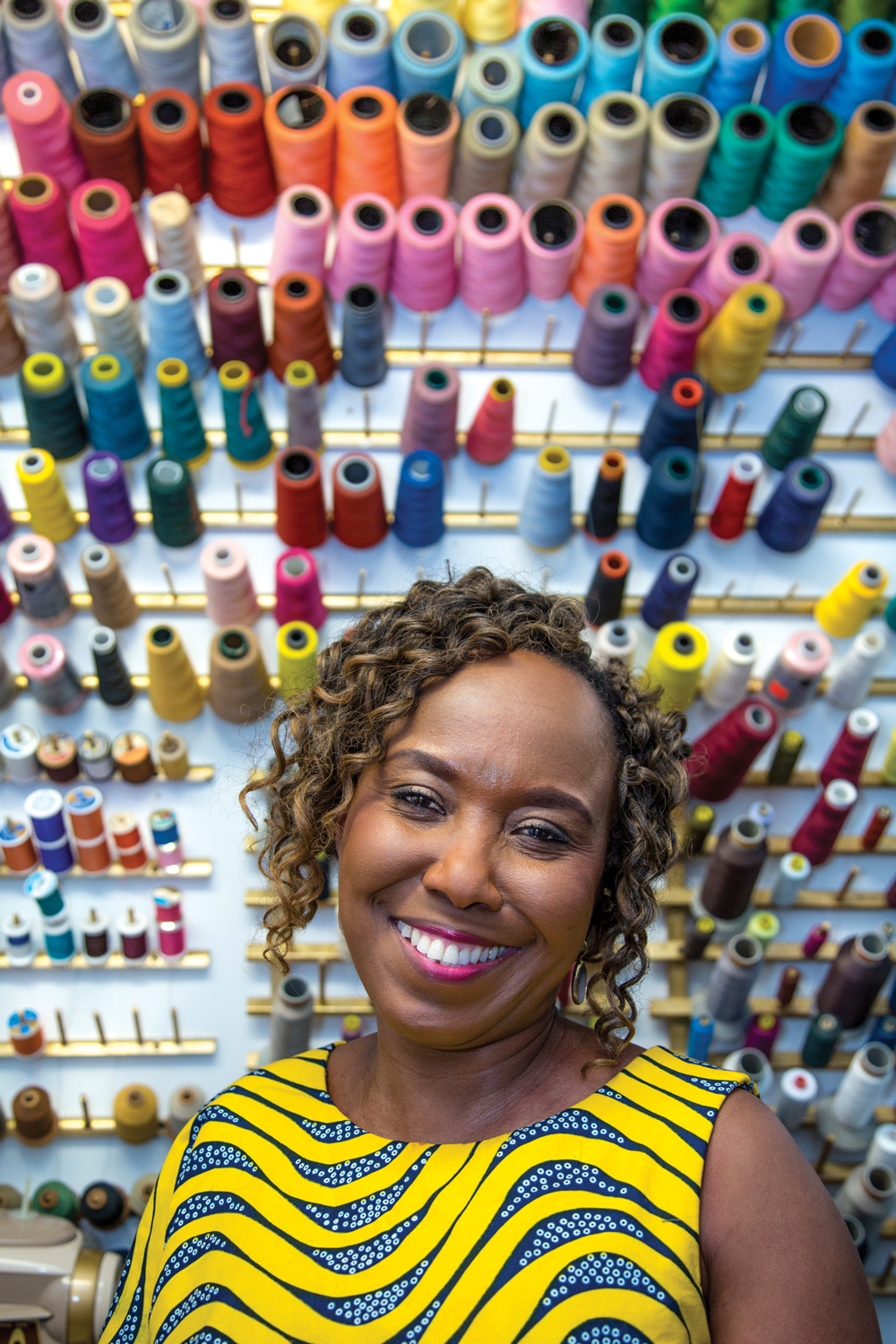 "Tomorrow Belongs to Them"
Adele Ngoy founded Women United Around the World to help fellow immigrants get a foothold — and to lead by example.
By Michaela Cavallaro
When Adele Ngoy declares, "We are lucky to have what we have," she's referring to the path her life has taken since 2000, when she came to the U.S. from the war-torn Democratic Republic of the Congo with three young children and not a word of English. She's also talking about the women who've come after her — refugees who had degrees and careers and networks of resources in their home countries, but who now find themselves in Portland without any such advantages. Still, Ngoy says, they are lucky. And she's made it her mission to turn that luck into something more substantial.
For the last 10 years, Ngoy has used her background in education and fashion design to teach immigrant women to be professional seamstresses — a skill she says is in high demand in Maine. Women United Around the World, the nonprofit Ngoy founded in 2009, offers training to a half-dozen women at a time out of a classroom at the Immigrant Welcome Center on Preble Street in Portland.
But Ngoy teaches her students more than just how to make alterations. She also gives them a crash course on American culture, dispenses advice about how to support kids, and offers a gold-star example of the potential rewards of hard work and persistence: in 2017, after years as the alterations manager at David's Bridal in South Portland, Ngoy bought Antoine's Tailor Shop, a Congress Street fixture that she runs with brisk authority, offering everything from alterations and tailoring to bespoke garments.
A recent stop found her carefully perched on a riser in front of a three-sided mirror, assessing the hem of an elegant black dress worn by Coffee by Design cofounder Mary Allen Lindemann. During another visit, Ngoy leapt up from a conversation the moment she sensed that one of her employees — a graduate of her sewing class — wasn't finding a tuxedo shirt a customer stopped in to pick up.
"Some students feel like I'm too hard on them, but at the end of the day, they appreciate that it's for their own good," Ngoy says. "I push them so hard, and they feel like they can't do it. But I tell them, if I did it, then one day you can too."
An attractive woman of 53 with the sharp sartorial sense you'd expect, Ngoy also oversees Portland's popular International Women's Day Fashion Show, which raises her organization's entire annual operating budget. As she prepares for the 10th annual event next spring, she's hoping to add more members to Women United Around the World's small, hardworking board of directors. She'd like to train a few sewing instructors to meet her exacting standards, so they can train more seamstresses and shrink the lengthy waiting list for classes. Ultimately, Ngoy hopes to hand over the reins altogether.
"I'm trying to recruit more younger women, to show them that they can take over because tomorrow belongs to them," she says. "I started the organization, but it's not mine. It belongs to all of us."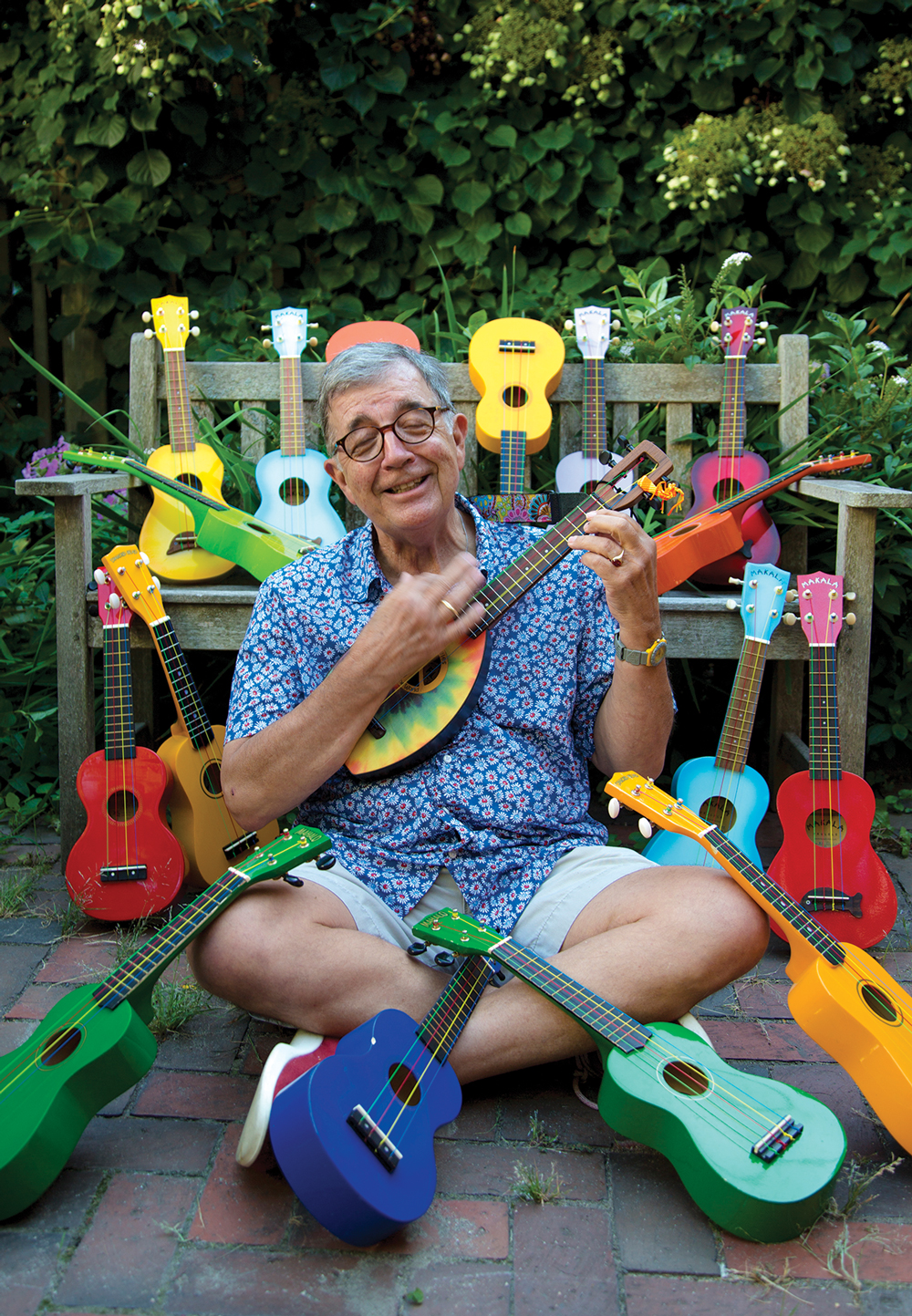 "We Need Joy in Our Lives — and the Ukulele Provides It"
What can a tiny, four-stringed instrument do for Portland schoolkids? A lot, says Lee Urban.
By Michaela Cavallaro
Lee Urban wants to be very clear that this is a story about ukuleles. It's not about how a Navy vet, retired lawyer, and city-planner-turned-schoolteacher discovered a passion he couldn't help sharing with people. It's not about Urban's irrepressible energy, gregarious demeanor, or drive to do good in the world. Definitely not.
Instead, consider the ukulele. It has just four strings, which are typically easy-to-handle nylon — not the steel that requires guitar players to develop serious calluses before they can play comfortably. A ukulele's neck is narrow, meaning it can be grasped by small hands. And a uke is small and lightweight — easy to carry, relatively inexpensive to buy. Perhaps most importantly, it's incredibly simple to learn.
"It takes 10 minutes to learn your first song, and then 10 years or more to master it," Urban explains, over a breakfast of eggs and toast at the Miss Portland Diner. (Side note: As Portland's economic development director, he was one of the players who helped save the Miss Portland from closure more than a decade ago, which today earns him affectionate ribbing from the waitstaff and the privilege of bringing his own gluten-free bread.)
The quick path to accomplishment that ukuleles offer, Urban says, makes them perfect for young kids. Volunteers for the nonprofit organization he founded last year, Ukuleles Heal the World, lead free weeklong music camps for elementary school kids, at the end of which, students are ready to play a concert on an instrument most had never touched just days before. Afterwards, each camper walks away with a ukulele of their very own — along with a major sense of accomplishment. The appeal, Urban says, is simple: "We need joy in our lives — and the ukulele provides it."
If sales numbers are any sort of joy-o-meter, Urban's onto something: Ukulele sales have risen nearly threefold since 2009, according to the National Association of Music Merchants. Portland is on trend in large part thanks to Urban and his friends. The Casco Bay Ukefest he helps organize recently marked its fourth year, and a group of ukulele enthusiasts he helped found plays monthly gigs at St. Luke's Cathedral.
In addition to running esteem-boosting camps and after-school programs, musicians from Ukuleles Heal the World perform each month for patients and families at the Barbara Bush Children's Hospital (the group also helped raise funds to uke-ify the hospital's music therapy program last year). Members regularly scatter across greater Portland to play for residents of assisted living and memory care centers, and the organization participated in an adaptive music festival in Freeport over the summer, sharing ukuleles with people with disabilities.
It's a lot of exposure (and a noble mission) for an instrument that until recently was mostly good for novelty tunes (looking at you, Tiny Tim). And the self-effacing Urban attributes the boosted cachet to the humble, happy, heroic uke. "The ukulele has taken me to places — spiritually, geographically, socially — that I'd never imagined," he says. "'Personally satisfying' doesn't even scratch the surface."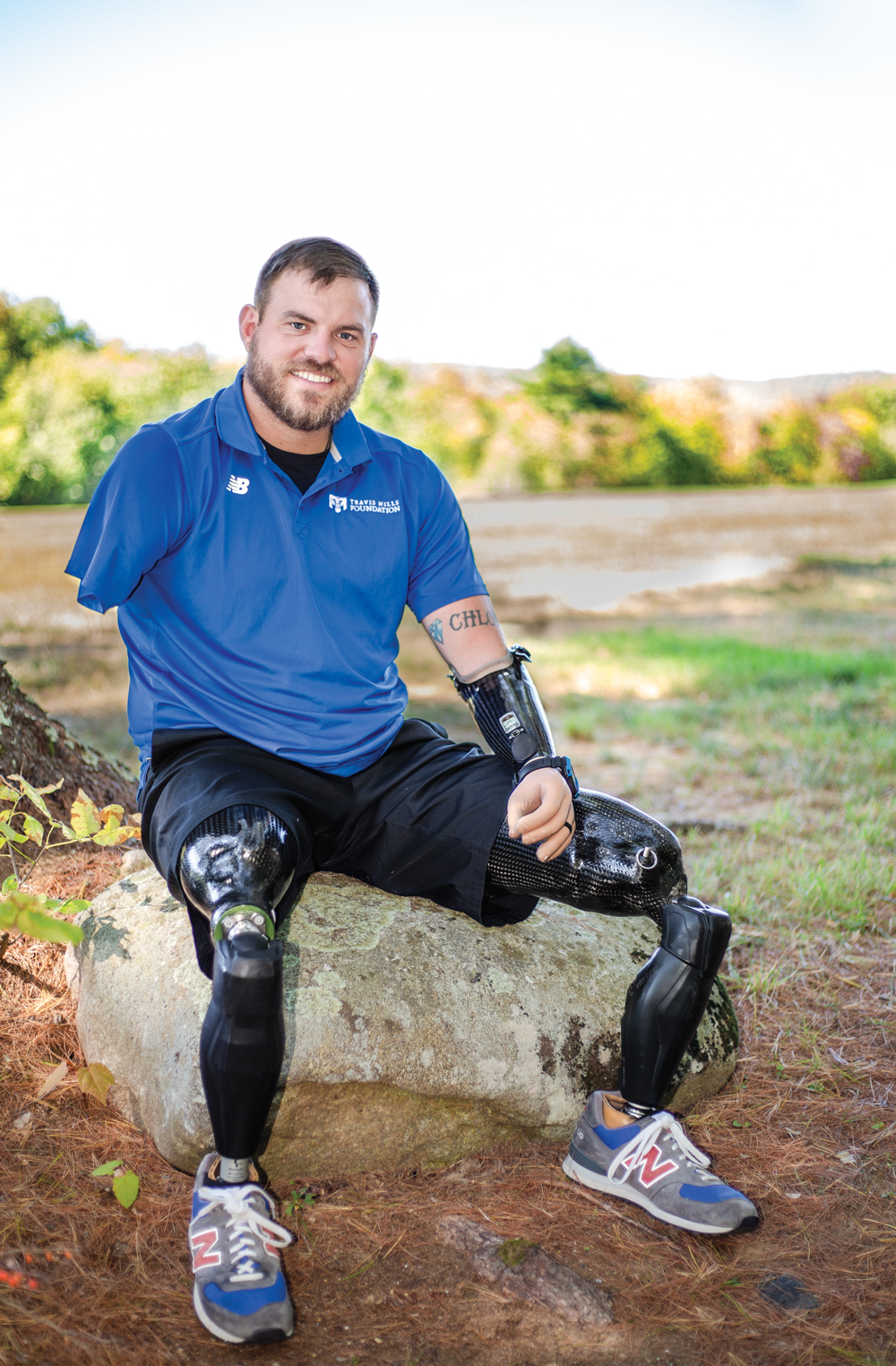 The mission is to help vets "unite with the land, water, nature, and each other to revitalize themselves and to keep moving forward."
"I Wanted to Build a Place Where Family Is at the Forefront"
Travis Mills — and hundreds of volunteers — have created a haven for wounded warriors amid the idyll of the Belgrade Lakes.
By Jesse Ellison
On a recent drizzly morning at the Travis Mills Foundation Veterans Retreat, in Rome, a small regiment of the retreat's guests — "recalibrated veterans," in the foundation's parlance, with permanent physical injuries related to their military service, together with their partners and kids — strapped on harnesses and helmets in preparation to run a high ropes course. Among them was 26-year-old Geoffrey Quevedo, visiting from southern California, who was injured in an IED explosion in Afghanistan in 2011. Quevedo's left arm ends above the elbow, so he navigated the swinging ropes between platforms using only his right. On his left leg, below the knee, is a running blade with a Nike sole where his foot should be.
From the lawn, Quevedo's 2-year-old son, Giovanni, watched with an open-mouthed grin as his dad climbed higher and higher. When Quevedo stalled in a tricky section, the spectators fell into a hush, broken only after Quevedo powered through and a vet down below yelled, triumphantly, "Now that'll make your leg grow back!" The whole group — including one guest in a wheelchair and several single and double amputees — burst into guffaws.
It was the sort of small, extraordinary moment that happens often at the retreat, a sprawling, 20-acre property overlooking Long Pond, once the Belgrade Lakes summer home of Elizabeth Arden and later one of the cosmetics maven's destination spas. Retired Army staff sergeant Travis Mills bought the property in 2015, some three years after losing all four of his limbs while serving in Afghanistan. He's since written the bestselling memoir Tough as They Come, been the subject of an award-winning documentary, embarked upon a career as a motivational speaker, and launched the eponymous foundation that runs the retreat. In the first years after his injury, Mills visited similar recovery facilities and found that most focused on the service members themselves, with few that could accommodate whole families. Because he needed assistance putting on his legs, Mills was often granted an exception and allowed to bring his wife.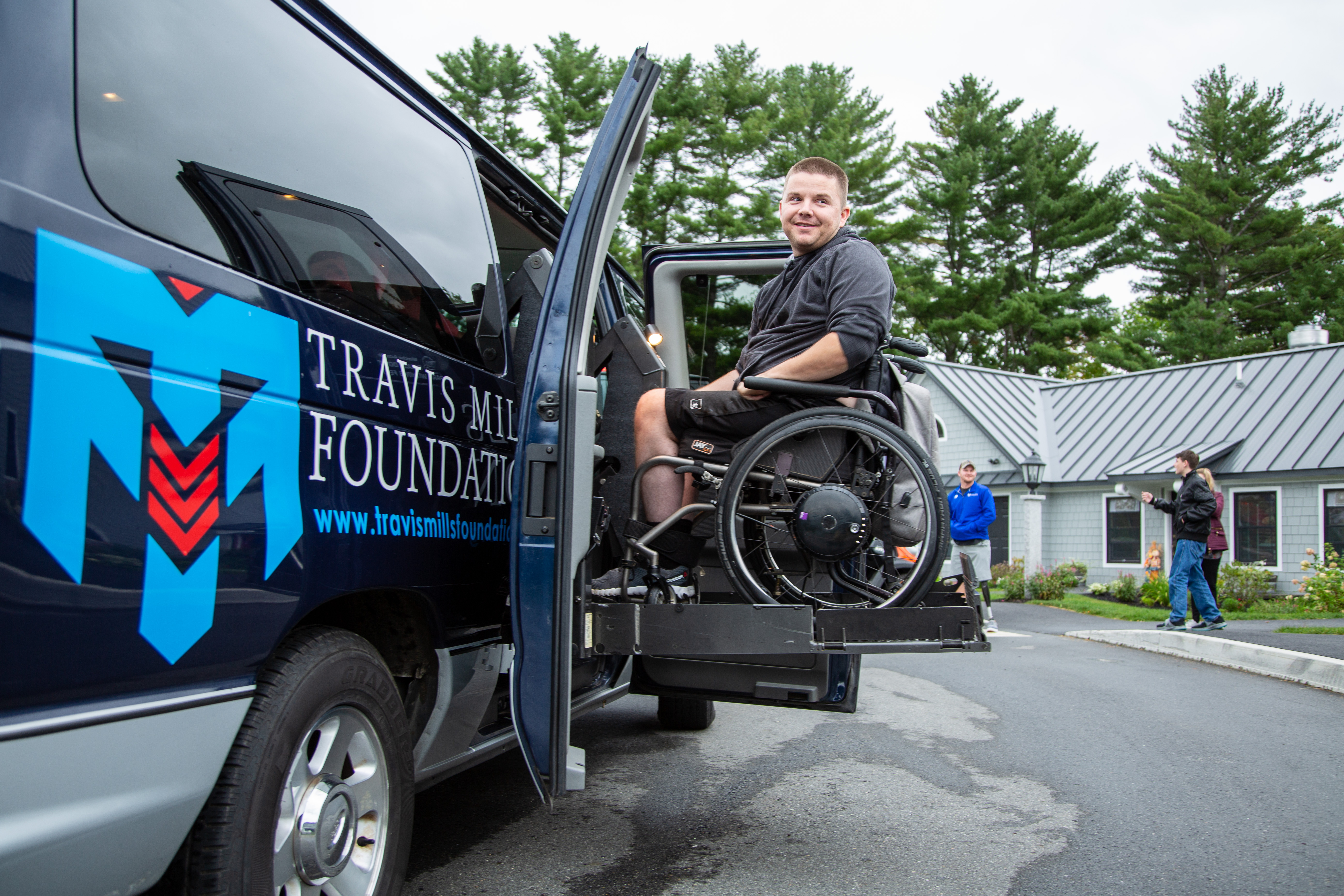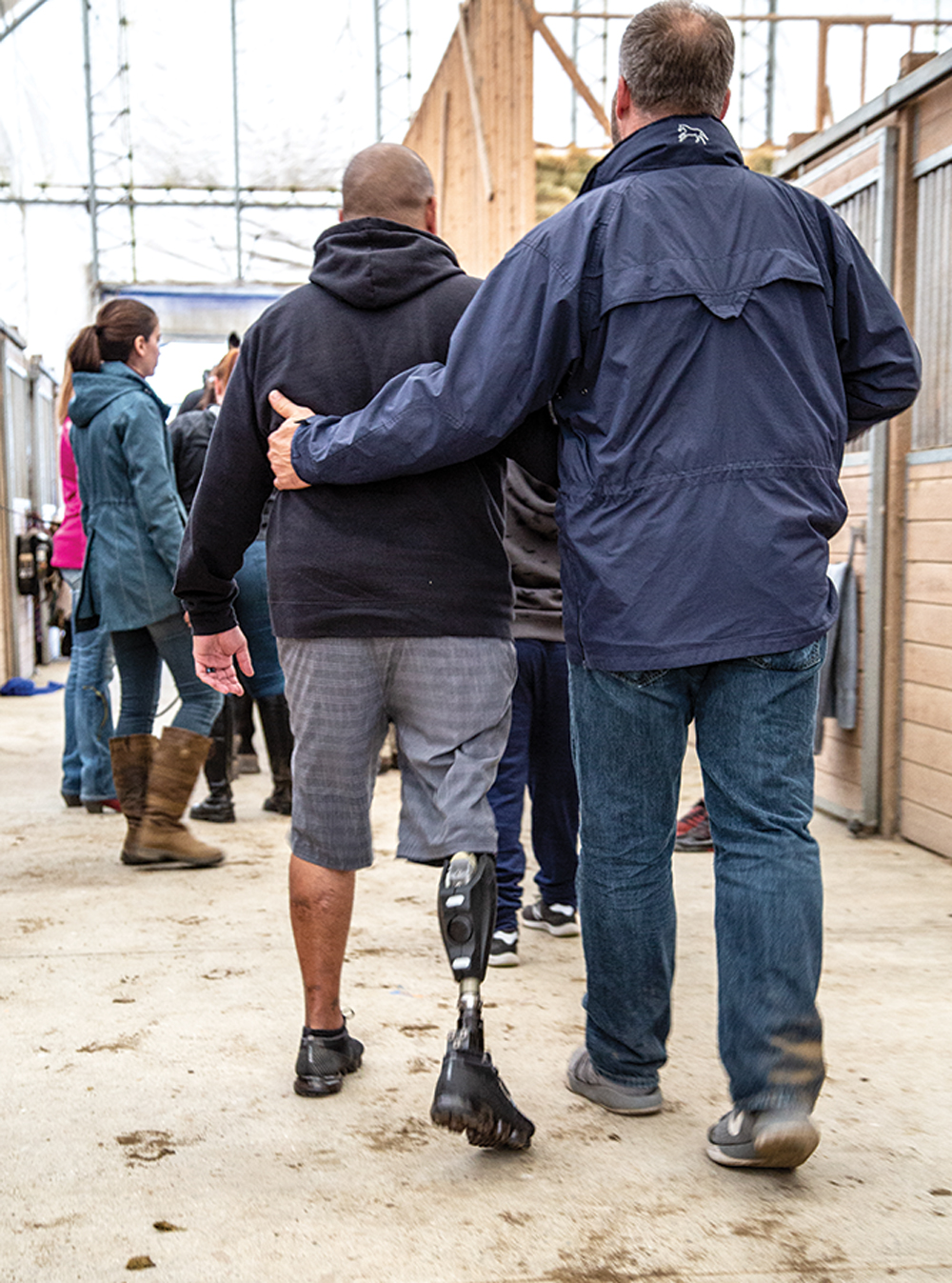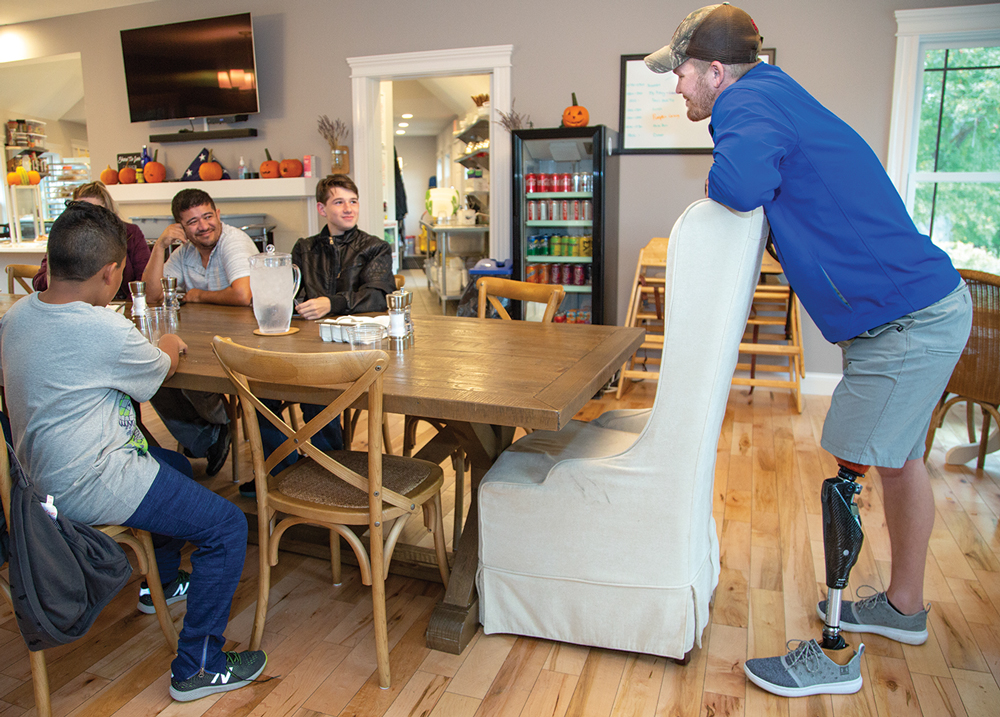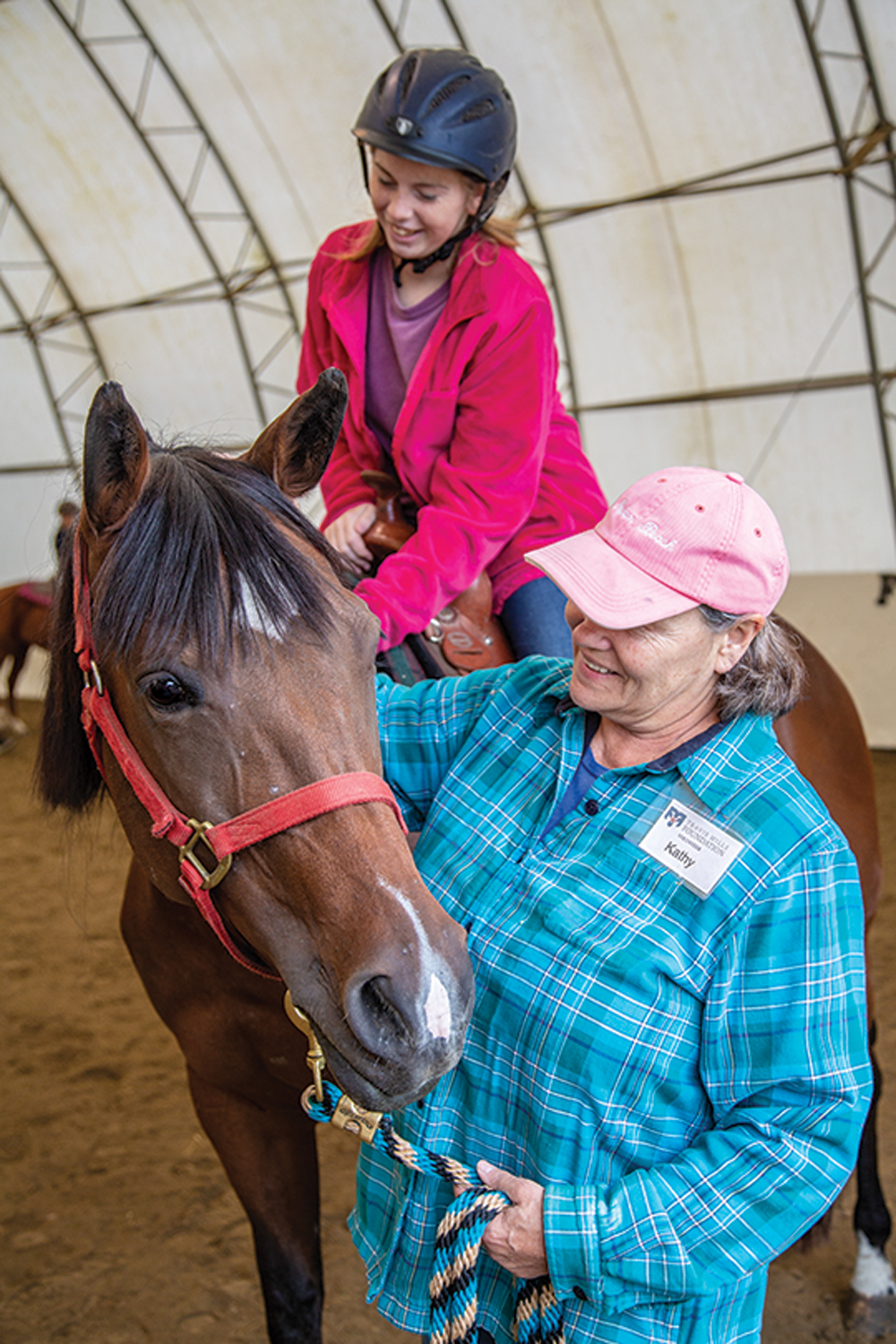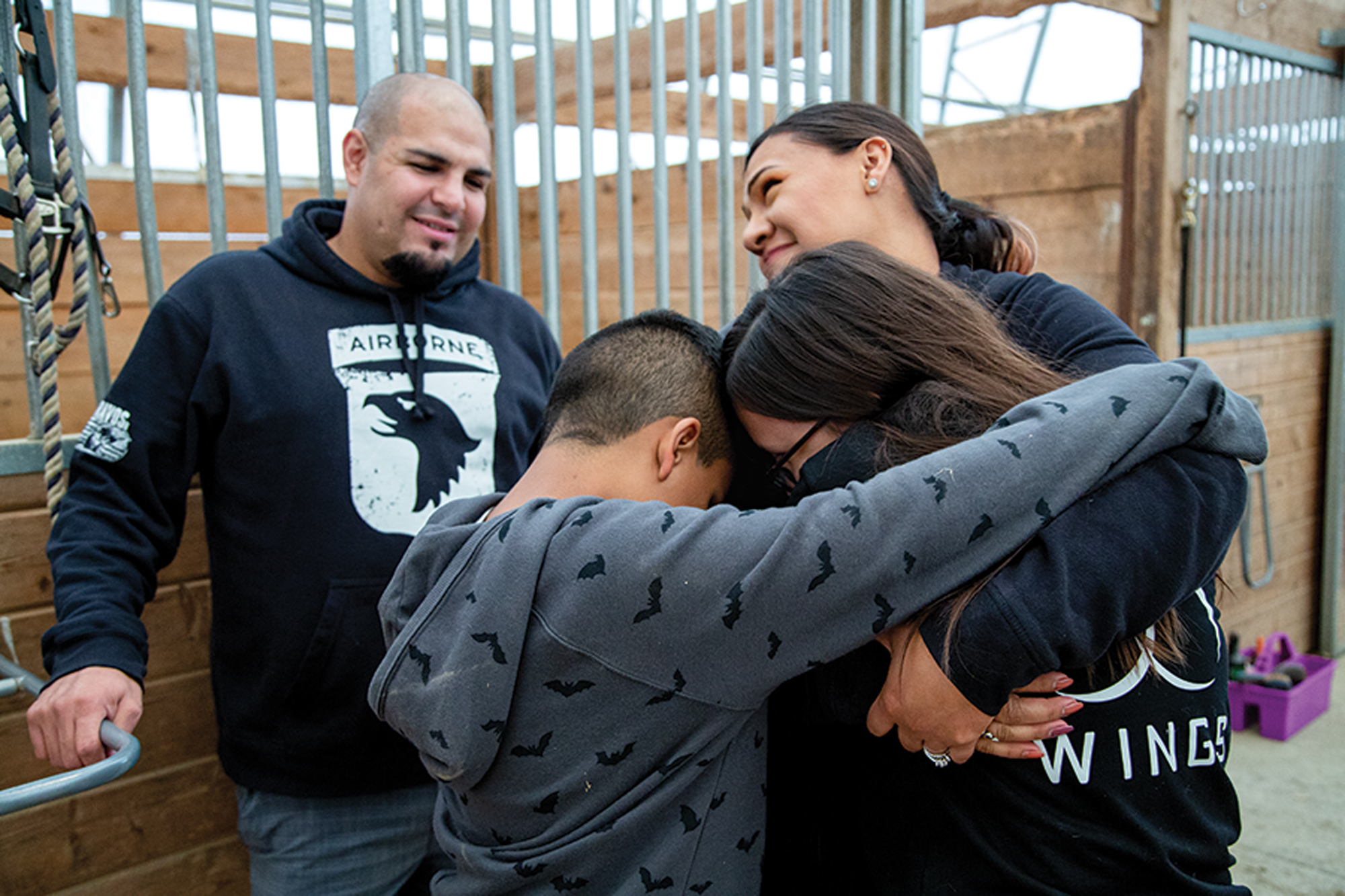 Opportunities for vets and their families to unwind at the Travis Mills Foundation's retreat include a disc golf course, various watersports, a movie theater, and an equestrian center.
"For me, having her there to experience it was huge," he remembers. "So I wanted to build a place where family is at the forefront. I want that spouse who can maybe say, 'This is the first time I went on vacation where I could watch my partner participate in everything and not worry if they're going to fail at it or if it's going to affect them because they can't do something that everybody else can.'"
Mills and his team spent years rehabbing the property before opening in summer 2017, with a mission to help vets "unite with the land, water, nature, and each other to revitalize themselves and to keep moving forward." The former Maine Chance Spa consists of an 11,000-square-foot main house with eight separate suites that can sleep families of up to seven. There's a movie theater in the basement, a massage room, and a library. On the pond are kayaks, canoes, paddleboards, and boats for tubing, waterskiing, and sailing, many of them modified with adaptations like special grips for paddlers lacking hand function or pontoons to adjust for unequal weight distribution. At the end of the dock is a special system that enables even quadruple amputees to launch their own vessels into the lake.
Last year, the retreat welcomed 84 families for weeklong stays over the course of 11 weeks. This year, with an expanded calendar, they'll host 128 families, and they hope to surpass 200 next year. None of them pay a dime — the foundation even covers airfare.
These days, Mills spends much of his time on the road, giving public speeches, but he tries to come back to Maine at least once per week. "He comes in like a wrecking ball," the foundation's executive director, Brandy Cain, says of her boss's energy level. "Travis says he has this whole crawl-walk-run mentality, but sometimes I think it's more like walk-sprint-bolt."
With only six full-time staffers — including a former Walter Reed physical therapist who specializes in disabling injuries — the retreat is powered by some 400 volunteers, 40 or 50 of whom come at least once a week. A visitor might spot them prepping meals in the kitchen, weeding the garden, or sorting through the piles of donations that arrive daily. Many, if not most, are veterans themselves. One Vietnam vet is tasked with bringing fresh lobsters each week. A retired Army brigadier general serves as an airport shuttle driver and occasional tour guide. An Air Force vet who summers nearby donated his 57-foot sailboat a couple years back and has since returned a couple times a week to volunteer with his wife. They keep coming, they say, because of the spirit of camaraderie.
"I have a lot of guys who get kind of emotional when they leave," Mills says. "They give me a hug. They say, 'Thank you so much.' I say, 'Hey man, thank you for your service. This is everybody believing in you. This isn't me — this is everybody. I get to have the name on the door, but this is everybody together.'"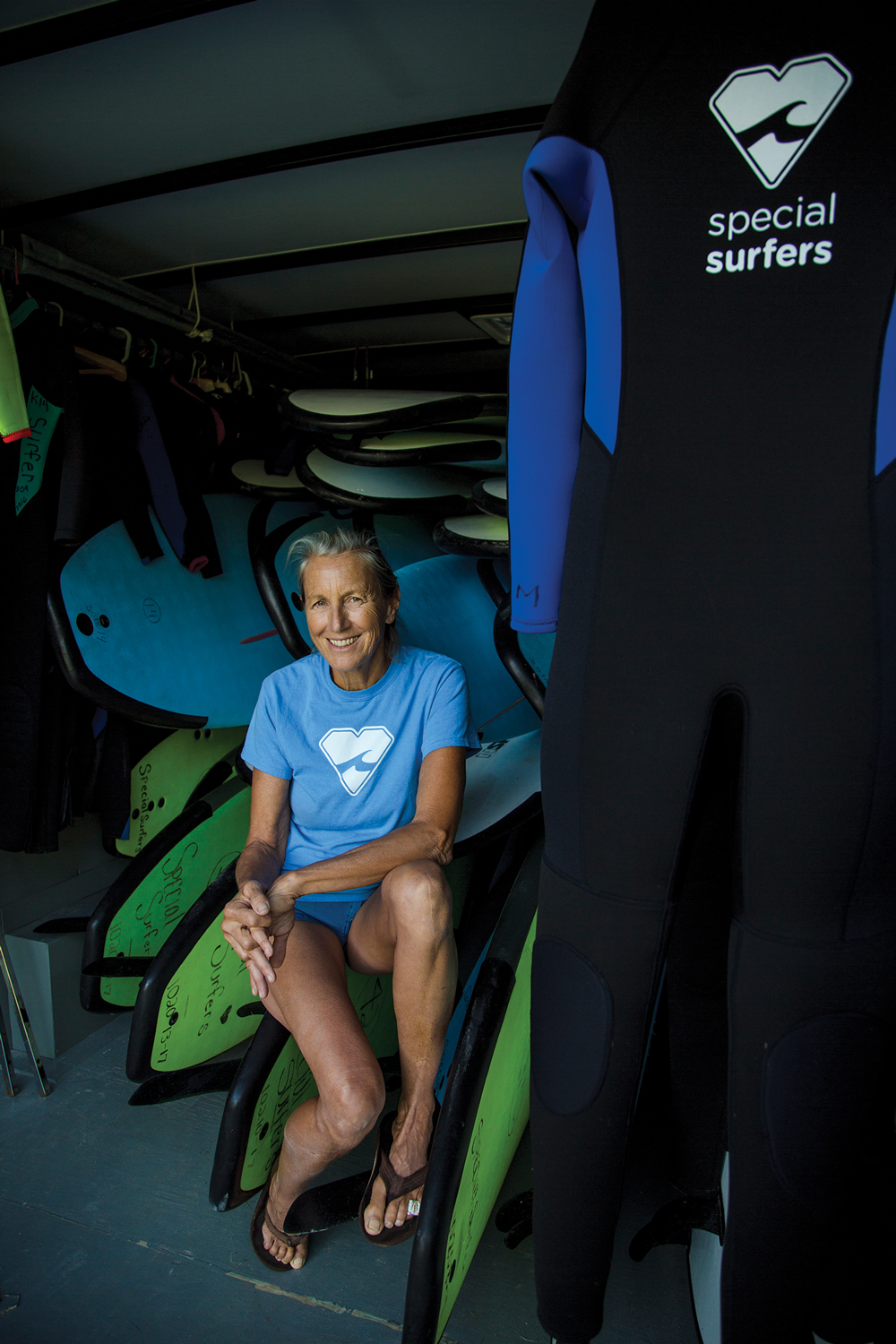 Nanci Boutet hauls the Special Surfers gear — hundreds of boards and wetsuits and more — piled high in a beat-up trailer, typical of her unceremonious #vanlife approach to good works.
"It's About Making Sure That Everyone Gets to Feel Great"
With a no-limits ethos — and a brassy attitude — Nanci Boutet and Special Surfers bring adaptive recreation to the water.
By Kathryn Miles
Surfing Photos by Peg Keyser
Get one thing straight: Nanci Boutet doesn't give a damn what you think about her. She knows she has a reputation for being brash and irreverent, that she swears like a sailor and runs her nonprofit organization, Special Surfers, like a maverick. But none of that matters, as far as she's concerned, because Special Surfers isn't about her. It's about the hundreds of kids with special needs who show up at Gooch's Beach in Kennebunk each summer.
The challenges that bring them there vary widely. Some have been diagnosed with autism or Down syndrome. Others spend most of their days confined to wheelchairs or hospital beds. But Boutet doesn't give a damn about those details either.
"This isn't about difference," she says. "It's about making sure that everyone gets to feel great and experience what the ocean can give. It's about connecting people."
Boutet, who's 62 and lives in Saco, first grabbed a board when she was 36. In 2002, she opened Aquaholics, Kennebunk's first surf shop, as homework for a college class. She was in it for the course credits, sure, but she was also out to help democratize a sport that can seem intimidating and cliquey to newbies, particularly women. That same year, she launched a free weekly surf clinic she called Mom's Mornings, for any women who wanted to learn. Once a week, she'd show up at the beach with boards and wetsuits, along with a colorful vocabulary and a tough-love approach to instruction.
"Basically, I was the surf Nazi," she says. "I'd have the women sign a waiver, and I'd scream violently at them like a drill sergeant and, inexplicably, they'd come back over and over again."
A friend who works with kids on the autism spectrum saw the success of Mom's Mornings and suggested Boutet take out a few kids with autism. Behavioral therapists have long touted adaptive experiences like horseback riding and skiing as ways to develop the brains and bodies of people with special needs. So why not surfing? Boutet — who's quick to point out that she has no background in special education or developmental psychology — thought the idea sounded like fun.
So in the summer of 2003, Boutet, along with her husband and son, paddled three grade-schoolers into the waves. They all had a blast. Special Surfers kicked off in earnest the next summer, when Boutet and her friend grew the program to 23 kids.
Melissa Dennis was working as Boutet's bookkeeper at the time, and her son, Cameron, was 17. Cam has spastic quadriplegia, a severe form of cerebral palsy. He's nonverbal and unable to move on his own, and he's prone to seizures and aspiration. Boutet thought it would be a great idea to get him on a paddleboard.
She strapped a beach chair to a board and bought some harnesses to secure Cam to the chair. The idea was for a few volunteers to push the board in flat water, so Cam could experience some gentle rocking, but that's not how it went down. Instead, the volunteers pushed him into some small waves. Watching from shore, Dennis didn't know if she should be excited or terrified — until she saw the look on Cam's face.
"He had the most beautiful smile," she recalls. Five years later, she still tears up talking about it.
Today, Cam is 22 and continues to surf. Melissa serves on Boutet's board of directors and has been instrumental in getting more kids with profound physical disabilities in the water. More than anything, Dennis says, the program is about making people happy: "When you spend your whole life dealing with medical issues and daily care, you lose quite a bit of joy. What Special Surfers does is give the kids and the parents time to just sit back and enjoy the moment they're in."
More than 300 kids participated in the program this summer, aided by an equal number of volunteers, including Tasha Pinkham, Kennebunk's director of parks and rec. "You can't quantify the expressions of pride and happiness on the faces of these parents as you guide their children to shore," Pinkham says. "I'm always glad I'm in the water with the kids — it helps to hide my tears."
That sense of pride is something Boutet does give a damn about.
"This is about bringing together people from all walks of life," she says. "I don't care if you're in a wheelchair or a bike gang, if you're a cop or you're on the spectrum. Special Surfers is about understanding that we all contribute to society."
And when she looks at the world in 2018, Boutet says, she worries that we're losing that understanding.
"I'm done with people who want to divide and conquer," she says. "More than ever, we need to learn to be respectful and kind, to see how alike we all are. These kids do that better than anyone — and that's really f—ing cool."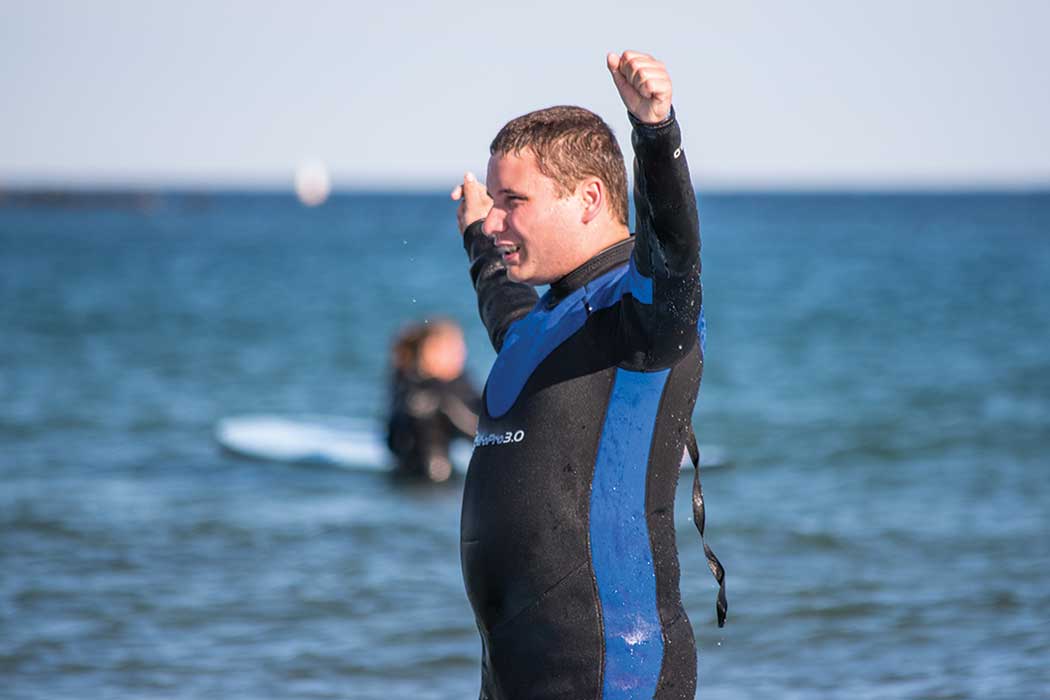 Scenes from Special Surfers night at Gooch's Beach.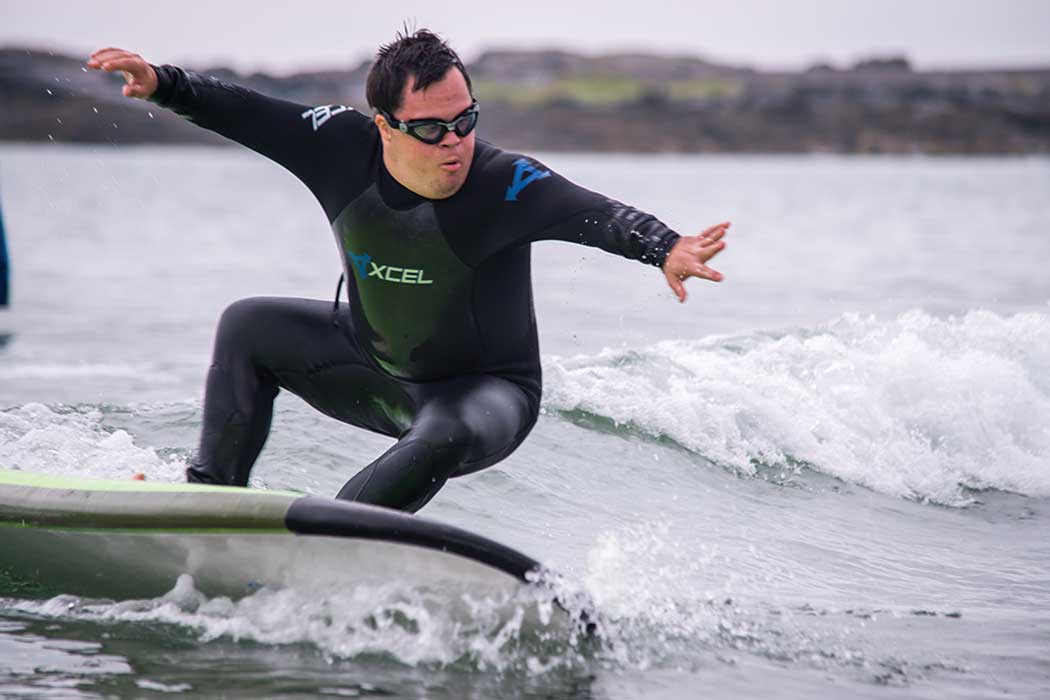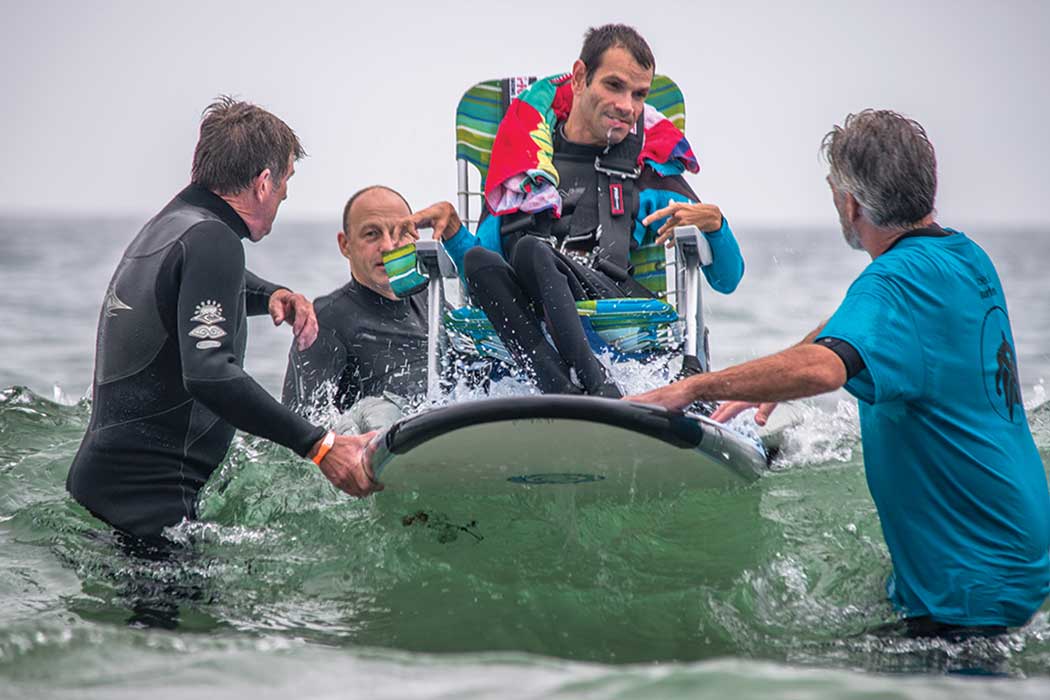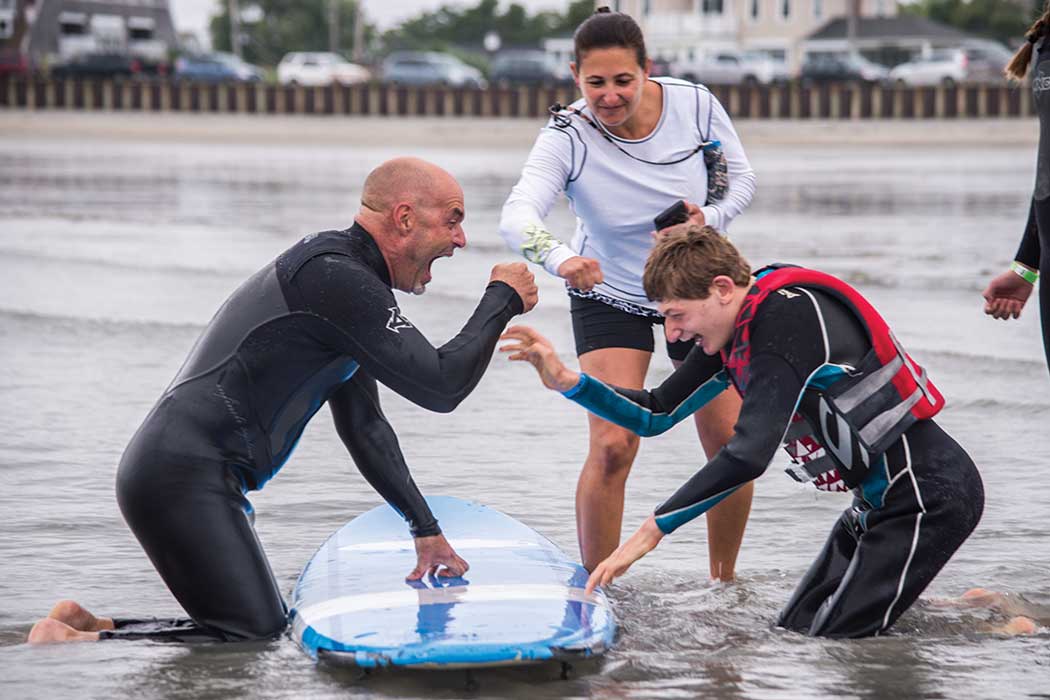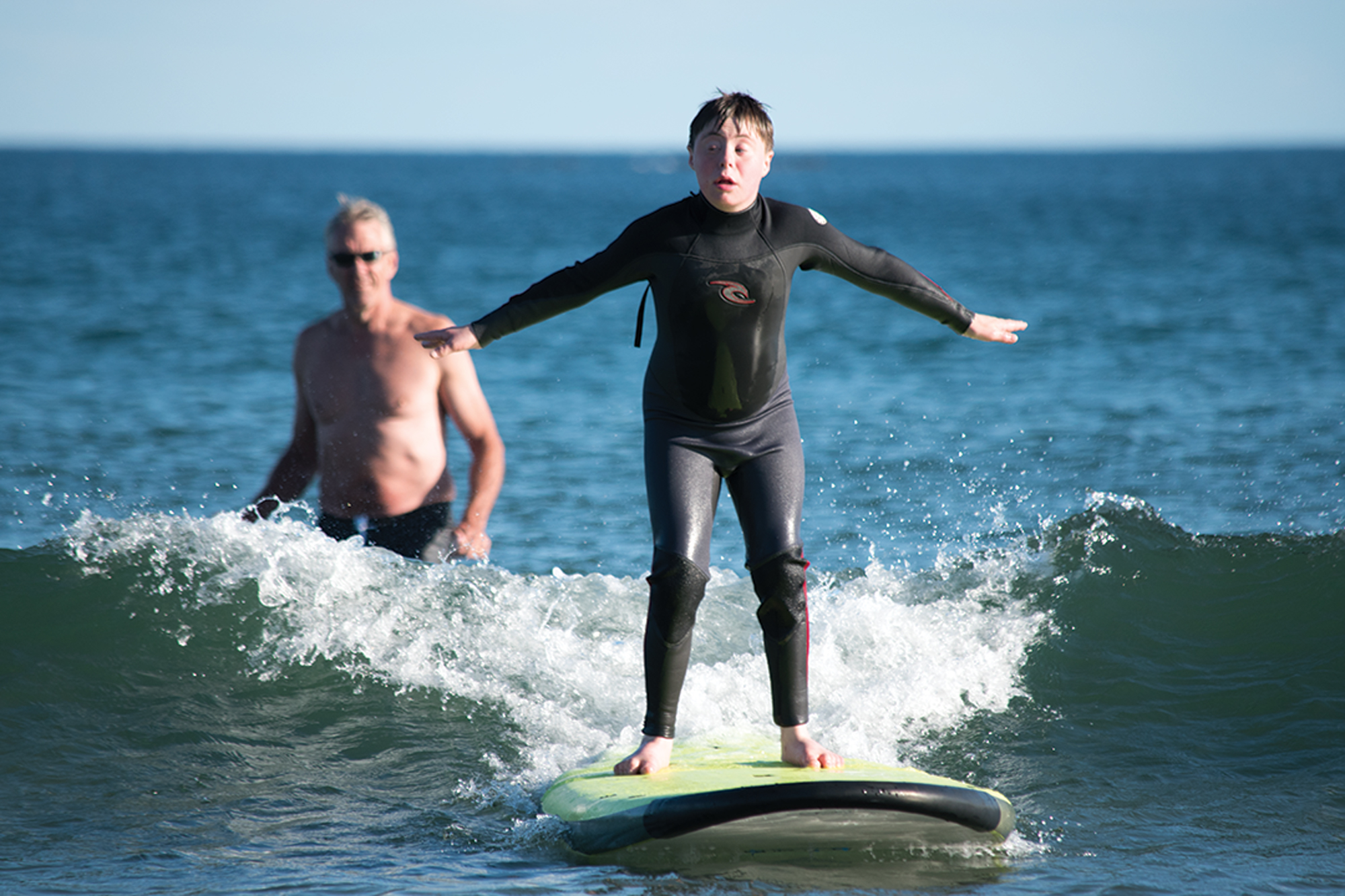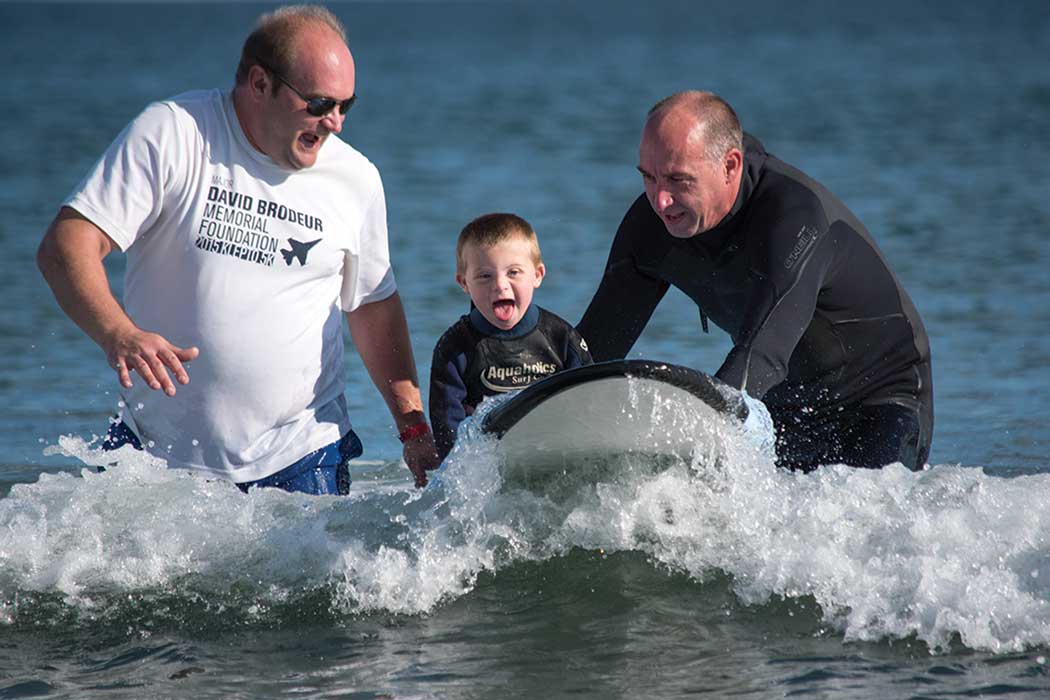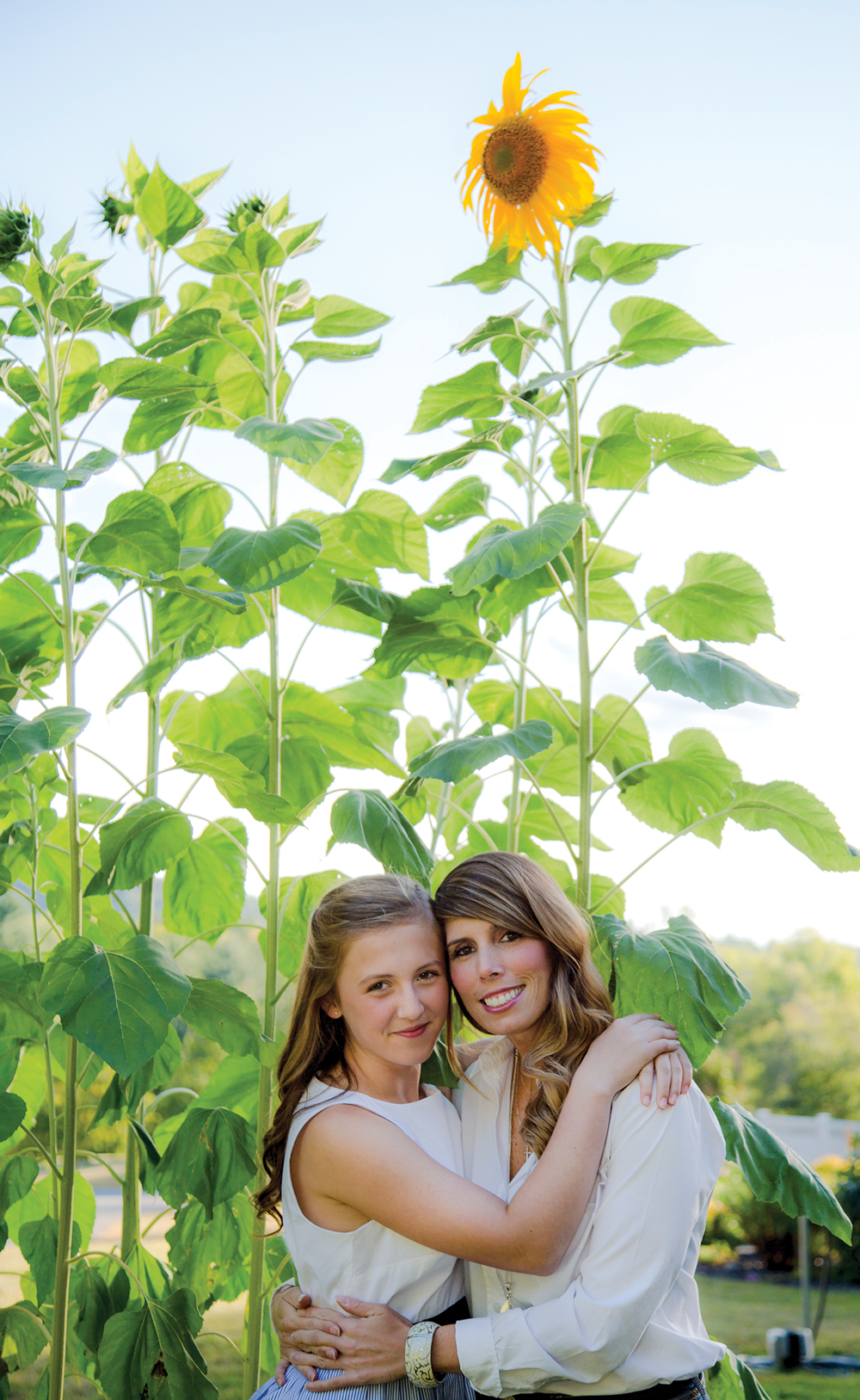 "A Place to Find Comfort"
In Holden, the family of one inspiring cancer victim carries out their loved one's last wishes — helping other patients find healing solace.
By Steve Rideout
Outside the sprawling colonial farmhouse in Holden known as Sarah's House is a granite bench inscribed with a quote from the young woman who gave the property its mission. "It was in my battle with cancer that I found my true purpose for living," 26-year-old Sarah Robinson declared in the summer of 2011. At the time, the Dexter native and Old Town resident was in remission from a malignant brain tumor, for which she'd received treatment at Eastern Maine Medical Center's Lafayette Cancer Center in Brewer. Later that year, her cancer returned more aggressively, and in December, Robinson lost her battle, leaving behind a grieving husband and a 5-year-old daughter, Morgan.
During treatment, Robinson had befriended another cancer patient, a woman from Eastport who made a five-hour round trip almost daily to receive chemo and radiation at northern Maine's only cancer-care center. Robinson offered her a bed in her home. Then, during her remission, the faithful churchgoer and Rotary Club member set out on her "true purpose," raising support and funds for a hospitality house that would host rural Mainers traveling to Brewer for cancer treatments.
After Robinson's death, her husband, daughter, and twin sister, Lindsay Turner, took up the cause. Turner barnstormed the state, speaking to any group that would listen about the need for a facility giving cancer patients the comfort of a home away from home. Morgan sold lemonade, fresh eggs, and hand-painted pumpkins to raise money to realize her mother's vision. In 2013, Turner found an affordable former furniture showroom in nearby Holden, and by the end of that year, the nascent nonprofit hosted its first major fundraising event there. At the end of it, Morgan sang "Amazing Grace" to the attendees, a song she'd first heard at her mother's funeral.
"There wasn't a dry eye in the house," Turner remembers. "They knew how much Sarah loved music and how proud she would have been of Morgan."
Rotarians from Old Town and Bangor helped renovate the property, which now features nine guest rooms, sunny common spaces, and a vast healing garden outside. Sarah's House started accepting guests in fall 2014. Since then, some 300 guests, along with their family caregivers, representing 14 of Maine's 16 counties, have stayed around 3,500 nights. Those overnights have saved the cancer patients an estimated 550,000 miles in travel. If they are able, they pay a suggested donation of $15 per night.
The house relies on volunteers, says executive director Delores Landry, who handle laundry and cleaning, help with meals, and more. In four years, Landry says, Sarah's House volunteers have logged some 5,600 hours. Among them are Lindsey Turner, now a nurse at Bangor's St. Joseph Hospital and vice president of the Sarah's House board, and 12-year-old Morgan Robinson, who spends her school breaks prepping meals and baking treats at the house named for her late mom.
"Sarah's dream becoming a reality has given so many Mainers a place to find comfort during their cancer journey," Turner says. "Walking in feels exactly as she described it before she passed. It's an incredible feeling."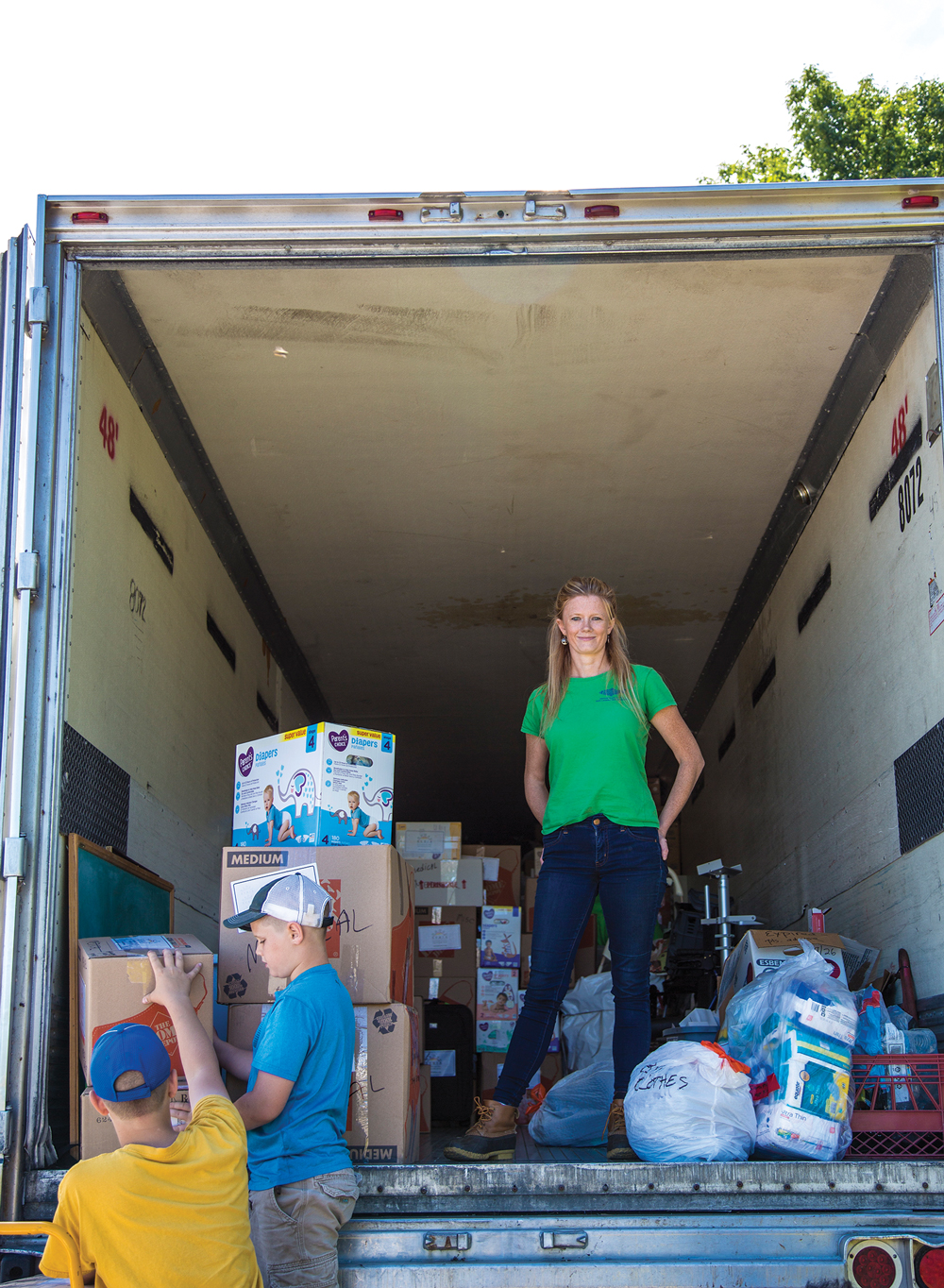 ""It Got Bigger and Bigger and Bigger""
How Alison McKellar's humble donation drive morphed into an ambitious aid effort for displaced Syrians.
By Jesse Ellison
It may seem unlikely that Alison McKellar devotes so much of her life — and basically all of her front porch — to supporting Syrian refugees. She's never been to Syria, and when she started collecting donated items to send there five years ago, she had no particular relationship to the place. She was living back in Camden after years of traveling to Latin America for aid work and volunteerism. She was going on 30, a new mom, and, McKellar says, "struggling to find a purpose." Up late nursing her baby, she found she couldn't look away from TV coverage of the unfolding Syrian crisis.
"The people were asking for freedom and democracy, the right to criticize their government, and the release of political prisoners," she says. "What they were asking for are the things that we have in this country and that we take for granted. I just kept following it. I started talking about it all the time."
She talked about it so much that a former high-school teacher asked her to speak to a class about it. "They said, 'Can we donate teddy bears to refugee camps there?'" McKellar remembers. "I thought, 'Kids are so naive. If they had the international humanitarian experience I've had, they'd know that's not possible, not efficient.' But you're not supposed to discourage the high-school students." Back home, McKellar got online and discovered NuDay Syria, an organization that ships donations to Turkey for transport into Syria, run out of New Hampshire by a Syrian-Danish-American mother of eight.
So McKellar led one small donation drive, then started collecting donations on her porch, driving to New Hampshire every few weeks to drop things off. "Each time I thought, okay, I've tapped out my social circle — I'm sure next time around we won't have as much," she remembers. "But the opposite happened. It got bigger and bigger and bigger."
Before long, she found herself renting the longest truck she could legally drive. She got a few hospitals involved, asking for anything useful they might otherwise throw away. They gave not just supplies, but furniture — dental chairs, gurneys, birthing beds — and medical equipment. By 2016, McKellar was packing a 40-foot container and shipping it herself, right from the midcoast, at a cost of about $6,000, raised through donations.
Today, she has the help of 30 or so regular volunteers. She's sent six shipping containers, each with $150,000 to $200,000 worth of items inside. Her main storage space is a tractor-trailer in a church parking lot in Rockland. Her fliers still list her home address, though, and encourage people to drop things off anytime, so her porch is invariably crowded with bags and boxes. It's been that way for so long now, McKellar barely notices. Still, she says, "I really hope that there will be a day when Syria doesn't need our trash anymore."
---