Real Mainers on How to Make a Living, Buy a Home, Find Purpose, Love the Winter, Meet a Soulmate, Raise Brave Kids, and Put Down Roots in Maine.
How do you do it? It's a question we get a lot from our out-of-state readers, folks who dream of making a home in Maine but are worried about the weather or the job market, about adapting to a rural community or finding the right school for the kids. And, as our in-state readers will testify, there are indeed obstacles to living in this place we love. But they're nothing that can't be overcome with a sense of adventure, of humor, and of community. This special feature package, starring some of our favorite writers, is for anybody who's ever envisioned a life in Maine — and for all those Mainers who recognize their experience in its pages.
HOW
WE
DO
IT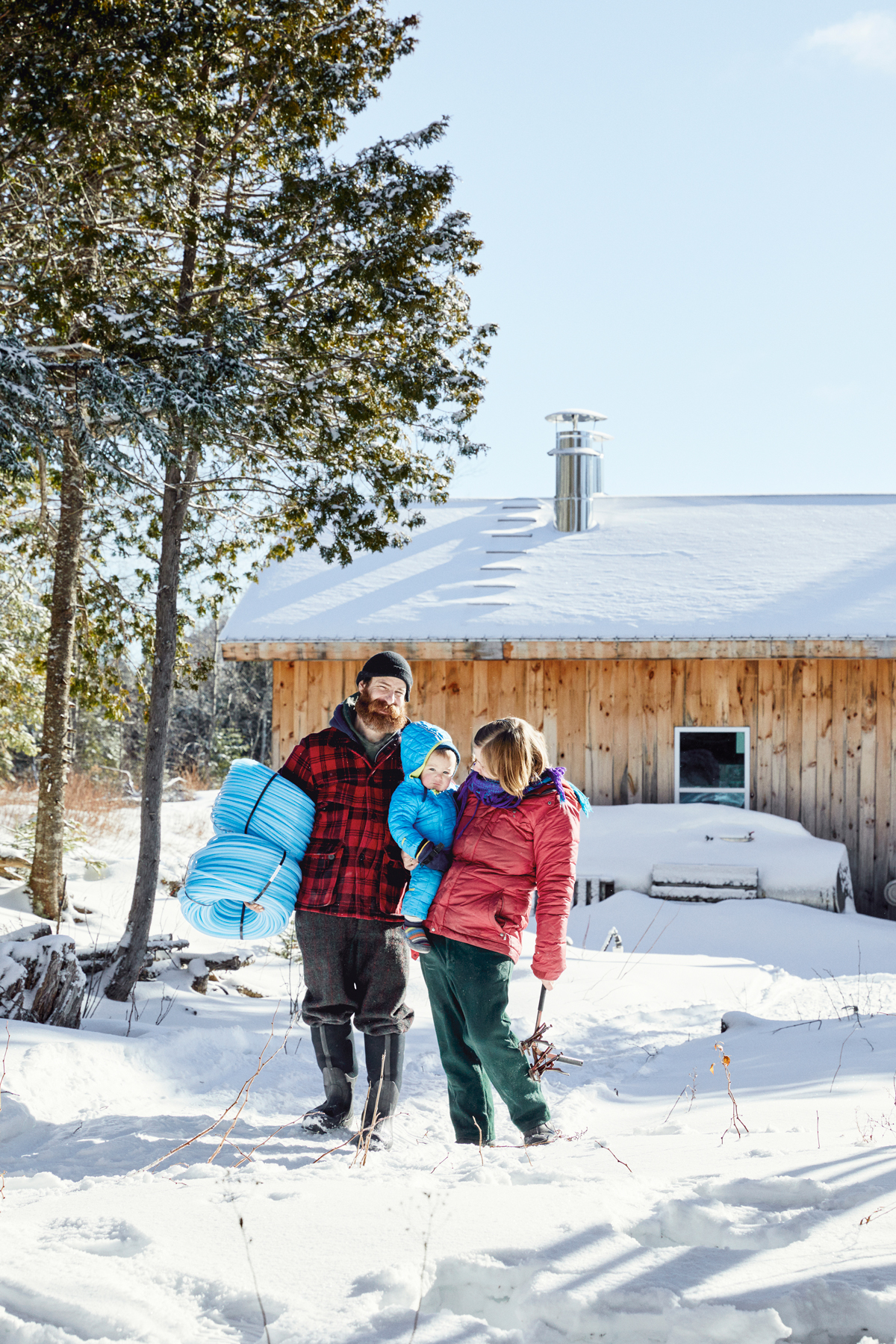 I. HOW TO MAKE SENSE OF A MAINE HOME
Why is this house attached to a barn? What does that light switch do? And, um, what's with the tarp? Let an expert walk you through it.
BY HANNAH HOLMES
When the price of heating oil spiked in the 1970s, my dad glued blue insulation-board to the walls of his home office, weatherizing from the inside. He stapled clear plastic over the windows to keep out winter winds — and spring and summer and fall winds, as it turned out. Such bold innovations are the sort of thing you might encounter when you start looking for your dream house in Maine.
Maine's housing stock is among the oldest in the nation. That's because most of the state hasn't enjoyed a building boom since . . . ummm . . . . Even in the legitimate boomtown of Portland, more than half of all homes are at least 75 years old. As a result, when you go house hunting, most of the places you'll see will have been remodeled and remuddled, restored and adored by many generations of owners.
And those owners are known for their Yankee ingenuity, not for their adherence to principles of attractive design. In the battle of form versus function, the champions of form hold only a few urban centers across the state. All around them, ingenious pioneers of shelter technology wage a campaign to continually improve upon home improvement. You should be prepared for some of their more popular techniques.
The "New Englander," for example, is a structure that began as a two-story home but, over decades and centuries, has been wrapped in a series of added wings, porches, and tractor sheds, each of which gradually acquired a couple of windows, plastered walls, and mysterious light switches. The New Englander is the architectural version of a turducken.
Inside, the most recently annexed room might feature "Pine State parquet," better known as plywood, or "state o' Maine wallpaper," better known as the printed-paper side of insulation. Belowdecks, the "rubble foundation" might bring to mind an oversized, subterranean stone wall. And fluttering high in the rigging, you may spot the "Maine state flag": a blue tarp lashed over a leak in the roof.
Inside, the most recently annexed room might feature "Pine State parquet," better known as plywood.
But you needn't be intimidated by such ingenuities. Every civilization has its architectural vernacular, as well as a corresponding corps of experts who maintain such structures. In Maine, a surprising percentage of these experts bring to their trade degrees in philosophy, English, or fine art. The result is a roster of home-improvement talents who can tutor your kids in music theory while jacking up your porch. Your real-estate agent will have an iPhone full of such eccentrics to share with you and can direct you to the gas stations that sell the blue tarps.
Attending the three-hour home inspection of any house you put under contract will save you approximately three million hours of figuring things out yourself.
Attending the three-hour home inspection of any house you put under contract will save you approximately three million hours of figuring things out yourself. Maine home inspectors have encountered countless examples of Yankee engineering, and they can put these into a calming context for you. When I tell my real-estate clients, "Those plaster cracks are normal in this climate," what my clients hear is, "I'm tired. Please buy this hell-hole." But inspectors get paid whether or not you buy a house. So when they tell my clients, "Those plaster cracks are normal," my clients swell with pride, having selected a property so cleverly constructed that the very walls adapt with the seasons.
Attending the three-hour home inspection of any house you put under contract will save you approximately three million hours of figuring things out yourself.
If you do skip your inspection, you will be sent a 40-page report listing the home's "material defects." And lacking the inspector's soothing voiceover, this will be the most terrifying document you ever read.
But the truth is that every old house is like a small museum, and that inspection report is a catalog of your museum's unique holdings. A proper museum will display heating technologies spanning many eras: fireplace, cast-iron radiators, some baseboards from before that heating-oil shortage, a woodstove from after. The same goes for flooring and electrical systems: one house may contain half a dozen types. Reading between the lines of this catalog, you'll find record of an economy in which disposable income has historically been scarce, in which design has primarily been driven by such dilemmas as, "So Grammy's moving in — how can we heat the tractor shed?"
An old Maine house preserves a record of pragmatism. And if necessity is the mother of invention, then pragmatism is invention's crazy uncle. With no natural inclination to follow directions, Yankee problem-solvers have long responded to necessity with a spirit of, "Hey, what if we try this?"
The results are not always beautiful, but they're usually functional. If not, there is always a tarp.
---
Hannah Holmes is a real estate broker at Keller Williams Realty Maine. The author of The Secret Life of Dust, Suburban Safari, and other books, she blogs about humans and their territorial issues at geekrealtyblog.com.
UP NEXT: HOW TO HAVE A CREATIVE CAREER
II. HOW TO PULL OFF A CREATIVE CAREER FROM A TOWN WITH FIVE STOPLIGHTS
If Spose can make it as a rapper here, you can make it as whatever you are.
BY RYAN "SPOSE" PETERS
In March 2010, I signed a record deal with Republic Records and filmed a pilot for an MTV show. That year was a really good one for me. At 24, I'd achieved my life goal of getting paid to be a rapper full-time. That summer, whenever I'd see people out at Barnacle Billy's in Ogunquit or The Steakhouse in my hometown of Wells, they were shocked that I was still around. I guess they thought I'd have moved to Los Angeles or New York or wherever successful people are supposed to disappear to. I'd laugh and let them know that, nope, I plan to live in Maine forever.
Truly, there's not much reason for me to leave. I can work anywhere with an electric outlet and WiFi, and staying in Maine — even though I'm a rapper by trade and a father of four — has been no roadblock for me.
For starters, it's cheaper. City rents and mortgages suffocate a lot of creatives' finances, leaving them little or no money to invest in their dreams. In Maine, especially outside of Portland, the price tag of survival is less likely to stifle a hungry artist. I rent my two-room recording studio in Sanford for $350 a month. That's a crazy bargain, but any Maine commercial space is exponentially cheaper than a comparable space in, say, San Francisco.
What's more, although it still seems to surprise some from-aways, we have the internet in Maine now. That means YouTube, Spotify, and iTunes are as close to Maine as to Los Angeles. Sure, until the 2010s, the chances of an artist "getting discovered" from a place like Maine were much slimmer than now — for a musician, local radio success was the only way out of our state. But today, as remote as Maine may seem, a song uploaded to Spotify or a film posted to YouTube from here is distributed to just as wide an audience as any project from NYC.
Every year, when I do my taxes, I'm happy to note almost all of my music and video budget is spent here. Maine has a breadth of talent and a collaborative vibe on par with any city. Maine artists do my album art. Maine filmmakers shoot almost all my music videos. My eight albums have been recorded and mixed by world-class engineer Jonathan Wyman at the gorgeous Halo studio in Windham. Even when I was signed to Republic, I had them foot the bill to record at The Halo instead of the swank Sony Studios on Sunset Boulevard (though I was honored to make some songs there too). Just up the road from The Halo is arguably the best mastering studio on Earth, Gateway Mastering, where legendary engineers Bob Ludwig and Adam Ayan have amassed 11 Grammys (and dozens more nominations) for work with artists like Beyoncé and Beck.
---
Yeah, I enjoy when the crowd in Denver knows the words to my songs. I love playing Chicago (and Austin and Salt Lake City and New York and even Toledo). But my favorite part of tour every year is after the last show, driving up I-95, crossing the Piscataqua River Bridge, and arriving back in Maine. You know the old Maine colloquialism, "You can't get they-ah from hee-yah"? Well, you can get they-ah, and you don't need to leave hee-yah to do it.
---
Ryan Peters records and performs as Spose. He wrote and recorded his latest album, Humans, in 24 hours with the help of three dozen Maine musicians and collaborators. Read, see, and hear more at sposemusic.com.
UP NEXT: HOW TO GET REAL ABOUT MONEY
III. HOW TO GET REAL ABOUT MONEY
On adjusting to a life lived closer to the bone (and to neighbors who aren't shy about discussing it).
BY JILLIAN BEDELL
In The Velveteen Rabbit, the venerable Skin Horse advises the titular hare that he cannot become real until a child truly loves him — and that when you are real, you don't mind being hurt. When I first moved to Maine, I was like that stuffed rabbit, soft and satisfied and unprepared for harsh realities. After four years living on the beach in Mexico, my husband and I had moved to Portland's West End, hoping to enjoy a little bobo city culture and, eventually, have a baby. Parenthood, I thought, would be fun, a diversion from the endless sex, booze, and adventure of our 20s and early 30s, which had started to feel monotonous.
At the time, we both worked at home, drawing paychecks from outside the constricting confines of the local economy and enjoying daily buckets of steamers and bottles of wine. I was the one who'd pushed for a move to Maine. My husband, who grew up here, came along grudgingly, although he admitted his childhood had been idyllic. In that mythic time before playdates, he and his friends would leave home in the morning and spend all day riding bikes, building forts, and daydreaming where the St. George River meets the sea. I was smitten by my imaginings of his free-range youth. I knew my kids would have a wild childhood in Maine — good wild, more Huck Finn than Corey Feldman.
And so, after a period of adjustment and shellfish, we moved to the midcoast and dove into baby-making. It was the beginning of the end of our song of innocence. The baby was conceived, and almost immediately, my husband and I lost our comfortable internet jobs. We still had revenue from our semi-popular food blog, so we could keep stocking up on wooden, gender-neutral toys from the Land of Nod catalog, but now it was tough to heat our drafty farmhouse. And I had no idea how real it was about to get. It was January and zero degrees out when I left the hospital birth center.
I had no idea how real Maine was about to get.
I was starting to glimpse another, realer version of life in Maine, one I'd heard about. In every conversation I'd had with a Mainer, the subject of money seemed to come up. At first, I was Victorian-horrified: "My dear, we do not speak of such matters!" Money — not having enough of it, the struggle to reconcile the cost of living with actual wages, the various strategies to stretch it — was a regular topic of conversation with even the most casual of acquaintances. I heard about money troubles from the bank teller who told me how to get kids on MaineCare. From the coworker behind me at Hannaford who, when my debit card was declined, paid for my groceries without hesitation.
From the fellow preschool mom who asked to switch snack week because she couldn't afford Pirate's Booty and organic yogurt that week. There was no pretense, no facade of wealth or comfort, no breezy assertions that all was mysteriously fine. I found it charming and disarming, and I marveled at it then.
These days, I'm raising two small girls on a single Rockland salary. I know I could have it worse. But I think nothing anymore of looking at a store clerk and turning out my pockets like a Depression-era hobo, with an exaggerated eye roll that acknowledges my near-empty coffers. We're all in this together, I mean to convey — the same message, I know, that my friends and neighbors had meant to convey then, back when my license still said Connecticut.
As a writer and marketer, I spend a good amount of my professional time selling the dream of Maine. And I still believe in it mightily — more than I did before, in fact — but I'd be perpetuating a lie if I didn't address the Skin Horse in the room. Being real isn't easy, and like the Velveteen Rabbit who stuck with his boy through a fever, one learns about love through suffering, or being attendant to it. The rabbit lost his fur, was stripped down to his essence. And then he was transformed.
Being real about Maine means acknowledging it can be hard to live here. It's a choice we make actively, every day. We ask our neighbors for help, without shame. We give freely of our time and skills when we have a small abundance. We work hard, and when that isn't enough, we say so. Life here is a careful balance, one sustained through honesty, cooperation, and community. My advice to the starry-eyed is to cast off conventions about money and decorum as you drive over the Piscataqua River; let them fall into the water where they belong. You may arrive with one set of plans, a closetful of Marmot jackets, and money to burn. But Maine has a way of changing all that. And that's okay. Because you will learn what it's like to be loved, and you will learn what it means to be real.
UP NEXT: HOW TO KNOW EVERYONE IN THE REFRIGERATED AISLE
IV. HOW TO KNOW EVERYONE IN THE REFRIGERATED AISLE
Because anonymity is overrated.
BY MARY POLS
I moved back to Maine from California seven years ago, seeking good schools, proximity to family, and an affordable mortgage in Brunswick, the midcoast town where I grew up, population 20,000ish. Some of my friends were aghast about what they saw as the limited employment and romantic opportunities that awaited me. To say nothing of small-town grocery shopping.
"Brunswick?" my friend Rachel had asked, perplexed and skeptical. She'd been one of my roommates in the early 1990s in San Francisco, where we shared a Victorian flat in the Lower Haight with a raspberry-pink living room and either a disco ball or strobe light in the dining room (both our memories are hazy). She moved to Maine in 2004 and lived briefly in Brunswick before making tracks for the relative metropolis of South Portland.
"Mary, I don't know if you're going to be happy there," she warned. "I mean, the supermarkets . . . "
"Hannaford has balsamic now!" I countered.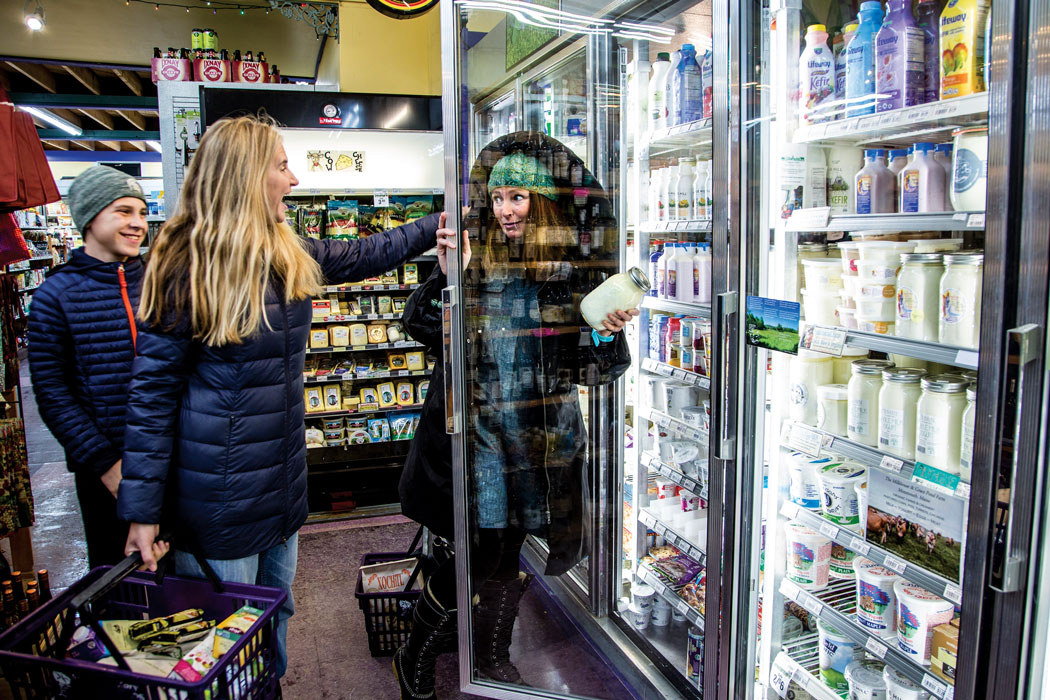 Two degrees of inescapability: You probably recognize author Mary Pols from the deli counter. 📸 Molly Haley
---
But these days, what's at the grocery store is less significant to me than who's at the grocery store. You've heard of the phenomenon of six degrees of separation? In Maine, it's more like two degrees of inescapability.
Maine is one big small town with very long streets. I stole that line right off Senator Angus King's Instagram account, but I feel no guilt about it, because the same sentiment is probably expressed a hundred times a day in this state of 1.3 million. "It's Maine," we say to each other, shrugging. And yes, of course I follow the Senator on Instagram. (If you lived here, you likely would too; he has a lovely sense of composition.) I particularly enjoy his posts from Brunswick, where he also lives, in a house that my sister and baby niece once lived in back in the early 1980s.
Initially, I was giddy about this kind of connectivity. Maine felt like a sort of extended party. I love parties.
Awareness of such connections creeps up on you. In my first year back, I noticed I never entered Hannaford without running into someone I knew. As I put down roots, that ticked up to two people before I'd turned the corner towards the seafood department. Seven years later, my peak count from parking lot to register is nine. Some would say I'm still a novice, having not yet reached double-digit hellos at Hannaford. (I have, however, bagged three at Morning Glory Natural Foods, which is much smaller.)
The web extends beyond the grocery store, of course. Sometimes way beyond. A college friend from New York once sent me a postcard from Nepal, where she was trekking. She'd met a guy from Maine, she said, and figured, hey, it's a small state, did he know her friend Mary? He sure did. We'd worked at Sebasco Lodge together in the '80s.
Initially, I was giddy about this kind of connectivity. Maine felt like a sort of extended party. I love parties. But if you're not in the right mood, chitchatting while rummaging for canning jars at Shaw's can feel like a lot of work. (No one will mess with you in the tampon aisle, however. We do have boundaries.)
Other hazards you simply have to accept. For instance, once you've lived here a bit, it is highly likely that when you interview for a job, you will know the person who has just left the position. This is good for inside dirt, but of course, it cuts both ways. Also, if you don't get the job, be prepared to run into both the person who did and the person who didn't give it to you. Maybe at the same time. Such an encounter might happen, say, as you're looking for a private place to pee on an island day trip.
Prior romantic connections and interconnections can be as tangled as the cables at the back of your television. From under my sink, a plumber once shared with me her low opinion of a man I'd dated, having previously done work for the man's ex-wife. (The ex is lovely, by the way; we frequent the same yoga studio.) I know a man who invited four of his ex-girlfriends to the Christmas party where he was debuting his new girlfriend. This may have had less to do with connectivity than sadism, but in any case, Maine made it possible. ("We all play nice," one of the exes said. "It's Maine.")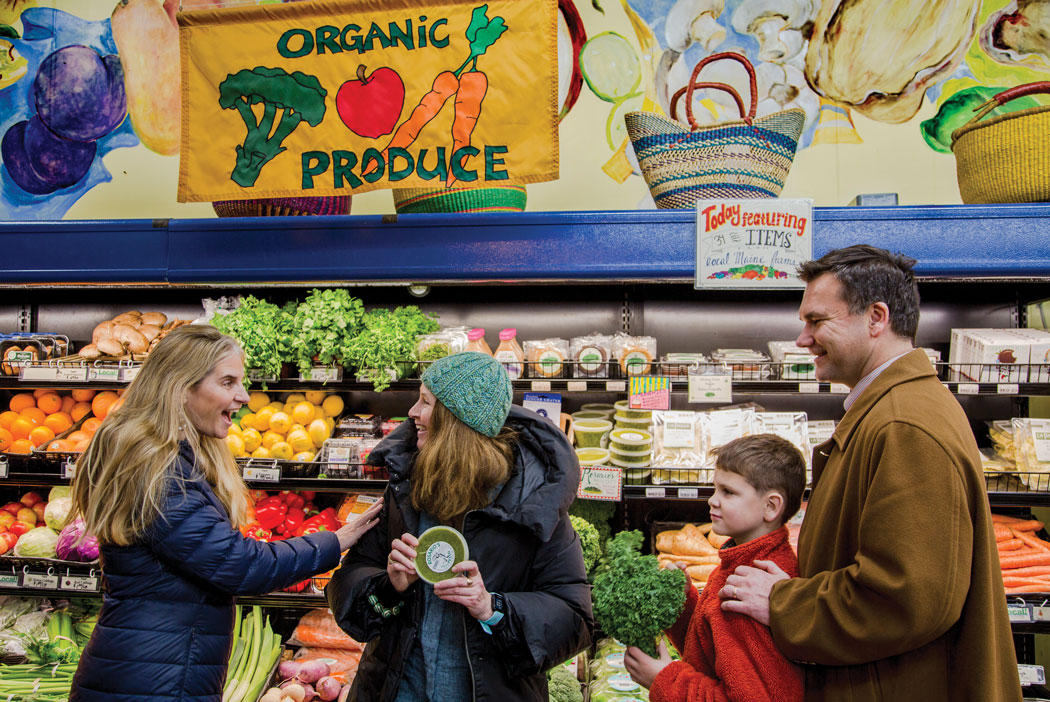 📸 Molly Haley
---
The two degrees of inescapabilty can feel like a trap, but it is possible to view it as an asset. I love stories. I want to know and be known, and Maine is ideal for those who value openness. I'm not condoning gossip (although you will hear it) or suggesting no one can have secrets, but in a state where it qualifies as privacy when just one person notices the police pulling you over, there's some extra motivation to live with integrity. (I swear I just had a headlight out.)
And there is something beautifully serene about the big small-town phenomenon, something it took me a while to realize, which is that you don't have to rush to build a life here. It will come to you, slowly and surely. I remember one lonely night in my third summer after moving back. I had no plans. I put on a dress and walked all over Portland. As I passed Longfellow Books, I saw that the novelist Kate Christensen, then a recent New York transplant, was inside talking about her first memoir, which I'd just read. I stepped in and took a seat. I listened to her joyous laugh, heard her talk about being in love with food, with Maine, and with her partner, Brendan, who stood at the back of the room. I looked around at the women in attendance. They seemed like women I'd like to know, but I felt shy, and I left without talking to anyone.
But in this big small town, people have a way of finding you and you them.
Three years later, I was a witness when Kate and Brendan got married at City Hall. So was our friend Genevieve, a writer and editor who'd also been a stranger in attendance that night at Longfellow. None of us can remember exactly how we became fast friends. Our origin story? It's Maine.
---
Mary Pols covers sustainability for the Maine Sunday Telegram's Source section. She's written for Time, The New York Times, and People. She's the author of a memoir, Accidentally on Purpose. 
UP NEXT: HOW (AND WHY) TO PERSEVERE (COMING SOON)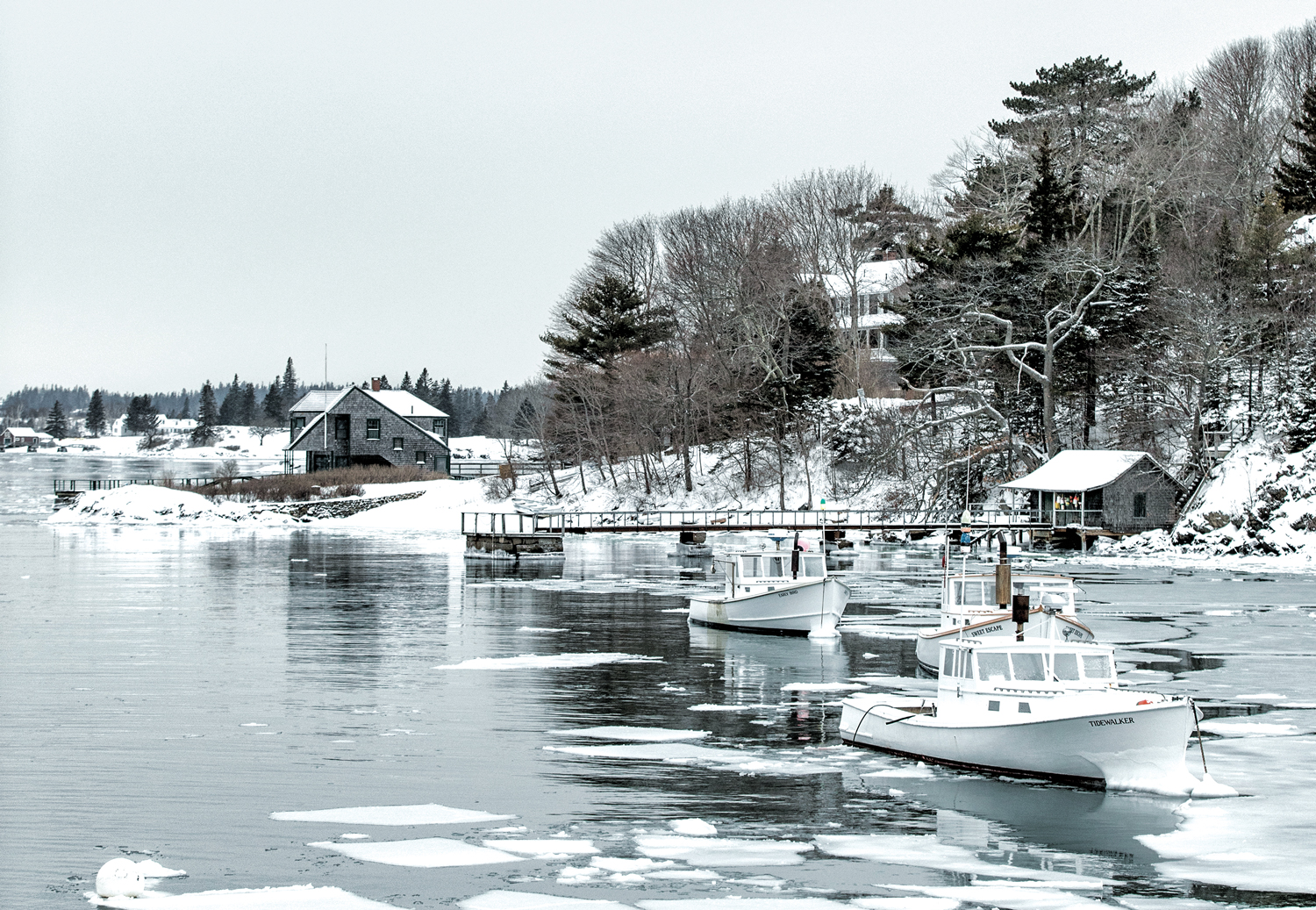 ---