In Lisbon Falls, two brothers live out their culinary dream.
By Mattie John Bamman
Photographs by Erin Little
On a recent Saturday evening, downtown Lisbon Falls's streets were quiet. Just about everyone, it seemed, was inside Flux, the restaurant run by brothers and first-time restaurateurs Jason and Tyson LaVerdiere. A young woman at a table leaned back in her seat, took in the scene, and began to point: "He's from Lisbon Falls. She's from Lisbon Falls. The waitress used to be my babysitter."
Flux opened last year, in a space previously occupied by Dr. Mike's Madness Cafe, a diner that, despite its zany name, dished up pedestrian plates. The LaVerdieres maintain a few diner-esque eats, like nachos and wings — but the nachos are made with aged cheddar and pickled sweet peppers, the wings are confited before getting fried and tossed in cherry-chipotle sauce, and those plates share menu space with offerings like a cast-iron-roasted half chicken with house-cured lardons and fermented leeks.
The mix of old and new carries over into Flux's look too. The chrome dining-car–style facade remains from Dr. Mike's days, and the LaVerdieres added their own throwback flourishes: framed vintage labels for Belle of Maine canned dandelions and Bird's creamed finnan haddie, plus a geometric turquoise-and-pink mural by Portland-based artist Ryan Adams. But most of the brothers' renovations lean contemporary. To replace the purple-vinyl booths, Jason made live-edge wooden tables by hand, and both brothers installed the red-oak bar, using wood from a tree their family cut down a decade ago.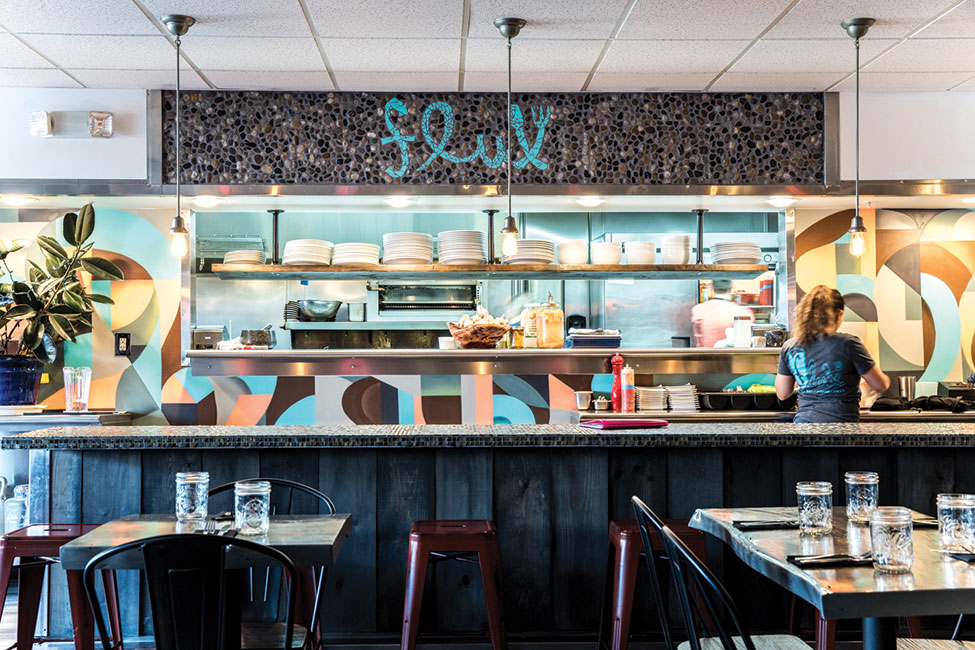 The spruced-up lunch counter; mussels, served in an IPA broth; chef Jason LaVerdiere, left, with brother and general manager Tyson; house-baked chocolate cake with ganache and whipped cream.
12 Main St., Lisbon Falls. 207-407-4109.
Price Range
Starters $5–$12, entrées $11–$27.
Lunchtime
The lunch menu is a short version of the dinner menu but with a few additions, including a Reuben riff: beef brisket, kimchi, Swiss cheese, and koji mayo on ciabatta.
Baked Goods
The kitchen came with a full bakery set-up already installed, which the LaVerdiere brothers use to bake breads and desserts, like their fudgy chocolate cake.
The brothers grew up an hour away, near China Lake. Their dad was an executive in the family business, LaVerdiere's Super Drug Store chain (bought in the '90s by Rite Aid), and he let them tag along on business trips. Dining out all those nights got the young brothers hooked on restaurants. As adults, they toyed for years with the idea of starting their own. Tyson worked at a couple of Waterville eateries, then went to school to study business and classical arts. At Flux, he manages the dining room and oversees the bar program, with 30 wines by the glass, a dozen Maine beers on tap, and a lineup of nicely balanced cocktails. Jason spent a decade cooking in Maine restaurants, most recently as sous chef at Walter's, an upscale spot in the Old Port. At Flux, he's running his own kitchen for the first time.
The menu reflects global influences, from Mediterranean to Korean, and Jason has a knack for injecting creativity into crowd-pleaser items. For the crispy chicken sandwich, he marinates the chicken in buttermilk and koji, an umami-rich fungus common in Japanese cuisine. He wants his cooking to feel adventurous but also familiar, so that diners know they'll like whatever they order. "People want to bet on a winning horse," he says.
Take a familiar Maine dish like steamed mussels: Jason's spin is to make a broth out of Bissell Brothers' fruity, hazy Substance IPA and a compound butter with lemongrass, kaffir lime, and lemon zest — ingredients that mimic the characters of the hops. The result is complex — yeasty and citrusy — and wonderful to soak up with house-baked semolina baguette. But the chef also knows when to defer to the simple goodness of his ingredients. A grilled whole sea bass stands on its own, and beef from Riverwind Farm, in Vassalboro, shines in a ragu atop house-made pappardelle.
In a downtown that otherwise has a pizza joint, a Chinese takeout, and a couple of pubs, Flux hits a sweet spot between comfort food and fine dining. If the LaVerdiere brothers keep making dishes and drawing crowds like they did the night I visited, I'd wager they've bet on a winning horse.
---