When it comes to football, Biddeford High School is no longer in neighboring Thornton Academy's league, literally or figuratively. Thus ends "The Battle of the Bridge," a spirited rivalry between Biddeford and Saco that dated to 1893. And there's no question which of the two former mill towns feels the loss more acutely.
By Rob Sneddon
Photographed by Jonathan Kozowyk
[T]he William Shepherd Linnell Gymnasium is draped with maroon-and-gold banners trumpeting Thornton Academy's many athletic achievements. Peter Scontras points at the one commemorating the 1988 Maine Class A football champions, who finished their season with a win-loss record of 11–1.
"That 1 sticks in my craw," he says.
Scontras, class of '65, has been a part of the Thornton Academy Golden Trojans football program for more than 50 years. He was a player. He was an assistant coach. And he remains one of the Saco school's biggest boosters. He and his wife — both former teachers in the Saco school system — made that 1988 championship banner. But looking at it one Friday afternoon in the fall of 2014, Scontras feels no warm autumnal nostalgia. Chagrin pinches his face. "Honest to god," he says, "to have to put 11-1 on that banner . . . "
More than a quarter-century later, he can't shake the dyspepsia. "We were undefeated going into the Biddeford game," he says. "Undefeated. Last regular-season game, already headed for the championship."
His narrative is saturated with details of a longstanding rivalry: The Battle of the Bridge. Thornton Academy versus Biddeford High. A pair of schools separated by two miles, the Saco River, and more than a century of hard feelings. The schools' football teams have played each other 97 times, starting in 1893. The '88 game was one of the rivalry's biggest upsets. Biddeford was having a down year, and TA's players came in with a sense of superiority. To them, Biddeford wasn't just a mill town, it was a run-of-the-mill town, with a public high school — unlike Saco's quasi-private academy — and a team name as pedestrian as they come: the Tigers. The team's orange helmets in '88 looked like something out of a Washington Irving fever dream.
"Our kids were cocky," Scontras remembers. "They were saying things like 'We're gonna go knock those pumpkins off their shoulders.' I said to myself, 'I don't like this. This is a bad feeling.'
"So we go over there," he continues, wincing, like it pains him to finish the story, "and they beat us. They. Beat. Us."
And now — never mind that TA won that year's state championship — Scontras relives that bad feeling every time he looks at the banner, recalling TA's bitter 19–14 defeat at Biddeford.
"Over the years, Dick Agreste — he's an assistant coach now, but he was head coach then — he says to me, 'Peter, can you take that 1 down from there?' And I say, 'Dick, it's history. It stays.' "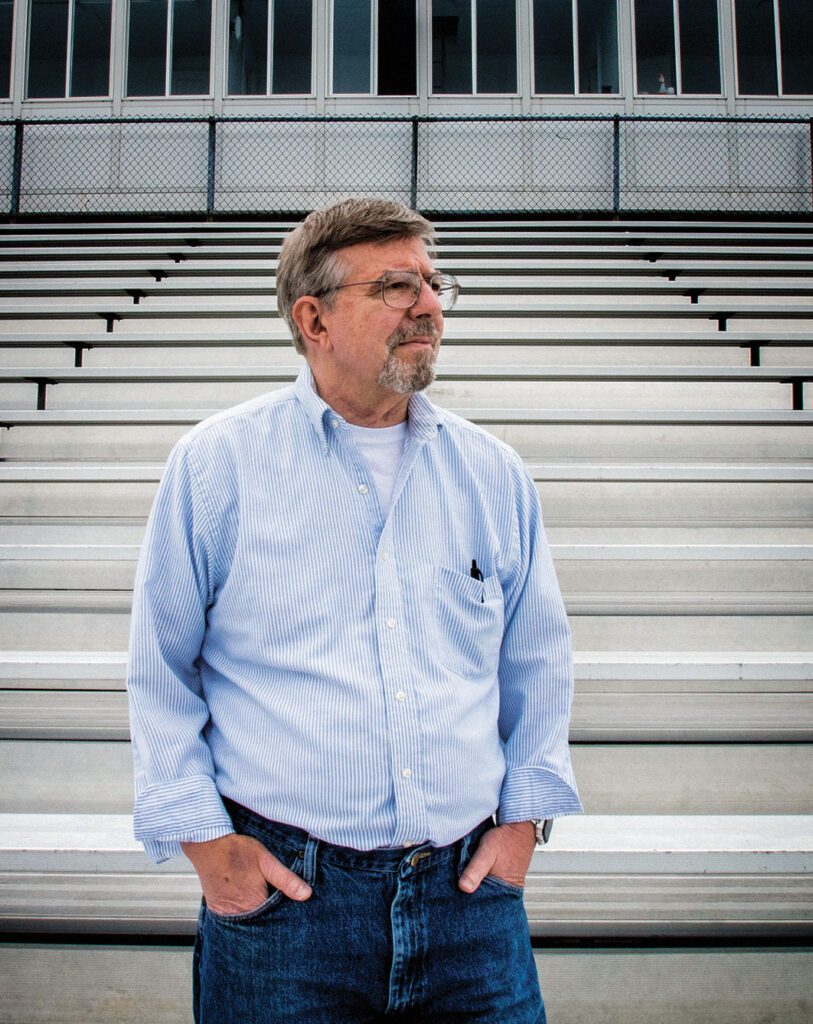 [N]ow, deep into the 2014 season, standing in the gym a few hours before the big game, Scontras is worried that history might repeat itself. With a record of 6–1, Thornton Academy is the favorite to win the 2014 Class A state title. Biddeford, meanwhile, is struggling with a record of 3–4.
And the school's struggle extends beyond the football field. Biddeford High is losing students at an alarming rate. Enrollment peaked at almost 1,400 in the mid-'70s; it's now down to about 775. Thornton Academy, by contrast, is thriving. With its manicured campus and mixture of classic and contemporary brick buildings, it looks like a cozy liberal arts college. Enrollment stands at about 1,700, including students from 20 countries who pay tuition as high as $42,000 a year. And although it serves as Saco's de facto high school (for lack of a public school, the city picks up the $9,232 tuition for any local kid who wants to go there), TA also draws kids from a much wider area than a public high school like Biddeford can.
That difference in resources has translated into a widening performance gap on the football field. Biddeford managed to beat TA as recently as 2010. But TA has won the last three meetings by a combined score of 130–20.
Tonight, though, Biddeford has reason to play with extra heart: Because of its declining enrollment, the school has petitioned the Maine Principals' Association to drop from Class A to Class B, meaning it would compete against a whole different roster of teams. So the word around Biddeford and Saco — and what has Scontras worried — is that tonight's game might be the last Battle of the Bridge ever.
Scontras knows what it would mean to Biddeford to win. He also knows how devastating it would be for TA to lose. In the hallway outside the locker room, the TA players are shouting and jostling, and it bothers Scontras to see them clowning around less than two hours before kickoff. Reminds him way too much of that 1988 bunch. Confidence is one thing. ("We should be able to go over there and get things done," wide receiver Corey Hart says.) Hubris is another.
These days, Scontras' main role with the team is to assist his son, Nicky, the equipment manager, who is recovering from testicular cancer. When it's time to go, the elder Scontras asks a few linemen to carry some of the heavier equipment to the two buses waiting outside.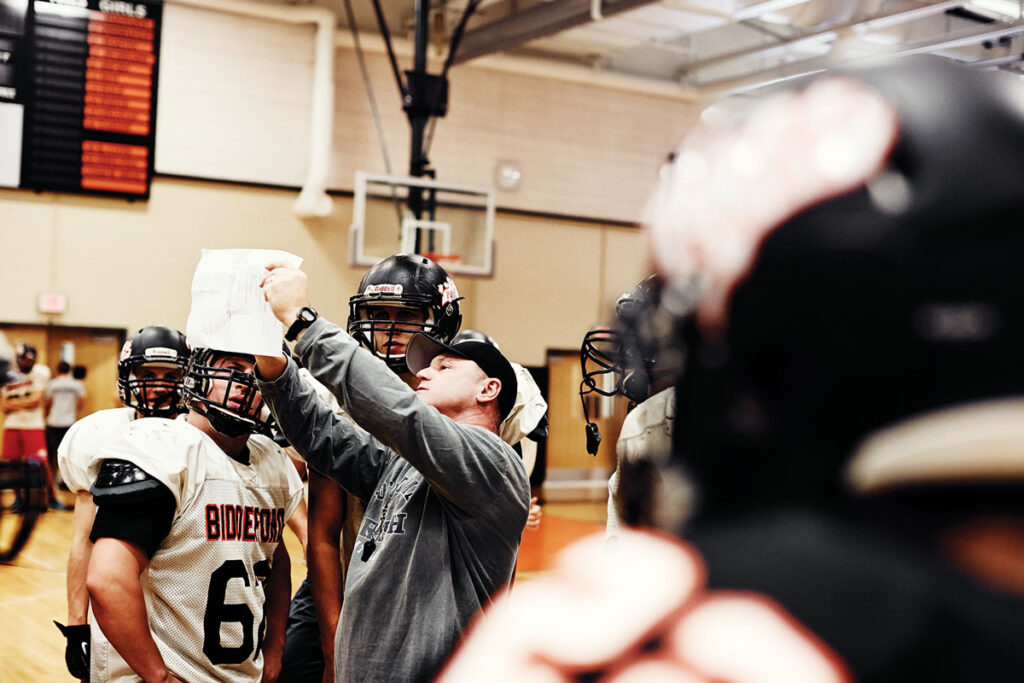 When he follows a few minutes later, Scontras is horrified. After loading the equipment, the linemen have taken seats on the first bus. No, no, no!
The first bus is the "skill" bus. That's for backs and receivers, along with head coach Kevin Kezal. The "line" bus is the second bus. That's the way TA always does it, and you don't ever break your routine — certainly not on the night of the Biddeford game. Scontras tries to get this across in a spluttering explanation. The linemen just look at him as if he's lapsed into French. "Don't you kids understand tradition?" he says, almost pleading.
They just don't get it: Whatever unfolds this evening in Biddeford's Waterhouse Field will stay with them for the rest of their lives. If they lose, they'll never hear the end of it from the other side of the Saco River.
[infobox maintitle="All we've ever asked these kids to do is uphold a tradition." subtitle="Biddeford head coach Brian Curit" bg="black" color="white" opacity="off" space="30″ link="no link"]
Scontras squeezes off the first bus and onto the second one. When you leave the parking lot, he tells the bus driver, pull in front of that other bus. But, like the linemen, the bus driver grasps neither the rationale nor the urgency behind this request. The skill bus stays behind the line bus as they pull onto Main Street.
What a terrible omen. Scontras crosses himself and mutters a prayer.
From the start, the mood aboard the skill bus is different from the jocular atmosphere at the gym. The kids aren't joking around. They aren't even talking. The bus is silent. It could be a commuter train — a bunch of young men off to work.
This does nothing to settle Scontras' nerves, and within a few blocks, a new horror dawns on him.
The Battle of the Bridge always used to be on Saturday afternoon. Both towns made a day of it, with the Route 1 bridge — known locally as the Springs Bridge — decorated in half maroon and gold, half orange and black. The bus ride over the bridge was part of the pageantry, sort of like the Rose Bowl parade. But in 2009, school administrators made a joint, 11th-hour decision to switch the game to Friday because Saturday's forecast called for tropical storm conditions. After that, Biddeford decided to schedule all of its home games, including the TA game, on Friday nights. Leaving wiggle room for bad weather was pragmatic, but some of that special Saturday afternoon atmosphere got left behind.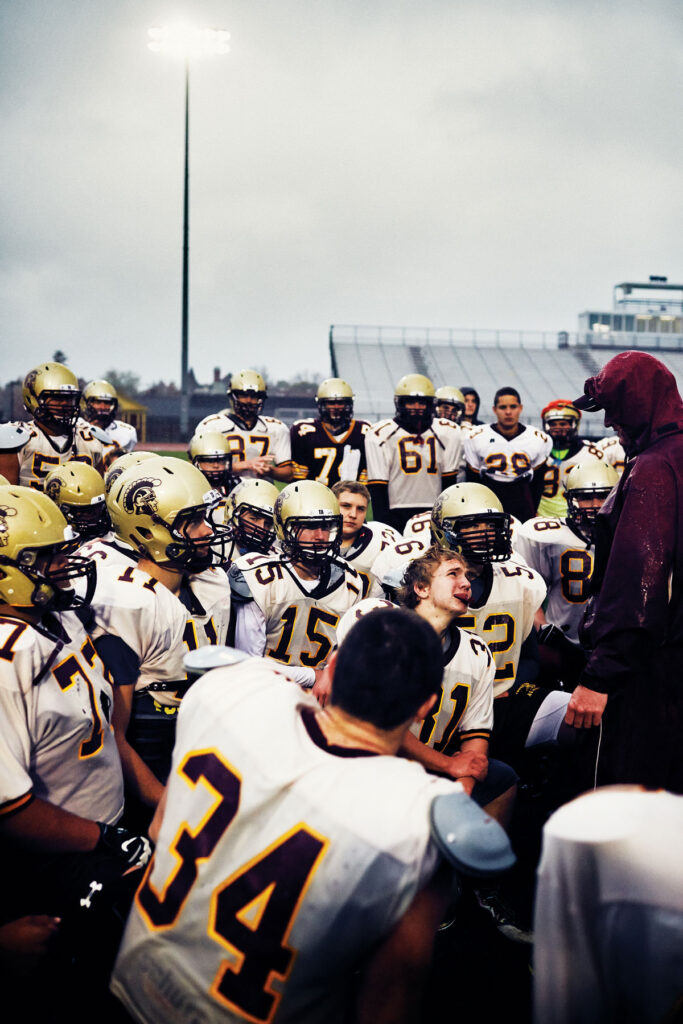 And now the Thornton Academy team is mired in Friday evening rush-hour traffic, with road construction further coagulating the flow. At the junction of Route 9 and Route 1, instead of making an expected right turn, the buses go straight. Detour.
A look of alarm sweeps over Scontras. They're not taking the Springs Bridge — the very bridge that gave the Battle of the Bridge its name. "These things matter!" he says under his breath.
The buses go over the York Hill Bridge instead. They traverse Factory Island and come out in downtown Biddeford, by the grim edifice of the century-old Pepperell Mills complex. The enormous red-brick textile mill, which once employed 10,000 workers, died a slow death, beginning in the mid-20th century, when the textile industry shifted to the South and, later, overseas. It finally ceased operations altogether in 2009. And although a few buildings have been converted to apartments or commercial space, most of the mill — including Building 19, Building 20, and Building 36, which abut Main Street — remains dark, its street-level windows covered with rusting grates.
There's no hint of cheering crowds or festive bunting here. Just ghostly October shadows.
[I]'m sad," Lucille Morin says, by way of introduction. Morin, Biddeford High School Class of '72, is sitting in the bleachers a half-hour before the game. She was born in Biddeford, works at Fairchild Semiconductor in South Portland, and lives about a quarter-mile from Waterhouse Field. She always came out to cheer for the football team when her son was in school, even though he chose to play soccer instead.
"What would it mean to the town to win this game?" she asks. "Oh my gosh, you couldn't even believe it."
But, really, nobody on the Biddeford side believes it will happen. There's a palpable sense of hopelessness. Thornton Academy just has more of everything. They play at Hill Stadium, which has state-of-the-art lighting and artificial turf. Waterhouse Field, by contrast, was built in 1929 and lacks most modern amenities. It's really just a field. A recent bid to secure a makeover through TV personality Ty Pennington's The Ultimate Neighborhood Give Back Challenge fell short. TA has 15 coaches. Its roster lists 60 kids, nine of whom weigh at least 250 pounds. That's a bigger, heavier team than Vince Lombardi's legendary 1960s Green Bay Packers.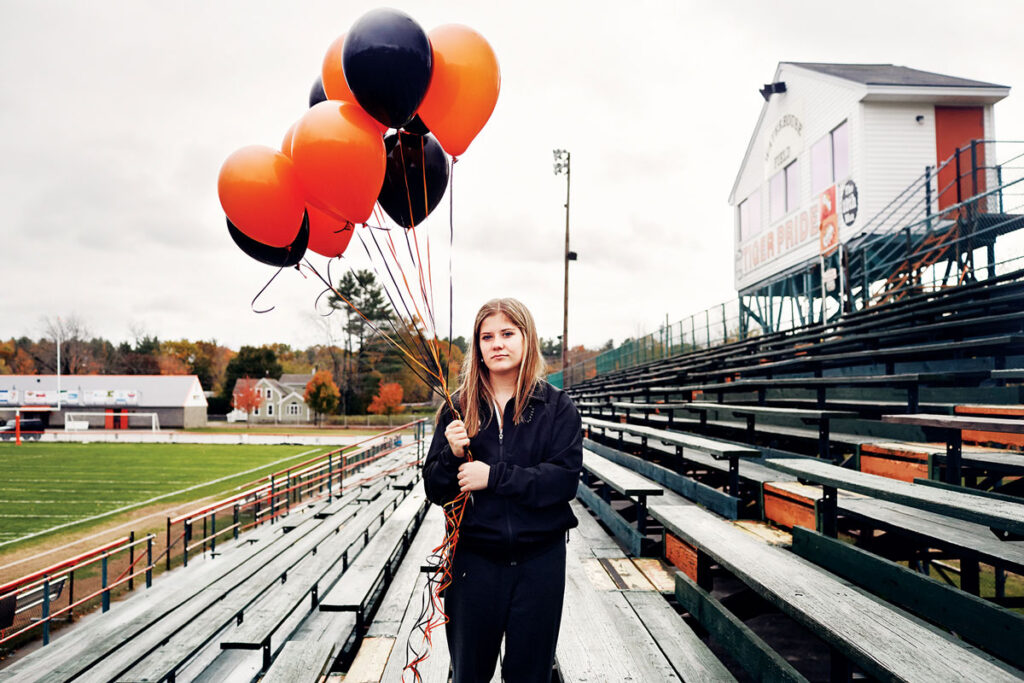 As a final insult, Thornton Academy has even brought more fans to this year's game. They're here to cheer the Golden Trojans on to an expected victory.
On the Tigers' side of the stadium, the crowd's primary purpose is to pay final respects to a beloved fall ritual. Finding a seat is no problem. That would have been unheard of just a few years ago.
"We used to get 10,000 people for this game," Biddeford athletic director Dennis Walton says. "Every seat in the house would be taken, and they'd be three deep standing around the edges of the field."
Walton, who supports the petition to drop Biddeford to Class B, is in a terrible position. No one loves Biddeford football — and the Battle of the Bridge — more than he does. "I was born in Biddeford, grew up in Biddeford, went to Biddeford schools," he says. A star wide receiver from the class of '88, Walton played in three installments of the Battle of the Bridge. His memories of the experience remain vivid.
"The whole week you would feel this electricity," he says. "You'd just be so jacked up. It was the combination of playing Thornton Academy and playing in front of that big crowd." And as much as he would like future BHS players to have the same experience, "we can't make the decision to stay in Class A because of one game."
Playing against larger schools in Class A not only puts Biddeford at a competitive disadvantage, but it also puts the kids at risk. It's a simple numbers game; larger schools can draw from a bigger pool of bigger, faster kids. And in a sport as physical as football, that disparity can increase the chance of injury. Given the scrutiny that football has received in recent years, particularly over the potential long-term effects of concussions, Walton is sensitive to safety issues. "At the end of the day," he says, "we have to do what we feel is in the best interest of our kids."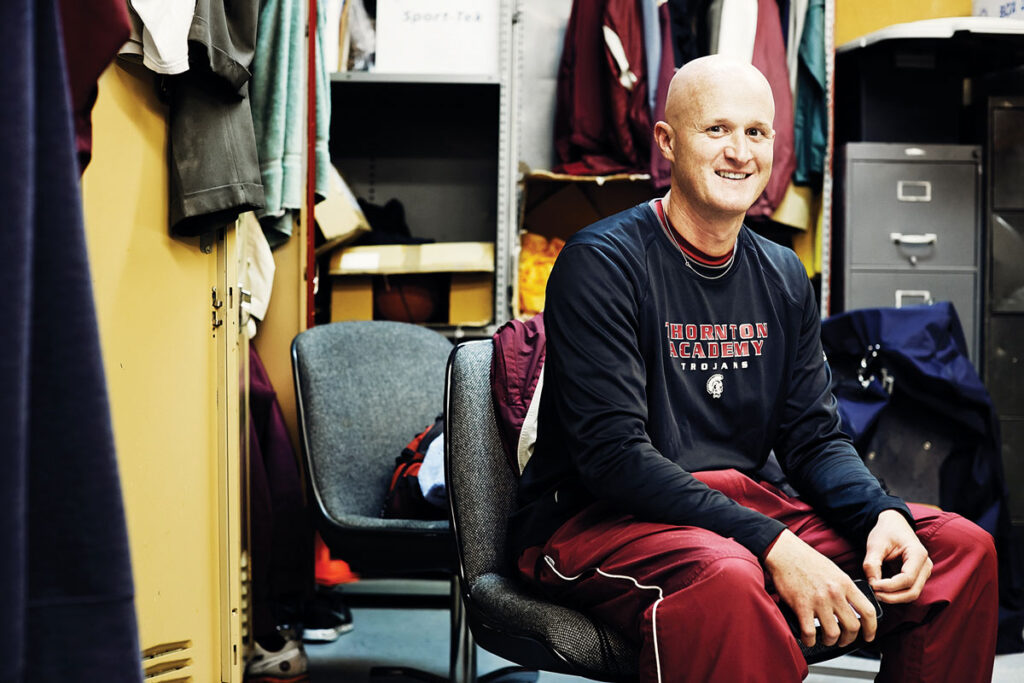 So Walton takes a never-say-never approach to dropping down a class. He notes that the Battle of the Bridge has "ended" twice before, most recently in 1955. At the time, having won just three of the previous 25 meetings, Biddeford concluded that it simply couldn't compete with its well-heeled rival across the river.
That hiatus lasted until 1963, when Biddeford joined Class A. Since then, the Battle of the Bridge has continued without interruption, with Biddeford holding a slim edge in the win-loss record. So some optimists, with an eye toward downtown redevelopment efforts, envision a renaissance that will attract new residents and eventually reverse Biddeford High's declining enrollment. Until then, Walton proposes a solution that he thinks would protect his kids and uphold tradition: Let Biddeford and Thornton Academy play all season in different classes, then play a Thanksgiving Day grudge match, as Portland High and Deering have since 1911. "I would love to see that," Walton says. "But both schools have to be on board."
It is plain that Thornton Academy is not. When asked about the possibility of a Thanksgiving game, TA athletic director Gary Stevens simply replied: "We're just sorta looking to see what's gonna happen for now on our end." Hardly an endorsement.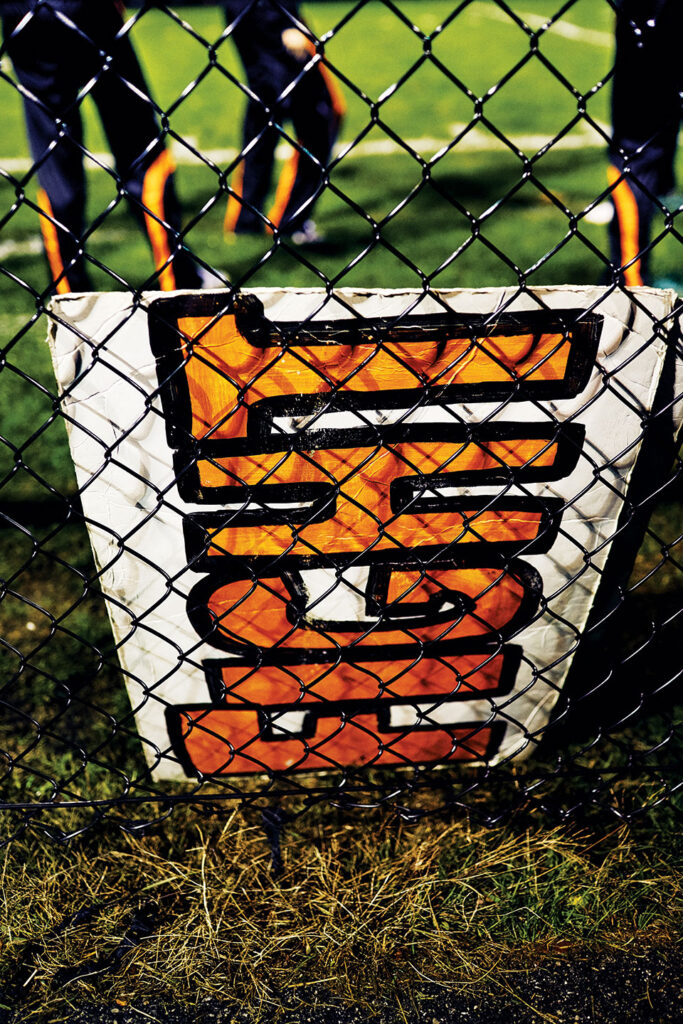 From TA's perspective, there's little incentive to add an exhibition game after the state championship is already settled, against a team from a lower class that would have nothing to lose and everything to gain. Better to salute the good old days and move on. Even before the 2014 game, Stevens was describing the rivalry in the past tense: "It was two towns with a pretty rich industrial history that had been great football rivals for a long time."
The end of this high school rivalry feels like the end of a high school romance. Biddeford is the kid who wants to stick around after graduation, maybe go to college locally, then get a job and start a family. Thornton Academy wants to explore the wider world beyond the Saco River.
"Thornton Academy now has dorms for their international kids," Walton says. "I'm not saying that has any impact on their football team whatsoever, but the dynamic is different. And they also bring in kids from surrounding communities. That's not a knock — a lot of schools do that now. But it's a different mentality now than when it was the Saco kid versus the Biddeford kid."
During its heyday, Walton says, the Battle of the Bridge "was absolutely a community rivalry. The perception, for years and years, was that Biddeford was the blue-collar community." White-collar Saco, meanwhile, with its pretty village and historic houses, was the town the mill owners went home to. And even as the mills became things of the past, that class structure — or the impression of it — remained.
"This sounds awful," Walton says, "but you'd hear people in both communities say all the time, 'I hate them people.' "
He laughs in a way that suggests it doesn't sound that awful.
[N]o one struggles with the changing dynamics of the Biddeford–TA rivalry more than Biddeford head coach Brian Curit. Like Walton, Curit is a hometown boy (BHS class of '82) who played in the Battle of the Bridge three times. (For their parts, Thornton Academy head coach Kezal and athletic director Stevens are not from Saco and didn't attend TA.) Asked what he remembers most about playing in the Battle of the Bridge, Curit laughs. "First off, we were 3–0. That's most important."
If anything, Curit has an even edgier take than Walton on how some Saco residents perceive Biddeford. "We're the blue-collar mill town, and they play that up across the bridge," he says. "You know, 'Bit-o-scum' and things like that. The kids from my era, we took that incredibly seriously. I'm not sure today's kids really understand that they're getting ridiculed and dumped on, or what have you.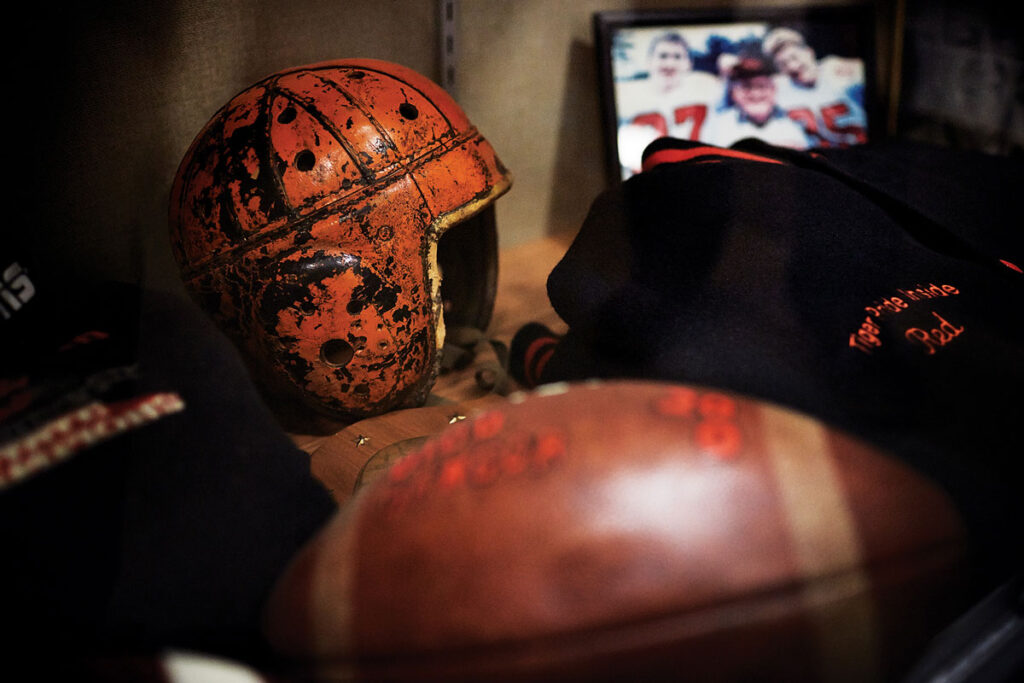 "Obviously I'm not talking about their coaches or anything like that — it's more on the periphery."
But the Saco River is no longer the vast divide it once was. Curit says social media may have helped lessen tensions between students from the rival schools and blur longstanding class distinctions. "The [communication] is so instantaneous," he says. "I think that's a big part of it. The kids all work out together, and they seem to know each other pretty well."
But isn't that a good thing?
"No," Curit says with a laugh. "I don't think so."
That glib response aside, Curit, a history teacher, goes back and forth on how much to make of the two team's historic enmity. At the end of his final pregame practice — held Thursday afternoon in the Biddeford High gym because of lashing rain — he told his team that he wasn't going to "give speeches on what happened five years ago, 10 years ago, 20 years ago."
"This is your game," Curit said. "This is your history now."
A little later, however, after showing players some recent video of Thornton Academy's offense, Curit cued up highlights from past Battle of the Bridge games, using REM's "Orange Crush" as the soundtrack.
[infobox maintitle="Perhaps the biggest obstacle Curit faces in trying to rekindle that ancient antipathy lies in his own ability to move on." subtitle="" bg="black" color="white" opacity="off" space="30″ link="no link"]
Is it hard to determine how much "Glory Days" stuff is too much?
"It is," he says, "and I don't think I've done a very good job with that this year, to be perfectly frank. All we've ever asked these kids to do is uphold a tradition. I'm not sure if they've been burdened by it. And I don't want to be burdensome, but at the same time I want them to have an appreciation for the people who have come before them. So yes, this is their time, their history — but they can't get away from the past because we talk about it all the time."
Perhaps the biggest obstacle Curit faces in trying to rekindle that ancient antipathy lies in his own ability to move on. One of his former Battle of the Bridge rivals, Jon Macomber (TA class of '82), is now his offensive line coach. "He's one of my closest friends in the world," Curit says. "I love the guy. But when he played, he wore maroon and gold, and we didn't like each other. So it's funny how all these years later we're very, very close. But I don't know if he could ever have pictured himself wearing the colors he does now."
When that question is put to him, Macomber answers without hesitating. "No," he says. "Heck no."
But Macomber moved to Biddeford more than 20 years ago, and his son, Capen, has spent his whole life there. Now a bruising 235-pound senior fullback, Capen is Biddeford High's star player. "And I'm glad he's had the experience of playing this game," Jon says.
Still, holding dual citizenship in Biddeford and Saco has tamped down much of the intensity that Jon felt in his own playing days.
"Even 10 years after [graduating], this would still have been a big thing," he says. "But now? No."
Corey Hart, TA's junior wide receiver, has reached that same enlightened perspective much earlier in life. Hart was born in Biddeford, where his mother, Heather Briggs, was an outstanding BHS basketball player. "But she's a TA girl now," says Hart, who started school in Biddeford before moving to Saco.
So does he ever catch any grief from old friends and neighbors back in Biddeford?
"A little bit," he says, "but not really from anyone my age. It's mostly from older people."
[J]ust before game time, Biddeford's student section, the Beat Club, takes one last stab at ginning up some of that ol' time bad blood. They start a chant intended to knock the haughty Academy down a few notches, to public school status:
Sa-co High School! Sa-co High School!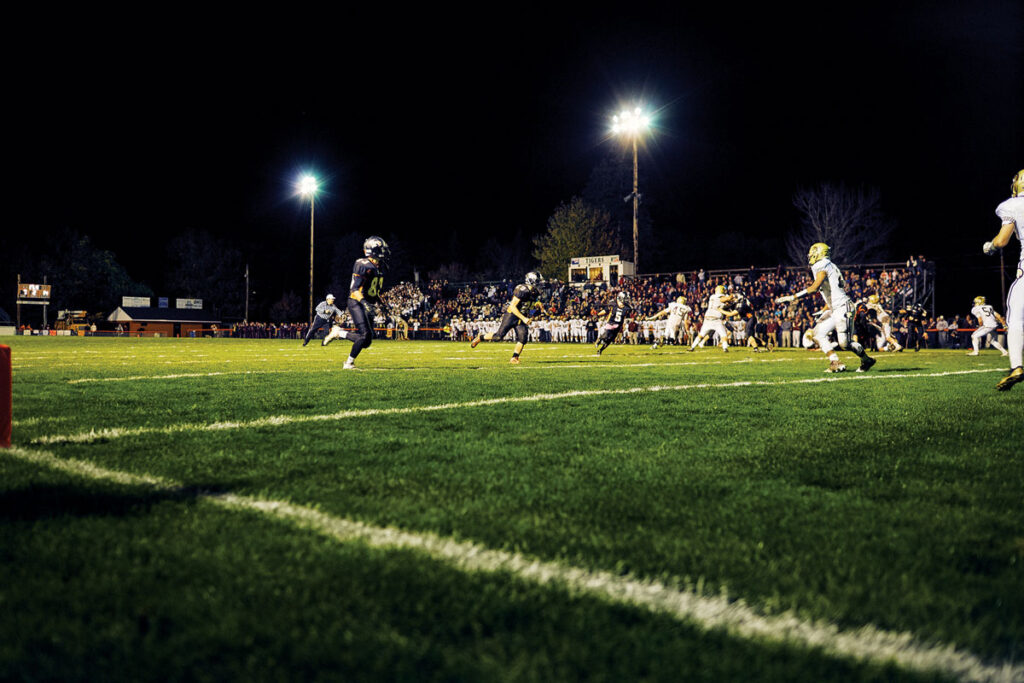 For a time, that plucky-underdoggedness carries over to the field. Thornton Academy fumbles the opening kickoff and Biddeford recovers. A few minutes later, TA jumps offside on fourth-and-five, handing Biddeford a first down. This is a good break for the Tigers, the Golden Trojans making just the kind of mistakes you expect from an overconfident, underprepared team. For a time, it appears that Peter Scontras' fears were well founded.
But Biddeford's drive stalls at the TA 29-yard line. The team's defense then struggles to contain TA senior fullback Demel Ruff. With Ruff ramming through defenders and dodging tackles, the Golden Trojans cruise 71 yards in just seven plays for a touchdown and a 7–0 lead. On TA's next possession, the Tigers step up to stop the Golden Trojans' ground game. But TA quarterback Austin McCrum steps up too, eventually hitting 6-foot 5-inch tight end Kevin Barrett with a 25-yard touchdown pass to make it 14–0.
Now the "Saco High School" student section has a stinging comeback for the Beat Club: It's too ea-sy! It's too ea-sy!
Biddeford hangs tough, though, cutting the deficit to 14–7 by halftime, sparking hopes on the Biddeford side of Waterhouse Field: this could still be one of those upsets people will still be talking about 25 years from now.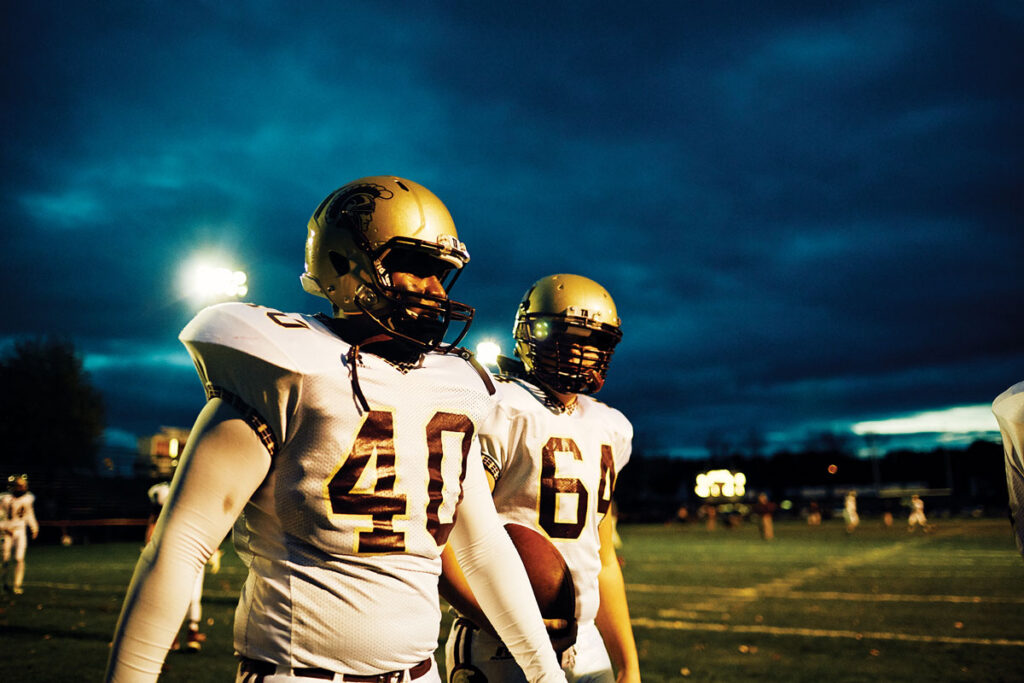 Then, in the third quarter, reality hits like a blindside block. TA scores quickly on a 50-yard bomb from quarterback McCrum. It's a beautiful pass, and the TA stands go wild. On their next possession, the Tigers complete a quick pass, but the receiver collides with a teammate and fumbles. TA recovers and capitalizes with yet another touchdown pass, making the score 28–7. The Biddeford sideline deflates.
The rest of the game becomes simply an accounting exercise — a closing of the books, at least for now, on the rivalry's 121-year history. Final score: Thornton Academy 41, Biddeford 20.
Afterward, the Biddeford sideline is subdued. "You're not going to hear a negative word from me," Coach Curit tells his team. "I'm very proud of the way you played."
Thornton Academy's celebration is similarly restrained. This final distraction out of the way, the Golden Trojans head home knowing they can now focus all of their energy on their primary goal of winning the state championship — which they do one month later, defeating Windham 35–14 in the championship game to earn their second state title in three years.
Heading back to Saco from Biddeford, the Golden Trojans skill bus is noisier than on the way over. Amid the players' happy chatter, Peter Scontras looks relieved. "I'm just glad no one got hurt," he says. "That's the main thing."
As the bus passes the darkened Pepperell Mill complex and rolls across the Saco River, Scontras turns pensive. "You know," he says, "years from now, if they start playing this game again, we'll have to remember to take the York Hill Bridge."
Postscript:
In April of this year, the Maine Principals' Association approved a realignment placing Biddeford football in Class B. "There is no plan to renew the rivalry for 2015 or beyond at this point," wrote TA athletic director Gary Stevens in an email. As for that Thanksgiving Day game that Biddeford athletic director Dennis Walton had envisioned? "As of now," Walton said, "it doesn't look good."
[button content="See More Feature Stories" color="black" text="white" url="https://downeast.com/category/features/" openin="_self"]
---