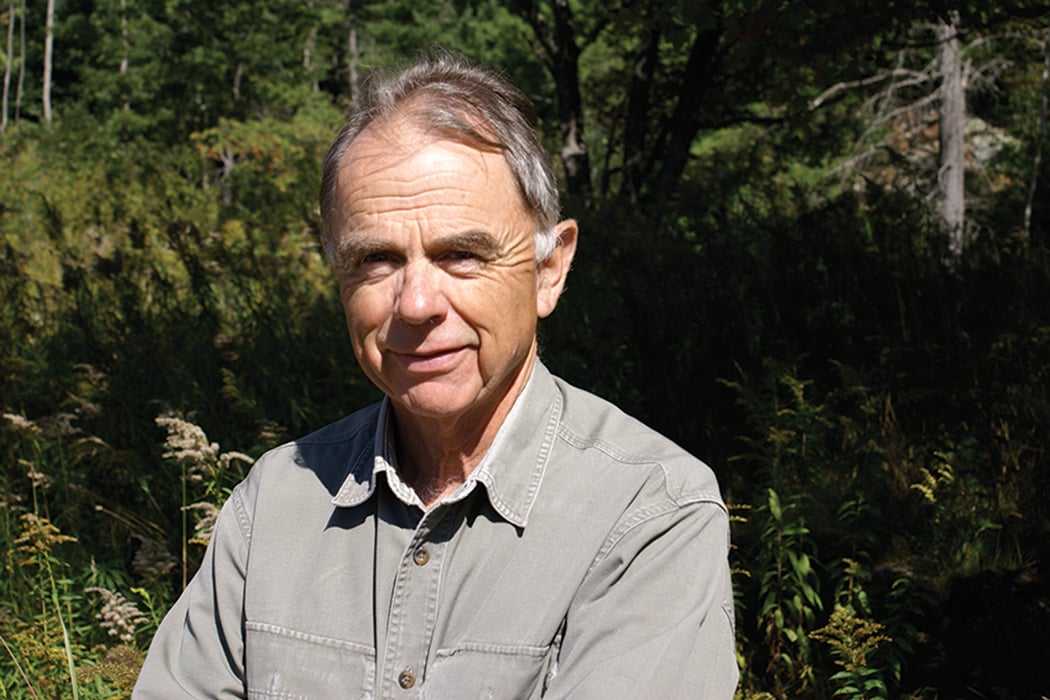 A

 book reviewer once described Franklin Burroughs as "the kind of essayist whose vision transcends time and place." And we agree, in the sense that his work can be deftly, even subversively about more than what it's about. Still, his rendering of these things — time (particularly its passage) and place (particularly as it is lived in) — is so rich and inhabitable that transcendence can feel, well, a bit overrated. He's the author of three seminal collections of what are often described as nature essays: Billy Watson's Croker Sack, The River Home, and Confluence: Merrymeeting Bay. Burroughs taught English at Bowdoin College from 1968 until 2002.
In our December issue, we said goodbye to Burroughs, who has penned Down East's Room With a View column since 2016, and who now relinquishes his column to focus on another collection — and perhaps, we suspect, fishing trips. Read his final essay below.
---
By Franklin Burroughs
I've written this column for the past two-and-a-quarter years. It's time for me to move on, and for you to get the View From Somebody Else's Room. My editor, Brian Kevin, and I talked it over during the summer, and we agreed that this month's column, closing out the eventful year 2018, would be the logical swan song.
For a couple of weeks back in September, Hurricane Florence made Conway, South Carolina, a famous place for perhaps the first time in its history. In 1999, Hurricane Floyd had been designated a 500-year flood, with the Waccamaw River cresting at 17.7 feet; in 2016, Hurricane Matthew exceeded that by a couple of inches. And now, Florence has exceeded them by better than 3 feet. In that low, alluvial, swampy country, a foot or two of superfluous (over + flowing) water can spread for miles. Was Florence a thousand-year flood event? Ten thousand? Biennial?
I'm an old man, folks; more and more things seem strange to me. Few more so than sitting in Maine and staring at a screen that shows neighborhoods I'd known as a boy standing pooled in their own reflections, the streets as placid as Venetian canals, perhaps with a kayak or canoe paddling down one of them — somebody going home to rescue food from the freezer, or just to survey, for the third time in 20 years, a scene of sheer sodden hopelessness. All that sheetrock to be torn out again, those buckled floors, and mold everywhere, complemented by the sweltering heat, swarming mosquitoes, and on-the-scene reporters that follow hurricanes.
As you get older, those seasons accelerate, arriving and departing like houseguests — hardly time to clean up after one before the next one is on the doorstep.
Every summer in the 50 years I've lived up here, there have been a few days sultry and sweaty enough to evoke my boyhood summers. But this summer, we had day after day of that, from July to September and beyond. Finally, that misery broke, and our famous fall arrived — up north, as beautiful a one as I have ever seen. The drama of the year in Maine never gets old because it never slows down; our seasons are strictly migratory, on their way from north to south, from south to north. And as you get older, those seasons accelerate, arriving and departing like houseguests — hardly time to clean up after one before the next one is on the doorstep.
Only in midsummer does the first thin stubble of wild rice appear on the mudflats of Merrymeeting Bay. We hunters of migratory waterfowl watch it the way investors watch the stock market, and in midsummer, we despair, certain that this year's crop will fail. Then we close our eyes, turn around three times, and look again. Presto! At low tide, the flats have suddenly become like lush, silky green fields of oats — the rice more than head high, in some places so thick a dog can't push through it. Close our eyes and turn around three more times, and — antipresto! — the  rice has yellowed, sagged, and lies flat on the mud. Skeins of it form into mats and drift out with the tides. But it has done its work. The flats are seeded — enough for next year's crop, and enough for this year's waterfowl. Soon, skim ice begins forming on the flats at night. The next tide lifts it off, but now, in December, it thickens and sticks, blanketing the flats. The waterfowl depart; their season is ended. Soon, the bay is frozen over and looks like the jumbled ice fields Peary negotiated on his way to the Pole. It's time for me to hunker down, clear the decks, and get back to work I've postponed too long, and can't realistically expect to postpone much longer.
I want to thank Down East for this gig and especially to thank Brian Kevin. To call him a fine editor and human being is criminal understatement. But we've reached the bottom of the page, Brian. It happens every month.