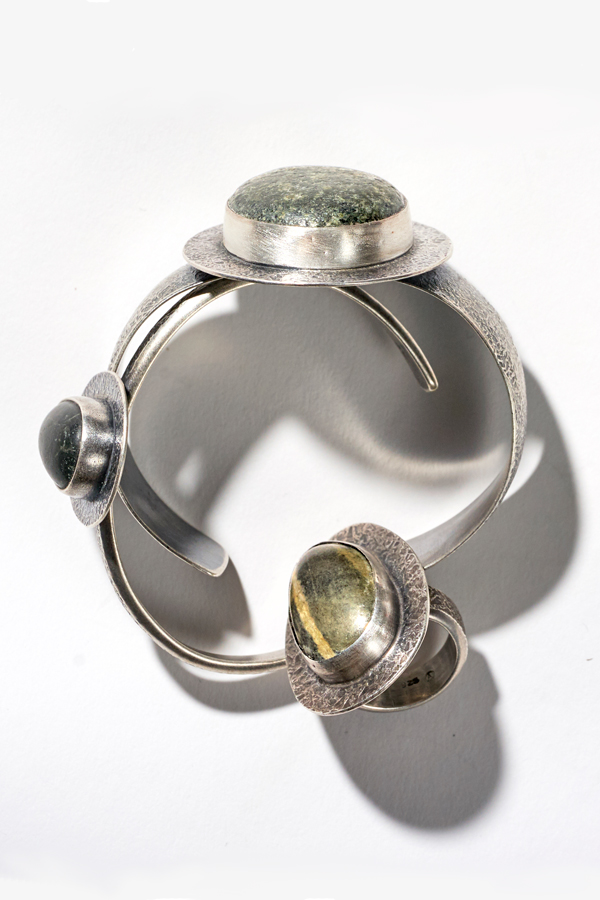 ---
Some Maine jewelers take the phrase "precious stones" quite littoral-y.
By Maggie Nevens
Photographs by Mark Fleming
Why set a rough beach stone into an elegant piece of jewelry rather than skipping it into the surf? "I find them to be touchstones of a place," says Boothbay Harbor artist Janet MacPherson Moller, whose Dancing Stone Studio does plenty of work with beach stones. Each has a personality, she says, evoking the stretch of coast where it was found, and specific beaches yield rocks with unique textures. Some Maine beach stones are softer and easier to drill, while others are valuable for their color, with hues of speckled grays or deep blues. "You see textures everywhere," says jeweler Anita Roelz, of Woolwich's Circle Stone Designs. "I'm always looking for organic textures that are identifiable with my work." In search of a few standout pieces, we left no stone unturned.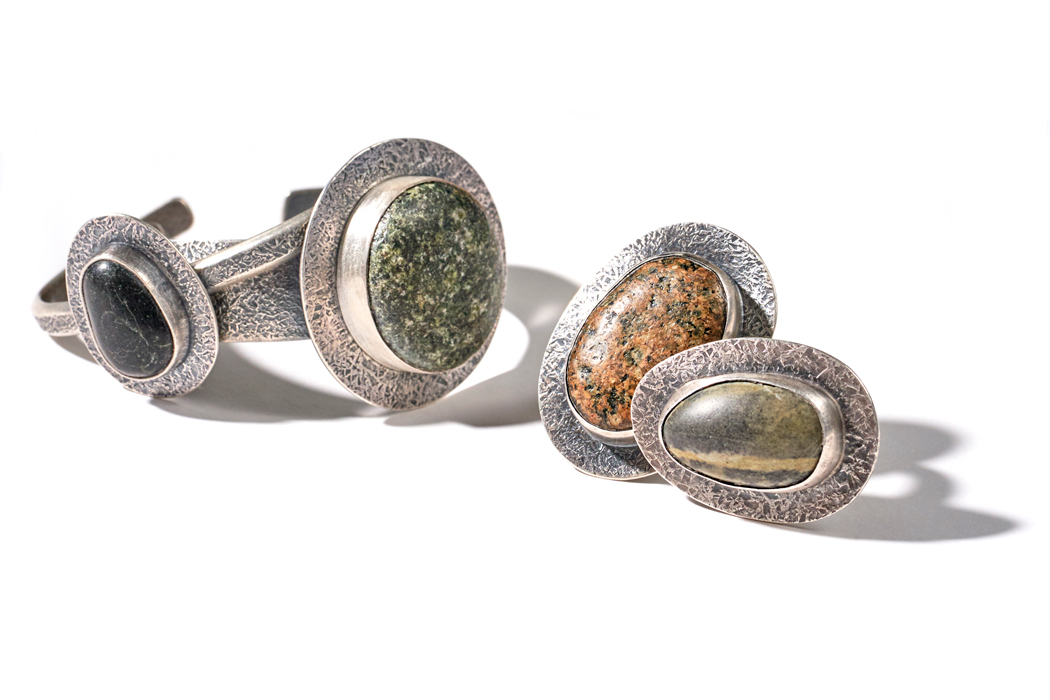 Large bracelet, $350; thin bracelet, $265
Larger ring, $285; smaller ring, $265
"Collecting stones was always a labor of love," says metalsmith Anita Roelz. She started turning her finds into jewelry in 2009, drawing inspiration from simple structures and organic textures. In her Woolwich studio, she hand-forges metal with a heat torch and an array of hammers, then uses files and sandpaper for detail work, making each piece unique.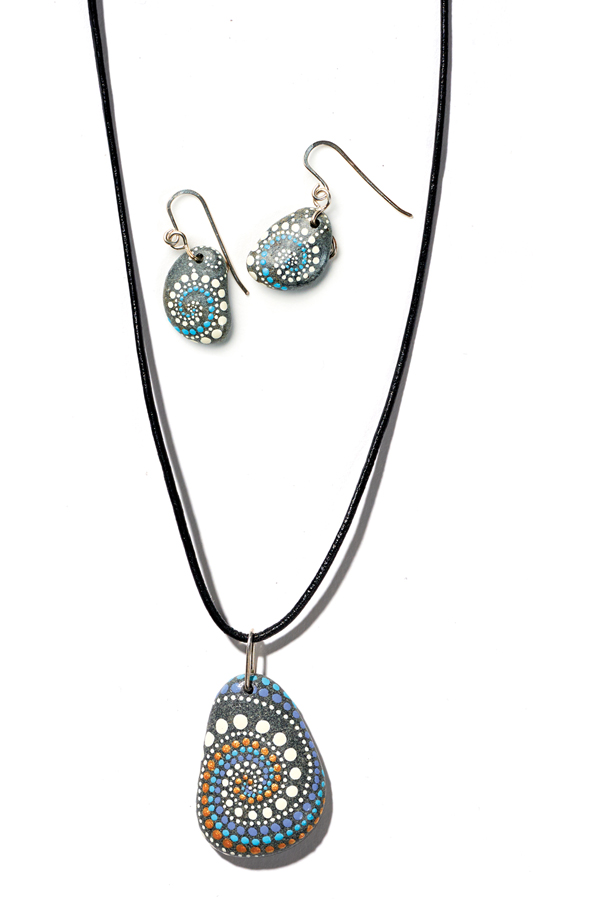 Dotted pendant necklace, $44
Dotted earrings, $36
The dancing dots on Janet MacPherson Moller's pieces conjure the souls of the stones they are painted on, says the Boothbay Harbor jeweler and artist. Moller sees her patterns coming out of the stone as if they've been there waiting to be discovered, she says, and she matches color palettes with the stone's natural grain. Often, she says, "the finished product is not what I thought when I started — it morphs into the finished work, organic and uncontrolled." 207-505-2058.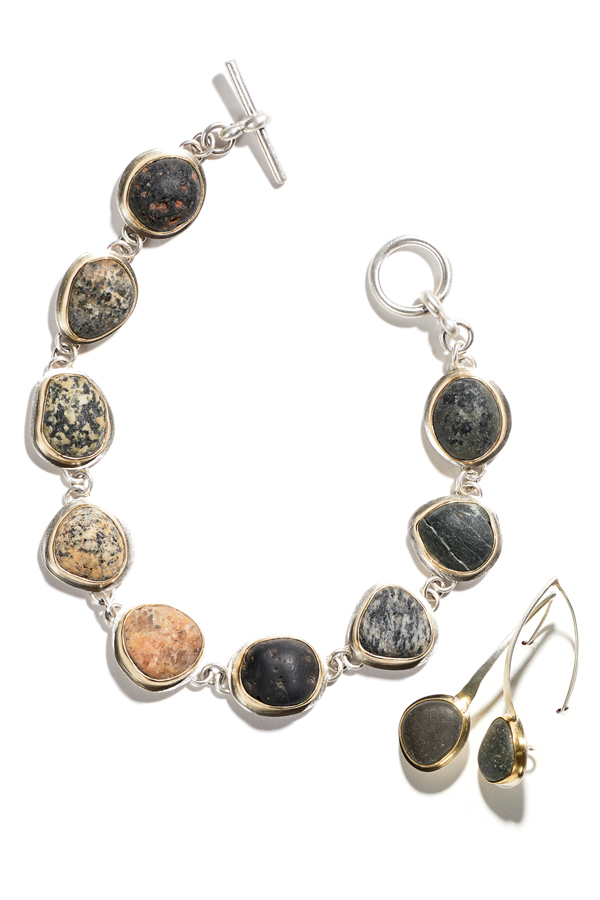 Sterling silver and 18k-gold link-style bracelet, $1,600
Set of three 18k-gold beach-pebble rings, $1,300
Sterling silver and 18k-gold long-forged wire earrings, $550
Portland metalsmith (and inveterate beachcomber) Jennifer Nielsen's obsession with beach stones stems from a lifelong love of geometry. Clients bring her stones they've collected from around the world, and she transforms them into contemporary keepsakes, heating and precisely hammering the metal around each stone. Her approach is driven by aesthetics and principle. "The public is demanding more ethically sourced materials," Nielsen says. "So are jewelers — and the market is responding." 207-799-3460.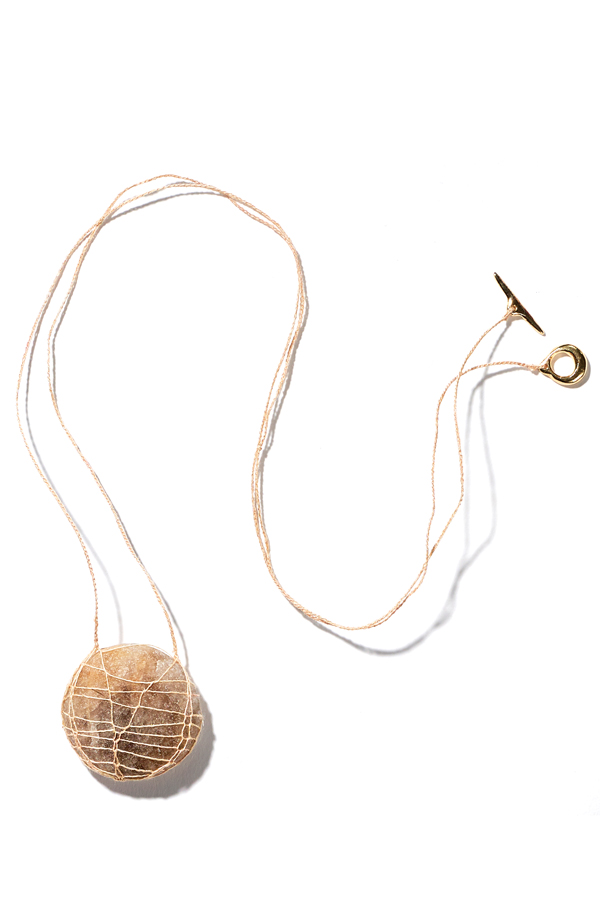 Silk and stone necklace, $92
O'Neil describes her work as a collaboration with the ocean. The Portland jeweler and fabric artist started collecting stones growing up in Camden and has continued all her life. She sets her finds in a combination of stainless steel and naturally dyed Japanese silk, inspired, she says, by the minutiae of the natural elements around her: "I'll put just a shell on my table and make a whole textile collection about it."
---