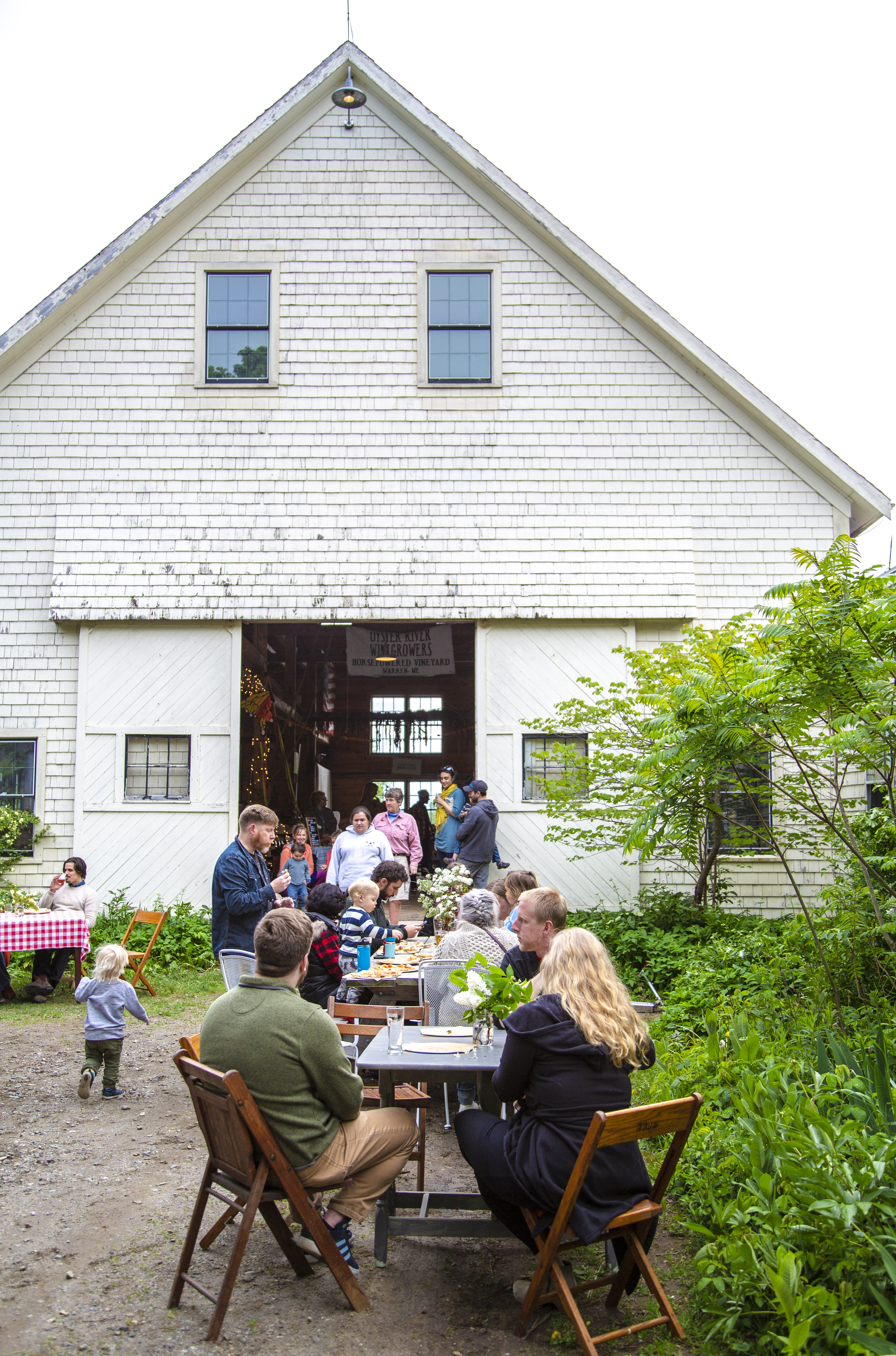 Some of Maine's liveliest spots for dinner and drinks these days are down on the farm — and for some Maine farmers, the gastronomic "barn social" is a key part of a new agrarian model.
By Willy Blackmore
Photographed by Molly Haley
T here was no "night," as such, on the first pizza night of the summer at Warren's Oyster River Winegrowers. Although it was cool and cloudy, cars packed both the dirt lot and the field-cum-parking area across the road, and 100 or so people spilled out the open doors of a nearly century-old timber-framed barn. It was only 6:15 when Uproot Pie Co.'s mobile pizza operation — which has pulled up to the winery every other Wednesday for the last seven summers — sold out, all its 80 rounds of dough stretched, patted, and topped with fiddleheads and goat cheese or anise hyssop and ricotta, then baked to a blistered crisp in a trailer-mounted wood oven. Thankfully, the Oyster River team kept pouring $5 glasses of sparkling rosé, cider, and merlot, and the banjo twangs and two-part harmonies of local folkies the Gawler Sisters carried on for another couple of hours.
Farm dinners aren't a new phenomenon, and a Maine summer offers no shortage of opportunities to pull up a wooden folding chair at a swanky, ticketed, multi-course meal under the hemlock beams of some historic barn. But more and more Maine farms are hosting regular, come-as-you-are social nights — often with hand food (usually pizza), music, and cash bars — like Oyster River's bimonthly pizza parties. Not only are such low-key barn hangs a fun wine-and-dine, they're a testament to the community ties and grassroots approaches that support Maine's small-farm economy.
Brian Smith and Allie Willenbrink founded Oyster River in 2008 and manage its vineyards, cider-apple orchard, vegetable gardens, tasting room, and retail shop. "Relying completely on tourist traffic is unsustainable around here," acknowledges Smith, a trained winemaker, "so we're always happy to have a good local following." A few pizza night regulars are summer people, he explains, and every so often, an unexpecting tourist will drop in for a tasting and stumble upon the party (an experience, Smith says, that makes "people think they've discovered a secret level" of summer in Vacationland). But for the most part, pizza-night clientele consists of year-round midcoast folks raising glasses of dry wild-blueberry wine or cider made from the feral apple trees scattered across the property, 
57 acres of woods and pasture rolling from the barn down to the winery's namesake river.
"It really feels like people actually care," Smith says. "It's not just a tourist who might come once and never again, who wouldn't care if you didn't exist next year."
Mason jars of freshly cut flowers and stylishly careworn furniture scattered around the barn wouldn't look out of place at a trendy Portland bistro. But Oyster River is unmistakably a working farm. One pizza night last summer came to a fairly abrupt end when the family cow gave birth in the middle of it. Partygoers trotted over to see the still-wet calf standing on shaky, knobbly legs, then headed home in the lingering twilight.
"It really feels like people actually care. It's not just a tourist who might come once and never again, who wouldn't care if you didn't exist next year."
Events like Oyster River's are the new frontier of Maine's growing agritourism sector, says Ellen Sabina, outreach director for the Maine Farmland Trust. Just as some Maine farmers look to value-added products to help pad their bottom lines (selling, say, canned salsa made with farm-grown tomatoes), others hope to leverage more from their land by packaging an experience. According to the most recent USDA figures, income from farm-related agritourism in Maine rose 78 percent between 2007 and 2012, and Sabina suspects it's only continued climbing since. The number of farms offering some sort of tourist activities — barn dinners to corn mazes — grew by 141 percent in the same period.
It's a natural extension of the local-food movement, Sabina explains, "really giving people the opportunity to interact with the farm."
"A lot of times," she says, "the farms that are offering more casual events see themselves as offering a sort of community hub or meeting place, and that might be as much of a manifestation of an ideal as it is a business model."
For Oyster River, it's a bit of both. Though most of the farm and winery's profits come from wholesale distribution and retail sales, Smith says pizza nights generate welcome added income and that they've amassed a loyal local following by providing a venue for neighbors to gather on a rural stretch of the coast with few shared hangouts.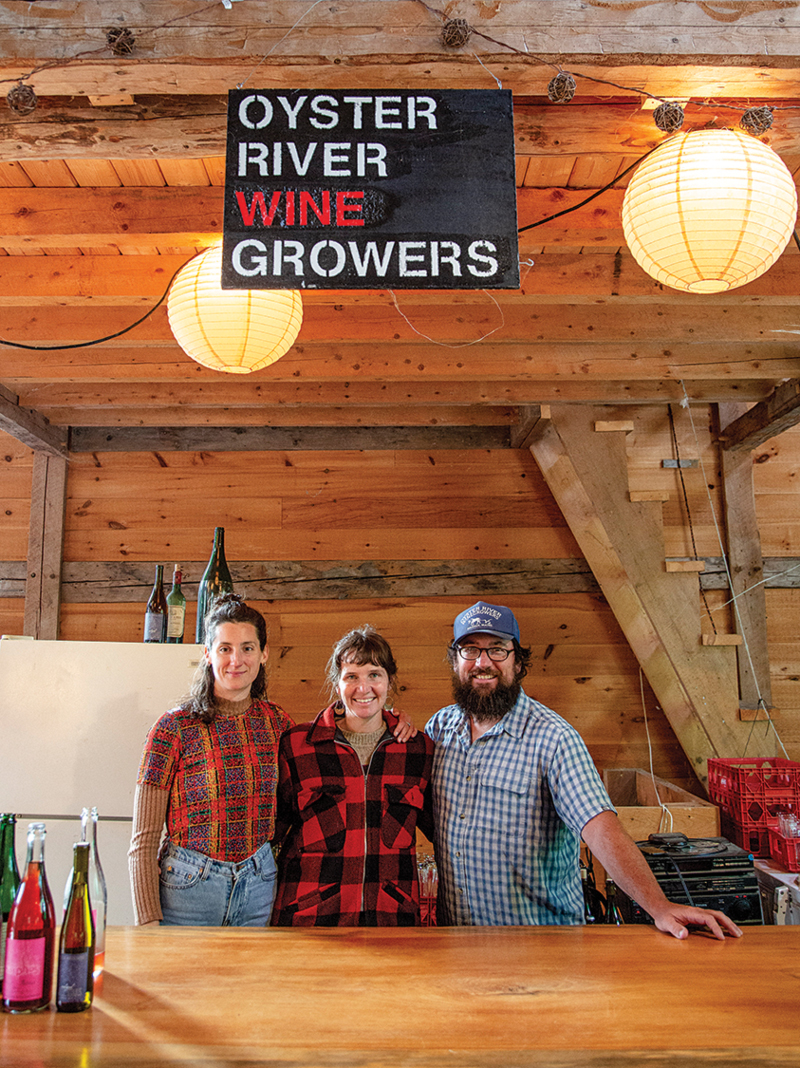 Joanna Spinks, Oyster River creative director, and Oyster River cofounders Allie Willenbrink and Brian Smith share pizza-night bartending duties.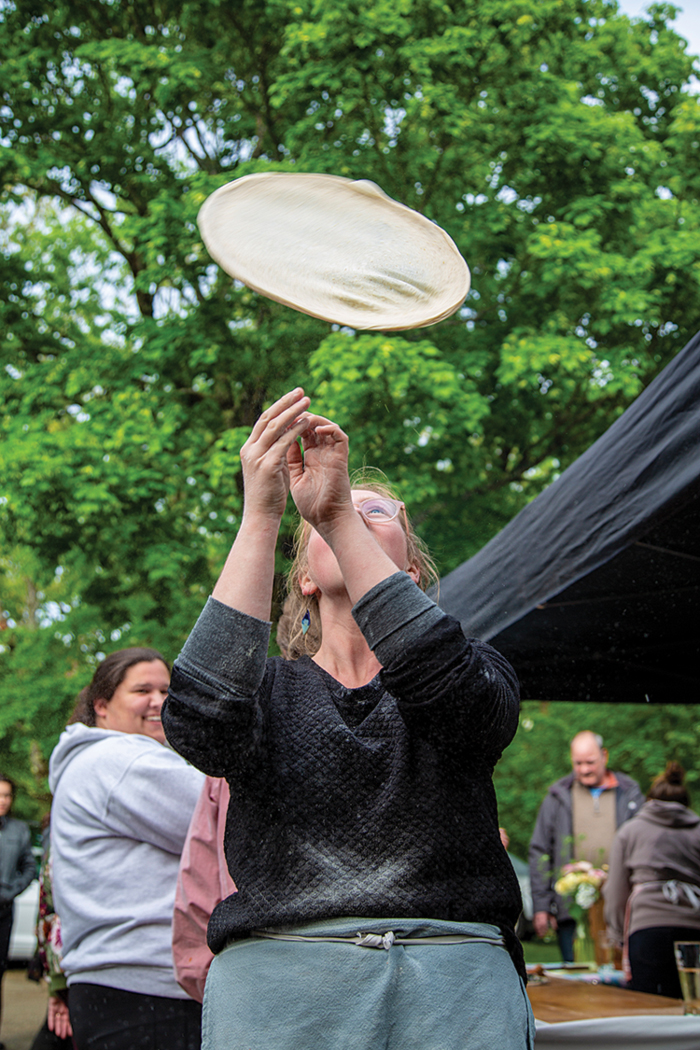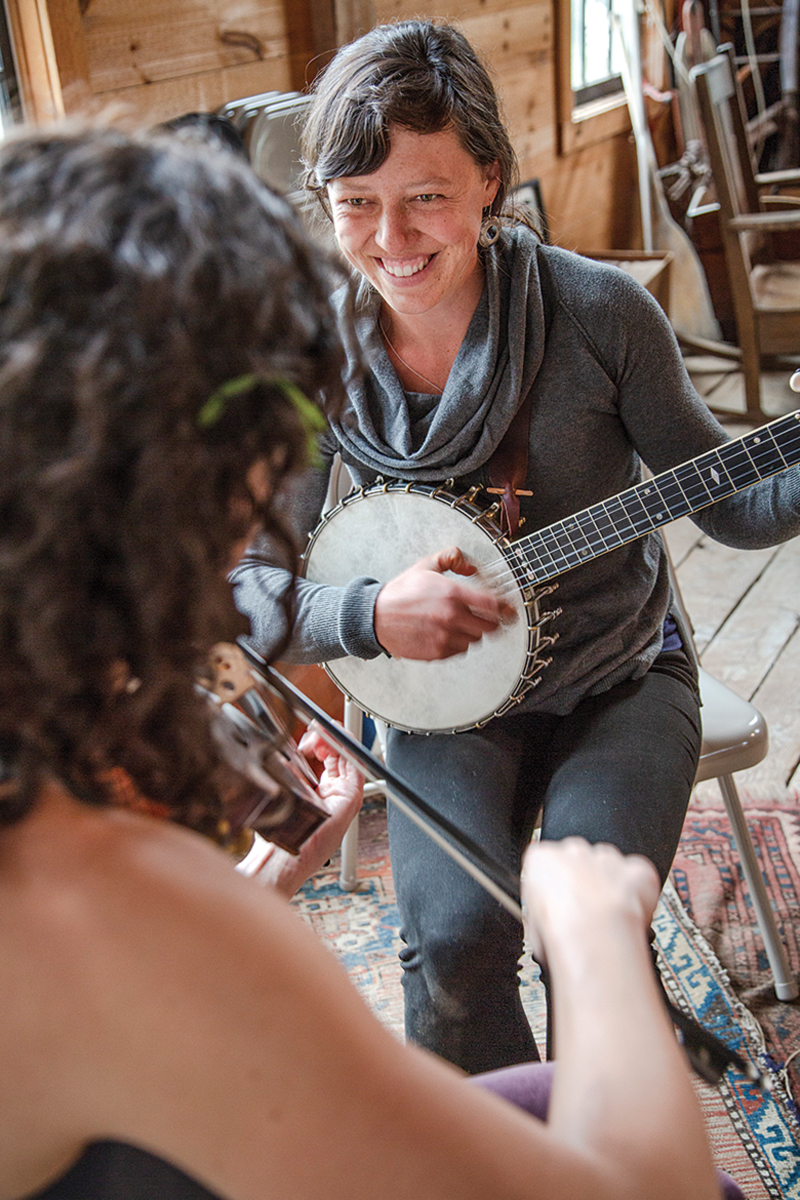 The Gawler Sisters are typical of the string bands that play Oyster River's bimonthly pizza nights.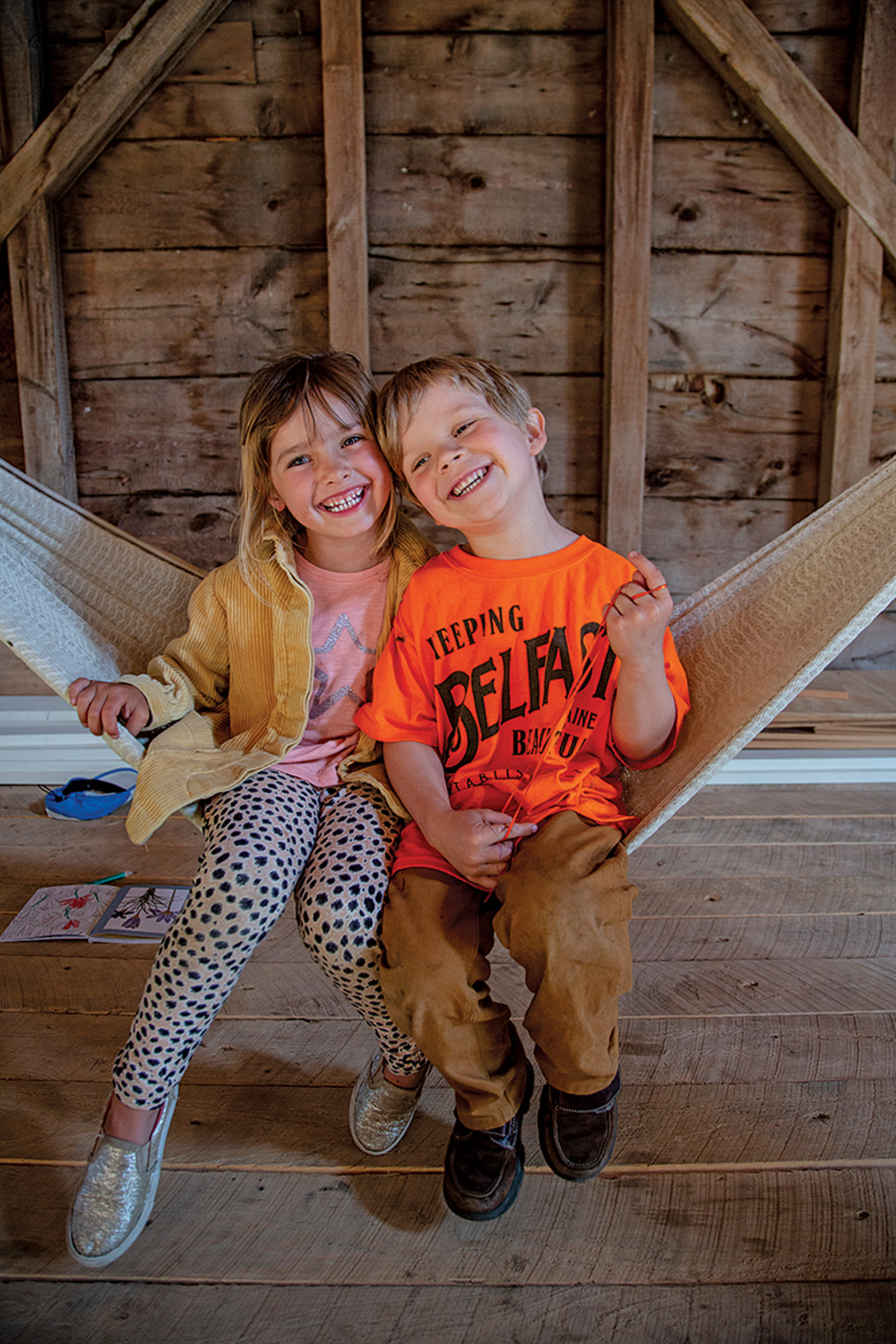 For Katee Lafleur and Andrew White, of Montville's High Ridge Farm, weekly taco nights are a much more deliberate part of their fledgling business's economic model. From June through October, Lafleur and White welcome people into a beautifully renovated barn behind their post-and-beam farmhouse, both of which date to 1865. Out the barn's back door are 35 acres of fields and woods that drew the couple to Maine from Vermont two years ago. And nearly all of the vegetables, apples, flowers, chickens, and hogs they grow and raise will end up on plates right there in the barn.
"This area is full of farms, with a lot of great CSAs, farmers' markets chock full of amazing farms, and restaurants that are being supplied well already," White explains. "So we thought, how can we farm and create a new market for our food instead of just competing with other great farms that are already out there?"
The answer was, in part, tacos. Friday taco nights at High Ridge find White stuffing crisp-edged carnitas or chile-stewed carrots into charred corn tortillas. Lafleur, meanwhile, doles out glasses and bottles of the farm's first vintage of cider, a dry and nearly still affair that's more earthy and tannic after two years in oak barrels than typical American ciders, all fizz and fruit. The tortillas are about the only thing on offer that aren't sourced from the farm or, like some of the apples White picks from nearby abandoned cider orchards, from the immediate Knox County area.
Aesthetics are an asset that small, largely hand-powered farms have in spades, certainly compared to industrial-scale operations. "What's there really to see on 1,000 acres of soybeans?"
As they await their tacos, visitors wander in and out of the barn, some setting up spreads of BYO side dishes on tables and benches and in other cozy nooks, including a loft with a hammock. A pair of farm dogs are happy to accept scratches behind the ears from strangers. When she isn't pouring, Lafleur guides people through the fields, describing what's growing in each plot and pointing out shrubs where a litter of spotted piglets might be hiding out. Packs of children roam freely, chasing (or being chased by) a flock of pastured chickens or trying to catch frogs along the edge of the pond. People may come for the tacos, but most find reasons to linger well after dinner is finished.
High Ridge also hosts a monthly, reservations-only supper club, plated affairs that might feature smoked chicken or grilled, dry-aged pork chops. The dinners draw some of the same crowd, but taco night helps the bottom line, and White and Lafleur feel it's important to offer an informal and affordable opportunity for the community to gather (the tacos are, in fact, available for a suggested donation, between $3 and $5; a glass of cider costs $6). When taco nights first kicked off last summer, during White and Lafluer's first full season of farming and events at High Ridge, White says, "we'd just be sitting in the barn, wondering if anybody would come." By the end of the season, though, "we were losing just enough to make it work," and this summer's attendance is off to a good start.
"It's not lost on me that it isn't exactly a viable farm model to say, 'Get yourself an old barn and put a bunch of money into it — that's the way to make a farm work,'" White admits. But the High Ridge barn — with its mottled shingles, soaring ceiling, and the stout, worn beams supporting the loft — simply took its new owners' breath away. White and Lafleur sunk most of their savings into the barn to make it structurally sound, lifting it off an existing stone foundation to pour a concrete one that now doubles as a cider-making cellar.
"Once we did that," White says, "we suddenly had a venue on our hands."
Aesthetics, White and Lafleur realize, are an asset that small, largely hand-powered farms like theirs have in spades, certainly compared to industrial-scale operations. "People like to go up to Maine because it looks beautiful, smells beautiful," White says. "But what's there really to see on 1,000 acres of soybeans? I wouldn't even say we're able to honestly feed our community here, in a real sense — we aren't supplying the number of calories a family needs to survive. What we are supplying is an experience."
Part of that experience is a pretty killer taco, as creative and true to the Mexican style as you'll find in the state. Part of the experience is eating that taco while looking out over a sunflower field at the enclosure where the pig that became your carnitas once lived a seemingly happy life. And in that sense, there's no more fitting place to enjoy that taco than right there, in a beautiful barn on a beautiful farm on a backroad in Maine.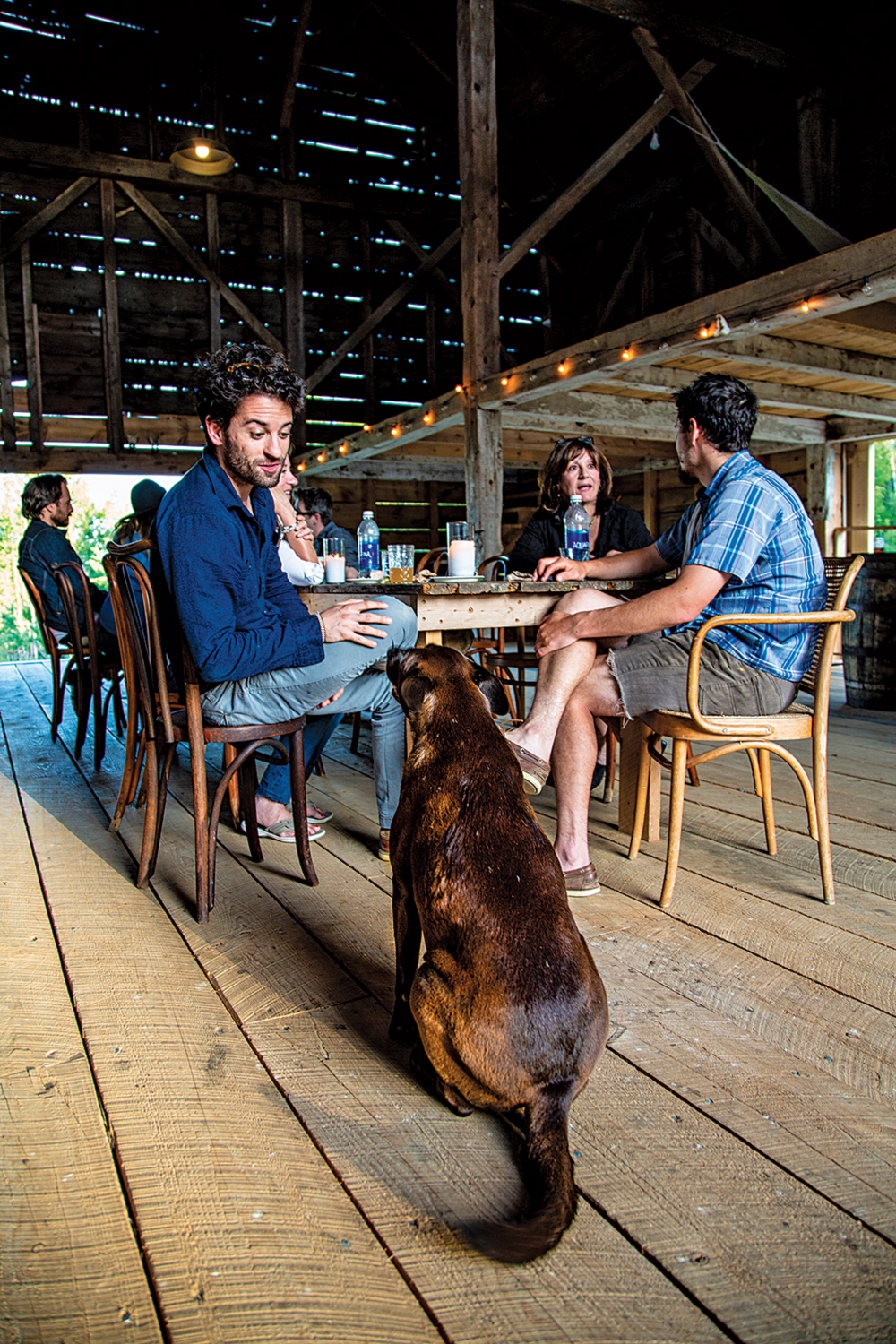 Farmhouse Fetes
Oyster River Winegrowers
929 Oyster River Rd., Warren. 207-542-0079.
Pizza nights every first and third Wednesday, from 5 to 8 p.m., from June through September offer wine and cider, live music, and treats from Tall Trees Snack Shop. Even the occasional kiddie puppet show.
Funky Bow Brewing
21 Ledgewood Ln., Lyman. 207-423-9348.
"Growler nights" every Friday and Saturday, from 4 to 9 p.m., are less about filling beer growlers and more about draft pints, wood-fired pizza, campfires, lawn games, and bands. The "barn" is a monster greenhouse festooned with string lights (not to be confused with the greenhouses full of produce). Plenty of kids and dogs.
High Ridge Farm
117 Choate Rd., Montville. 207-589-3090.
Tacos filled with pasture-raised meats and fresh produce are technically exchanged for donations, with cider pours at a cash bar. Fridays, from 5 to 9 p.m., from June through October.
Tinder Hearth
1452 Coastal Rd., Brooksville. 207-326-8381.
Call ahead to order pizzas on Tuesday, Wednesday, Friday, and Saturday evenings, from 5 to 8 p.m., at this wood-fired bakery on a small working farm. Diners settle in at picnic tables. There's a rotating selection of wines, draft beers, and desserts, and Bon Appétit praised the 'za as some of the country's best last year.
Nezinscot Farm
284 Turner Center Rd., Turner. 207-225-3231.
The first Saturday of the month, from 6 to 10 p.m., is pizza, music, and fiber night at Maine's first organic dairy. RSVP online to tuck into a pie, baked beans, salad, and other farmhouse fare, although anyone can skip the feed and bring an instrument or a fiber project to join the post-dinner jam session or crafting circle.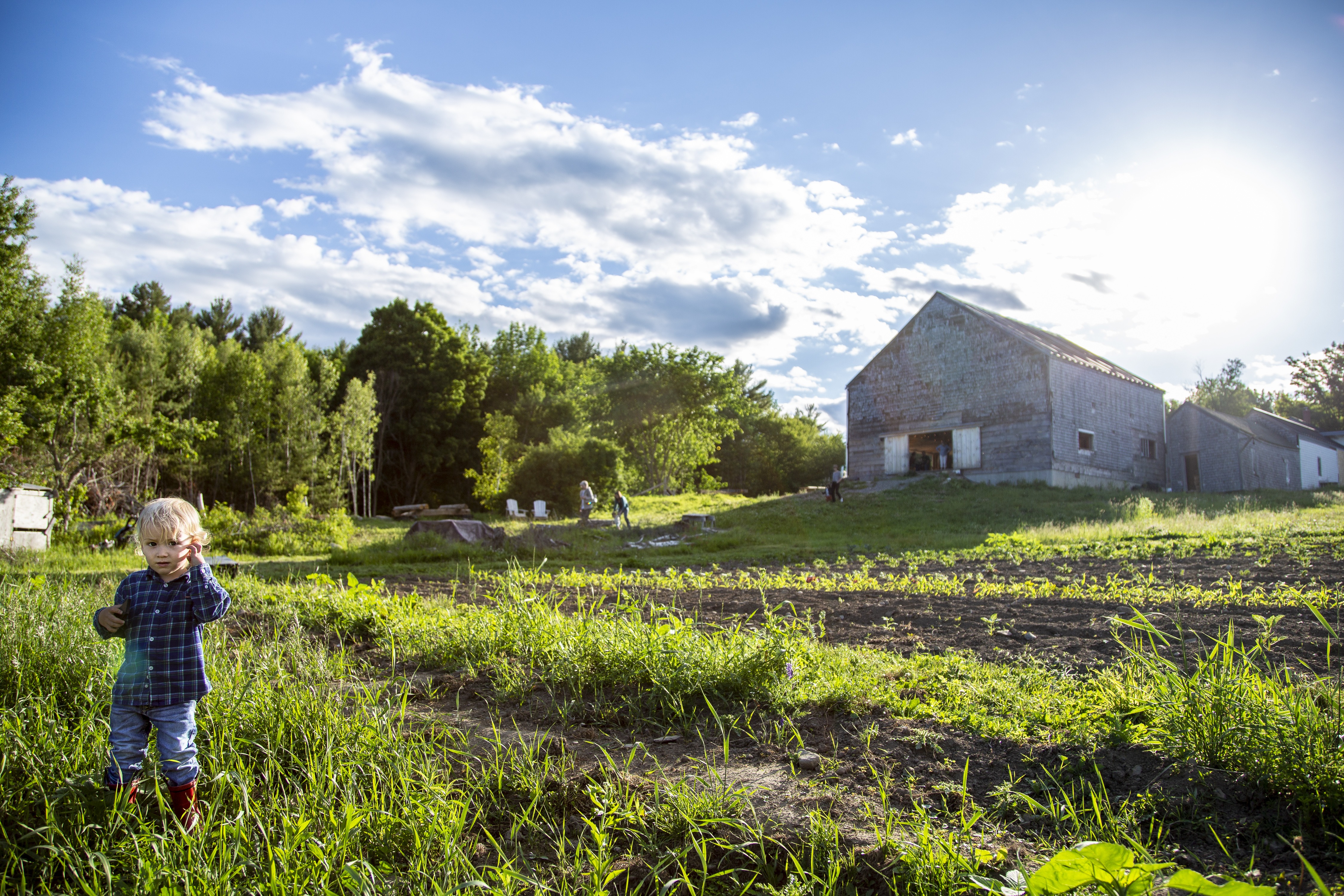 ---