Transformit's colorful fabric structures create dazzling settings for institutions and special events worldwide.
By Meadow Rue Merrill
Photographed by Doug Levy
[T]he gymnasium of the Boys & Girls Clubs of Southern Maine in Portland is just what you would expect it to be: a cavernous room with steel I-beams in the lofty ceiling, brick walls, and a wooden basketball court. But every April, the gym undergoes a transformation. Last year, it was an undersea banquet hall, with glinting blue waves for walls and giant abstract clouds overhead. The year before, it was a cabaret, awash in violet light under a cluster of inflated stars and crescent moons. Another year, it was a clearing in a lush, sun-dappled forest. Each time, the metamorphosis is so complete, it's hard to believe that it is the same place where kids spike volleyballs and shoot hoops every day after school.
That's the goal of Cindy Thompson, owner and CEO of Transformit, which designs and manufactures tensioned fabric sculptures in Gorham. For the past 20 years, Thompson, a former high school art teacher, has been decorating the Boys & Girls Club for its annual Spring for Kids auction in exchange for the opportunity to show her work, but these days her installations are hardly suffering from lack of exposure. Transformit fabric structures dress up museums, theaters, schools, parks, and hotels around the world. Clients include Pepsi, Hasbro, and Sony. Dallas Cowboys fans sip cocktails in an AT&T Stadium VIP lounge that is illuminated by Transformit's giant football-shaped lights. In 2012, President Obama wooed prospective voters in Portland while standing under a web of Transformit's red, white, and blue banners.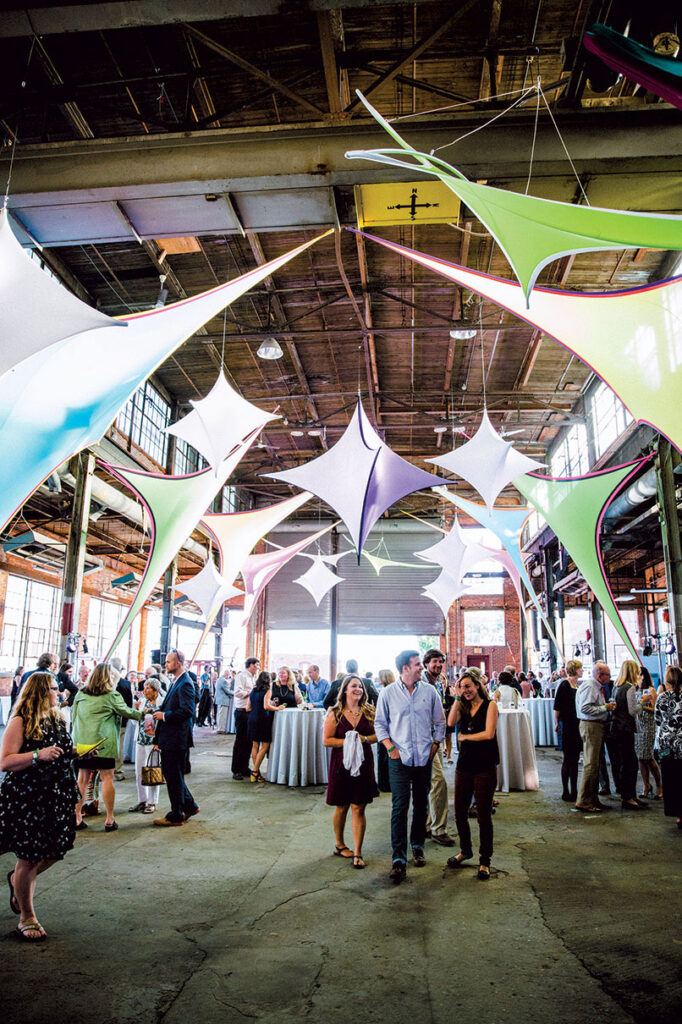 A lively 67-year-old with wiry blond hair, Thompson is sitting in her warehouse office, every square inch of which is covered in paper, from thank-you notes to posters of pop stars. "I wanted something that moved," she says of her decision to launch a fabric structures business 27 years ago. "Hard mediums can't change their environment. They either sit on a chair or on a shelf or on the floor."
Thompson, who grew up in rural Indiana and attended college in Colorado, taught high school art for eight years before moving to Boston in the late '70s to earn a master of fine arts degree in sculpture at the School of the Museum of Fine Arts. There, she taught herself to sew, making the metal-framed costumes she wore as part of an avant-garde performance art group, Pink Inc. "It was easy," Thompson says, laughing at a photo of herself wearing a giant circle-shaped costume with legs. "I was out in front of people. I'm still in front of people. I'm in public. I'm not in a gallery."
After a jaunt up the Maine coast, Thompson bought a $25,000 house on 5 acres of blueberry fields in East Machias. It was quiet and beautiful, a reprieve from busy Boston. "Problem was," Thompson says, "what do you do up there?"
Get to know Bill Moss, the inventor of the pop-up tent and an innovator of tensioned fabric structures, for starters. After hearing that Moss was hiring artists, Thompson paid him a visit at Moss Tent Works in Camden. "He showed me around his factory," Thompson recalls. "It was fun." Not long after, she caught Moss's eye with a large, three-dimensional fabric mussel that she designed for a Rockport gallery. He suggested she market her work to the business community. "Absolutely not," a skeptical Thompson responded.
I was out in front of people. I'm still in front of people. I'm in public. I'm not in a gallery.
But after relocating to Portland, Thompson moved into the Presumpscot Street studio that Moss shared with another fabric artist, Charles Duvall. While helping Moss design a line of disaster shelters that never caught on, Thompson developed moveable fabric sculptures. She launched Transformit in 1988 with a soaring raptor-like structure with giant eyes that she installed over the duck pond at Deering Oaks during an arts festival.
Tapping into the events market, Thompson rented out pieces that could be easily installed and broken down and packed in a box. Her business really took off in 1996, when her sculptures were installed on the White House lawn for its annual Easter egg roll and in the press area at the Summer Olympics in Atlanta. "That really put us on the map," she says.
Two decades later, Transformit has an international reach, with a rental partner in Vancouver, British Columbia, and a distribution center in Holland. As many as 25 people work in the vast Gorham warehouse that Thompson calls her "toy shop," some of them sitting at computers working on designs, others hunched over sewing machines and surrounded by waves of stretchy fabric known as "skins." The entire back wall is lined from floor to ceiling with duffle bags that are filled with the 4,000 ready-made pieces that compose Transformit's inventory.
[infobox maintitle="Making It In Maine" subtitle="In 2012, President Obama wooed prospective voters while standing under a web of Transformit's red, white, and blue banners." bg="black" color="white" opacity="off" space="60″ link="no link"]
Products are organized into collections with fanciful themes such as "Dream Spinners" and "Free Form Wings." Some pieces are custom printed with images, such as rippling water or sizzling flames. Others are embedded with tiny strips of bulbs to radiate light. New designs are continually being created. For the recent opening of Citizen Watch Company's flagship store in Times Square, Transformit installed a giant abstract Japanese lantern made with layers of white fabric, a rare piece with straight lines. The company is now expanding its line of outdoor structures through a partnership with Duvall Dynamic Spaces, of Rockland, owned by Thompson's former studio mate, Charles Duvall.
Whether printed or illuminated, installed indoors or out, the structures have the ability to transform a space, as if you've stepped into a garden of spiraling flowers or been swept up in a cosmic meteor shower. "My biggest vision for Transformit," Thompson says, "is to take art into the business world and to make a statement, to make a difference to people."
---
Subscribe to our newsletters to get the best Maine travel, culture, and dining stories (and photos) each week.