A smart recession-era move favoring new boats and innovation has made Sabre Yachts an industry leader.
By John Grossmann
Photographed by Brian Fitzgerald
J
ust before noon on a sunny day this spring, all 160 employees at the
Sabre Yachts
boatyard tugged on their commemorative T-shirts and headed for the end of the assembly line. There, in the high-ceilinged boat shop, they had just the day before completed a milestone Sabre 48: hull number 100 since the model's debut in 2011. The 48-foot boat sat trailered outside the building, allowing room for folks to mingle and enjoy some pizza before a short ceremony.
A Sabre yacht is more than the sum of its 8,000+ parts, most of them built here at the company's production facility in Raymond, some 25 miles inland from Casco Bay. Even those parts hidden below deck or behind cabinetry receive the same careful attention as the gleaming cherry woodwork or the signature flag-blue gel coat on the fiberglass hull. "It's the things no one sees, the things behind the milk and the mustard," COO Aaron Crawford is fond of saying. "If you take the time and effort on those items, you know there's a lot of pride in the craftsmanship."
"I always search out Sabre at boat shows because they know how to balance the tradition of that Down East style with innovation," says Paxson St. Clair, second-generation CEO of Cobalt Boats, a manufacturer in Neodesha, Kansas. "They are magicians with wood. Everywhere you look, there's a little detail that just reeks quality."
"They do a lot of things really well," agrees Chris DiMillo, founder and president of DiMillo's Yacht Sales, in Portland. "It's a combination of good looks, performance, and value. Other builders can build at that quality level, but they can't offer it to the market at the price that Sabre can."
DiMillo, who has been selling Sabres for 15 years, recalls a dealer meeting in 2005, when Sabre CEO Daniel Zilkha "essentially forecast a dramatic downturn in the market. He said they were staying ahead of that and keeping plenty of capital on hand so they could come out with new models."
The boatbuilding industry is not for the faint of heart. Any big dip on Wall Street invariably sends waves of trouble washing over the luxury-yacht market. New boat orders get cancelled. Used boats flood the secondary market, further depressing prices. Then, as the market rebounds, DiMillo says, new products with new technologies are what sell.
CLICK IMAGES TO EXPAND
---
During the depths of the recent 2007 to 2010 recession, when yacht sales plummeted industry wide and other boat companies cut staff dramatically and slashed research and development, Sabre counterintuitively retained its R&D budget and kept its design and engineering team at full strength. That strategy, which gave rise to the popular Sabre 48, paid off. Annual revenues have reached $50 million, in part on the strength of building some 14 Sabre 48s a year (current base price $1.12 million). Sales of sister company Back Cove Yachts, which employs 200 in Rockland, add another $10 million to $20 million. "I have a tremendous amount of respect for Daniel Zilkha, He's not a boat guy. He's a finance guy and a manager," DiMillo says. "That company is as lean and mean as any out there."
Sabre's origins are in early 1970s Montreal, where founder Roger Hewson, moonlighting in his construction company facilities, designed and built his first boats: a dozen wide, blunt-nosed sailing scows that he named for their length and impressive speed cutting through water. He eventually sold the construction company and staked his future on a sailboat he "could build a lot of," relocating to Sebago Lake, where his wife had roots.
The first Maine-built Sabre was a 28-foot ocean racer/cruiser with standing headroom, berths for six, and a handcrafted teak interior of a quality typically found on larger custom yachts. In the ensuing years, the company turned out 588 Sabre 28s and introduced 14 more sailboat models. In 1988, it introduced its first motorboat, a 36-foot fast trawler with a high-performance hull shape and roomy, well-appointed living quarters. Motor yachts grew to a third of production and Sabre's annual revenues topped $10 million.
It became a family. There's a clarity and ethic here.
Daniel Zilkha, Sabre CEO
Then came what Hewson calls "the perfect storm": the white-collar recession of 1991, a 10 percent federal luxury tax on yachts, and the failure of the Bank of New England, which cost Sabre its line of credit. Boatbuilding ceased for three months, until a deep-pocketed customer named Ed Miller acquired the business and quickly transitioned majority ownership to his good friend, Daniel Zilkha, an investment banker turned magazine publisher with a deep affection for Maine, his wife's home state. (Miller is the company's chairman.)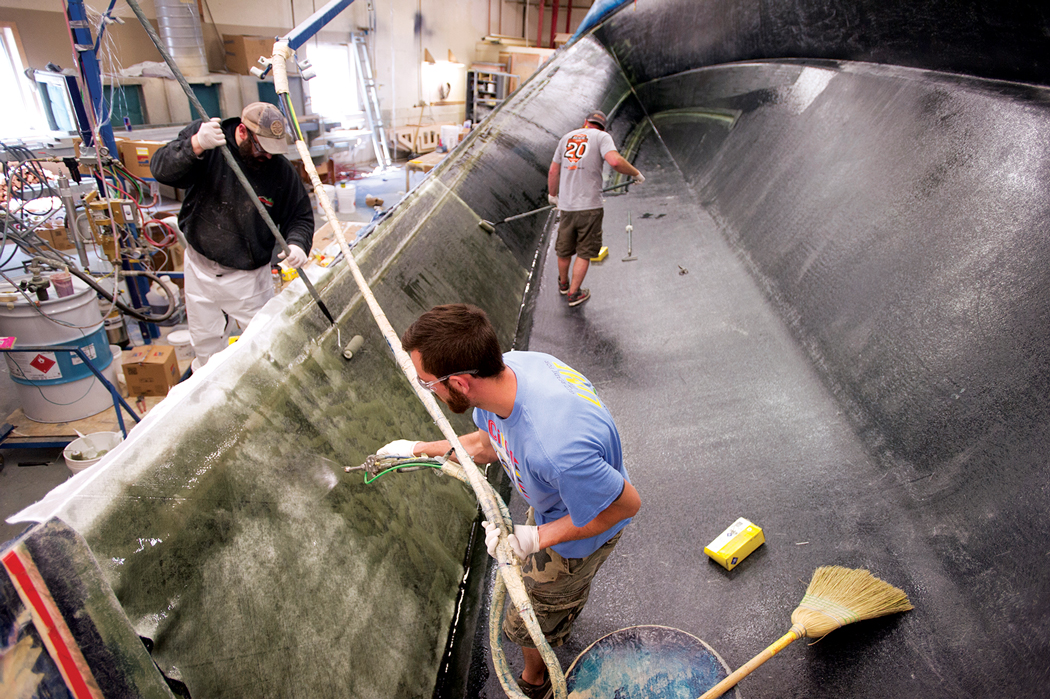 Born in Egypt, Zilkha grew up in Paris and earned an undergraduate degree at Princeton and an MBA at Harvard. While living in Manhattan, he founded and published Art & Auction magazine. When he took control of Sabre Yachts in '91, Zilkha had never owned a boat. He still doesn't.
"Most people thought that within 10 years I would sell the company," he said recently, sitting at his desk in an office upstairs from the Raymond boat shop. "I thought that within 10 years I would sell it. I was 50 at the time. Here I am at 75."
What happened?
"It became family," he said. Then he added, "There's a clarity and ethic here."
Zilkha's approach has been to pursue ambitious growth selling semi-custom motor yachts, fueled by what production manager Don Wentworth calls "a certain amount of arrogance": "The folks here are not just the best boat builders, the best craftsmen in the lakes region," Wentworth says. "These folks are the best anywhere in the world."
The Sabre workforce is comprised of down-to-earth, multi-skilled tradesmen, a self-reliant bunch. Several have built their own houses. Plenty split their own firewood. Still others run sap lines and boil their own maple syrup.
Machinist Les Morey, 50, has been at Sabre 22 years. He previously maintained the big machines at Bridgton Knitting Mills and helped out as an unpaid mechanic on his brother-in-law's race car. "The way I was brought up, you didn't hire somebody to fix something for you," he says. "If it broke, you figured out how to do it yourself."
Morey recently innovated a better way of cutting the pair of circular holes through the 1½ -inch–thick fiberglass hull to accommodate the pod-drive system and joystick controls that have replaced traditional engine-to-shaft-driven propellers on all Sabre models. The task is much quieter, less dusty, and finished in a fraction of the time it took with the old method using a hand-held router.
He praises the way Sabre allows employees such creative freedom, as well as the way it supports their families. Nobody blinked, he says, when he "bugged out a half-hour or so early to do the coaching thing" for his son's baseball team — Sabre even sponsored the team and provided money for equipment. As it does for all employees, the company assisted with college tuition for Morey's daughter. When Morey was hospitalized for a heart attack 10 years ago in December, Zilkha was at his bedside the day after Christmas, asking if there was anything he could do.
"Heart attacks to back surgeries — I know what road Daniel is taking home that night," says production manager Wentworth, a 33-year Sabre veteran who originated the phrase about the stuff behind the milk and the mustard. "He's going home via whatever hospital room somebody's in."
It's been like this since Zilkha took the helm 25 years ago. "Shortly after Daniel acquired the company, my mother-in-law experienced a life-threatening heart problem and was in the hospital in Portland," Wentworth recalls. "I told him I wanted to support my wife though this challenge and that I'd be in and out. He said, 'That's an unreasonable commute for you. You guys need to be closer.' He handed me the keys to his home [in Portland]." Wentworth politely declined the offer, but still marvels at the kindness. "Where do you find a boss like that?"
Joining the employees on the boat shop floor this spring were the owners of Hull 100, Randy and Kim Jeffery, of Daniel Island, South Carolina. The Jefferys had visited Raymond almost monthly to see their boat progress down the assembly line. Now they stood, slices of pizza in hand, shoulder to shoulder with the folks who built their boat, as COO Crawford stepped atop an overturned plastic bin and thanked them, eliciting applause.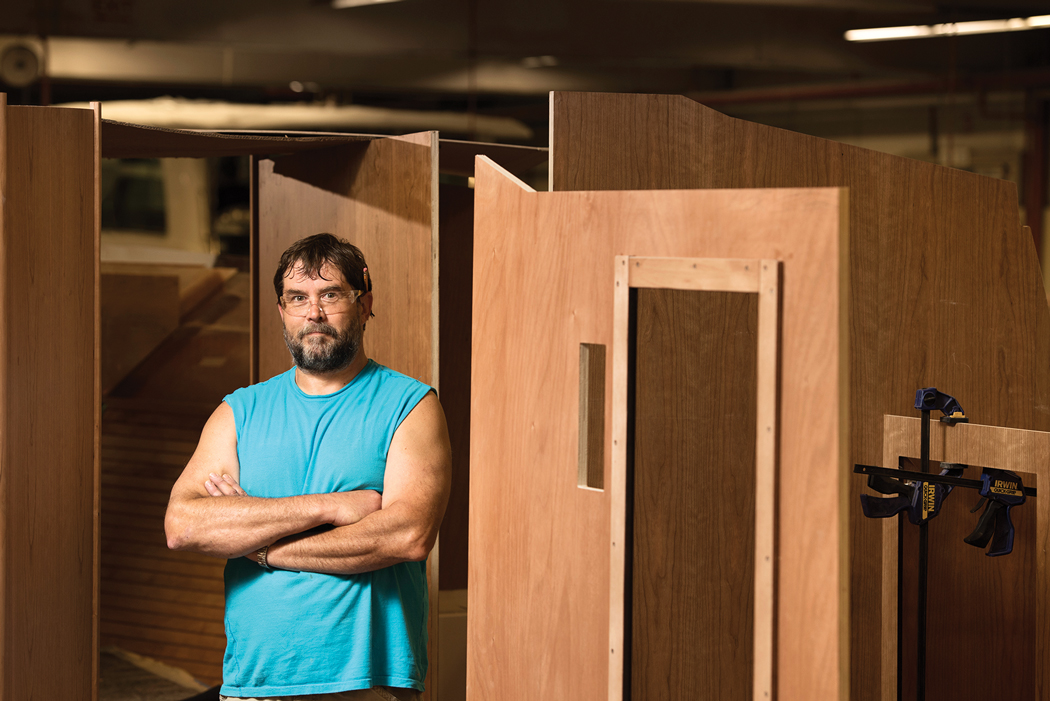 The Jefferys were deeply engaged in the design of their craft, their second Sabre, a phenomenon not uncommon among the company's customers, whose input sometimes leads to incremental improvements to the product line. Crawford praised the couple as smart and enthusiastic customers and partners. Working with them has been fun, he said, "because it's fun to work with folks who are as passionate as they are."
Then it was Randy Jeffery's turn to speak. "This boat is, for us, a dream that every one of you made a reality," he said. At the Jefferys' request, every employee who'd worked on the boat had signed a board that was installed near the breaker panel and sealed with a protective coat of varnish. "When we saw it yesterday for the first time, it was truly emotional," Randy said. "You are exactly what Sabre says you are: Mainers who are professional craftsmen and women. Kim and I cannot begin to thank you enough for what you have done."
On Crawford's signal, a huge garage door rose to reveal the Jefferys' boat, the 3,148th Sabre built in Raymond since the company's founding. Then everyone stepped outside and lined up in front of
Hull 100 for a family photograph.