Is Lewiston's Hotel Crypt a trick or a treat?
Lewiston's Inn at the Agora offers a Jekyll-and-Hyde hotel experience. Opened last September in the refurbished rectory of the former St. Patrick's Church, the main inn is tastefully boutique-y. Its suites pay homage to the magnificent Gothic church, which held its first mass in 1890 and closed in 2009. The Wallace Suite, for example, honors Monsignor Thomas Wallace, St. Pat's founding father. "Decorated in soothing blue and white, it features an exquisite vintage tile fireplace," explains the inn's website.
Sound a little too soothing? For an additional fee, you can also hang out in the late Msgr. Wallace's former crypt. This includes some decidedly non-boutique touches, such as "a vent on the east wall that was meant to exhaust the gases emitted by a rotting corpse."
Msgr. Wallace was placed in the crypt, beneath the mortuary chapel, after his death in 1907. And there his remains remained until the church closed and his body was disinterred and reburied at nearby Mount Hope Cemetery.
"This isn't some silly thing you'd see in a haunted house," says owner Andrew Knight. A Virginia developer who specializes in residential real estate, Knight says the Hotel Crypt wasn't part of his original vision. "I wanted a beautiful church small enough to turn into a luxury home. I looked all along the East Coast before I stumbled upon St. Patrick's. Of course, at 15,000 square feet, it's way too big for a home — unless you're Usher or somebody like that."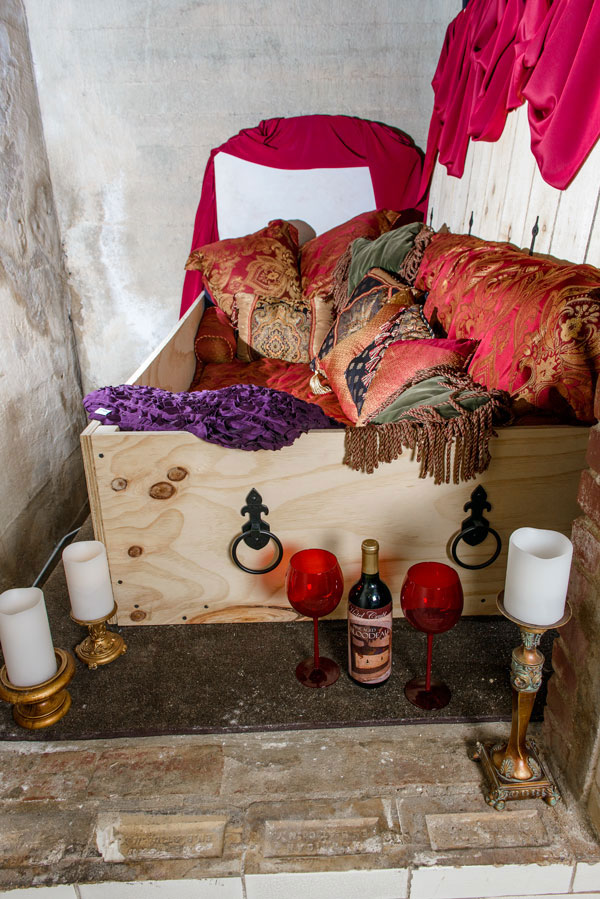 So Knight converted the church into an events center, turned the rectory into his inn, and added the crypt as a campy bonus.
Or he exploited it for publicity, depending who you ask. Knight recognizes that some may find the notion of a guest crypt unsettling. "Most people who stay at the inn aren't even aware of the crypt," he says. He markets it with a separate website (hotelcrypt.com), promoting "an exclusive evening in a custom-built pine box coffin . . . a selection of over 60 classic horror/scary movies . . . even a complimentary bottle of 'Bloodeaux.' " (As the crypt lacks plumbing, guests can't actually stay over; they must return to suites in the main inn by 2 a.m.)
Not all Lewistonians approve, and manager Jan Barrett is sensitive to that. A Lewiston native whose son was baptized at St. Pat's, Barret thinks Msgr. Wallace would have given Hotel Crypt his blessing. "He loved this property," she says, "and it seems to me he would rather see us do something like this than let it fall to the ground." — Rob Sneddon
[button content="More North by East" color="black" text="white" url="https://downeast.com/category/north-by-east/" openin="_self"]
---