Like Father, Like Son
Sometimes what matters most is the person you're hunting with.
By George A. Smith
The crisp autumn afternoon, the stiff point of the English setter, and the explosion of a pheasant from the tall grass. The heft of the shotgun as I brought it to my shoulder. The crack that cut the cool air and the folding of the colorful bird, followed quickly by the dog's retrieve. All of this set my course for a lifetime, and my dad's presence right behind me reinforced the handed-down nature of the hunting tradition.
On my office wall, I still have the photo of us with that setter and my very first pheasant. I must have been 12 years old, but I look awfully small. Forty years later, I returned the favor of that first pheasant hunt by introducing Dad to turkey hunting. After a year of hunting turkeys myself, I knew he'd love the challenge, the camaraderie, and the subtle communication between a hunter and the strutting male turkeys we call toms.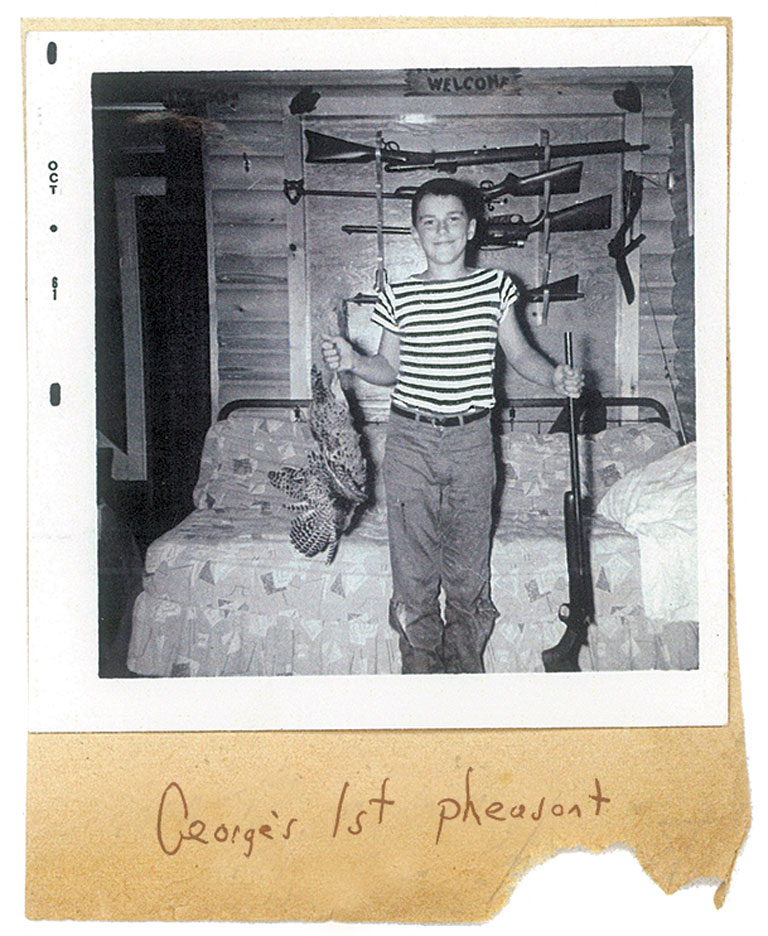 A couple of years ago, on opening day of the spring turkey season, he and I sat at the edge of a Mount Vernon cornfield as I "talked turkey" to a tom in the woods. Eventually, the tom moved out into the field and headed for our decoys, and Dad shot him at about 20 yards — a hefty 21-pound bird. I retrieved it myself. We haven't had setters in a long time.
What we do have is a generational bond, forged in the fields and forests and on the lakes and rivers of Maine. Hunting and fishing have always been my links to my dad. The time we spent together in the woods and on the waters is priceless — beyond the comprehension of those who are less privileged.
Another memory, from another time: My canoe paddle dips silently into the calm waters of Hopkins Stream. Mist hides the shoreline ahead, allowing us to sneak up on three buffleheads that take off in surprise. A muskrat meanders toward the shore, in no hurry to get away. He clambers out of the water and gazes at us.
Dad and I exit our canoe quietly, stealing glances at the oak knoll in front of us, where deer have been feeding heavily. Fresh deer sign is everywhere as we trudge 300 yards to our blind, atop a small ridge overlooking the oaks. This morning, we choose to sit together. He looks one way and I the other. It's quiet and comforting, cleansing for the mind and body — I have been known to nap in the woods during deer season. We enjoy our coffee and muffins, content to sit and wait.
The anticipation that a deer might appear at any moment is the best part of the hunt, and Dad and I do a lot of anticipating. This particular morning, that's all we do. No whitetails wander by, although I surprise one in a thick fir stand later in the day, hearing the crack and commotion of its escape without ever laying eyes on it. For the moment, though, I simply enjoy the smell of the firs, the cushion of the mossy forest floor, the skittering of red squirrels, and the sharp taste of my fresh Maine apple. A chickadee alights 2 feet from my face, unafraid. I remember the time that an ermine ran up my leg and arm while I sat against a tree. Last year, I was mesmerized by two fishers cavorting through my woodlot. They took no notice of me. A hunter sees amazing things while anticipating.
I'm living proof that hunting doesn't destroy one's ability to love the critters of the forest.
A few I shoot and eat, respectful of their sacrifice and of what they contribute to my life and table. I am not a killer — I am a hunter. And I understand the difference thanks to my dad.
Dad had been looking forward to turkey hunting last spring, but he's in the hospice unit at the Togus VA Medical Center in Augusta, nearing the end of his 91 years of life. His legs weren't up to the challenge of chasing turkeys. So we got in the Subaru and drove around Windsor and Somerville, where he and I first hunted turkeys with our friend Harry Vanderweide.
When we got to the place where Dad had shot his first turkey, we stopped to reminisce. As Harry had driven us up the road that day, now eight years ago, we'd spotted a big tom in the strawberry field where we had permission to hunt. But he was too close to the road, and Harry and I told Dad there was no way he could sneak up on it. But Dad had insisted that we stop. He hopped out, loaded his shotgun, and somehow managed to close in on that tom, keeping a big tree between himself and the bird. When Dad reached the tree, he peeked around it, raised his gun, and shot the turkey cleanly. I wish I had a photo of the smile on his face as he walked back to us with the turkey in hand.
As we sat in that spot last May, retelling that story, we looked out and spotted a flock of turkeys across the road.
"Well," Dad said, fondly, "they're still here." And so is he, for which I am so very grateful.
We didn't have firearms that day, and we didn't kill anything. But that's the smallest part of hunting, and so I still counted it as our 54th year of hunting together.
Editor's note: On October 31, just three days after this article hit newsstands, Ezra Smith passed away at the age of 91. George Smith wrote this memorial to his father in his Bangor Daily News blog. Our condolences to George, his family, and those who knew and loved Ezra Smith.