Go here. Do this. See that.
---
Beer Blasts
All Month
Beers and Bikes – June 14 
Orono Brewing Company hosts a day of trail-riding, with Trek on hand to demo bikes and special beers pouring at OBC. 1–8 p.m. 20 Main St., Orono. 207-866-4677. oronobrewing.com
Great Falls Brewfest – June 20 
Baxter Brewing hosts 30+ breweries, a craft fair, a bean-bag–toss tournament, and Connecticut rockers The Alternate Routes. 1–5 p.m. $40–$65. Simard-Payne Memorial Park, 46 Beech St., Lewiston. 207-333-6769. greatfallsbrewfest.com
Tap Into Summer – June 20
Two big beer fests on the same Saturday? Bangor hosts 20 local breweries, food vendors, and bands. 1–5 p.m. $25–$65. Waterfront Park, 26 Front St., Bangor. 207-947-5205. visitbangormaine.com/tapintosummer
Allagash 20th Anniversary Street Fair – June 27 
Two decades of one of the country's most influential craft breweries = a good excuse for a 10-brewery block party with a circus show, bands, Pinewood Derby races, and more. 1–6 p.m. $10. 50 Industrial Way, Portland. 207-878-5385. allagashstreetfair.com
Craft Brew Races – June 27 
Run a 5K, maybe wear a costume, earn a pint glass, then sample from more than 20 craft breweries while being serenaded by psych-rocker Jeff Beam. 12–4 p.m. $50–$65. Edward Payson Park, 700 Baxter Blvd., Portland. 401-318-2991. craftbrewraces.com/portland
---
On Stage
June 11-20
An idea is a greater monument than a cathedral.
— Henry Drummond, the character based on Clarence Darrow in Inherit the Wind
It's hard to imagine a time in America when the 1955 play Inherit the Wind won't be relevant. A fictionalized account of the 1925 Scopes "Monkey" Trial, it's a top-tier courtroom drama and a powerful meditation on intellectual freedom. Characters based on the larger-than-life historical figures of Clarence Darrow, William Jennings Bryan, and H.L. Mencken debate a teacher's right to teach Darwin. In 1955, it was a comment on McCarthyism; today, it echoes newsmaking legal battles over faith and public policy. $17–$32. Lakewood Theater, 76 Theatre Rd., Madison. 207-474-7176. lakewoodtheater.org
Bethel Maine Moose Festival
June 12-14
The Maine Department of Inland Fisheries and Wildlife's annual lottery for moose-hunting permits has always been an event for sportsmen. This year, the Bethel Maine Moose Festival makes it an event for everybody, with bands, beer, an outdoor expo, and the small-purse, two-round Moose Calling Championship. Only in Maine. Venues across Bethel. 800-442-5826. bethelmainemoosefest.com
Wicket Cool
June 18-21
The Woodlawn Invitational Croquet Tournament is a rare New England competition sanctioned by the governing body of croquet, a sport with more cachet in warmer climes. Spectators are welcome to watch four days of the lawn game that combines the strategy of chess with elements of billiards and golf. For the full 19th-century gentry experience, tour the Woodlawn Museum's grand, seven-chimneyed Federal manor. And to blend with the top-level croquet competitors who gather at Woodlawn from around the country, wear a white polo, white slacks, and white sneakers. 19 Black House Dr., Ellsworth. 207-667-8671. woodlawnmuseum.org
Keep On Trek-ing
June 19–21
It's nothing less than the Great Maine Bike Ride. Some 2,000 cyclists peddle 180 miles, from Sunday River in Newry to coastal Belfast, for the 30th anniversary run of the Trek Across Maine. The taxing, celebratory American Lung Association fundraiser has raised $22 million over the years. 207-624-0312. biketreknewengland.org
Americana Queen
June 30
She's been called alt-country, blues, Americana. She's also been called America's best songwriter, which doesn't seem like a stretch. Multiple Grammy–winner Lucinda Williams writes hooky, literate, mournful tunes. 7 p.m. $25–$45. State Theatre, 609 Congress St., Portland. 207-956-6000. statetheatreportland.com
Images: James Daniels | Shutterstock (croquet); American Lung Association of the Northeast (Trek)
---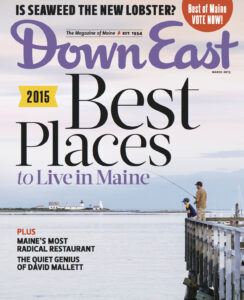 Get the best of Maine Travel, Food, Culture, and Homes & Gardens every month, with a subscription to Down East, the Best of Maine. Gift subscriptions available.
---