August
Go here. Do this. See that.
---
What a Little Moonlight Can Do
Full Moon: August 29
Moonstruck: Lunar Facts and Folklore
On the occasion of the Sturgeon Moon, settle once and for all whether it was Wensleydale or Stilton that Wallace and Gromit sampled on their lunar cheese holiday at this lecture and viewing event. 6:30 p.m. Free. Woodlawn Museum, 19 Black House Dr., Ellsworth. 207-667-8671. woodlawnmuseum.com
Full Moonrise Hike
Fetch boots and torch for a Down East ramble in the gloaming. Scope the moonlight over the Atlantic from atop 317-foot Pigeon Hill. 6:15 p.m. Free. Pigeon Hill Preserve, Steuben. 207-255-4500. downeastcoastalconservancy.org
Moon Viewing at the Observatory
At 420 feet (that's 42 stories!), the Penobscot Narrows Bridge Observatory might be the closest you get to seeing eye to eye with the man in the moon. 8–10 p.m. $5. Historic Fort Knox, 740 Fort Knox Rd., Prospect. 207-496-6553. fortknox.maineguide.com
Full Moon Sail
From aboard the Schooner Olad, watch the sun dip behind the Camden Hills while the moon rises over Penobscot Bay. 6–8 p.m. $41. Public Landing, Camden. 207-236-2323. maineschooners.com
Going Dark
Through October 18
An exhibit on the evolution of Modernism in American art focuses on things that go bump (and crackle and dooby dooby do) in the night. Night Vision: Nocturnes in American Art, 1860–1960 explores the challenges and advantages that nocturnal landscapes present to artists, while considering the role that modern innovations (like the perpetual buzz of Edison's incandescent lamps) have played in the evolution of depicting darkness. Through Oct. 18. Free. Bowdoin College Museum of Art, 245 Maine St., Brunswick. 207-725-3275. bowdoin.edu/art-museum
State of the Art
Through October 12
You don't have to wait until the Portland Museum of Art Biennial this fall to take the pulse of contemporary art in Maine. Artists featured in The Best of Maine Contemporary Art at Freeport's Thos. Moser showroom include Joel Babb, Connie Hayes, Eric Hopkins, and a clutch of emerging artists. Through Oct. 12. 149 Main St., Freeport. 207-865-4519. thosmoser.com
Rails and Ales
August 14
All aboard — and all a-poured. Portland's Rising Tide Brewing Company is on hand to wet passengers' whistles at the Maine Narrow Gauge Railway's monthly Rails and Ales event (or, as we prefer to call it, Brews and Choo-choos). Ride along the waterfront following a tasting session. Advance tickets required. 6–8 p.m. $20. 58 Fore St., Portland. 207-828-0814. mainenarrowgauge.org
Maine Highland Games and Scottish Festival
August 15
At the 37th annual Maine Highland Games and Scottish Festival, you'll find tartan-sporting, kilt-clad revelers fiddling, piping, reeling, and hurling during a day fueled, undoubtedly, by peaty drams of encouragement and rumbledethumps (that's a traditional potato and cabbage dish, dae ye ken?). Topsham Fairgrounds, Fairgrounds Rd., Topsham. $15–$50. mainehighlandgames.org
The Crown of Maine Balloon Fest
August 27–30
Channel your inner Phileas Fogg at The Crown of Maine Balloon Fest, where a kaleidoscopic spectacle of "clouds in paper bags" provides both tethered and unfettered rides up into the atmosphere. For those a little less intrepid, single-passenger balloons called "cloud hoppers" are on hand for a more modest bird's-eye view. A craft fair and 5K race round out the long weekend. Aug. 27–30. Northern Maine Fairgrounds, 84 Mechanic St., Presque Isle. 207-764-6561. crownofmaineballoonfest.org
More Maine Things to Do
Expand for additional events we've heard about
Ode to Letters
Opens July 31
ODE TO LETTERS : A DECLARATION OF LOVE OF LETTERFORMS will open July 31 from 5-8pm during the Biddeford+Saco ArtWalk. ODE TO LETTERS is co-curated by Portland artists Will Sears and Ryan Adams and includes graffiti writers, printmakers, and sign painters from Maine and beyond. The exhibition will run from July 31 to September 19. Hours are Tuesday-Friday 1pm-6pm and Saturdays from 11am-4pm. feedtheengine.org
Summer Music Festival, Bay Chamber Concerts
August 19–23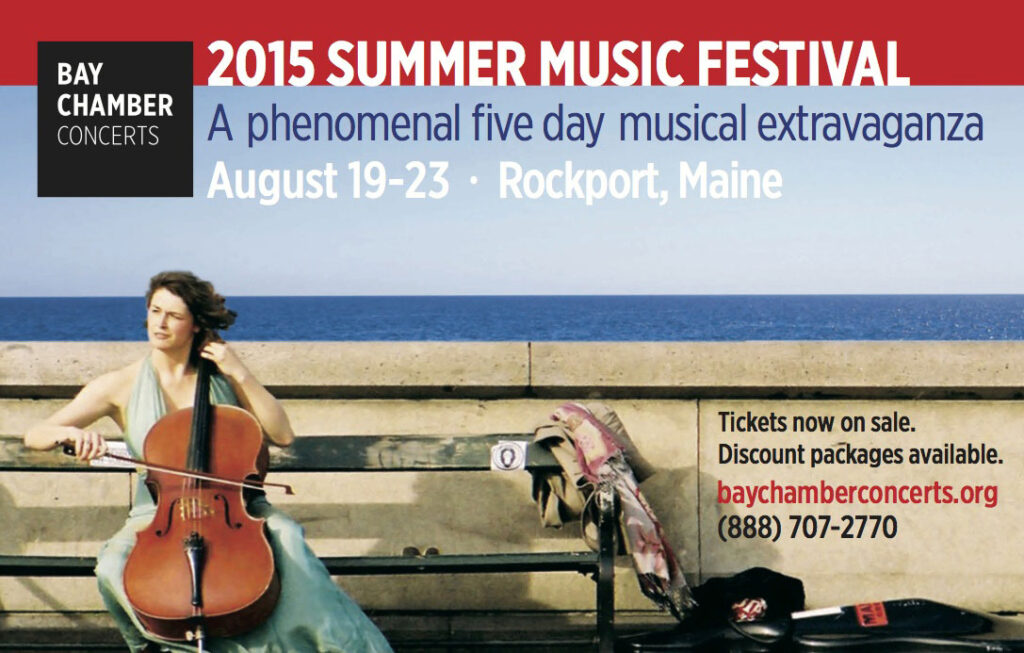 Artisan Bread Fair
August 1
Delicious breads and pastries, handmade pizza baked in a wood-fired oven, books and equipment for baking at home, professional bakers to answer your questions, live music, antique baking tools, beautiful kitchen linens, scythes and other tools, tips from flour experts about the use of their various baking flours, demos, and superb Maine-made foods. Skowhegan State Fairgrounds, free (parking $2). kneadingconference.com
Maine Historical Society
Through August 12
Through August 12, you can learn a variety of lost skills highlighting traditional crafts right here at MHS! Sessions are laid-back, supplies are provided, and beer, wine & snacks will be served. Come learn something new that's old! mainehistory.org
DAM JAM 2015
August 1
As as celebration of all that is Maine in the Summer, Denmark's DAM JAM would be remiss to not represent the wealth of food, drink, art, and other creative output of our region. Fortunately, DAM JAM 2015 proudly represents our most passionate such commitment to date, with local vendors, artist, and even farmers all making featured appearances. thedamjam.com
Brews & Views Beer Pairing Dinner
August 1

Time is running out to make your reservation for our first-ever Brews & Views Beer Pairing Dinner! Local chef, Jarod Frigon, will show off his culinary talents with a locally-sourced, summer menu that will be paired with beers by Baxter Brewing. mainehuts.org
Contained and Arranged – Floral designs in Contemporary Ceramic Vessels
August 1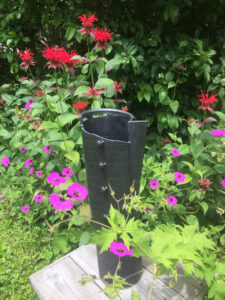 Members of the Piscataqua Garden Club have been invited by The Museums of Old York to exhibit floral arrangements in vessels crafted by contemporary New England ceramic artists. Their designs will be on exhibit in the Museum's Remick Gallery at 3 Lindsay Road on Saturday, August 1 from 10-5 and Sunday, August 2, from 1-5. The arrangements will be presented on pedestals in conjunction with the exhibition "Emma Lewis Coleman – Photographs of Maine." Emma Coleman was a photographer in the 1880s who turned her camera on York's disappearing rural scenes. Old York owns over 40 of her original prints, and is currently exhibiting a selection through October 17. oldyork.org
John Paul Caponigro's 2015 Annual Open Studio Exhibit
August 1–2
Be among the first to see new works from artist John Paul Caponigro's classic series Alignment, where lines drawn into natural environments draw the viewer into closer alignment with nature. Ranging from petroglyphs to walking paths, a variety of pan-cultural interactions with land are celebrated. Made on five continents – Europe, North America, South America, Africa, and Antarctica – they offer a truly global perspective. Environmental art in virtual space, these altered images are land art produced without altering the land. The artist's visionary landscapes drawn from and for the mind's eye heighten our physical, emotional and spiritual connections to nature. johnpaulcaponigro.com
Greg Mort and Jon Mort Night & Day Open Studio Exhibition
August 1–2
Greg Mort continues his annual summer tradition hosting "NIGHT and DAY – OPEN STUDIO 2015" together with his son artist Jon Mort on August 1st and 2nd, from 10 am to 5 pm at Fieldstone Castle in Port Clyde, Maine. A "Studio Tour and Talk" will take place on Saturday at 1pm. New works of art by Greg and Jon will be on display and a behind-the-scenes tour of their work-space will include: works-in-progress, still life arrangements and preliminary drawings and sketches. Greg works exclusively from life or his own handcrafted models and figures. He will present many of these including the model created for "One World" his painting that is currently on exhibition at the White House.
Visiting Artist Lecture: Robert Hobbs, Art Historian
August 3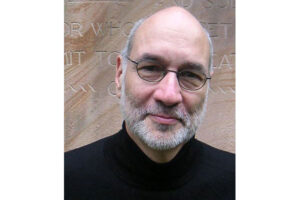 Art historian Dr. Robert Hobbs has held the Rhoda Thalhimer Endowed Chair at Virginia Commonwealth University since 1991 and has been a visiting professor at Yale University since 2004. Hobbs is recognized as a scholar, teacher, and curator, Hobbs specializes in both late modern and post-modern art. His work joins social history with literary criticism and aesthetics; it also relies on feminist and postcolonial theory. He has published widely and has curated dozens of exhibitions, many of which have been shown at important institutions in the U.S. and abroad. meca.edu
PhoPa Gallery to feature work by Jay Maisel
Through August 29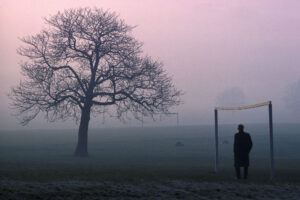 PhoPa Gallery is pleased to announce the upcoming exhibition "On Seeing" featuring work by Jay Maisel, on view July 29-August 29. An opening reception will be held on Thursday August 6 from 5-7pm. A closing reception with Jay Maisel in attendance will be held on August 29 from 4-6pm. mainemedia.edu
Wolfe's Neck Woods State Park
Through August
Wolfe's Neck Woods State Park offers nature programs daily in August at 2:00 PM, through August 31. Nature programs start at the circle of benches at the end of the second parking lot unless otherwise noted and may include walks, talks, and activities in a beautiful natural setting. Programs last about one hour unless otherwise noted, weather permitting. maine.gov
Inaugural Poet Richard Blanco Explores Home and Identity in Stonington
August 4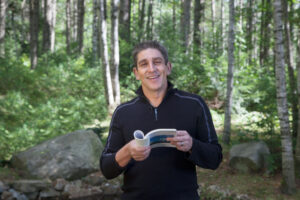 Historic Presidential inaugural poet Richard Blanco takes the stage at Opera House Arts' (OHA) on Tuesday, August 4 at 7 pm for a special reading and book signing of his highly acclaimed new book and memoir, The Prince of Los Cocuyos. Who I Am & Where I Came From is comprised of a reading from Mr. Blanco, after which he will be joined local guest readers for an evening of poetry celebrating home and identity. operahousearts.org
Bowdoin College Museum of Art
Through August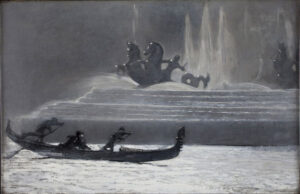 As summer ripens and long lazy days beckon, come enjoy the cool of evening with Night Vision: Nocturnes in American Art, 1860-1960, celebrate Gilbert Stuart's own summer sojourn in Maine nearly 200 years ago with Gilbert Stuart: From Boston to Brunswick, or harken back to the winter of 2015 with A Mind of Winter: Photographs by Abelardo Morell. On August 6th, we look forward to welcoming you for a discussion about Stuart's trip to Brunswick in 1821 in front of the portraits he produced for the College's first benefactor. Also, hear different perspectives on Night Vision with noontime talks by historian of electricity Jane Brox on August 13th and organizing curator Joachim Homann on August 20th. And on Friday, August 14th join us for a "Night at the Museum," with a festive reception and tours of our current exhibitions in conjunction with the Brunswick ArtWalk. bowdoin.edu
The Arundel Barn Playhouse Presents La Cage aux Folles
August 4–15
Billy Goldstein has never worn high heels in his life. But this summer he will step into pumps and grace the stage as Albin in La Cage aux Folles, playing at The Arundel Barn Playhouse.
Based on the French play of the same name, La Cage aux Folles was adapted by Harvey Fierstein and Jerry Herman into the 1983 Tony award-winning musical. It tells the story of Georges, the owner of a bawdy nightclub, and his high-strung headlining partner Albin. When Georges' son from a one-night fling becomes engaged to the daughter of an ultraconservative politician, Albin attempts to impress the fiancé's parents by filling the void of a maternal figure, with hilarious results. arundelbarnplayhouse.com
Lizzie Borden on Trial
August 4
Tuesday, August 4, 2015 is the 123rd anniversary of the killings of Lizzie Borden's father and stepmother. To mark this inauspicious date, Victoria Mansion and the Maine Irish Heritage Center will welcome Dr. Joseph Conforti for a special lecture. Dr. Conforti's talk will explore the notorious murders themselves, as well as the subsequent trial and often salacious media coverage that put the eyes of America on Fall River, Massachusetts.
August Music Series at Savory Maine
August 4–27
Savory Maine in Damariscotta announces its August music series featuring local musicians. Every Tuesday and Thursday from 6 p.m. to 8 p.m., musicians from around the midcoast will entertain and delight diners at Savory Maine. savorymainedining.com
Broadway Stars Take the Stage for Young Frankenstein
August 5–22
Coming to a village near you (Brunswick, Maine) to close out Maine State Music Theatre's 2015 season is Mel Brooks' hilarious musical comedy Young Frankenstein. This show runs August 5 through August 22 with show times at 2 and 7:30 PM.
Mel Brooks' iconic '70s movie became a Broadway smash in 2007. Serving as an affectionate parody of the classic 1930's horror film, the musical was nominated for three Tony Awards and a Grammy for Best Musical Show Album, in addition to winning the Outer Critics Circle Award for Best Musical. msmt.org
Community Performers and Visiting Artists Take on Dylan Thomas' Under Milk Wood
August 5 & 7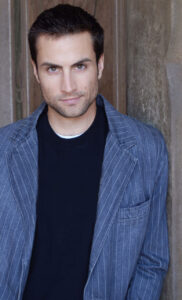 Opera House Arts (OHA) is proud to offer community performances of a staged reading of Welsh poet Dylan Thomas' Under Milk Wood at the Burnt Cove Church Community Center Wednesday, August 5 at 7p.m. and Friday, August 7 at 7p.m. The performance, directed by actor, director and OHA Board Member Peter Richards, will feature a live musical foley score composed by visiting Boston-based artist Anthony Colin Leva and performed by Leva and members of the cast. The cast includes a mix of members of the community as well as OHA artists in town for productions of The Seagull and The Merry Wives of Windsor. operahousearts.org
Acclaimed Writer and Filmmaker Peter Davis to Read From New Novel, Girl of My Dreams
August 6
Maine Maritime Academy's Department of Arts and Sciences will host writer and filmmaker Peter Davis reading from his new novel Girl of My Dreams at 7 p.m. on Thursday, August 6 at BIW Auditorium on the college campus in Castine. The novel follows the adventures and misadventures of a young screenwriter who comes of age in the 1930s at the intersection of Hollywood, the Depression, and the Communist Party.
Set against the backdrop of the central story is an expansive cast of characters. Clark Gable, Marlene Dietrich, the Prince of Wales, Edward G. Robinson, the famous gossip columnists Louella Parsons and Walter Winchell, as well as the legendary San Francisco labor leader, Harry Bridges, all make appearances. So do murder, rioting, sex, conspiracy and deception.
Portland Public Library presents: Lindsay and Her Puppet Pals
August 6
Lindsay and Her Puppet Pals will be visiting the Portland Public Library, as part of the library's summer reading program, I ♥ Reading in Portland: Sail into Reading. portlandlibrary.com
Dracula Comes to Fort Knox
August 6, 7, 8, 9, 13, 14, 15, 16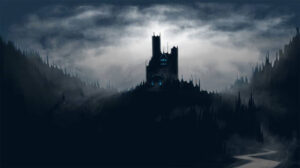 The Ten Bucks Theatre will present the play, Dracula, which was adapted by Steven Dietz, from Bram Stoker's classic novel and is being directed by Benjamin Layman, at historic Fort Knox, in Prospect. The production will span eight evenings, beginning each night at 7 p.m., August 6, 7, 8, 9, 13,14,15, and 16. Tickets for each performance are $10 per person and may be bought the eveing of the performance or in advance by calling the Friends of Fort Knox gift shop at 469-6553. Attendees are encouraged to bring their own lawn chairs or blankets to place on the Fort parade ground for the show. fortknox.maineguide.com
Lynne Drexler: In Shore
August 6
Selected paintings and works on paper spanning the life of Lynne Drexler, including early works from 1957. oceanhousegallery.com
The Wolf Family Concert at the Rockport Opera House
August 6
Leading a prestigious ensemble of musicians, Geoff Nuttall, first violinist of the St. Lawrence String Quartet, returns with St. Lawrence cellist Christopher Costanza. This concert features Andrew Wolf Award winning pianist, Alessio Bax, with accomplished violist Nathan Schram, double bassist Anthony Manzo, violinist Livia Sohn and oboist James Austin Smith. baychamberconcerts.org
The Beekeepers, A Pop-up Exhibition
August 7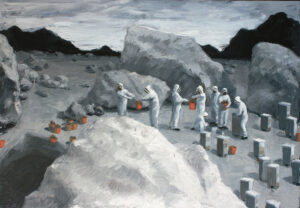 On Friday, August 7, the Portland Masonic will mount a significant one-night-only exhibition of paintings by award-winning New York artist David Pettibone. The show will feature a provocative selection of works from his Beekeepers series. The paintings will be on view from 5-8 p.m., to coincide with Portland's First Friday Art Walk.
Bees and the hive have long been symbols of industry and regeneration within the Masonic Order. The Masonic Trustees of Portland recognize the urgent need for restorative efforts to maintain the Masonic Temple and are invested in reactivating the space as a public venue for arts and cultural events. This exhibition launches what will be a monumental effort to save this historic treasure. Please join us as we take steps to re-generate the space. davidpettibone.com
Artist Kris Engman exhibits at Savory Maine in Damariscotta
August 7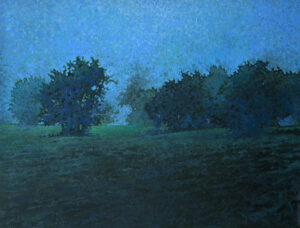 Maine artist Kris Engman will exhibit her paintings at Savory Maine Restaurant in Damariscotta from July 30 to September 7. Although Engman's artistic focus was as a sculptor for 25 years, for more than a decade she has painted the Maine landscape and what she defines as 'the simplest of still lifes.'
The public is invited to a reception for the artist on Friday, August 7 from 3-5. Savory Maine will provide delectable sweet and savory finger foods, and wine and beer will be available for purchase. savorymainedining.com
Three New Shows Open at Gleason Fine Art
August 7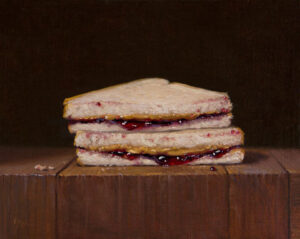 On Friday, August 7, from 5–7 p.m., Gleason Fine Art hosts a reception for three new shows: "Henry Isaacs: Working Color," "Carole Hanson: Stone and Sea," and "Abbey Ryan: New Still Lifes." All three shows run through September 1. gleasonfineart.com
Winter Harbor Lobster Festival
August 8
The 51st Annual Winter Harbor Lobster Festival is planned for August 8, 2015. Events begin at 7am in Birch Harbor with registration for the 14th George Schaeffer Road Race. A pancake breakfast is served at the Winter Harbor Masonic Hall from 6-10am. The craft fair opens at 9am on Harbor Road in Winter Harbor and a Lobster Dinner will be served from 11am to 3pm. Lobster Boat Races are scheduled to begin at 10am and a parade on Main Street begins at 5:30pm. A Contra' Dance begins at 7pm at Hammond Hall and fireworks at dusk. acadia-schoodic.org
Murder Mystery Dinner Theater at MHS
August 8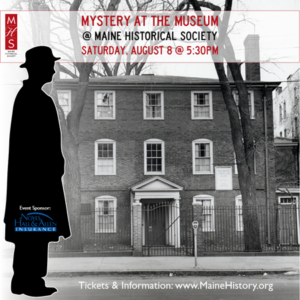 This late summer adventure begins in the beautifully secluded Longfellow Garden with beer, wine and hors d'oeuvres. From there, expect the unexpected as a crime is likely to take place and you'll journey from the Garden to the Wadsworth-Longfellow House, and finally to the Brown Library where you'll dine on an elegant three-course dinner. You'll have a chance to question suspects and take a "wicked" good guess to who did the crime. Who knows? You may be declared the Super Sleuth of the evening! mainehistory.org
Antique cars, Warbirds, aerobatics and The Mallett Brothers Band headline OHTM's Wings & Wheels Spectacular
August 8–9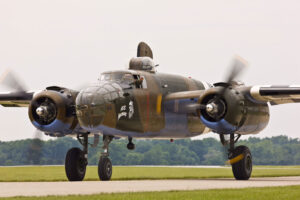 Classic cars, WWII Warbirds — including a B-25 Mitchell and a P-51 Mustang — as well as assorted aerobatic performers including Dan Marcotte Airshows and Jim Parker Airshows will headline the Museum's most impressive event of the season, The Wings & Wheels Spectacular, on Saturday August 8 and Sunday August 9. Known affectionately as "The Rally," the first Wings & Wheels Spectacular took place in 1975. In 2014 this event drew a crowd of nearly 5,000 spectators throughout the weekend! Free kids activities and Model T rides ensure that there is plenty of fun for the whole family at this "can't miss" event. On Sunday, August 9 the Museum is pleased to host The Mallett Brothers Band beginning at 3:00 p.m. owlshead.org
MSMT Footlight Follies to Feature Schooner Fare
August 10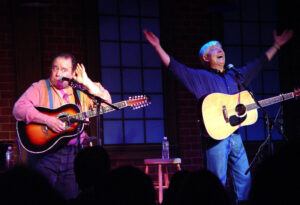 Maine State Music Theatre's (MSMT's) FOOTLIGHT FOLLIES will feature Maine folk band Schooner Fare and New York City's 2 Ring Circus on Monday, August 10, at the Pickard Theatre on the Bowdoin College campus.
From 6:45 pm until 7:25 pm, seven outdoor stages will highlight a variety of entertainment free to the public. The main stage show begins at 7:30 PM with tickets ranging from $20-$40 available at www.msmt.org or (207) 725-8769.
Portland Public Library presents Philosophy Forum
August 12
Join Portland Public Library for an informal social gathering, bringing people together who enjoy discussing philosophical ideas in a facilitated, roundtable-style setting. The group focuses on a central theme as a basis for exchanging thoughtful ideas in the Socratic spirit of appreciating questions and their exploration. Our goal is to learn from one another.
The Philosophy Forum is a monthly offering, held by the Portland Public Library's Portland Room and facilitated by Abraham A. Schechter. The program is held on the 2nd Wednesday of each month, from 6:30-8pm with the kickoff being held at the Federal Street Folly. The program will be moved into the Portland Room for colder months. Schedule changes will be posted. portlandlibrary.com
Lithgow Library to host "Wild by Nature"
August 12
Lithgow Public Library will host "Wild By Nature," a multimedia tour into the Maine wilderness with Lee Ann Szelog and Thomas Mark Szelog, on Wednesday, August 12 from 6-7 p.m. The program, which is free and open to the public, will be held in the program room of Lithgow's temporary quarters at the Ballard Center, 6 E. Chestnut Street in Augusta.
The Szelogs will guide attendees into the Maine woods, along the coast, from a typical backyard to Maine's great north woods. Sharing an unusual visual journal, a personal almanac, and a keepsake unique to Maine, this presentation will open your mind to the splendor of the natural www.lithgow.lib.me.us
Riverton Branch Library presents: Birds of Prey
August 12
Experience the wonder of being a few feet away from a magnificent bird of prey at Portland Public Library as part of the summer reading program, I ♥ Reading in Portland: Sail into Reading!
Wind Over Wings is a nonprofit wildlife educational center featuring magnificent birds who are unable to survive in their natural environment. Their goal is to provide a personal connection with wildlife that will lead to responsible stewardship of the environment. Each bird is an individual and each has a story. Wednesday, August 12th 4–5pm.
August Programs at Ferry Beach State Park
Through August
Ferry Beach State Park offers nature programs every Wednesday in August. Nature programs may include walks, talks and activities in a beautiful natural setting.
8/12 Tupelo Trail Walk – Get to know the unusual tupelo tree and other flora and fauna of our beautiful forest, swamp and bog. 2:00 PM, 45 minute program, weather permitting. Free with park admission. Ferry Beach State Park, Saco. 283-0067.
8/19 Dynamic Dunes – Discover how dunes are created and find out what lives in them. 2:00 PM, 45 minutes, weather permitting. Free with park admission. Ferry Beach State Park, Saco. 283-0067.
8/26 Six Trees You'll Find Here – Learn how to identify six common trees and how they help us to understand their ecosystem. 2:00 PM, 45 minutes, weather permitting. Free with park admission. Ferry Beach State Park, Saco. 283-0067.
For more information, please call the park at (207) 283-0067, or visit online: maine.gov/ferrybeach
Skowhegan State Fair
August 13–22
In 2014 the fair had over 6,000 entries in 29 departments, ranging from agricultural, arts, crafts, and flower exhibits; to cattle, goat, sheep, horse & poultry shows; also including livestock and tractor pulling and not to mention the 4-H shows and exhibits. Some join the competition just for the fun of it, while others compete for the premiums to help with the cost of raising their animals or to help with college funds; whatever the reason thousands of exhibitors flock to the fair every year with their friends and families, rain or shine to participate. skowheganstatefair.com
Shakespeare's Most Beloved Comic Creation Visits the Wives of Stonington
August 13–23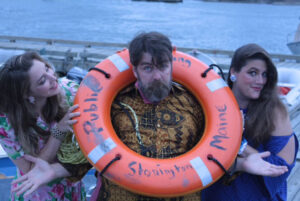 Brace yourself: Sir John Falstaff, Shakespeare's most beloved comic creation, swaggers onto the Opera House Arts (OHA) stage for this year's Shakespeare in Stonington production, The Merry Wives of Windsor, August 13-23. Falstaff is looking for a wealthy lady to foot the bills – but Stonington's cagey fishermen's wives are on to him and have some plans of their own. OHA favorites Tommy Piper (Dorn, Bottom, Touchstone, and more), Melody Bates (Cleopatra, Titania, and more), and Matt Hurley (most recently seen as Konstantin in The Seagull; Romeo; Lord Capulet) return to the Opera House stage in a blaze of neon, alongside talented new faces and area residents. This comic production, directed by Jeffrey Fracé and Julia Sears, pulls the action of the play out of Windsor in the 1400s, choosing instead to loose Falstaff on Stonington in the 1980s. operahousearts.org
Rock Duo When Particles Collide Performs
August 13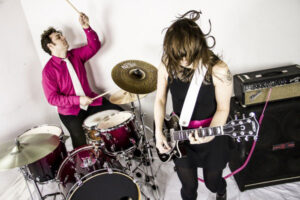 The music of Bangor-based rock duo When Particles Collide includes Southern Rock choruses, New Wave a la Blondie vocals, lightning speed Green Day-esque drumming, classic Motown grooves, and Queens of the Stone Age-style riffs. downtownbangor.com
Enjoy Clarinet, Piano, and Strings, Bay Chamber Concerts
August 13–14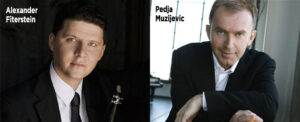 This week two tremendous talents join our resident string ensemble from last week, clarinetist Alexander Fiterstein and pianist Pedja Muzijevic. Don't miss the final week of the Summer Concert Series before the Summer Music Festival begins on August 19. baychamberconcerts.org
The Jason Spooner Band on Vinalhaven
August 14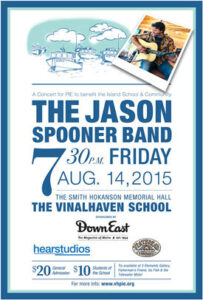 Maine Historical Society New Exhibition — Baskets from the Dawnland: Weaving the past and future together
August 14 – November 28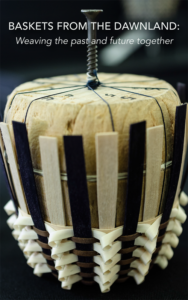 Baskets from the Dawnland: Weaving the past and future together–explores the rich history of the baskets made by Wabanaki people, a tradition that has thrived for thousands of years. Highlights include historical baskets from the MHS collection as well as modern examples by artists from all four Wabanaki nations. The exhibition features works by award-winning basket artists such as Theresa Secord, Jeremy Frey, Sarah Sockbeson, George Neptune and Molly Neptune Parker. mainehistory.org
Winter Harbor Music Festival presents pianists Jungwa Moon Auer and Edward Auer
August 15
Winter Harbor Music Festival, in association with Oceanside Meadows Innstitute is proud to present Edward Auer, the first American to win a prize in the International Chopin Competition in Warsaw (as well as prizes in the Tchaikovsky Competition in Moscow and the Queen Elisabeth in Belgium) and his duo-piano partner, Jungwa Moon Auer, in a program of Schubert, Schumann and Chopin. More details.
The Friends of the Ogunquit Heritage Museum Bizarre Bazaar
August 15
President of the Friends of the Ogunquit Heritage Museum Wendy Broms Levine, Benita Braggiotti, and Gale Trust are shown preparing for a new event! The Bizarre Bazaar to be held on Saturday, August 15, 2015,10 a.m. to 6 p.m. at the Ogunquit Baptist Church, Shore Road, Ogunquit. The Bazaar includes crafts, quilts, furniture, jewelry, flea market items, local art and photography, homemade bake sale goodies, and something for everyone. The raffle for gift certificates from local businesses is very popular. Admission is free. Come early to get your best selection.
Sail into Reading Party
August 15
Portland Public Library's Summer Reading Program for Children, I ♥Reading in Portland: Sail into Reading will be holding its culminating event on Saturday, August 15th at 11:00am at the Riverton Branch Library. We will be celebrating all the children who have been reading this summer and who have participated in the program. portlandlibrary.com
Photo Workshop: Looking Through Your Photos, Denmark Arts Center
August 15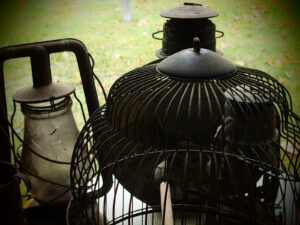 The Denmark Arts Center welcomes Margaret Lindsey and Drew Sanborn to their studio. Photography's very ubiquity can make it hard to maintain a critical perspective. This workshop is aimed at getting you to ask yourself: "What am I photographing and why?" You will learn how to critique others' photographs and use visual analysis techniques (including line drawing) to think about how you photograph. denmarkarts.org
Shaker Village Folk Workshops and Nature Walks
August 15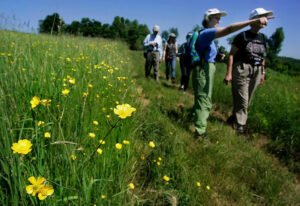 Sabbathday Lake Shaker Village will offer a series of traditional craft workshops and educational nature walks. Traditional craft workshops (pre-registration required at maineshakers.com or call 926-4597) include "Shaker-Style Seat Weaving" with Sandra MacDonald. Sandra will explain the history of Shaker chairs using original, historic examples along with contemporary replicas. Learn the methods, tips, and techniques to weaving Shaker chair and stool seat patterns ($50). In "Shaker-Style Bench," internationally renowned, local Master furniture maker Chris Becksvoort will teach the techniques required for the interlocking dovetailed braces and wedged mortise-and-tenon joints on this bench. Each participant will complete construction of their own small bench, awaiting the finish of their choice. ($100). See more maineshakers.com.
Bucksport Arts Festival
August 15
Bucksport's new fine arts festival will take place on the waterfront walkway Saturday, August 15, 9–4. 30 fine artists and craftspeople will be displaying their wares and The Good Kettle, The Uproot Pie Co., and The Local Variety will have an assortment of delicious foods to feed the masses. Original Condition, a local bluegrass band, will perform from 10–11 a.m.
After the Bucksport Arts Festival, an Artist's Reception will be held at Daffodil's Florist on Main St. Festival Coordinator, Lyndsey Marston, is displaying her original artwork at the retail store through September. Artists and visitors are encouraged to stop by to view her artwork and enjoy local food and festivities. The reception begins at 5 p.m. on Saturday, August 15.
Genealogy 101: Do You Know Who You Are
August 15
If you're itching to get started with genealogy, this hands-on workshop is for you. Learn about resources at MHS, as well as numerous tips on beginning or diving deeper into current Maine and New England genealogy. Get familiar with the wide variety of research options out there so you can hit the ground running getting connected to the past. Reserve tickets online.
Shrek the Musical, Jr.
August 17
Maine State Music Theatre presents SHREK THE MUSICAL, JR., appearing on the MSMT stage August 17, 2015 at 11 AM, 1 PM, 3 PM, and a special showing at 7:30 PM. Based on the Oscar-winning DreamWorks Animation Motion Picture, SHREK JR. is part romance and part twisted fairy tale and an irreverently fun show for the whole family. msmt.org
Chris Hillman & Herb Pedersen Concert at the Leura Eastman Arts Center
August 18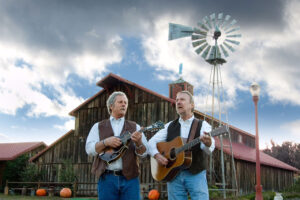 Rock and Roll Hall of Famer and former Byrds bassist Chris Hillman will be performing alongside legendary vocalist/multi-instrumentalist Herb Pedersen at the Leura Hill Eastman Performing Arts Center in Fryeburg on Tuesday, August 18th at 7:30 pm.
Chris and Herb have had a lasting musical friendship spanning over forty-five years, since their initial meeting in Los Angeles during the early folk and bluegrass movement. By the mid-nineties, Hillman and Pedersen began performing as an acoustic duo and have recorded several acclaimed albums together. fryeburgacademy.org
Beehive: The '60's Musical, Arundel Barn Playhouse
August 18–29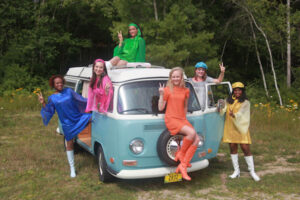 "Sock it to me, sock it to me, sock it to me . . ." You can't help singing along when Aretha Franklin asks for some "Respect," and this year the iconic tune turns 50. Though originally written and recorded by Otis Redding in 1965, Franklin reimagined the song as a declaration from a strong and confident woman, which is why it is one of the featured songs in The Arundel Barn Playhouse production of Beehive: The '60's Musical.
Beehive is a rockin' jukebox musical featuring a slew of strong women who sang the hits of the '60s. Looking back at the hottest singers and girl groups of the decade, the show follows pop music from the early bubble gum days to the civil unrest of the later '60s. arundelbarnplayhouse.com
Exhibition: "On Seeing" featuring Jay Maisel at Maine Media Gallery
August 18-September 19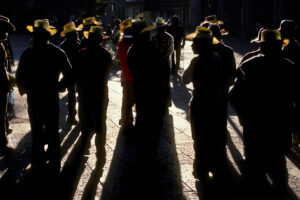 Maine Media Gallery is pleased to announce the upcoming exhibition "On Seeing" featuring work by Jay Maisel, on view August 18-September 19, 2015. An opening reception will be held on Friday August 28, 2015 from 4:30-6pm with Jay Maisel in attendance.
On Seeing features a selection of color photographs that span Jay Maisel's 60-year career in photography. He is best known for his emphasis on light, gesture and color, as revealed by the images on view. Maisel seeks moments of beauty and intrigue in everyday life, carrying a camera wherever he goes. Be it a vegetable man in Sudan, a group of passengers seen through a bus window in Pinyao, China, or men talking over coffee in Jerusalem, Maisel's subjects are captured in bold, dynamic compositions, framed by Maisel's keen eye. mainemedia.edu
Northeast Historic Film: Ellsworth Movie Queen
August 19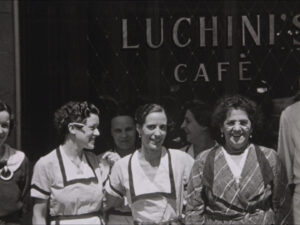 On Wednesday, August 19 at 7pm, Northeast Historic Film and the Ellsworth Historical Society will present Movie Queen, an amateur film shot in Ellsworth in June 1935. The screening will take place at the Moore Community Center Theater on State St. in Ellsworth. This is likely the first time it has played in Ellsworth, or anywhere, since its creation 80 years ago this summer. ellsworthme.org/ellshistory
CMCA Visit & Artist Talk at Beech Nut House
August 19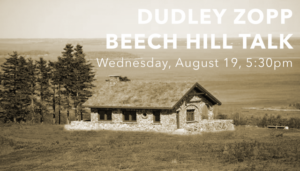 A special Wednesday Talk with artist Dudley Zopp on her installation at Beech Nut House, at the top of Beech Hill Preserve, Rockport. Meet the group at 5 p.m. at the base of Beech Hill Preserve. Hike to top is an easy 30-minute walk.
Dudley Zopp, along with poet Gary Lawless, is one of two artists in residence at Beech Hill in 2015 through the Coastal Mountains Land Trust's Arts on the Hill program. Her installation, entitled "Stones on the Move," can be viewed every Wednesday through September 9.
Million Dollar Quartet to Open at Ogunquit Playhouse
August 19–September 19
The Ogunquit Playhouse is thrilled to be the first regional theatre in the country to produce the Tony Award-winning musical Million Dollar Quartet, on stage August 19 to September 19. This high voltage rock 'n roll show, with book by Colin Escott and Floyd Mutrux, is inspired by the electrifying true story of the famed recording session that brought together music icons Elvis Presley, Johnny Cash, Jerry Lee Lewis and Carl Perkins for one of the greatest jam sessions of all time. Featuring timeless hits such as "Blue Suede Shoes," "Great Balls of Fire," "I Walk the Line," "Whole Lotta Shakin' Goin' On," "Fever," "Folsom Prison Blues," "Hound Dog" and more, this thrilling musical brings you inside the recording studio with four major talents who came together as a red-hot rock 'n' roll band for one unforgettable night.
Maine Native American Summer Market at Shaker Village
August 22
The seventh annual festival of some of Maine's finest, award-winning Native American artists will be held at the Sabbathday Lake Shaker Village – America's only active Shaker Community – on Saturday, August 22 from 10 – 3:30. More than 40 members of the Penobscot, Passamaquoddy, Micmac and Maliseet tribes will demonstrate important, traditional Wabanaki art forms including basketmaking, woodcarving, bark etching, doll making, beadwork and jewelry, in addition to featured performances of drumming, dancing and story telling. High-quality, handmade crafts will be available for sale. This is the southernmost gathering of Wabanaki artists in the state of Maine. Don't miss this rare opportunity to learn about and experience first-hand Maine's Native American culture. FREE ADMISSION! Rain or shine. Barbeque lunch plates will be served. Shaker Village is located at 707 Shaker Road (Rt. 26) in New Gloucester, Maine. FMI: www.maineshakers.com, follow us on Facebook at Sabbathday Lake Shaker Village, or 207-926-4597.
The Perfect Storm takes on Casco Bay Gentlemen's Derby
August 22
For the second time ever, The Rock Coast Rollers' The Perfect Storm will take on the Portland-based men's roller derby team Casco Bay Gentlemen's Derby. It's going to be a hard-hitting, action-packed game from start to finish. It will be the last home game of the season for the Rock Coast Rollers. brownpapertickets.com
The 38th Annual New England Auto Auction
August 22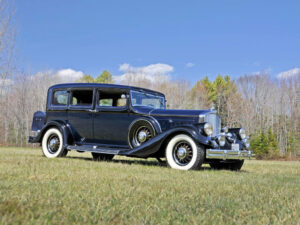 The Owls Head Transportation Museum's 38th Annual New England Auto Auction™ is Saturday, August 22. Up to 200 antique, classic and special interest vehicles will be offered for sale to the highest bidder during the Museum's premiere annual fundraising event. The New England Auto Auction™ has become a highly anticipated event in the worldwide community of automobile enthusiasts.
Bidders and spectators from around the world are expected to attend "one of the great summer events in New England" on August 22. The 38th Annual New England Auto Auction will begin promptly at 9:30 a.m. A preview week will take place August 17 through 22, and the Museum will be open from 9:00 a.m. to 5:00 p.m. each day, providing potential bidders with an opportunity to view auction the large selection of vehicles slated for sale. owlshead.org
Baxter Brewing Celebrates Baseball Cuisine
August 24
Baxter Brewing celebrates its long-time association with the Portland Sea Dogs, AA affiliate of the Boston Red Sox, with a unique food and beer pairing event at the ballpark, Monday, August 24; one of only seven home games remaining in the 2015 season.
"One of the most fun things to come out of the exploding craft beer culture," says Baxter founder and CEO, Luke Livingston, "is the proliferation of beer and food pairings, mostly patterned after wine tastings that have been popular for generations. Beer is a perfect accompaniment to any kind of cuisine, and Portland is among the great foodie capitals of the world, too. But many of these tasting events have gotten to be a little too self-important. Time to stop worrying about what beer goes best with arugula and focus on what goes with hot dogs!"
Jon Keller will talk about his new book "Of Sea and Cloud", Portland Public Library
August 26
Nicolas Graves raised his sons to be lobstermen. Bill and Jonah Graves grew up aboard their father's boat—the Cinderella—learning the rules and rites of the antiquated business they love. But when their father is lost at sea and the price of lobster crashes worldwide, Bill and Jonah must decide how much they are willing to risk for their family legacy. portlandlibrary.com
Jeffery Becton: The Farthest House, Talk and Book Signing, CMCA
August 26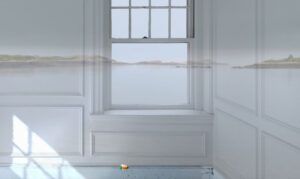 The Center for Maine Contemporary Art concludes its summer 2015 lineup of gallery talks on Wednesday, August 26 at 5:30 pm. Please join us for a book signing and conversation with artist Jeffery Becton and author Carl Little on the occasion of the publication of Jeffery Becton: The Farthest House. cmcanow.org
Summer Feature Auction, Thomaston Place Auction Galleries
August 29–30
Featuring more than 400 lots of fine paintings including the largest selection of artwork created by Maine artists ever offered at a single auction, encompassing 189 works by 101 artists. thomastonauction.com
Laszlo Gardony Trio at the Bar Harbor Jazz Festival
August 29
Internationally renowned pianist Laszlo Gardony celebrates the release of his latest album, Life In Real Time, on Saturday, August 29 as part of the Bar Harbor Jazz Festival. The Laszlo Gardony Trio, including bassist John Lockwood and drummer Yoron Israel, will play at Criterion Theatre, 35 Cottage St, Bar Harbor. Tickets are $20 for balcony and $15 for orchestra. Two sets at 8 and 10:30 p.m. For more information, call 207-388-0829 or visit http://www.criteriontheatre.org/.
Build a Fairy House at Maine Wildlife Park
August 29
On Saturday, August 29, 11 a.m.–2 p.m. at the Maine Wildlife Park in Gray, visitors will be able to meet and have their pictures taken with 'real' fairies; then 'make and take' home their very own small fairy house.
Celebrate Summer's Twilight Days with the Music of Jonathan Edwards
August 29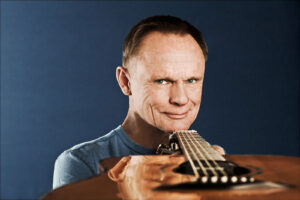 The summer is drawing to close, but there's still time for a bit more fun. Saturday, August 29 at 7 p.m. veteran folk singer/songwriter Jonathan Edwards returns to delight audiences at the Stonington Opera House. His expertise with the guitar, mandolin and accordion creates its own style of acoustic folk-rock that will not only please life-long fans, but also win over new ones. operahousearts.org
Denmark Mutt Show
August 30
The Denmark Arts Center is pleased to host the first ever Denmark Mutt Show, a juried show for the dog days of summer. Every dog will win a prize, and the whole thing benefits Harvest Hills Animal Shelter. So bring your mutt on down and enter him or her to win big. First prize includes a DAC goodie bag (heavy on the DAM JAM merch!), and a bunch of sundries from various pet supply stores in the area, valued at over $50. denmarkarts.org
Backyard Poultry Workshop
August 30
Edible Island will offer a full-day workshop on raising and processing backyard poultry on Sunday, August 30 at David's Folly Farm in Brooksville. Have you ever wanted to raise a few chickens to feed your family and friends? This is your opportunity to learn all about raising backyard poultry and humane on-farm processing. The workshop will span from the field to the plate, starting with a humane slaughter and ending with a shared meal. Participants will view different systems for raising poultry, have hands on opportunities to process and cut several birds during the day, and learn about local resources for backyard farmers. edibleisland.org
Collins Center for the Arts
September Events
National Theatre Live – Everyman
Thursday, September 3, 2015 at 7:00 pm – Adult $15 / Senior $10 / Student $8
Everyman is successful, popular and riding high when Death comes calling. He is forced to abandon the life he has built and embark on a last, frantic search to recruit a friend, anyone, to speak in his defence. But Death is close behind, and time is running out. Broadcast in HD by National Theatre Live.
Piano Men: The Music of Elton and Billy with the Bangor Symphony Orchestra
2015 Gala Performance
Saturday, September 12, 2015 at 8:00 pm – $28/$35/$45/$55
Piano Men: The Music of Elton and Billy combines a four-piece pop group featuring Joe Boucher on piano and vocals with a full symphony orchestra. Rarely have these songs ever been heard live this way – Elton and Billy themselves have performed with orchestras on only a few occasions. Join us as we celebrate our 30th season with this very special collaboration with the Bangor Symphony Orchestra.
National Theatre Live – The Beaux' Stratagem
Thursday, September 24, 2015 at 7:00 pm – Adult $15 / Senior $10 / Student $8
The 'Beaux': Mr Aimwell and Mr Archer, two charming, dissolute young men who have blown their fortunes in giddy London. Shamed and debt-ridden, they flee to provincial Lichfield. Their 'Stratagem': to marry for money. Broadcast in HD by National Theatre Live.
Craig Ferguson: The New Deal Tour
Tuesday, September 29, 2015 at 7:00 pm – $29/$38
A huge success of the North American comedy circuit, Emmy-Award winner Craig Ferguson has performed to sold-out theaters across the country and earned kudos as host of the 2008 White House Correspondents Dinner. In 2014, Ferguson ended his nine-year run as the host of the Late Late Show, and can now be seen hosting the hit game show, Celebrity Name Game.
Jo Dee Messina Concert at the Waterville Opera House
September 6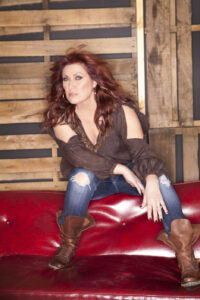 Popular country star Jo Dee Messina will take the stage at the Waterville Opera House for one night only, Sunday, September 6, at 7:30 p.m.
This multi-platinum, award-winning country singer/songwriter has dazzled the entertainment world since her debut in 1996 with "Heads Carolina, Tales California." Selling more than five million records worldwide, Messina has charted 16 "Top 40" singles along with nine Number One hits. Her newest album, called "ME," is dedicated to her fans. operahouse.org
Invention of Nature Author Andrea Wulf to Speak at The Strand
September 6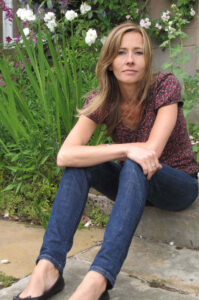 Knox Museum will present noted international author and plant historian Andrea Wulf, in a special presentation and book-signing of her new book, The Invention of Nature, Alexander Von Humboldt's New World, on Sunday, September 6, at 6 p.m. at the Strand Theatre in Rockland. Tickets are $16 general admission and $11 for museum members, and are available exclusively through the Strand. The author will sign books before and after the lecture. tickets.rocklandstrand.com
Annual Acadia Night Sky Festival in its Seventh Year
September 10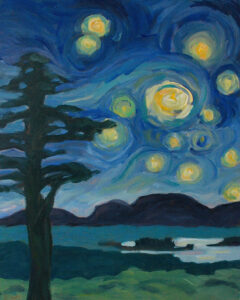 The 7th Annual Acadia Night Sky Festival kicks off on September 10 and will once again explore and celebrate the starlit skies of Downeast Maine. Dark night skies in our region lend themselves to the ultimate stargazing experience. The festival, presented by Celestron, will showcase the spectacular beauty of the night sky through education, science, and art workshops, lectures, and parties.
There will be events held throughout the duration of the festival in and around Acadia National Park. The park and Downeast Maine are home to stellar night skies that afford viewers the opportunity to see the clearest star-filled night skies in the eastern U.S. The festival is geared towards families and astronomers alike, and is a great way for residents and visitors to celebrate and promote the protection of the night skies while enjoying nationally recognized speakers, workshops, solar viewings, hikes and more. acadianightskyfestival.com
Portland Public Library presents a Civic Hackathon @ PPL
September 12
Calling all hackers! Join us at Portland Public Library on Saturday, September 12th at 9am to be part of creating something awesome for our city! PPL is holding a one day hackathon where teams will work together to create an online portal for civic engagement and civil discourse; a place where citizens can gather virtually to discuss issues important to them and our community. This online portal will provide opportunity to share opinions, information, community initiatives, volunteer prospects and more. Teams will have ten hours to create an online platform. Cash prizes will be awarded for the best solutions. Food and caffeine will be provided for all registered participants. To register visit portlandlibrary.com.
Maine guitarist/composer Richard Nelson at Bowdoin College
September 12
Maine guitarist/composer Richard Nelson and the Aardvark Jazz Orchestra join forces on Saturday, September 12, 2015 at Bowdoin College in Brunswick, Maine to celebrate the release of Nelson's new CD Deep River as well as Aardvark's 43rd season. The program, titled Jazz Americana, features Deep River, a multi-faceted jazz suite that Nelson composed for the Orchestra, in a powerful re-imagining of American traditional songs from the 1920s and 1930s. Deep River showcases Aardvark vocalist Grace Hughes and guest vocalist Timothy Johnson, who serves on the faculties of Bowdoin College and U Maine Augusta. The show starts at 7:30 pm in Bowdoin's Studzinski Recital Hall, South Campus Drive, Brunswick, ME. For more information visit http://www.richardnelsonmusic.com/calendar/ or call (207) 725-3747.
Portland Greenfest
September 12
Greenfest is an eco-fair featuring music, art, eco-fashion, local food, kids' activities, exhibits, workshops, films, and demonstrations. A fun, family friendly event in downtown Portland.
Enjoy local food and music while learning about solar energy, clean water, habitat protection, electric cars, biofuels, compost, energy efficiency, green products for your home or business, and lots more! portlandgreenfest.org
Ogunquit's 25th annual Capriccio celebration, Historic Afternoon Tea
September 12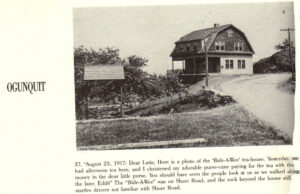 In the early 1900s, those who spent their summers in Ogunquit sometimes amused themselves by taking afternoon tea at one of the town's many tea rooms, such as the Bide-A-Wee, the Dan Sing Fan or the Whistling Oyster. They enjoyed bucolic views, delicious cakes, delicate sandwiches, and a special selection of flavorful teas. On their way out, visitors might have picked up a hand painted postcard or a gift for a friend.
On Saturday, September 12, the Ogunquit Heritage Museum will bring back some of the nostalgia for those lazy summer afternoons with some teas and savory delights. In addition to enjoying the museum's tea specialties, today's visitors can browse through the current exhibits, and the gardens and Dorothea Jacobs Grant Park. In the museum's small "Birthing Room" is an exhibit of the Brush and Needle and one of the old tea rooms, the Whistling Oyster (now Barnacle Billy's and Barnacle Billy's Etc.).
Homes of Wayne Tour — "Places of the Heart"
September 12
The doors of nine of Wayne's most charming and classic homes will be open on Saturday, September 12, 10 a.m.–4 p.m., rain or shine. Featured on the Places of the Heart Tour will be examples of nineteenth century architecture, lakeside and contemporary homes, family camps, and several village landmarks. The tour is self guided. An intriguing stop will be a family compound nestled on the shores of a small pond, a summer retreat for a far-flung family who gather every summer. One of Wayne's first inns, now converted to a private home and antique shop, is truly a step back in time where visitors will feel they are experiencing the inn as travelers did at the turn of the century. A charming Cape, an art-filled garden and a beautiful contemporary lakeside home are among the lovingly restored properties that will delight all who visit the friendly village of Wayne. This will be a fun-filled day with something of interest for all tour goers. waynehomegardentour.wix.com
Meals on Wheels Celebrity Chef Challenge
September 16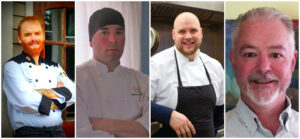 Top chefs from midcoast and central Maine will compete in Spectrum Generations third annual Meals on Wheels Celebrity Chef Challenge on September 16. Reception starts at 5:15 p.m., with dinner beginning at 6 p.m. at the scenic Maine Maritime Museum in Bath. Each chef will prepare a main dish using Meals on Wheels guidelines and ingredients while celebrating local food and Maine growers. spectrumgenerations.org
Art of Giving Gala, Portland
September 17
Join us for a fabulous party presented by Down East on Thursday, September 17, 5:30–9 at O'Maine Studios, Portland, to celebrate the Maine arts community and support four worthy charities picked by four Maine artists.
Our 2nd annual Art of Giving Gala will be an amazing evening of fine food, drinks, and entertainment. Plus, you'll have the chance to win one of four works of Maine art. downeast.com/artofgiving2015/
Portland Public Library continues Science Café Series in September
September 17 and 24
Portland Public Library and Cornerstones of Science continue their series of Science Cafés at Portland Public Library. The Science Café format is an informal approach to discussing and understanding scientific research and its relevance to people in their everyday lives. Science café events are held in Portland Public Library's open, glass-walled atrium that faces Monument Square in Portland during the lunch hour and will offer light refreshments in an informal, casual atmosphere. Students, professionals, and anyone interested in getting the inside look at what scientists are doing – and why – are invited to attend. The events are free and open to the public. In September, we'll host two cafes. portlandlibrary.com
First Families Museum
The Kennebunkport Historical Society has opened an exhibit at the First Families Museum located at White Columns 8 Maine Street Kennebunkport Maine. The new exhibit features birthday presents received by First Lady Barbara Bush for her 90th birthday. Also on display is programs, photos and memorabilia from her birthday party which raised 17 million dollars for her foundation for literacy. As an additional add on to the display President Bush has let us display all the beautiful cards and well wishes he has received after his fall. These include a signed card by all our US Senators.
Witches, Curses, and Ghosts Abound in Gilbert & Sullivan's Ruddigore at TAM
September 17
Theater at Monmouth's 46th season continues with the opening of Gilbert and Sullivan's comic opera, Ruddigore, or The Witch's Curse on Friday, September 17 at 7:30 p.m. Filled with what The Daily Gazette called Gilbert's "humorous satire" and Sullivan's "melodic genius which never fails," Ruddigore combines wit and whimsy for a magical, mystical, murderous good time. theateratmonmouth.org/
Trails End Festival Paint-Out, North Light Gallery
September 18–20
Annual paint-out open to all artists. Register for free Friday, September 18 at the gallery at 8 a.m., show your work at North Light Gallery on your easel Saturday, the 19 from 10–6 for sale with 40% commission to the gallery. Stay and paint Sunday, the 20th. artnorthlight.com
Gardiner Barks in the Park
September 19
Gardiner Main Street will host the 6th annual Barks in the Park event from 10 a.m. to 2 p.m. The day will be filled with events, demonstrations, and a dog walk through historic downtown Gardiner. "This event is not only to promote Gardiner as a dog friendly community, but to get the word out about some of the dog rescue groups and other service organizations in the area," Gardiner Main Street's Patrick Wright suggests. Rescue groups, vendors, Eastern Maine Agility, Fly Ball Dogz, and the Maine State Police K9 unit will all be in attendance at the event. The event is free and open to the public with lots of activities dogs and their owners can participate in, including several contests (best dog kiss, best costume, and a look alike contest), square dancing, and education about animal health and welfare. gardinermainstreet.org
Union Square Presents First Annual Great Golden Keg Hunt
September 19
On September 19th, 2015 from noon to 6pm Union Square, Ellsworth's young professionals organization, will be hosting their first annual Great Golden Keg Hunt, presented by Wallace Events. unionsquareme.org
Barks in the Park, K9's to take over Gardiner's Waterfront Park
September 19
The day will be filled with events, demonstrations, and a dog-walk through historic Downtown Gardiner. "This event is not only to promote Gardiner as a dog friendly community, but to get the word out about some of the dog rescue groups and other service organizations in the area," Gardiner Main Street's Patrick Wright suggests. Rescue groups, vendors, Eastern Maine Agility, Fly Ball Dogz, and the Maine State Police K9 unit will all be in attendance at the event. The event is free and open to the public with lots of activities dogs and their owners can participate in including several contests (best dog kiss, best costume and a look alike contest), square dancing, and education about animal health and welfare.
MAMM Announces Grand Opening of New Location & New 'Playing for Change' Music Video
September 19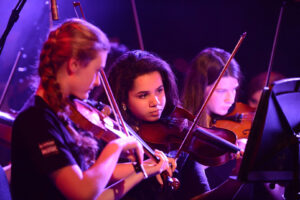 Maine's largest youth music school is pleased to announce the grand opening celebration of their new home on 125 Presumpscot Street in Portland, on Saturday, September 19 from 10 a.m.–2p.m. Located directly behind the DMV in Portland, MAMM's new location is a pivotal development for the future of music education in the state of Maine.
MAMM's founder and executive director Jeff Shaw has been searching for the perfect location for MAMM to call home for the last several years. According to Shaw, "We couldn't be more thrilled about our new location and how consolidating our programming under one roof will impact the culture of our academy. The location is conveniently located right off of I-295 and offers plenty of parking, which were two of our guiding criteria in finding the right space. Most importantly, our new location will allow us the opportunity to expand programming and continue to advance our mission by empowering youth through contemporary music, leadership and collaboration." portlandhouseofmusic.com
3rd Annual Harvest at the Hut, Maine Huts & Trails
September 19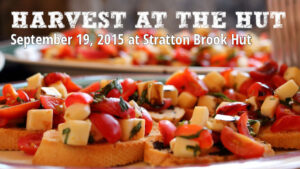 Maine Huts & Trails will showcase their delicious culinary creations at the 3rd annual Harvest at the Hut. Fall is a fantastic time for good food and good fun. They will once again be featuring Chef Jordan Rolleston and staff for a delicious five-course meal. This third annual event will be taking place at their Stratton Brook Hut. Event guests will be treated to the beautiful views and comfort of the Stratton Brook Hut while savoring locally-sourced and in-season fall foods to celebrate the beginning of fall in Maine's western mountains. mainehuts.org
Bethel Harvestfest & Chowdah Cookoff
September 19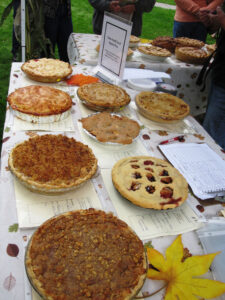 Bethel's Harvestfest & Chowdah Cookoff, a classic fall festival on now in its 18th year, will take place September 19 on Bethel's village common against a backdrop of leaves starting to change on the surrounding mountains.
"About a dozen restaurants bring their best chowder, and the competition is pretty strong," said Jessie Perkins, marketing and events manager for the Bethel Area Chamber of Commerce. "There are no restrictions on the type of chowder that can be entered into the contest, so chefs get very creative."
Local bakers also demonstrate their prowess in the apple pie contest, which is open to both amateurs and professionals. Prizes are awarded to winners in the categories of amateur traditional, amateur non-traditional, and professional. After the pies are judged, remaining slices are sold along with loads of apple crisp donated by local restaurants. bethelharvestfest.com
Pemaquid Oyster Festival
September 27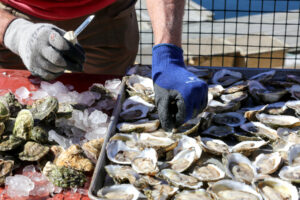 The Pemaquid Oyster Festival, Damariscotta's annual celebration of the working waterfront, marine conservation, and the Pemaquid oyster, is scheduled for Sunday, September 27 from noon to dusk. The popular event is an important fundraiser for the Edward A. Myers Marine Conservation Fund.
As always, the Pemaquid Oyster Festival will feature a great line-up of entertainment, food, educational exhibits and thousands of oysters fresh from the Damariscotta River. (There is also a menu with plenty of choices other than oysters!) The festival is held right on the banks of the Damariscotta River at Schooner Landing Restaurant & Marina on Main St. in Damariscotta, and includes other Main St. businesses.
Old Berwick Historical Society: Chefs in the Counting House: Talk, Tales and Chatter from a Trio of Culinary Authors
October and November Dates
October 11, 2 p.m. "Early Maine Food and Herbs"
October 25, 2 p.m. "Canterbury Tales"
November 1, 2 p.m. "Write It All Down"
Running with Scissors' Annual Birthday Bash
October 3–4
Help Running with Scissors, Portland's East Bayside artist community, celebrate its birthday with art, ceramics, jewelry, food trucks, and more from noon to 5 p.m. on Saturday, October 3, and at a special ticketed event later that day from 5–10 p.m., featuring music from Blue Bus and Port of Est. Buy a gift from the member artists who will set up booths outside for the event on Sunday, October 4 from noon to 5 p.m. Sunday will also feature special events and entertainment. anntracy.blogspot.com
Northeast Historic Film hosts Home Movie Day
October 10
Northeast Historic Film will host Home Movie Day on Saturday, October 10 from 12pm-4pm at the Alamo Theatre. Home Movie Day is an annual celebration of amateur film and video held at many different venues worldwide. Home Movie Day events provide the opportunity for individuals and families to see and share their own home movies with an audience of their community on the big screen, if they so choose, and to see their neighbors' in turn. It's a chance to discover why these films are important and to learn how best to care for them. oldfilm.org
5th Annual Maine Harvest Festival
November 14–15
The 5th Annual Maine Harvest Festival. Celebrate Farm Fresh on Saturday, November 14 and Sunday, November 15 from 10 am – 4 pm. Renowned Maine chefs, over 49,000 square feet filled with State of Maine growers and their harvest, bakers, cheese makers, vintners, brewers and fiber artisans with demonstrations, sampling, sales, toe tapping music and much more! All at the Cross Insurance Center, Bangor. www.maineharvestfestival.com

---
Get the best of Maine Travel, Food, Culture, and Homes & Gardens every month, with a subscription to Down East, the Best of Maine. Gift subscriptions available.
Images: Benjamin Simeneta | istock (balloons)
---