Warren sculptor Jay Sawyer melds his work with his land in a way that brings out the best in both.
By Kym Gilhooly
[E]ver wonder what's up with that patriotic pickup sitting alongside Route 90 in Warren? There's a good story behind the '55 Ford's stars and stripes, but something far more captivating lies just over the hill behind it: Jay Sawyer's outdoor gallery, Stemwinder Sculpture Works & Gardens.
At the crest of the short access road sits a substantial, sun-bleached tree trunk — turned upside down — with a large sphere made from ribbons of thin metal nesting in its roots. That's the first sign that Stemwinder isn't your typical art gallery. A marine-engineer-turned-welder, Sawyer primarily creates large-scale metal sculptures from scrap materials and found objects. He's best known for his spheres, but the diverse pieces that populate the garden are testament to his relentless drive to break new creative ground. And the way Sawyer integrates the pieces with the landscape seems effortless, as if the sculptures sprouted as organically as the trees. "The land shows me opportunities — a sculpture has to fit naturally to earn a place here," Sawyer says. "If I create something that doesn't, it probably has to live somewhere else."
[infobox maintitle="The land shows me opportunities — a sculpture has to fit naturally to earn a place here." subtitle="Jay Sawyer" bg="black" color="white" opacity="off" space="60″ link="no link"]
I first visited Stemwinder in 2011 with a friend. Everywhere we looked — on the lush grass, in the pond, and among the tall pines— we saw cleverly placed abstract and figurative pieces. A brilliant-red piece called Playin' Catch-UP, constructed from a crane's counterweight, was perched at the pond's edge, while a large turtle wearing a water-tank shell seemed poised to enter the water. We lingered in the gazebo, a 15-foot log topped by a mushroom cap made from the belly pan of a water tower, and traced the contours of Iron-e, a piece built from the penstock salvaged from Warren's Georges River Woolen Mill.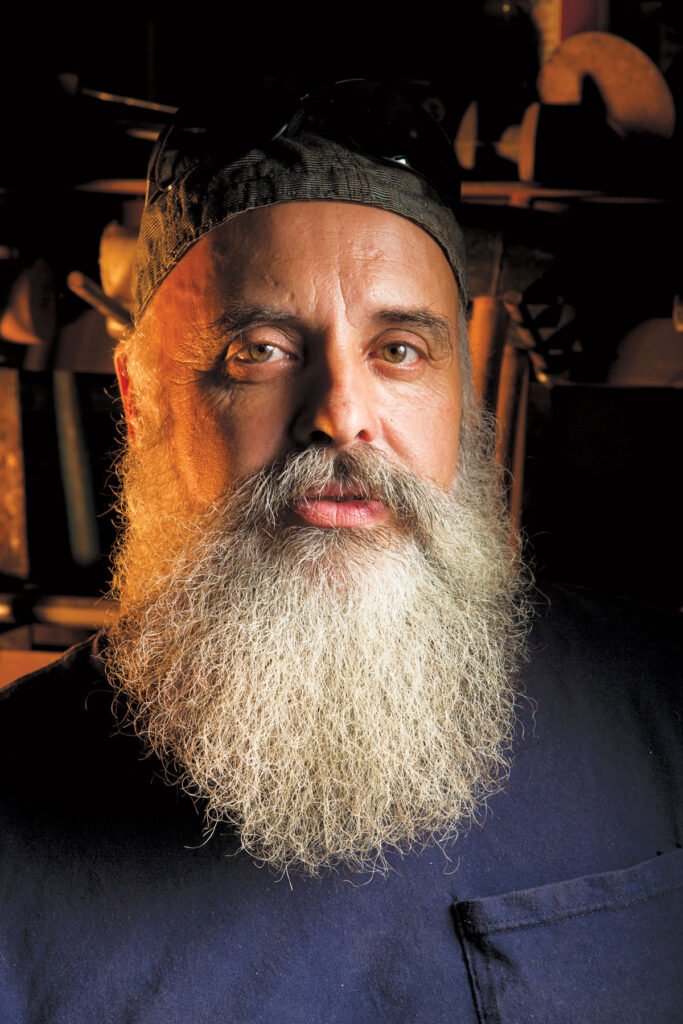 By the time we caught up with Sawyer, a friend of mine since high school, the peaceful power of the sculpture garden had taken hold of us. We abandoned our day's itinerary and instead wandered Stemwinder all afternoon.
Stemwinder has only grown more impressive since, thanks to a wealth of new works. Sawyer's shop-turned-studio, equipped with heavy worktables and an overhead hoist, is crowded with pieces from a series that will debut in a 2016 solo show at the University of Maine at Farmington.
A Maine Maritime Academy graduate, Sawyer honed his welding skills while serving as an officer aboard tankers and, later, refurbishing mothballed vessels for the Gulf War. He left maritime work in 1990 so he and his wife, Karen, could start a family. He worked at a fabrication outfit before starting his own welding business in 1994. As he built his skillset and reputation for quality work, he increasingly found himself in demand for more complex jobs — including precision repair on locally sited sculpture. "That work was a huge confidence boost. I had all these skills and mentors encouraging me — I could no longer ignore that pull to create," Sawyer says.
Meanwhile, he and Karen had tamed the overgrown farmland that would soon showcase his work. "I had my building blocks. Since then it's been a slow, steady progression," Sawyer says.
Now his passion is also his livelihood. His spheres are displayed in public places around Maine. There's one, made from hundreds of old horseshoes, at the Owls Head Transportation Museum, and another, constructed with railroad spikes, on Rockland's Harbor Trail. A third, built with steel shear rings bequeathed to Sawyer by his mentor, Liberty scrap metal artist David McLaughlin, is installed at the Portland Jetport. And his reputation is spreading: He recently delivered pieces commissioned by new hotels in Baltimore and Columbia, South Carolina.
Thanks to his time in the welding trenches, "sucking fumes and busting knuckles," Sawyer appreciates materials reclaimed from industrial and architectural structures. "Most of the material I use has served its purpose, and I want to honor that," he says. "It comes with its own history — the mill that burned, the bridge torn down, the abandoned railroad track."
Sawyer is in his element during gallery hours, giving personal tours and fielding questions. He also has open studio hours, so visitors can experience his creative process. As for the story behind that patriotic pickup, take the turn and follow the driveway over the hill. You'll hear the tale — and a whole lot more — from the owner himself.
If You Go: Stemwinder Sculpture Works & Gardens, 131 Camden Rd. (Route 90) Warren, is open Sundays and Mondays, 10 a.m.–5 p.m., July through October. Open Studio, 99 Maple St., Warren, Saturdays, June through October. Call ahead for studio visits. 207-273-3948. jaysawyer.com
Photographed by: Chris Reis
---
Subscribe to the digital version of Down East to get the best of Maine travel, culture, food, and homes & gardens delivered each month to your tablet. Plus you'll get a first look at the online extras! Buy this issue only or try it for six months for just $12.99.